We may earn money or products from the companies mentioned in this post. You can read full disclaimer below.
Updated June 9, 2021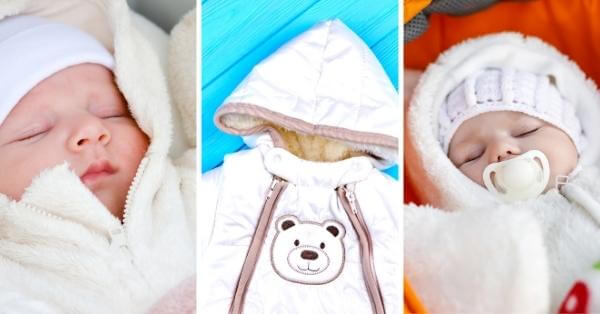 Are you looking for the most important winter newborn essentials?
You are not alone!
If you live in a cold and snow prone area, there is no doubt you need more cold-weather clothes for your new baby.
Most important: Newborns can't regulate their body temp as easily as adults can. 
It is vital to keep them warm when it is cold outside or if your home is drafty.
I'm from New England where it is often snowy and cold from late November through early May.
So I have learned a thing or two about what a newborn needs in the winter to stay comfy and cozy.
If you are in a hurry download our free printable Newborn Winter Essentials Checklist.
It provides you with the essentials you'll need for your new baby and how many of each item you should plan on purchasing.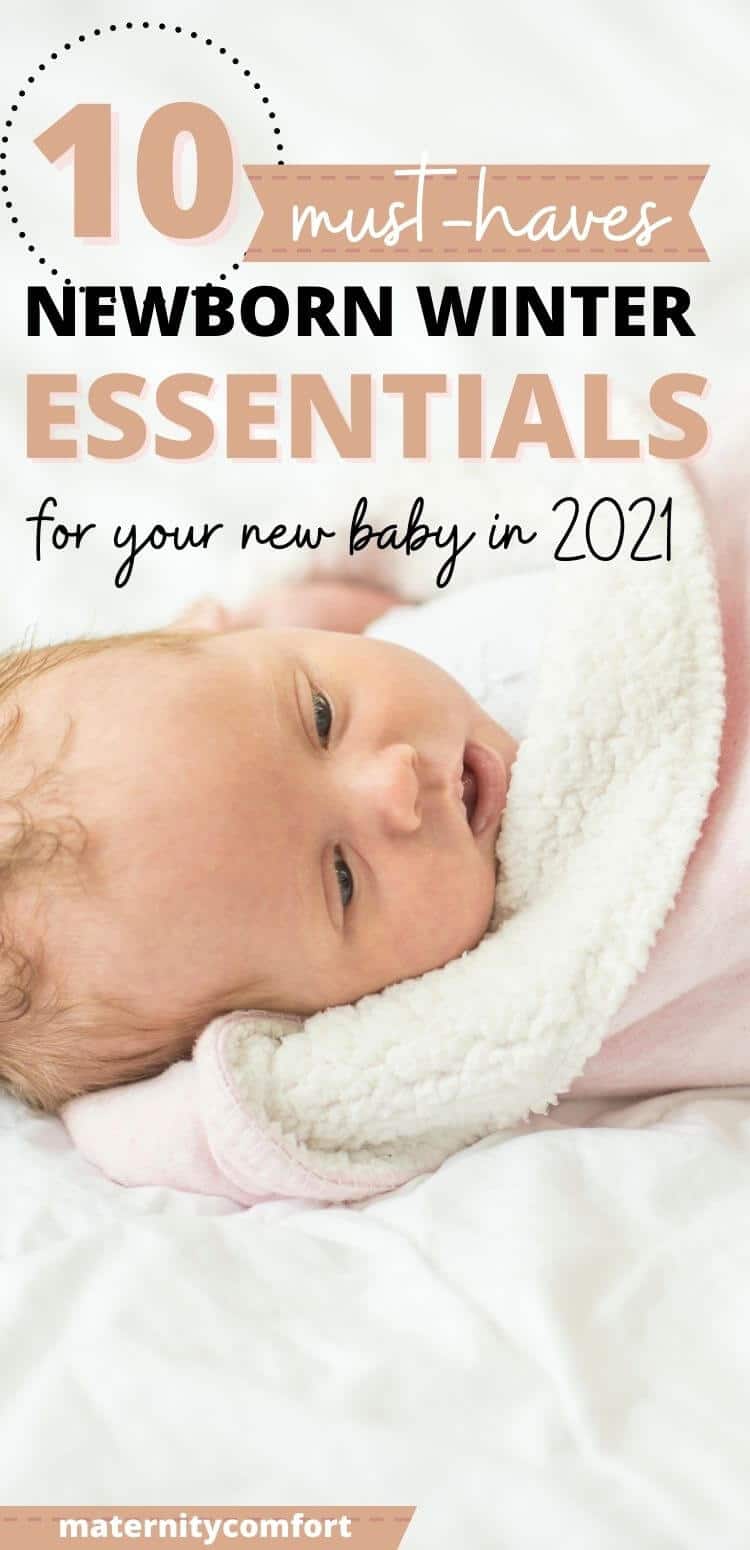 10 Must-Have Winter Newborn Essentials
How do you keep them warm without being too warm? What can they wear that isn't a pain when it's time to change a diaper?
These are a few of my favorite things that keep baby snug and won't break the bank.
As the parents of newborns, you have done a lot of reading or taken classes and you are probably completely freaked out about babies sleeping with blankets.
Yet, a cold baby is generally not a sleeping baby.
So let's chat about how we can keep newborns warm and comfy during chilly winter days and nights.
[wps_alert type="note"][wps_icon icon="check" background="#31b522″ color="#ffffff" size="18″ padding="6″ radius="0″]
The rule of thumb when dressing your baby during the cold weather months is to add one more layer than you are wearing
.[/wps_alert]
1.  Blanket Sleeper
Let me introduce you to the pajama known as the blanket sleeper.
The blanket sleeper comes with or without feet, is generally made of fleece, and has a zipper for easy access during late-night diaper changes.
The kind with feet are manufactured by many different brands and can be found in most chain stores.
The kind without feet are sometimes called "sleep bags" and can be more elusive.
In my opinion, Carter's makes a great one, and Kohl's sells them.
These are not to be confused with the Sleepsack by Halo.
I've actually never used one of those because I couldn't figure out how it was any different than the sleeping bag, except for the price, which is twice as much.
While we are talking about blanket sleepers and keeping your newborn warm enough, it is important to keep in mind that we don't want the baby to get too warm.
Keep your baby's room between 62-67 degrees, dress her in clothing that is warm enough to sleep in without blankets. Avoid loose blankets, they can lead to suffocation in the crib. (Source)
The rate of SIDS increases in the winter months and many experts believe that it is due to overheating. (Source)
A baby sleep sack is a great alternative to using a loose blanket.
2. Newborn Sleeper Gowns
These are amazing!! Out of all the newborn baby products I have used this is by far my favorite and the one I recommend most to new moms and moms to be. These are on the top of my winter newborn essentials list!
They make diaper changes a snap.
I can't recommend them enough to any new mom.
They have elastic bottoms so there is no messing with snaps or zippers in the middle of the night.
I am so serious about this. If you are a new mom, a mom-to-be, or need a baby shower gift get these baby gowns. They will make the first 2 -3 weeks home with your newborn so much easier for you.
When I was exhausted, sore, and had not slept in days it seemed these simple warm gowns were the best thing I ever received.
3. Newborn Bodysuits aka onesies
When dressing baby for the day, remember that layers are the key, and a good rule of thumb is that they should have one more layer than you.
The essential layering piece is the snapped bodysuit, commonly called the Onesie, which is the brand made by Gerber.
I liked having these in short and long sleeves.
The short-sleeves are good under heavy fabrics like fleece, and the long-sleeves can be worn under lighter materials or alone as shirts.
Again these are easy to find at almost all retailers; however, I think that Old Navy is the best place to get solid-colored long-sleeved bodysuits.
4. Elastic waist pull-on pants
Another staple is an elastic waist pull-on pant. I'll be the first to admit that baby jeans are adorable, but for newborns, they just aren't that practical.
I like elastic waists because they fit snugly and are easy to get on and off during diaper changes.
It is good to have these in both cotton and fleece.
Cotton is great for layering, and fleece will keep babies warm without the layers.
It can be difficult to find pants that aren't part of an outfit.
Kohl's, Target, and Old Navy offer a lot of cute separates.
Amazon has newborn/infant separates too.
5. Newborn socks
For me, shoes also fall into the category of way cute but not functional.
Newborn feet can get pretty cold, so I recommend socks and lots of them.
Just think of how many adult socks you lose in the wash.
It's way worse for teeny, tiny baby socks, which also tend to get lost when they fall off teeny, tiny newborn feet.
Newborn baby booties are the best choice for babies who won't keep socks on their feet. If you are forever putting socks back on tiny feet these booties are amazing! They stay on!
6. Newborn winter hats
Every mother, especially your own, will tell you that babies need hats.
For the first few weeks, hats are a good idea indoors and a necessity when venturing out into the cold.
I have yet to find a hat that stays on better than the one they send you home with from the hospital, so while you are there, ask for a spare.
Related:
This post may contain affiliate links. We may be compensated if you make a purchase through our links. You can catch our full disclaimer at the bottom of this post. Updated August 30, 2020 Preparing for your baby's first winter is very important, especially if you live where winters can bring severe weather.
7. Newborn winter bunting or snowsuit
Lots of mothers swear by buntings, which are one-piece outfits for babies to wear outside in the cold.
I personally shuddered at the thought of having to cram my baby into these suits every time I wanted to leave the house.
My oldest hated being put in a bunting from the day we brought him home from the hospital.
Be sure to remove their coat or snowsuit before you put your baby in a car seat.
You want to take off their coat because if you get in an accident the car seat straps could compress the jacket and leave a space in which your baby is not secured in the seat. (Source)
8. Car seat cover
Instead of dealing with a screaming baby in a bunting,  I went for the Skip Hop Winter Car Seat Cover instead.
This is a cover that goes over your car seat. It protects babies from the elements and eliminates having to dress and undress.
You can read the reviews and check the price on Amazon.
9. Winter swaddle blankets
Swaddle blankets help keep your new baby warm in the winter.
They provide a womb-like safe feeling for your baby when the Moro reflex is triggered.
The Moro Reflex also is known as the startle reflex, is a normal reflex present from birth until about 4-5 months old.
10. Wipe warmer
Warm wipes are a must-have for little newborn bums in the winter. Especially for those middle of the night diaper changes.
Cold wipes always made my son wake-up. Having a wipe warmer is not an "essential" in the same way a newborn hat is, but I wouldn't consider it a luxury item.
If a wipe warmer for my newborn helps me get more sleep, it is on my essentials list. You can find wipe warmers on Amazon.
Conclusion:
At this stage of the game, I also advise opting for quantity over quality.
Besides sleeping, newborns spend most of their time spitting up or pooping.
This means that more than a few items will get stained, and you're going to have a huge pile of laundry.
Having more helps with the laundry pile, and spending less keeps you from wincing every time your baby makes a mess.