Have you found yourself looking for a quick and easy fall-themed craft project for your toddler?
We have one for you!
This toddler lego stamped fall tree craft is simple, fun, and most of the supplies are likely to be ones you already have on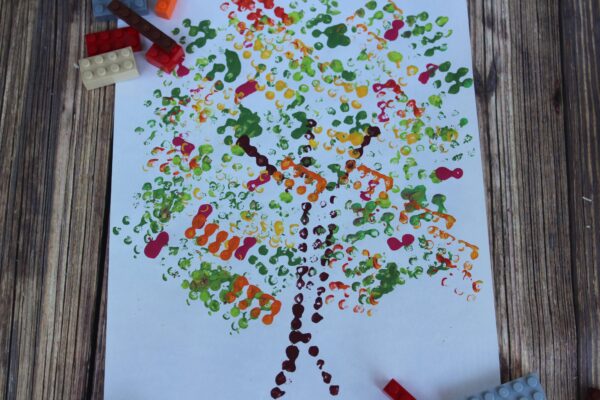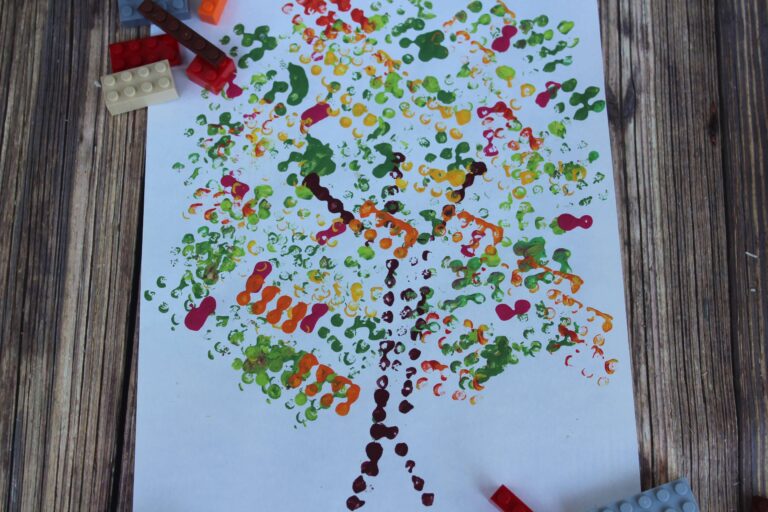 Your toddler will love the free-form project that blends together a simple tool (in this case, lego bricks!) and some amazing fall colors.
This is a great introduction to arts and crafts for your toddler, and we're sure you'll have plenty of fun too!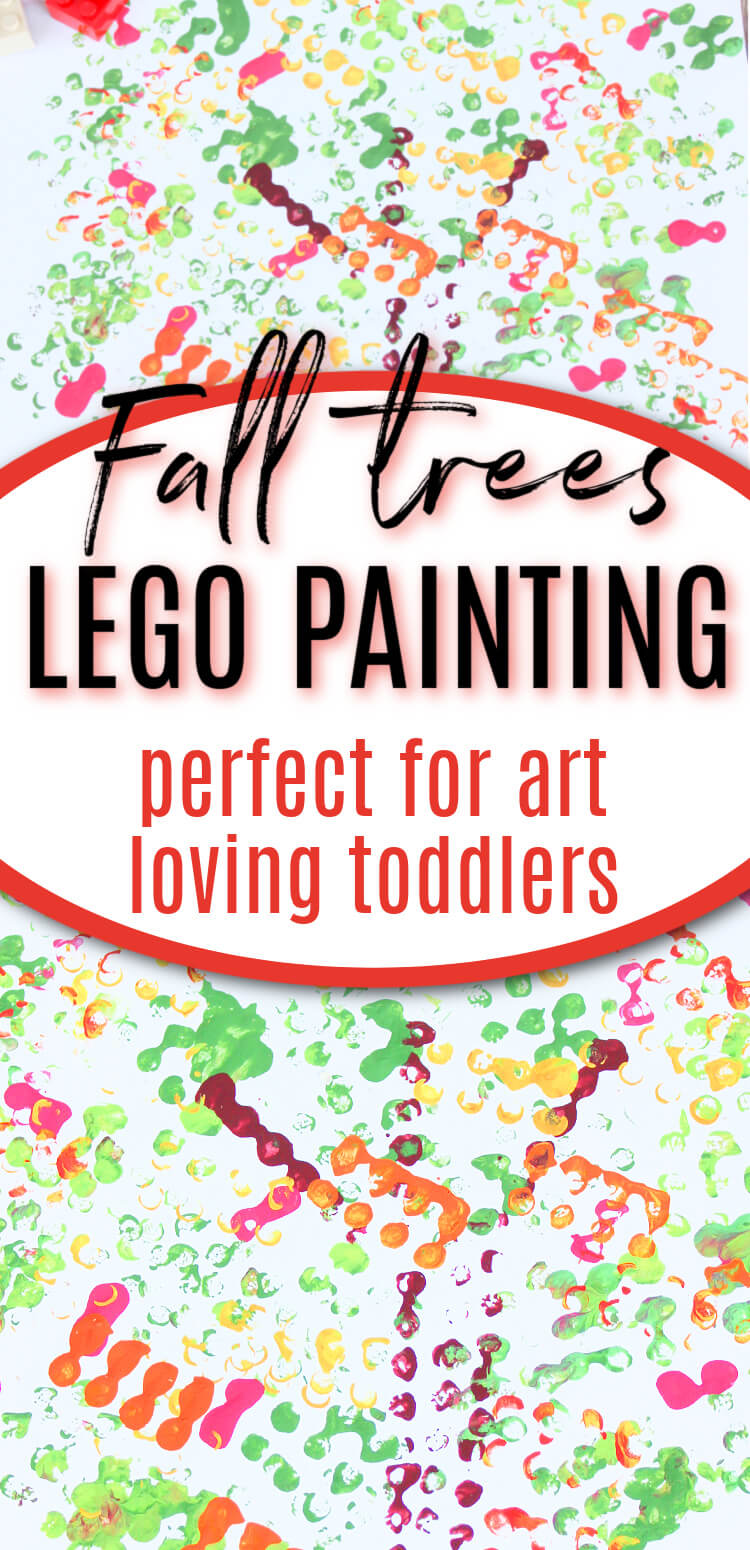 Toddler Lego Stamped Fall Tree Craft
Supplies:
The supply list for this project is thankfully pretty short and simple!
You can use a few different colors of paper but we preferred plain white construction paper as our canvas for this.
You'll also want a paper plate to place the paint on before transferring to the lego pieces.
A few lego pieces of varying sizes and shapes are needed as well.
You can use either regular legos or Duplo blocks.
Rounding it all out, you have paint in some wonderful fall colors, like brown, orange, yellow, red, and green!
You can use washable paint which you can find on Amazon or at your local craft store.
I try to use washable paint, but occasionally grabbing some of my acrylic paint is easier.
Either way, it is a good idea to put a smock on your toddler, newspaper on your table and perhaps some newspaper under your toddler's chair
Paint in fall colors such as brown, orange, yellow, red, and green
Legos in assorted sizes and shapes
A paper plate
White Construction Paper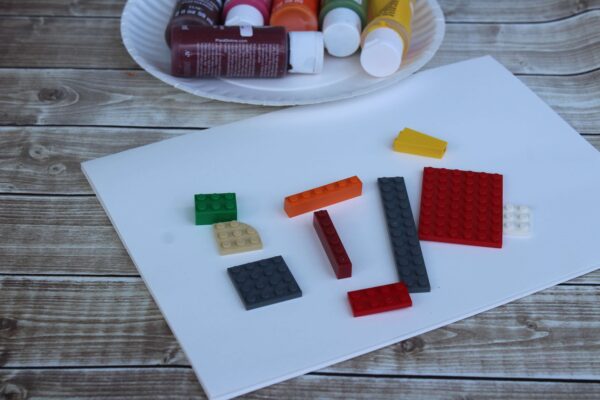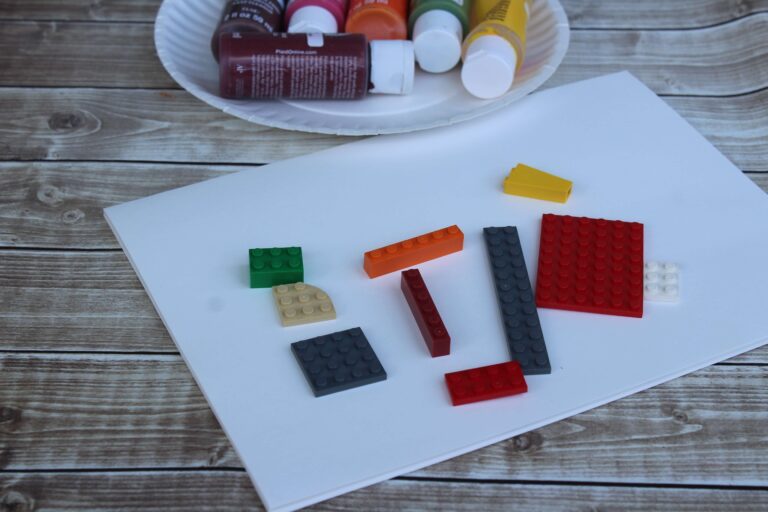 Instructions:
Pour a little paint in your desired colors onto a paper plate.
Invite your child to dip the legos into the paint and press it on the paper.
You may end up with a little bit of a mess, but that's to be expected with young children!
Begin with brown and form a trunk and branches.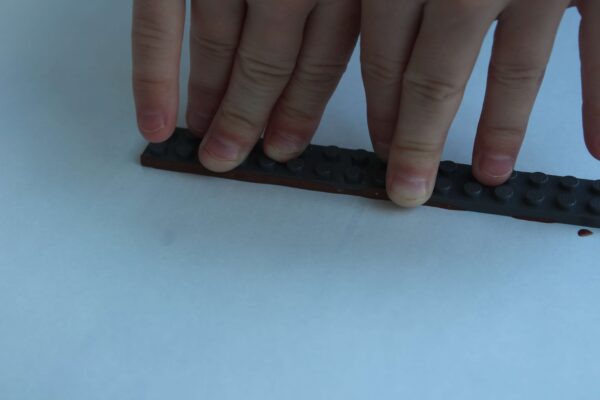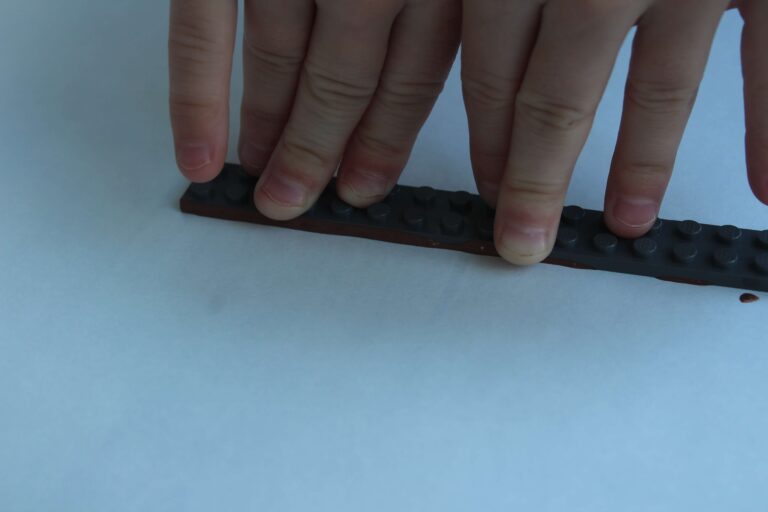 There is no right or wrong with the branches of the tree.
Let your toddler create the branches as they see them and want them.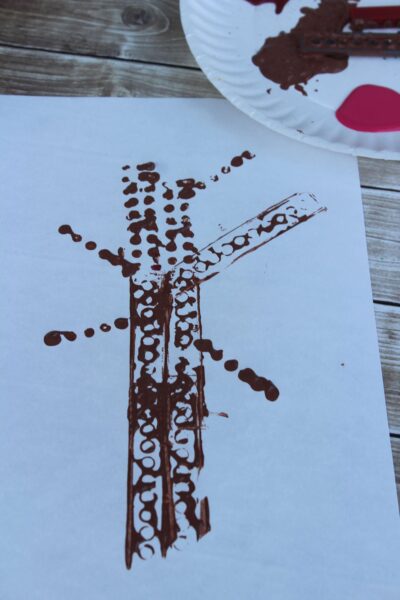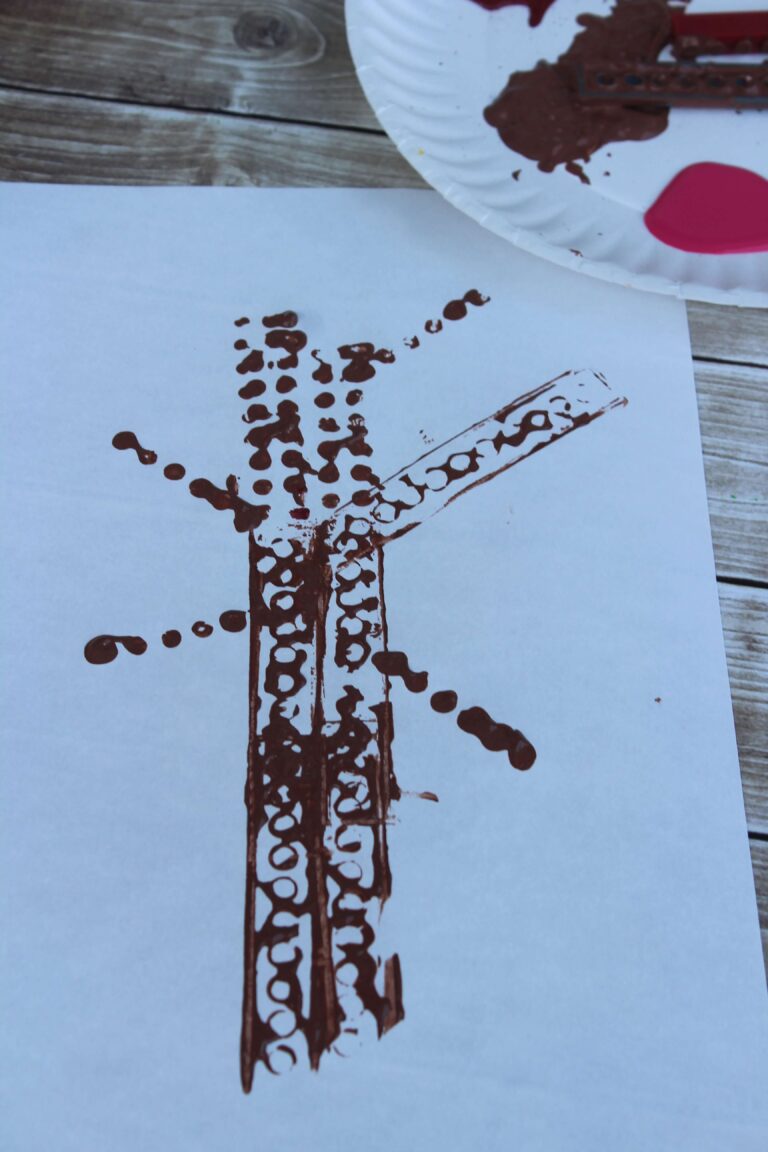 Then move onto the colors, pressing them at the top, like leaves.
You'll want to have your toddler vary up the sizes, shapes, and color of the leaves a few times.
With a small amount of effort, you'll end up with a really pretty way to kick off the fall season!
If your toddler would like the help, it can be a great experience to jump in and help form the tree.
It's also a good idea to do your own on the side, it helps make the process a lot simpler for them having a guide!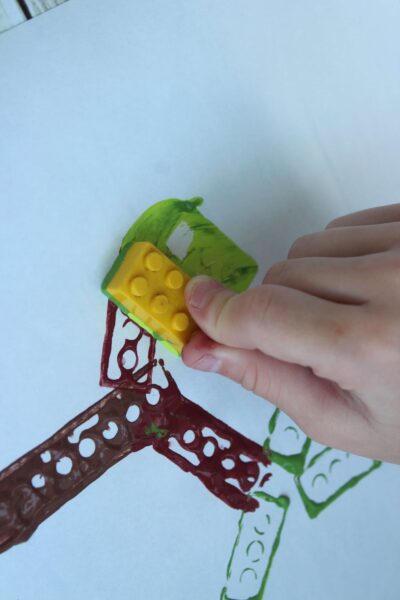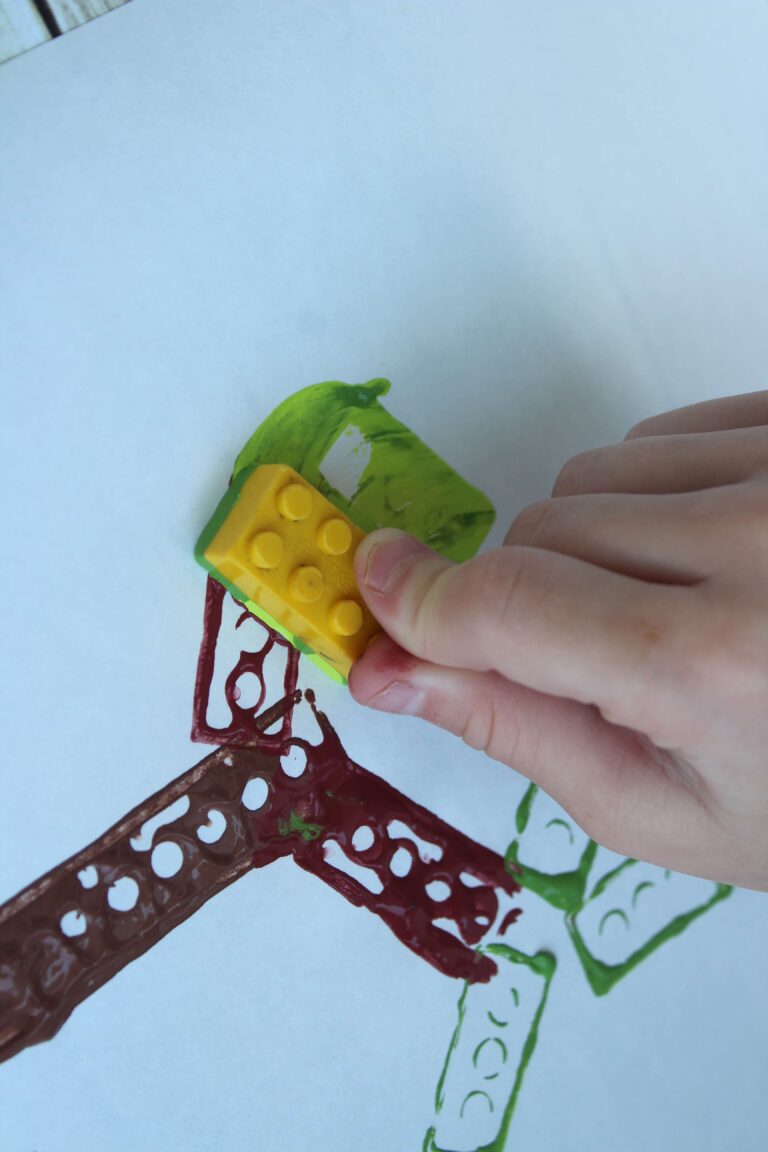 Allow to dry and display.
It shouldn't take too long for the paint to dry, especially if your toddler didn't go too hard with it.
This painting is great for sticking on the fridge, a wall, or you can frame them and make seasonal wall decor with them.
Our kids love to see their artwork displayed through the house.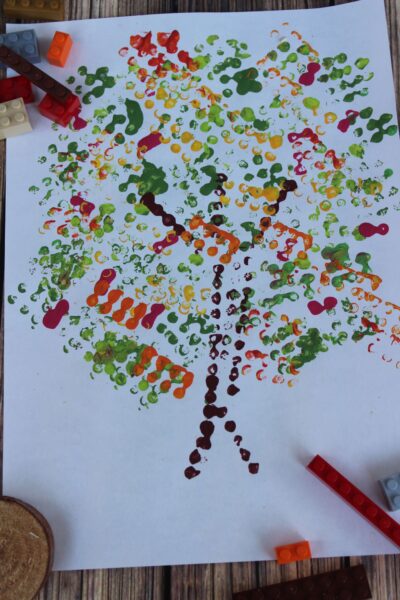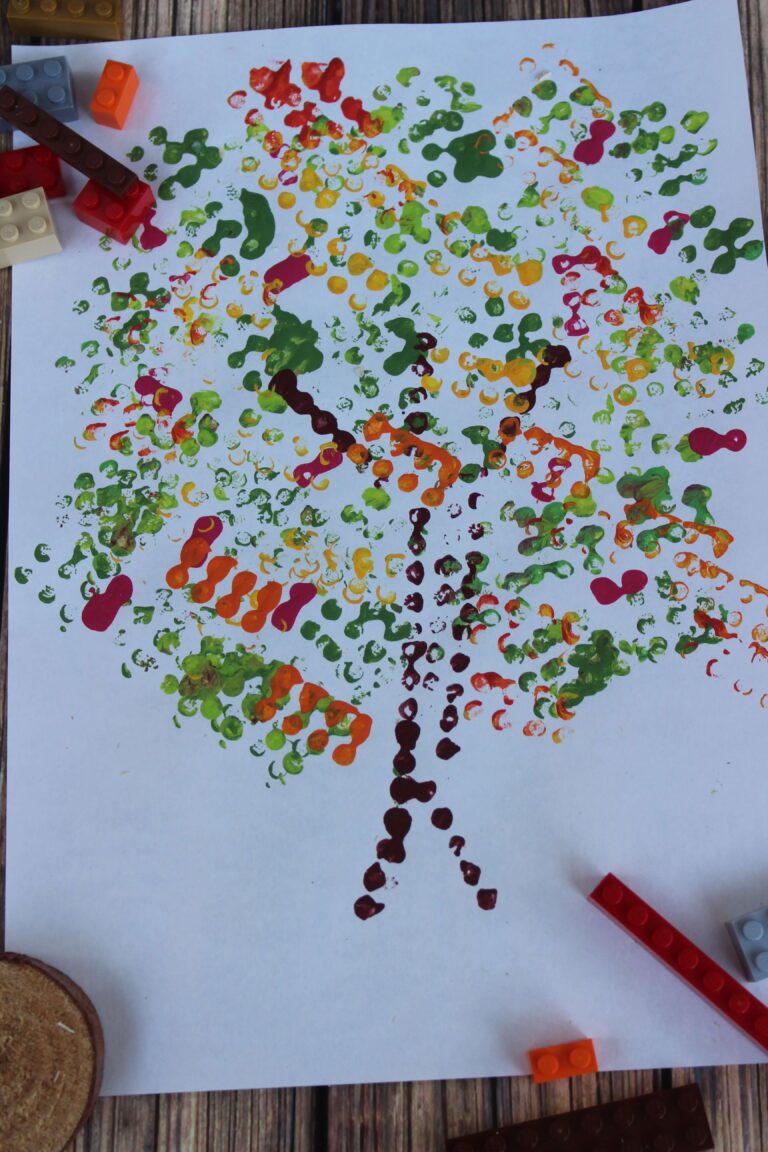 Tips for making arts and crafts enjoyable for your toddler:
Play music! Toddlers are at the right age to really begin enjoying music, and it's a huge part of childhood development!
Art and music flow together. Let your child choose the music they'd like to listen to.
Encourage movement. Taking breaks to get up and move around a little is always important.
Discuss their art with them. Write down the words they use to describe their art if they want you to.
Allow them to do more than one art project. While it's nice for them to focus on one specific project, if they'd like something like paint and paper to do something else with, you should give it to them.
If the weather allows go outside and do art projects outside in nature. Fresh air and exercise are always appreciated, and the environment might give some much-needed inspiration for arts and crafts!
Laugh, sing, and smile.
Take nature walks and collect items like leaves, feathers, flowers, and rocks to use in art projects. The fall season is perfect for this, even if it can get a little chilly outside.
We try to tie literature into all of our other activities.
These are some of the fall books about leaves we have loved.
Arts and crafts are important activities for toddlers to get ample opportunity to engage in every day.
These activities encourage creativity, imagination, and language skills!
The best way for young children to learn is through play and doing activities that bring them joy.
Since arts and crafts require working with objects, it teaches toddlers about different shapes, textures, and colors.
They will also learn how things work and how they match.
Creativity is also developed from arts and crafts, as it encourages kids to experiment and play in a relaxed and fun environment.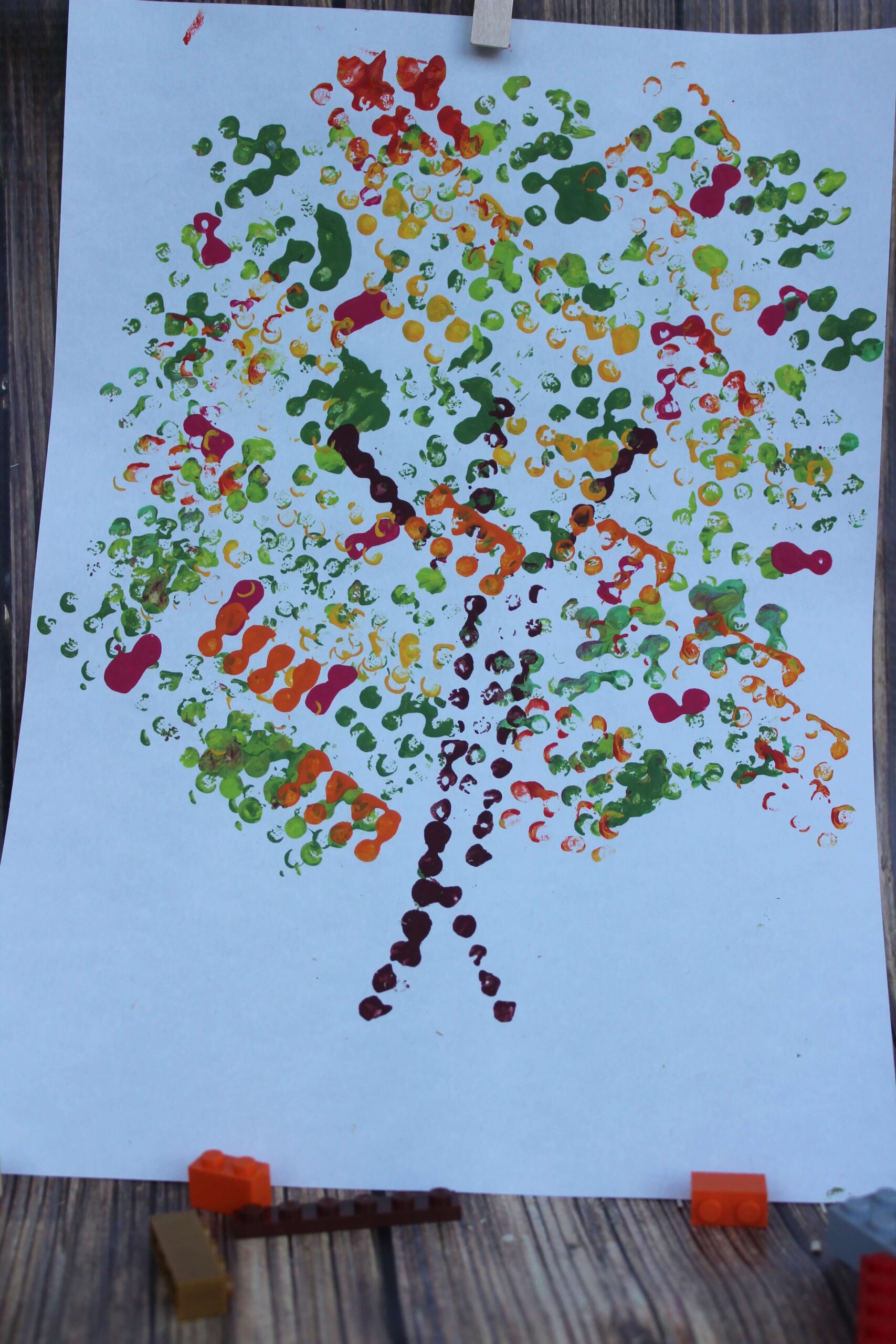 Lego painting is an adorable toddler fall art activity, but did you know it is also an excellent fine motor activity?
Your toddler will practice grasping the apple pieces, picking them up, and putting them down without dropping them.
This is an important early learning skill for your 2-year-old to practice.
What are Fine Motor Skills?
Fine motor skills are essential for using the small muscles in fingers, hands, and arms.
These muscles are important during activities such as drawing, buttoning, constructing with blocks, and zipping up a coat.
Fine motor skills impact your child's ability to do the above types of activities and the speed they can complete them.
To ensure your child performs these tasks successfully, they will need lots of opportunities to practice and gain mastery in the early toddler years.
Some of the common fine motor skills are:
Pencil skills like coloring and drawing
Scissor skills such as cutting and rearranging the paper
Doll dressing and manipulation
Dressing, i.e., zips, buttons, lacing, and tying shoelaces
Basic hygiene like brushing teeth, washing their face, and combing their hair
Construction skills such as puzzles and Duplo
Why are fine motor skills important for toddlers?
It's hard not to emphasize the importance of fine motor skills in everyday life because they enable us to perform simple tasks.
If a child is unable to complete the basic everyday tasks, it will take a toll on their self-esteem, affecting their play, academics, and co-curricular activities.
Also, children without the appropriate fine motor skills will find it hard to get independent life skills such as feeding or dressing, which will have many implications on relationships with other peers.
That is why fine motor activities are so important for your toddler to get plenty of opportunities to engage in.
Thankfully, there are amazing activities that you can do to help kickstart those developments outside of normal day-to-day life.
Arts and crafts often require children to use their hands in a specific manner; through this coordination, they will develop bilateral coordination and fine motor skills.
For instance, drawing lines and dots, tearing a piece of paper, or cutting it with shears are demanding assignments in terms of mastery, and children enjoy doing them.
Such tasks can help a toddler develop faster and become more skilled in other everyday activities like dressing.
More ideas like this toddler lego stamped fall tree craft:
This toddler lego stamped fall tree craft will be an absolute favorite for you and your toddler!
The simplicity, lovely fall colors, and easily displayable painting come together to form the perfect early fall arts and crafts project.
Your toddler will almost certainly enjoy doing this with you, and you'll end up with some great memories.
Be sure to hold onto the painting, it'll help bring those memories rushing back whenever you find it or look for it again.
Thank you for checking out this amazing arts and crafts project, if you're looking for other fall-themed arts and crafts projects we have plenty for you!