Updated August 3, 2022
Are you looking for an Easter sensory bin your toddler will LOVE?
We've got one to share with you!
Making Easter sensory bins is an easy and fun activity to do at home with your toddler or preschooler.
This sensory bin can EASILY be made with Easter items you can find at the dollar store.
That makes it an Easter toddler activity that Mom can love too!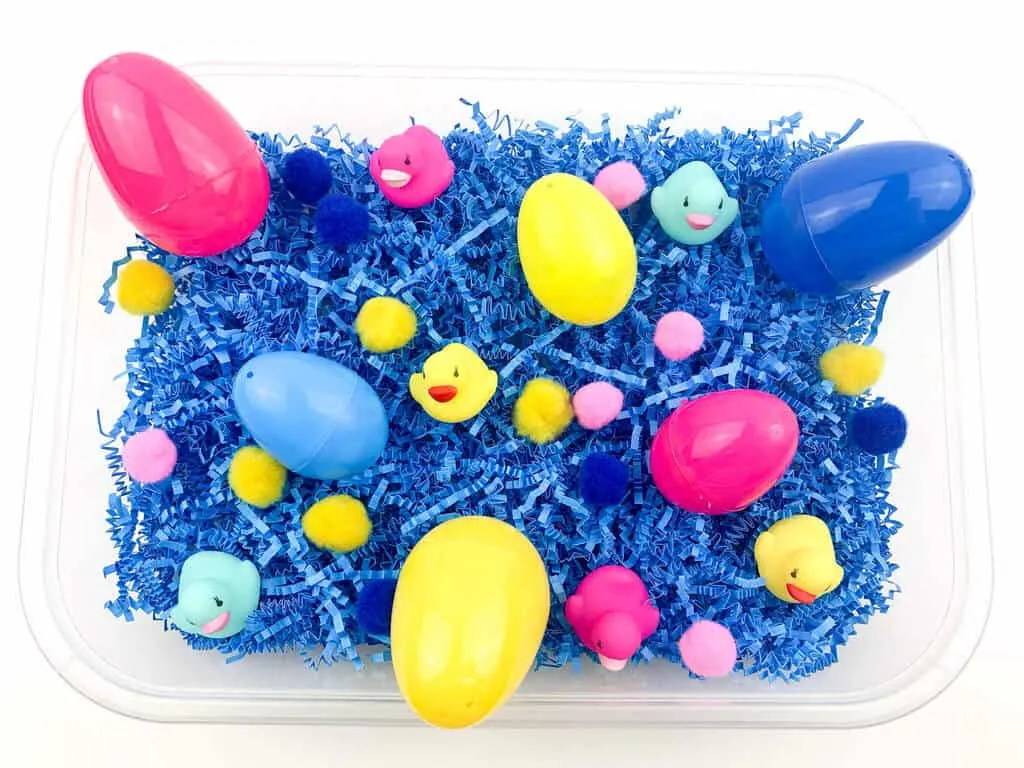 Having lots of opportunities for sensory play is important to a young child's development.
Easter ushers in the arrival of Spring which means new baby animals are being born on our farm. We hatch and raise new chicks in the spring.
I love to make sensory bins during this time that use plastic eggs and baby chicks or baby ducks.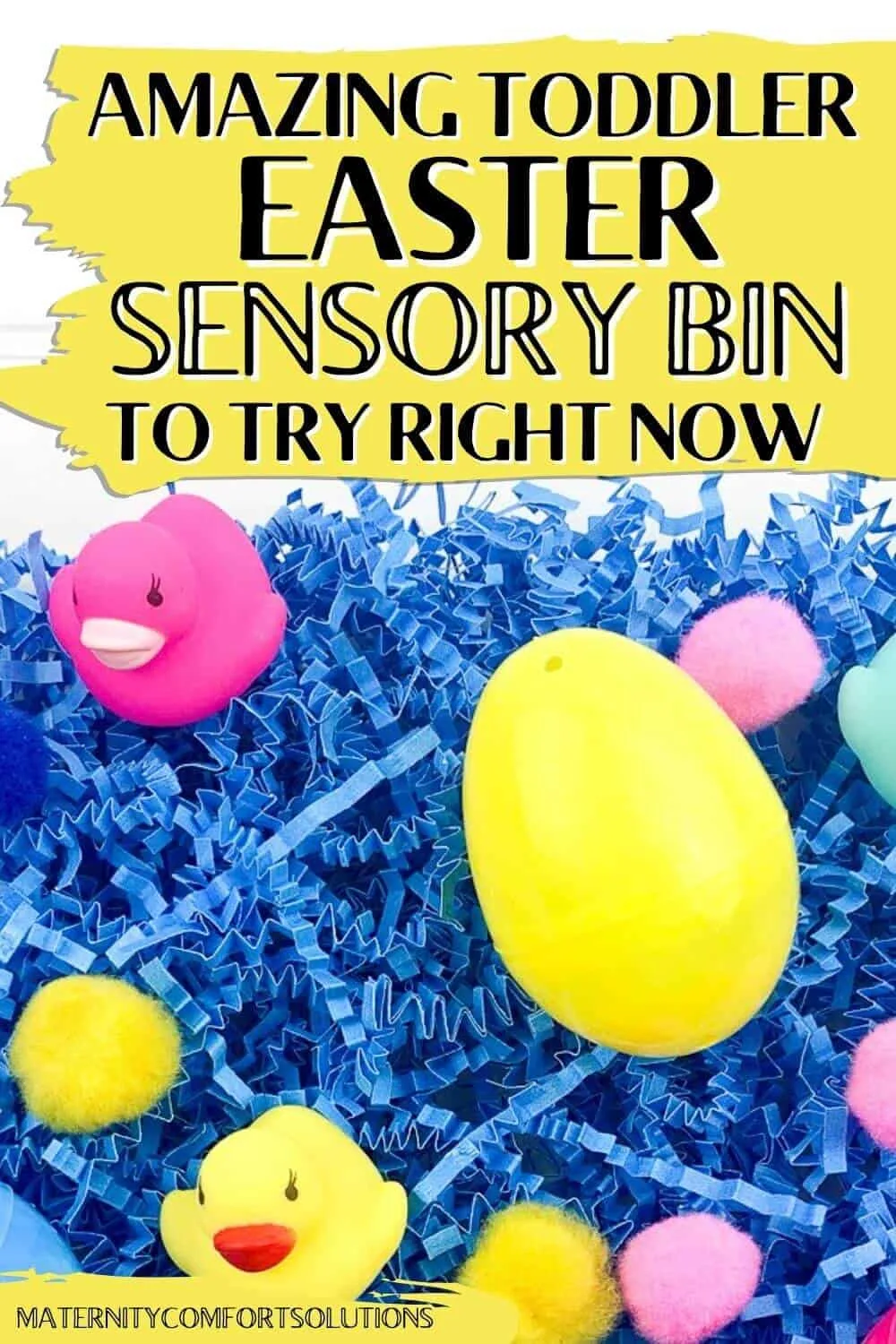 Easter week usually lines up perfectly with new chicks being born!
This hatchery sensory bin is another favorite of our little ones and is simple to make.
Above all my goal as a mom is to keep it simple and help you do the same.
Let's jump into how we made color matching Easter sensory bins for our toddler.
Easter Sensory Bin For Toddlers [Color Matching ]
Supplies:
Easter Grass (we used blue for "water"). You can use whatever color you have on hand or whatever color you can find at the dollar store.
Large and Medium-Sized Plastic Easter eggs (blue, pink, yellow), you can find at the dollar store, Walmart, and Amazon.
Pom poms (blue, pink, yellow – 5 each for this project), were another dollar store find.
Plastic toy ducks (blue, pink, yellow), we found our ducks at World Market.
Sensory tray (Plastic totes are what we use)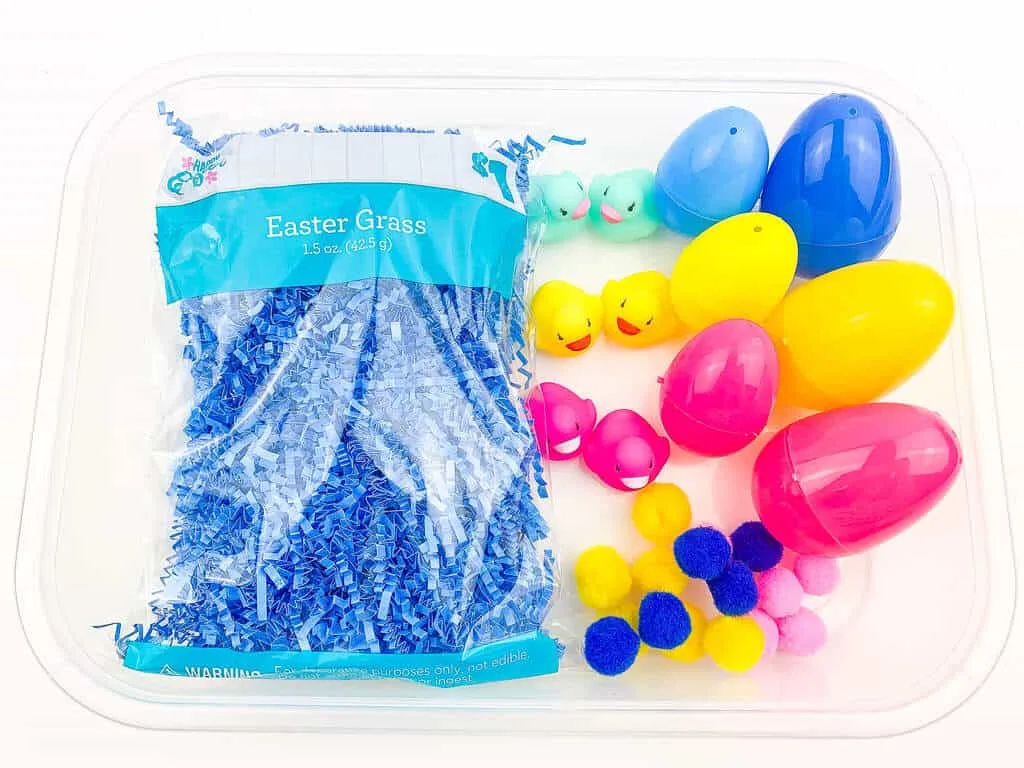 Directions:
Place the Easter grass in the bin. Spread out evenly.
You can use any color of the shredded paper.
We chose blue so the Easter sensory bin would look like water.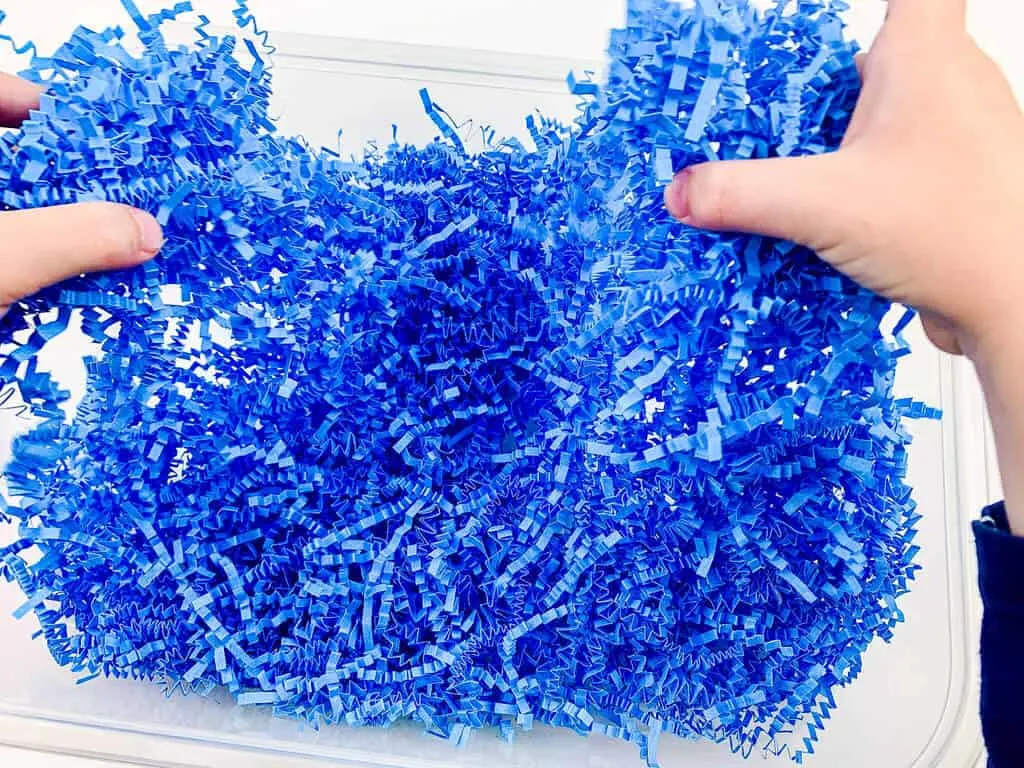 The shredded paper from the dollar store is excellent for sensory bins and craft projects.
We try to keep several packages and colors on hand for rainy day projects or the dreaded "I'm bored".
Sometimes we only add the shredded paper to the sensory bin and see what items our kids add on their own.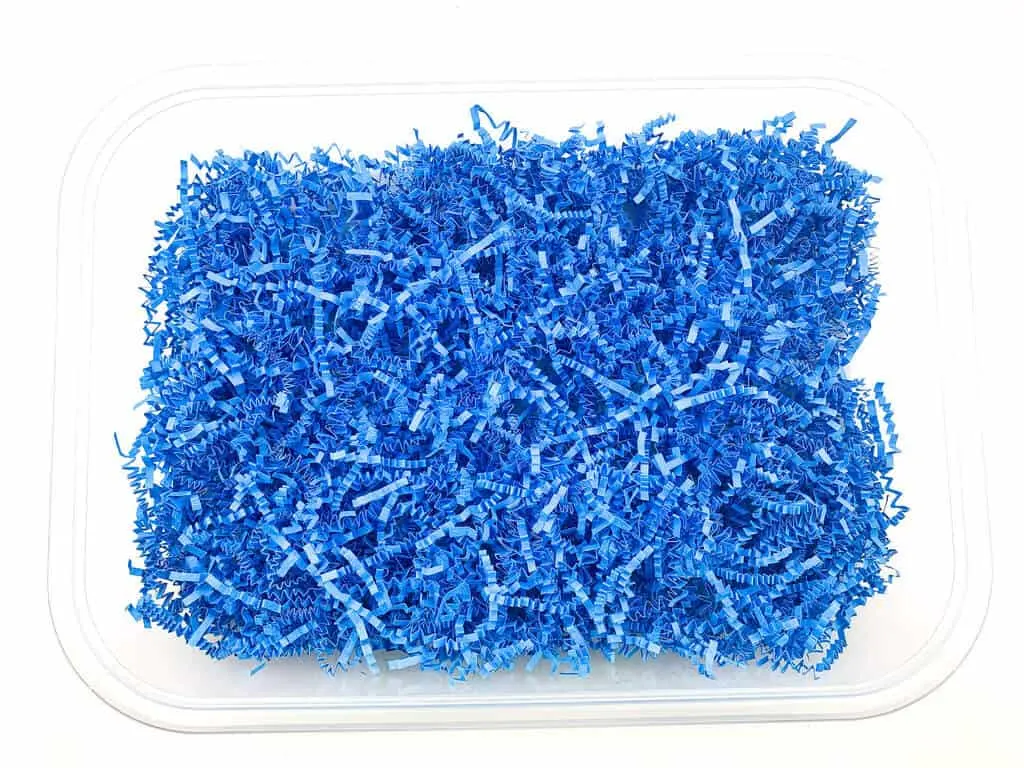 Add the Easter eggs around the tray.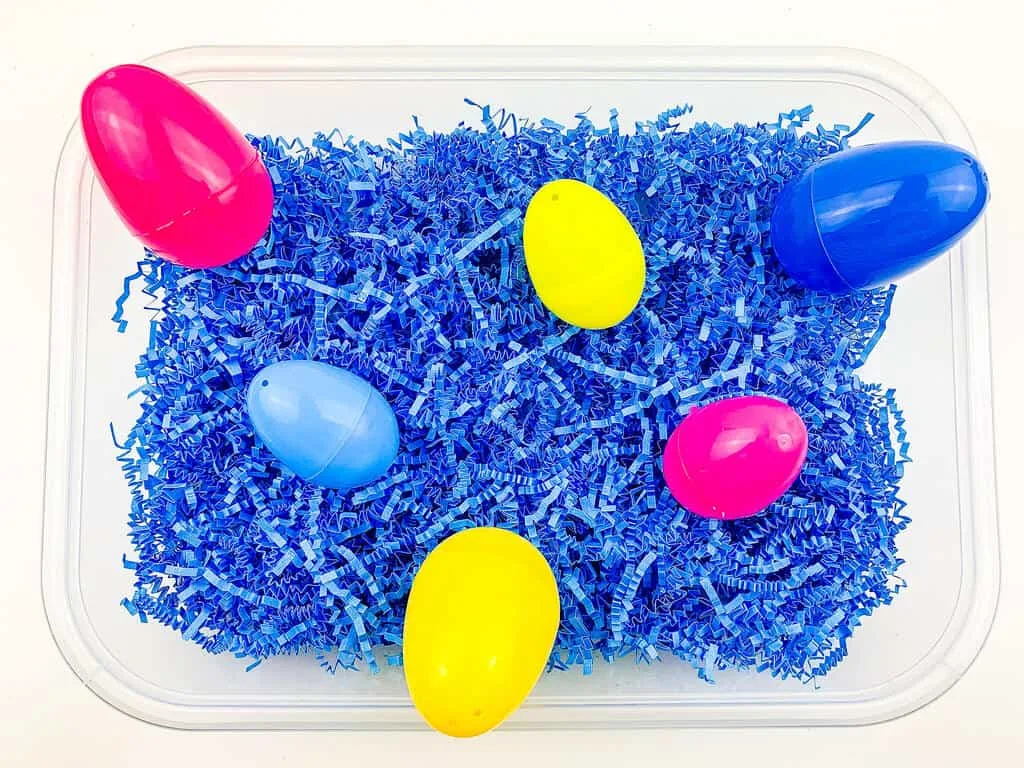 Place the ducks in the tray.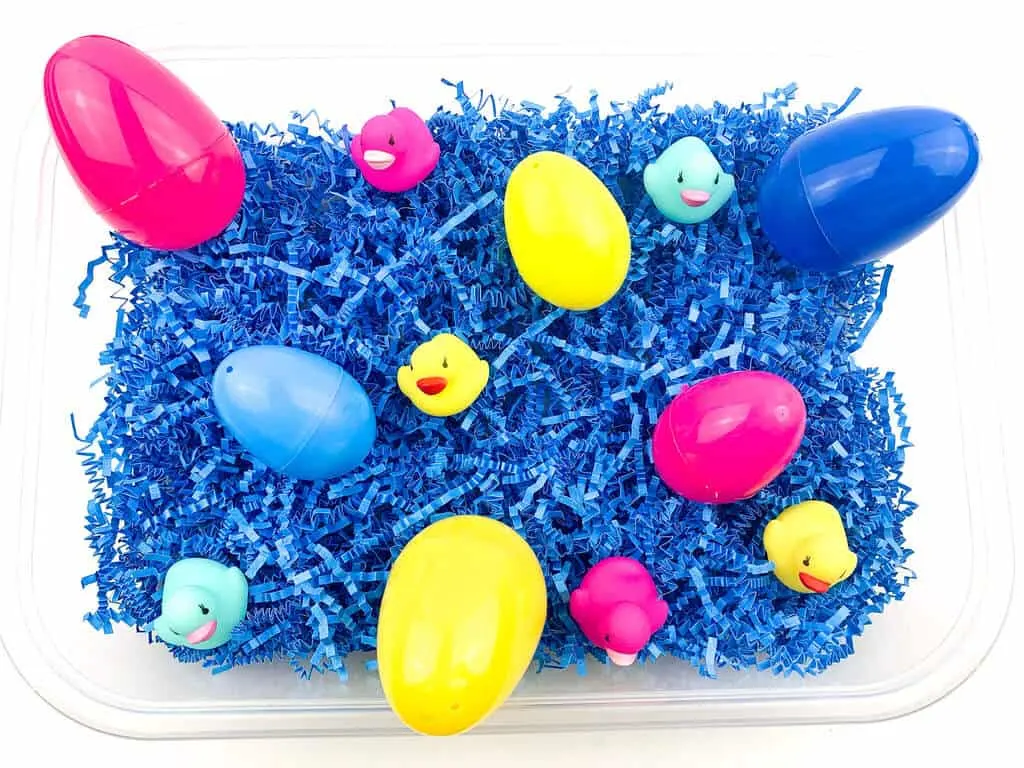 Add the pom-poms around the tray.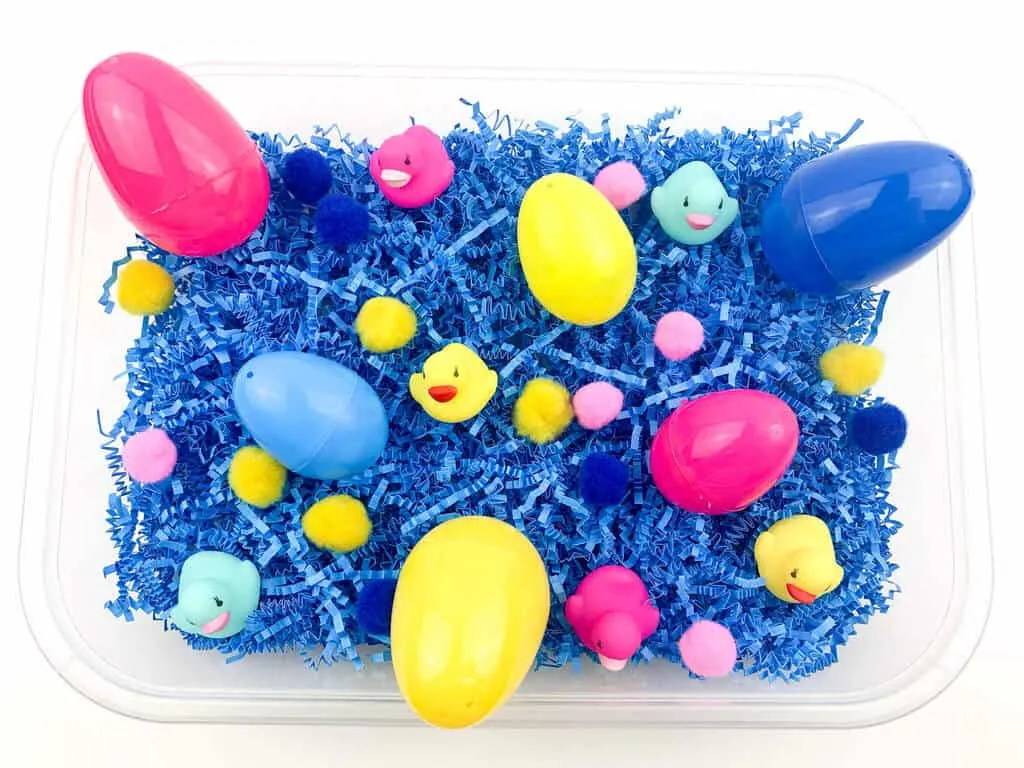 We try to tie sensory play into literature whenever we can.
You can never read to your toddler too much!
These are a few of our favorite Easter books that our children have enjoyed during the Holiday and early spring.
The Tale of Peter Rabbit
Little Blue Truck's Springtime
Llama Llama Easter Egg
Baby Animals
The Itsy Bitsy Bunny
This sensory bin is an excellent fine motor activity and will help your toddler improve their fine motor skills.
Twisting the eggs open
Placing objects inside the eggs
Closing the plastic eggs together
Picking up the pom-poms and placing them inside the eggs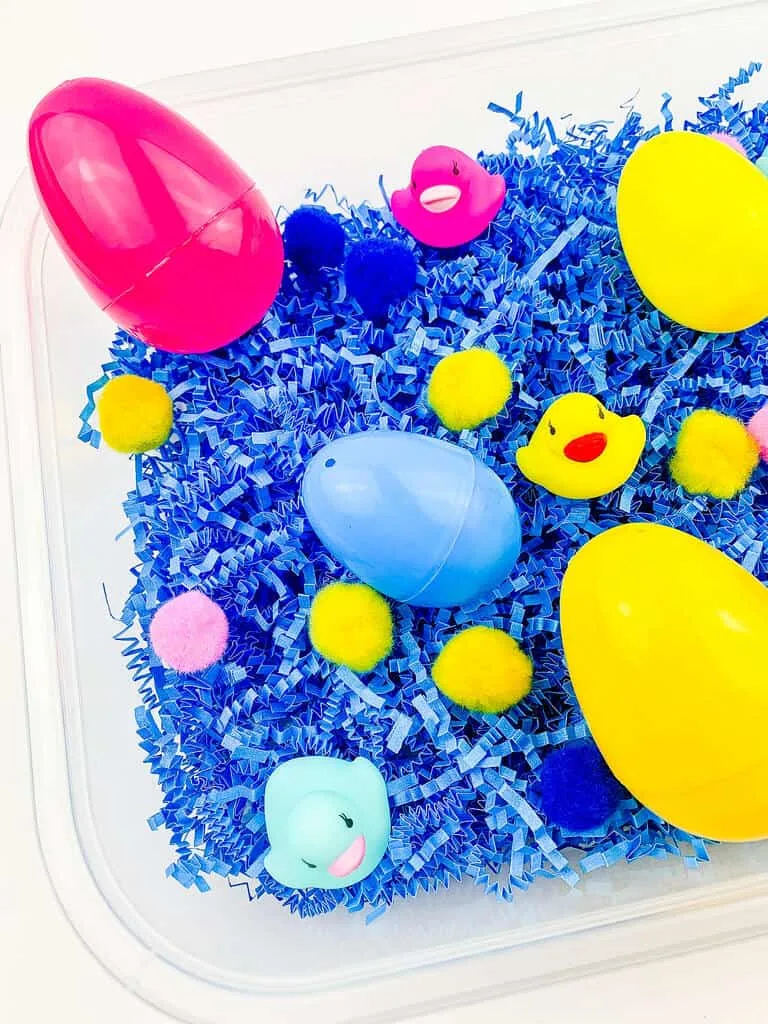 Have your child explore the contents of the sensory tray, matching the colors of the pom-poms and ducks to the correct colored egg.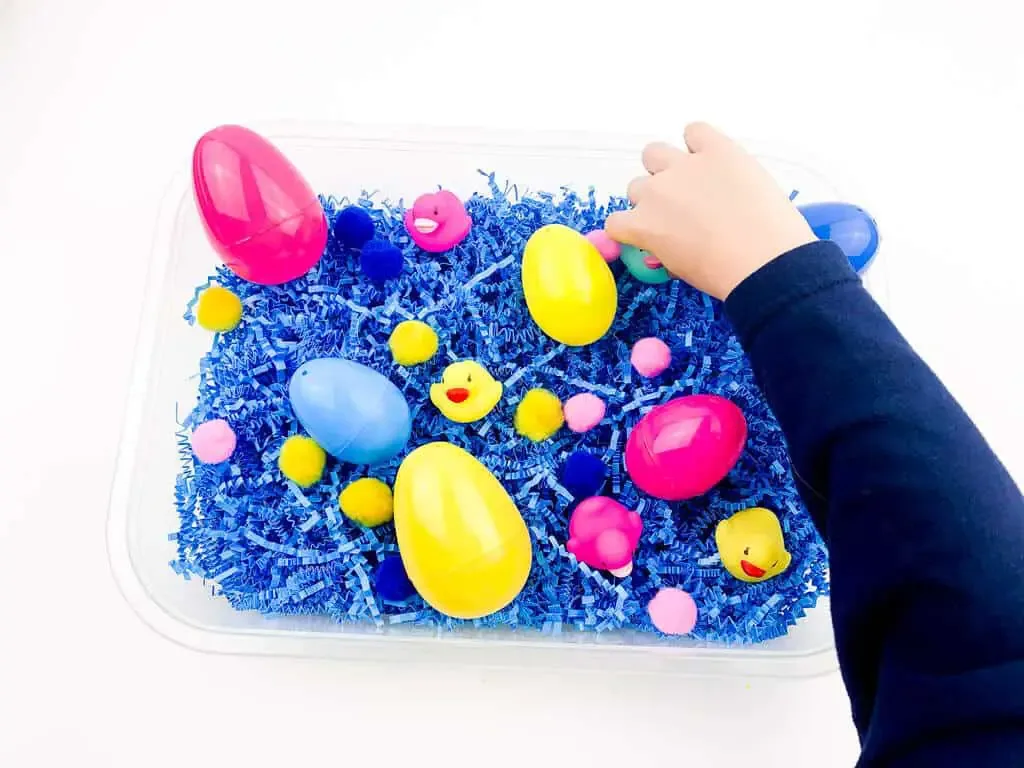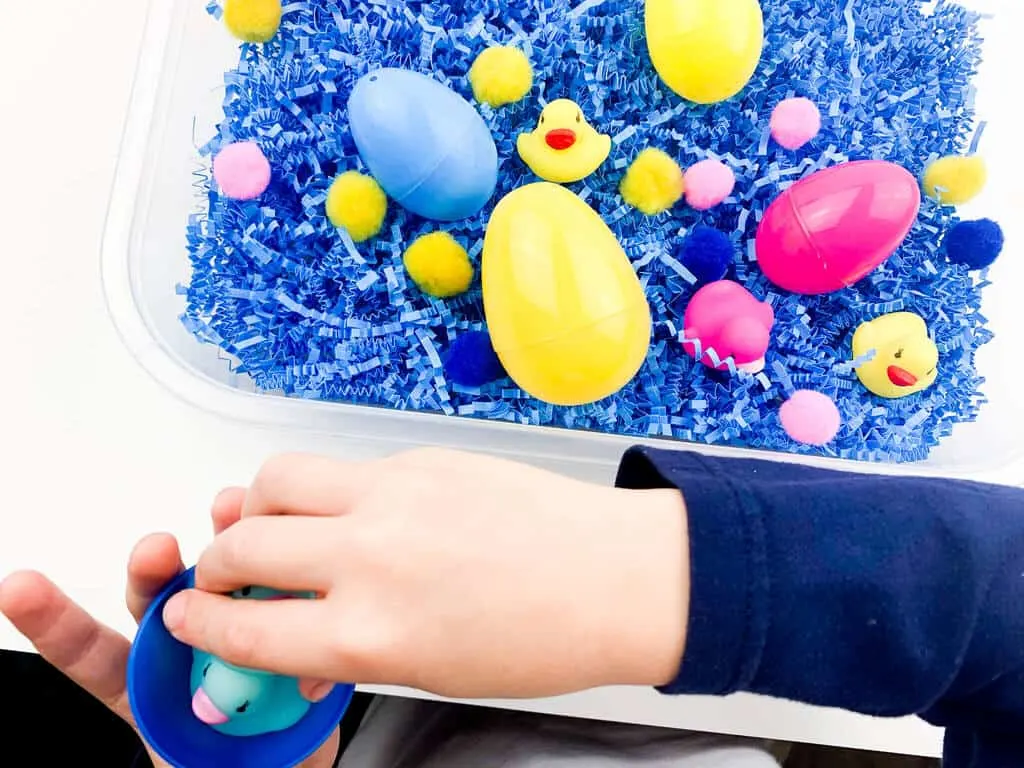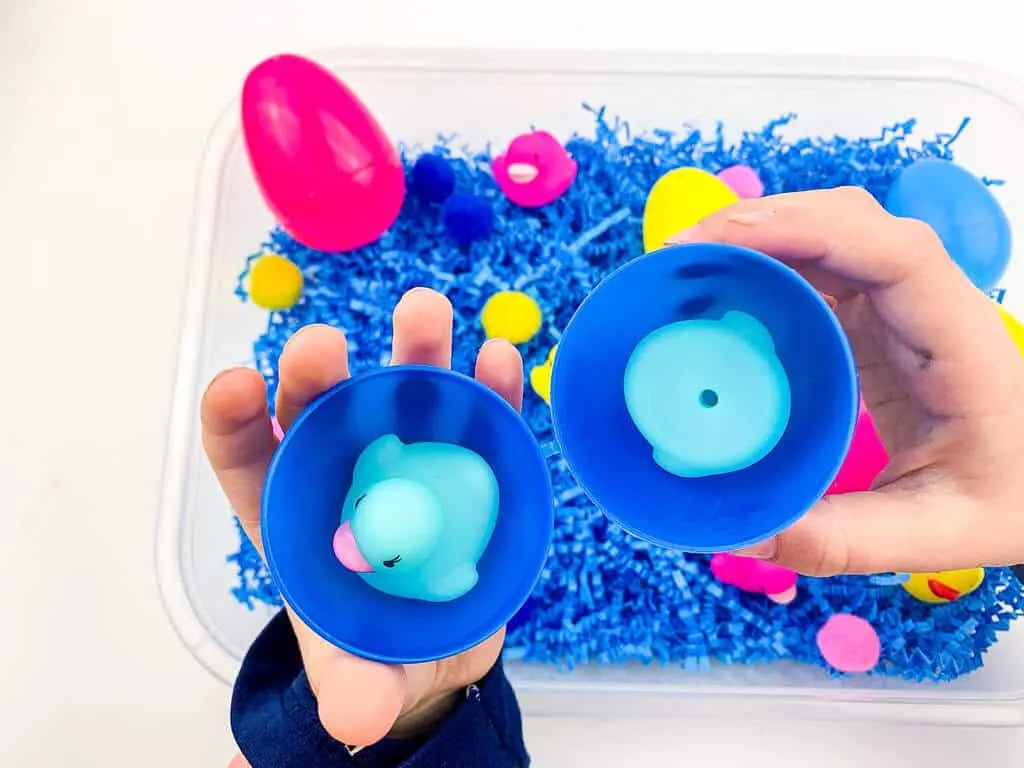 Observe the actions and activities as your child is playing and engaging with the bin.
This is an excellent time to help your toddler with their color words.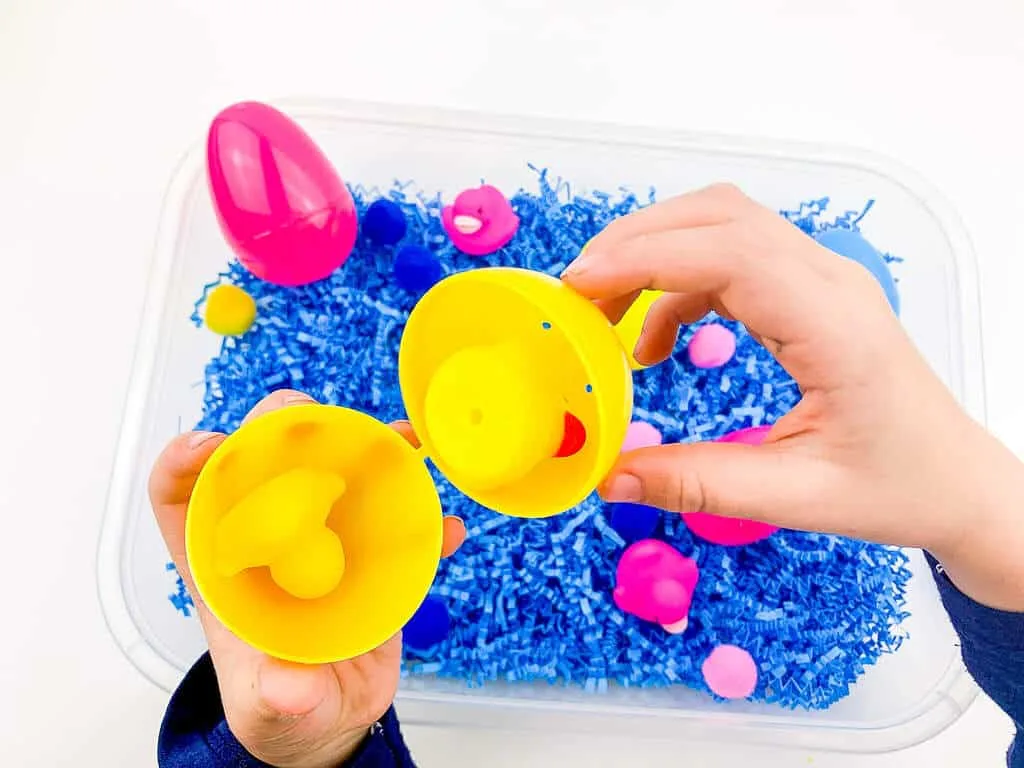 Our toddlers loved putting the ducks inside the eggs and pretending the ducks were hatching and swimming in the water!
FAQs: What is sensory play?
It has long been known that sensory play promotes early childhood development.
Sensory play helps a child learn and then integrate the five senses: smell, touch, sight, hearing and taste.
This encourages exploration and promotes creativity.
Research has demonstrated that sensory play promotes self-learning and impacts a child's behavior and personality.
The habits and behaviors of our children begin to evolve the day they are born and the learning process never ends.
Why offer sensory play opportunities?
Sensory play introduces the child to the basics of the scientific method.
Sensory play helps with the development of both fine and gross motor skills, language development, and problem-solving skills.
Sensory activities for young children encourage free and open-ended play.
Open-ended play is play with no set outcome, no expectations, no prodding, or feeding of ideas.
Your child is free to explore, create and imagine whatever he/she wants.
They learn to trust themselves, their internal motivations, and learn to self-validate their own experiences.
In my experience as both a parent and former early childhood educator, you can't fail with providing lots of opportunities for sensory play.
It doesn't have to be expensive or even time-consuming.
My mom motto is "It needs to be simple or it's not happening"
Sensory Bin Fillers:
You can buy tons of fillers for your sensory bins.
Most of the toys you'll see included as "ideas" are just simple dollar-store toys or toys we had kicking around the house.
None of the sensory bins I have made took more than 15 minutes in total to make.
If you decide to use colored pasta or colored rice for your sensory bin you can speed up the drying time for the colored pasta and rice by putting them in the oven on Bake at 250 degrees for 10 minutes.
Let them cool down and you are good to go.
They did not bleed any color once they were dry.
Be creative with your ideas! Give your child the opportunity to engage the senses in a fun and educational way.
The possibilities and combinations for sensory play and sensory bins are endless.
Conclusion:
This Easter sensory bin will keep your toddlers entertained for hours.
Right now most of us are still stuck at home and toddlers are a whirlwind of energy that needs to be kept busy.
Sensory play is one of our favorite indoor toddler activities.
If you are concerned about using food products like rice and sugar for sensory play, there are many non-food options you can use as fillers.
The dollar store shredded color paper used in this sensory bin is a great substitute for food-based products.
We hope you found this Easter sensory bin inspirational.
If you are looking for ways to extend out your Easter week activities be sure to check out our Plastic Easter Egg Stamping For Toddlers.