We may earn money or products from the companies mentioned in this post. You can read full disclaimer below.
Updated October 9, 2021
Are you looking for new Elf on the Shelf ideas for toddlers and preschoolers?
Getting creative and coming up with new Elf on the Shelf ideas can be tricky at times.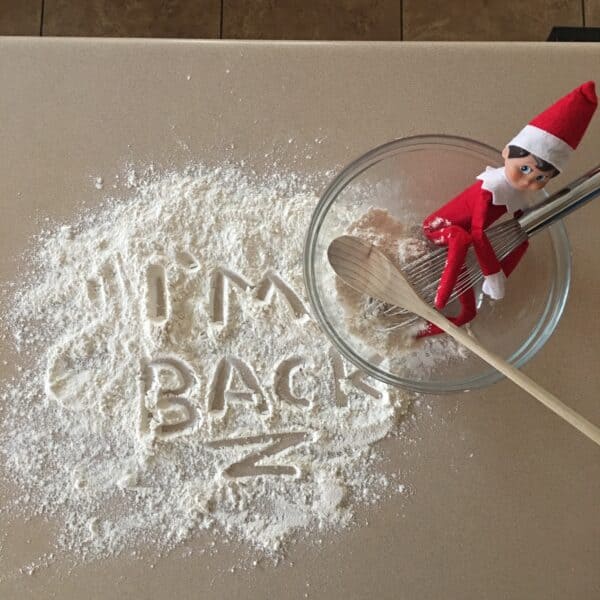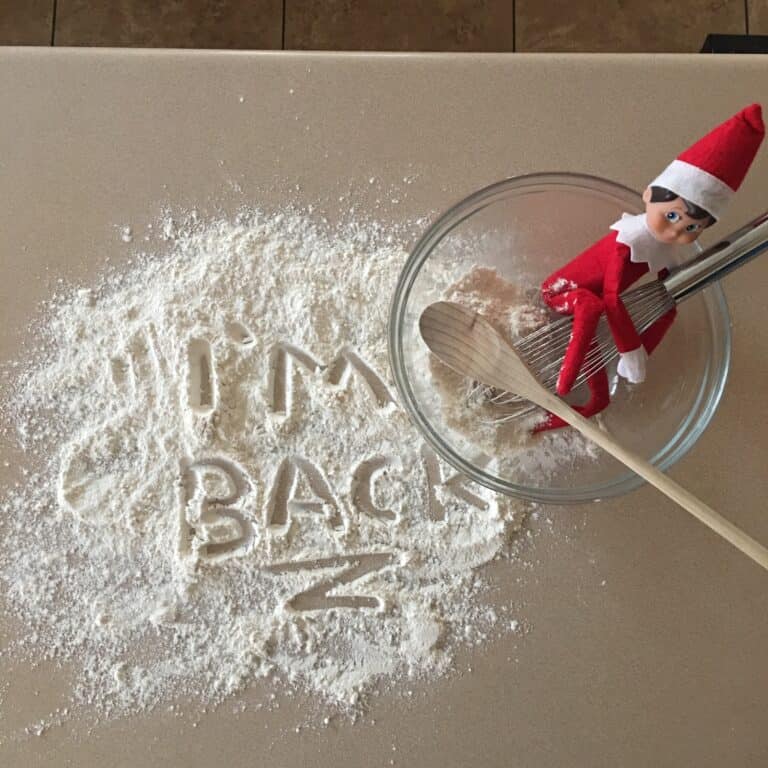 If you are new to Elf on the Shelf and wondering where to even begin, these helpful Elf on the Shelf ideas will be a great start.
We've had our Elf on the Shelf for several years. We don't do it exactly like the story though.
Our elf doesn't report bad behavior to Santa. He only does fun stuff and gets into a little mischief sometimes.
There are so many fun and creative Elf on the Shelf ideas for toddlers.
The best part? They are super simple.
In a hurry?
[wps_alert type=" note"]
This 25 Days of Elf On The Shelf activities kit
is the one our readers LOVE most and it is an Etsy BEST SELLER for 2020!
[/wps_alert]
The kit comes with everything you need to set up 25 days of Christmas magic with your Elf
Everything you need is labeled and included
The kit comes with 8 bonus activities and 2 outfits!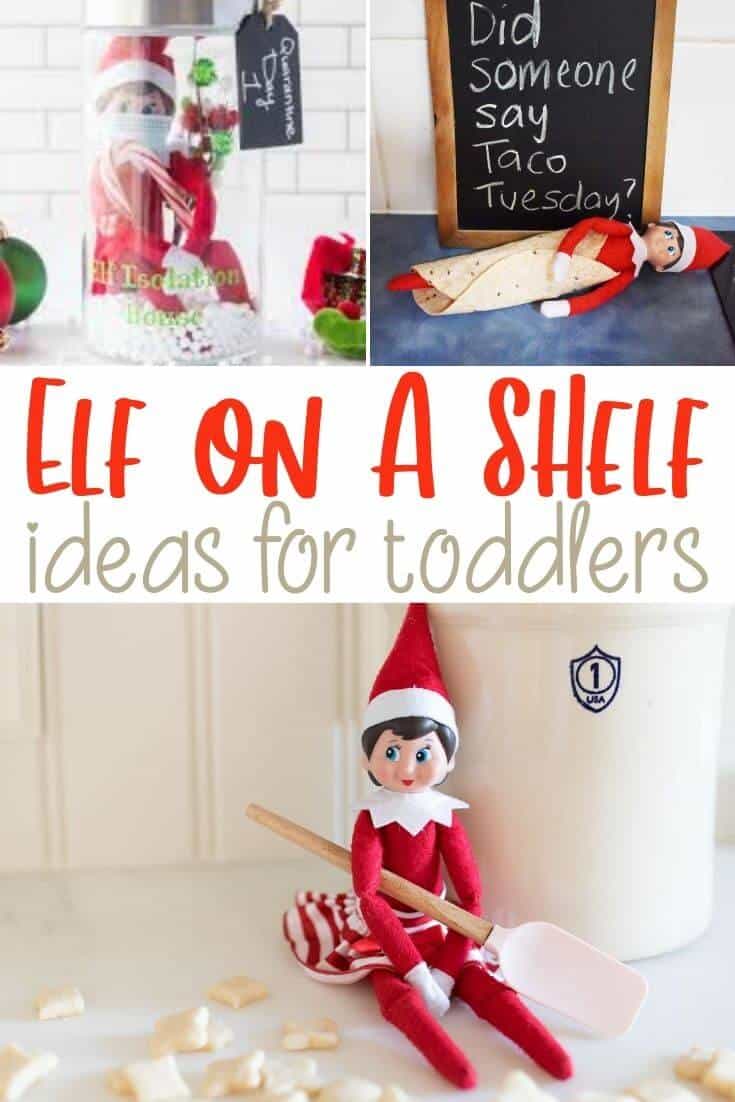 [wps_alert type=" note"]
Pro-tip: I keep an alarm set on my phone to remind me to move the elf every night in December
.[/wps_alert]
If I didn't have a reminder, the elf would be forgotten about, more often than I want to admit. 🙈
Don't worry if you forget to move your elf.
We are going to share a list of reasons why our elf sometimes doesn't move for a day to two. 
But having an alarm set at night is the best to make sure your elf moves every night!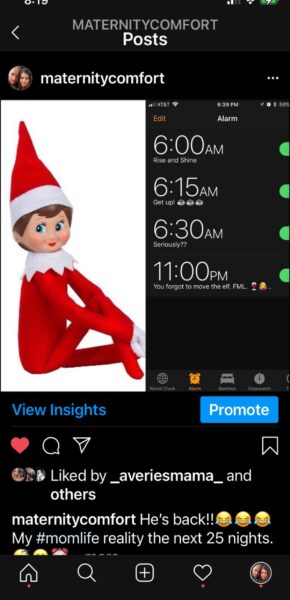 [wps_icon icon="check" background="#31b522″ color="#ffffff" size="19″ padding="6″ radius="0″]12+ Elf on the Shelf Ideas For Toddlers
Fun and crafty, these ideas take regular toilet paper to create a fun and festive holiday scene with the elves.
There are several creative and hilarious ideas for using toilet paper with your elf.
I would use this idea if I were potty-training a toddler this holiday season.
The elf and Santa think they are big enough and old enough to use the potty.
Please don't ever use your elf to shame your child for having accidents while potty training.
Accidents happen. No shaming. NOT ever.
Our elf only does silly things that make us laugh around the potty.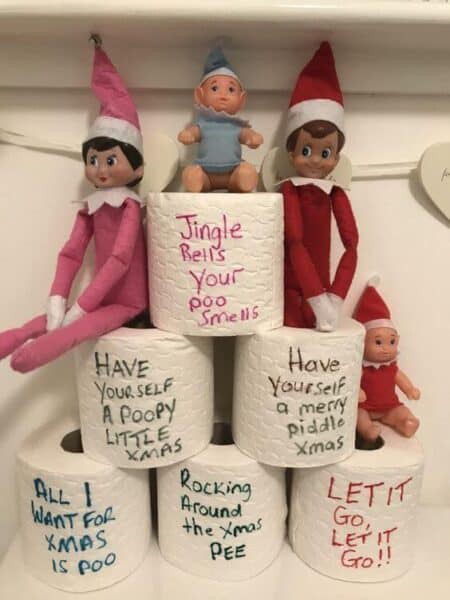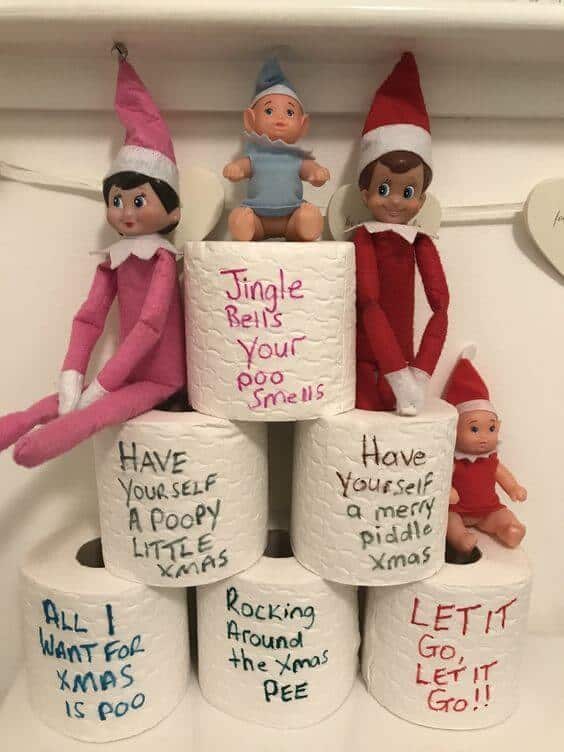 If you want to stay organized with your Elf on the Shelf activities, this printable calendar is a must-have.
It can be helpful to plan out what your elf will be doing each of the 24 nights. This planner is a great option to write down your ideas for each night.
But always feel free to be flexible with your plans.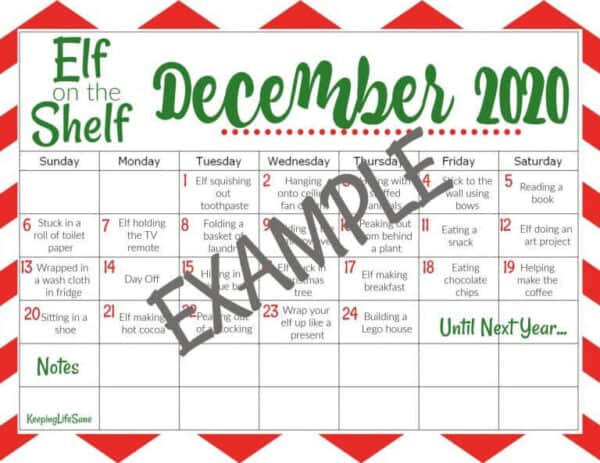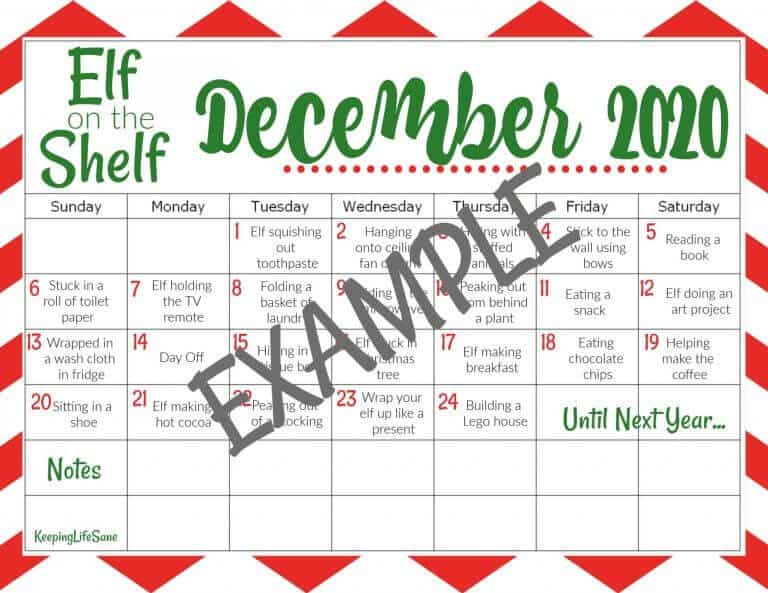 These eleven creative Elf on the Shelf ideas are perfect for the holidays.
There are a variety of different elf ideas and printables that you can use.
We really like this idea. It is simple. It is inexpensive.
Toddlers think their elf wrapping the tree in Christmas wrapping paper is hilarious.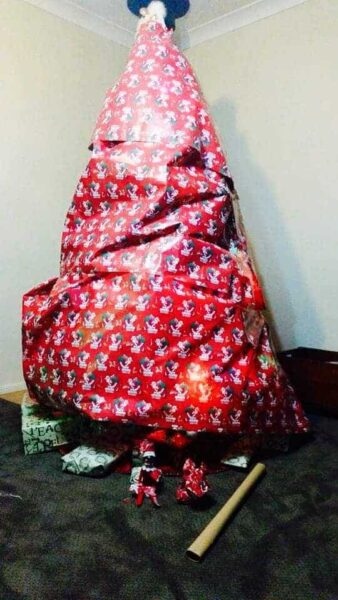 Last updated on May 31, 2022 6:59 pm
The perfect way to ensure the Elf is healthy when he arrives from the North Pole.
Fun and fitting for the holidays, the kids will love it.
I think this sums up the year for all of us.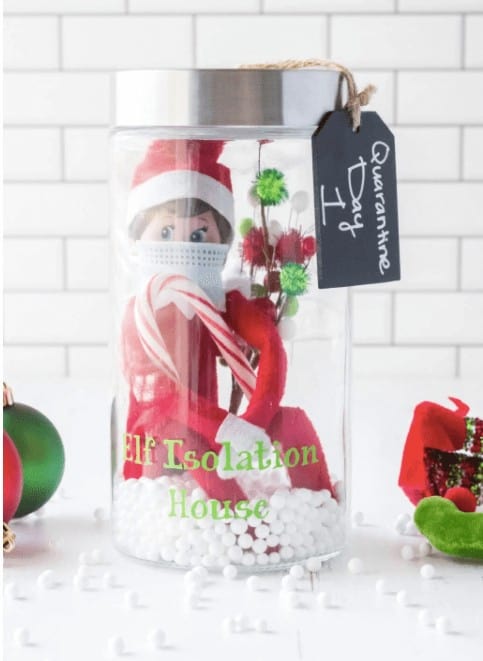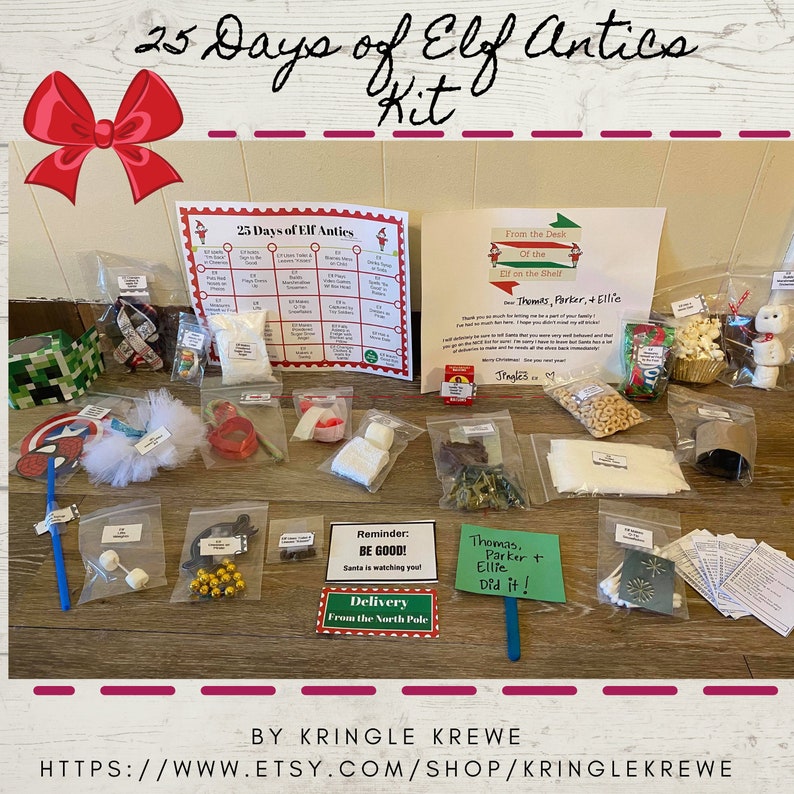 25 Days of Elf Activities Kit Includes 2 Outfits
Related: 12 Days Of Christmas Crafts For Toddlers
This Elf on a Shelf activity has him ziplining through the area for a fun and creative Elf on the Shelf idea.
We love zipline elf! So easy to pull off! Could make a cute mission impossible elf theme too.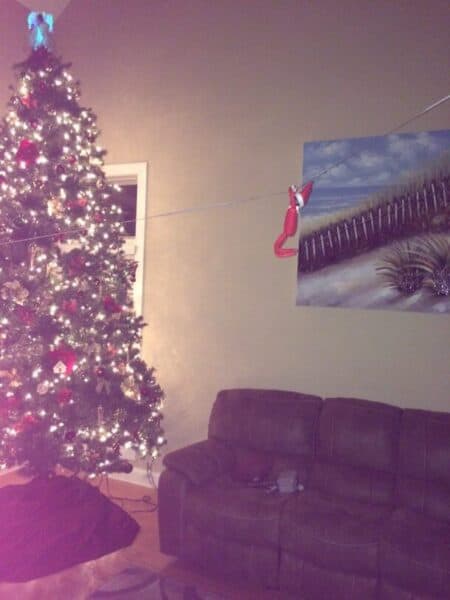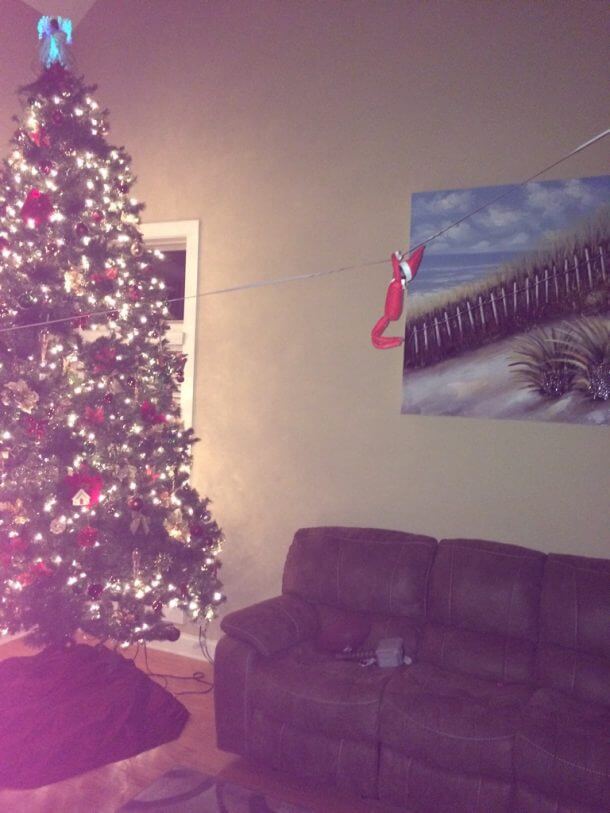 This Elf on a Shelf idea will have kids playing a fun game of twister for the holidays.
The kiddos will love this fun holiday twist.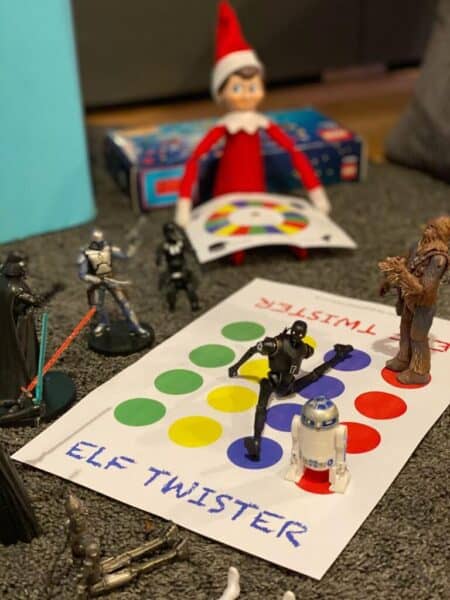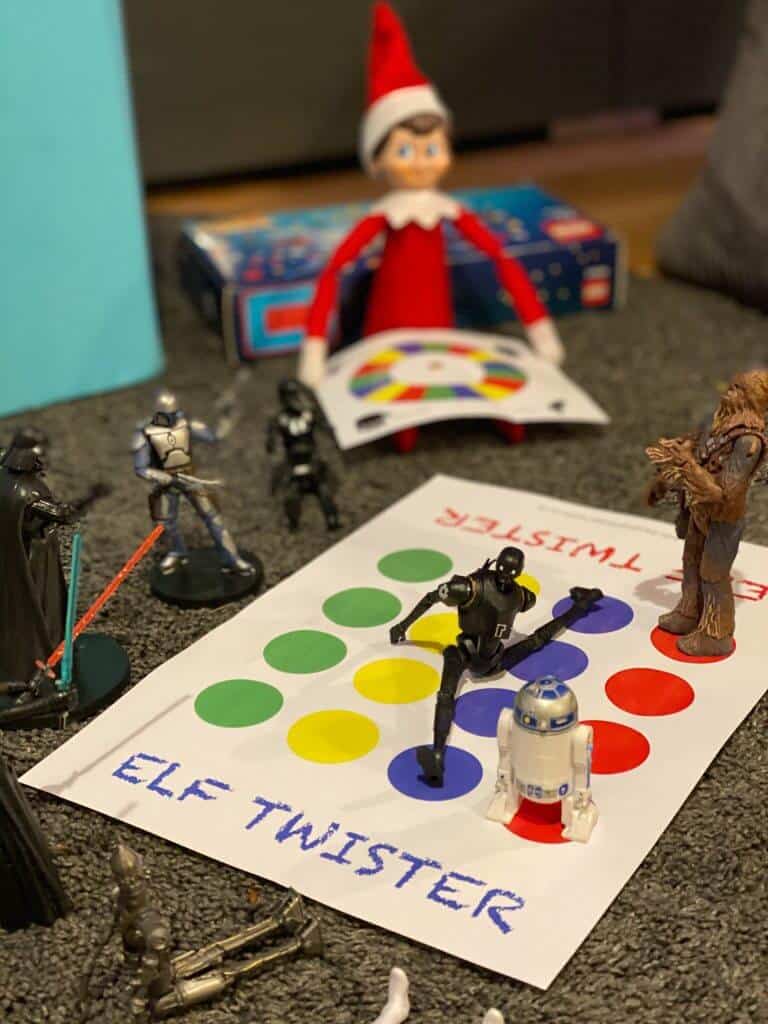 A fun way for kids to show their gratitude, this Elf on the Shelf gratitude printable is a great way for them to learn.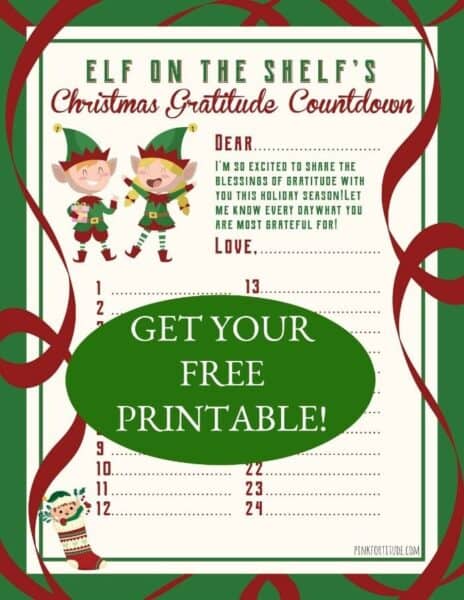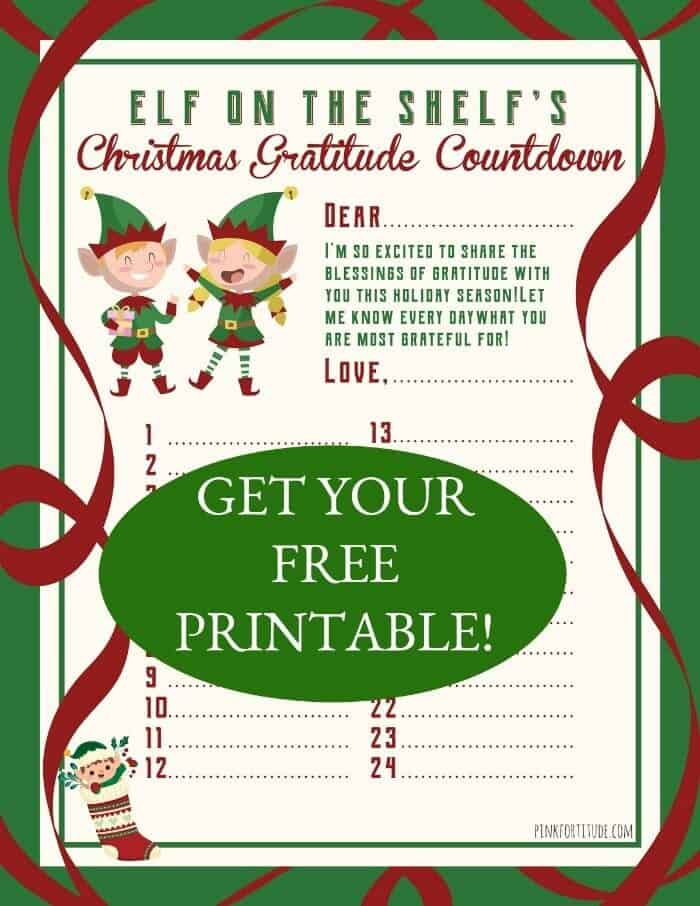 Things can get a little messy, but your Elf on the Shelf will have so much fun!
Kids will have even more fun as they complete slime activities.
Our kids love slime! If the sight of glitter makes you queasy (I get it), you can use green food coloring, your slime just won't be glittery.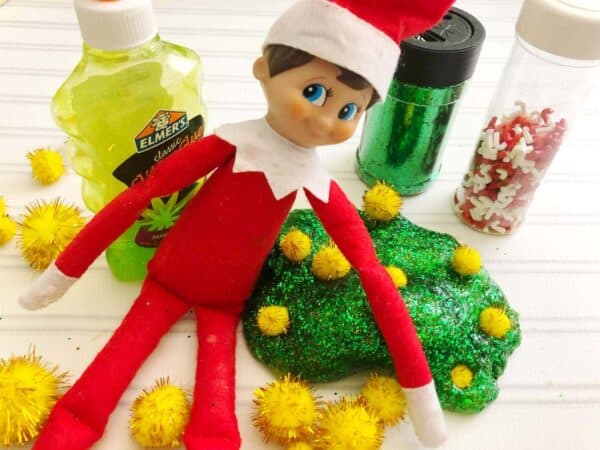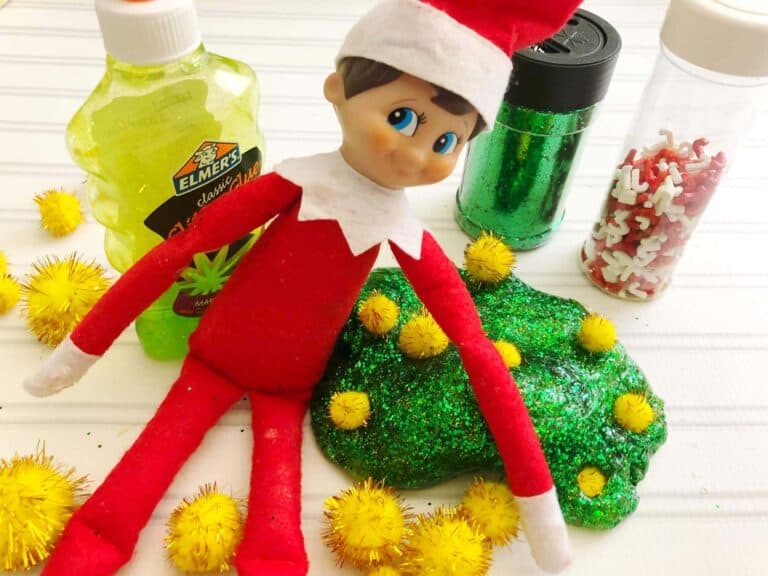 Filled with fun, this fun and easy Elf on the Shelf idea is perfect for the holidays and will have kids loving every minute.
This one might be a little harder with toddlers, but if you have a toddler and an older child it could work well.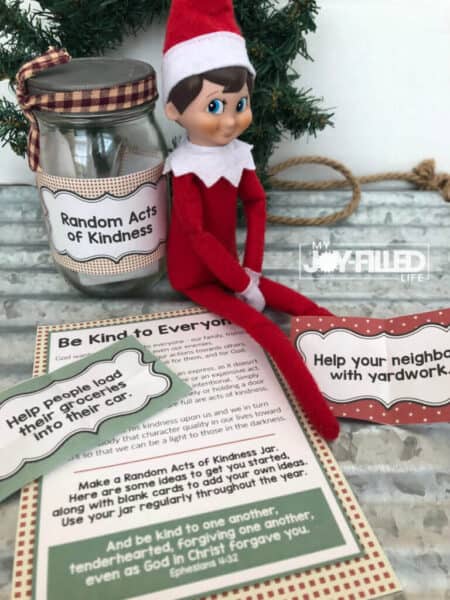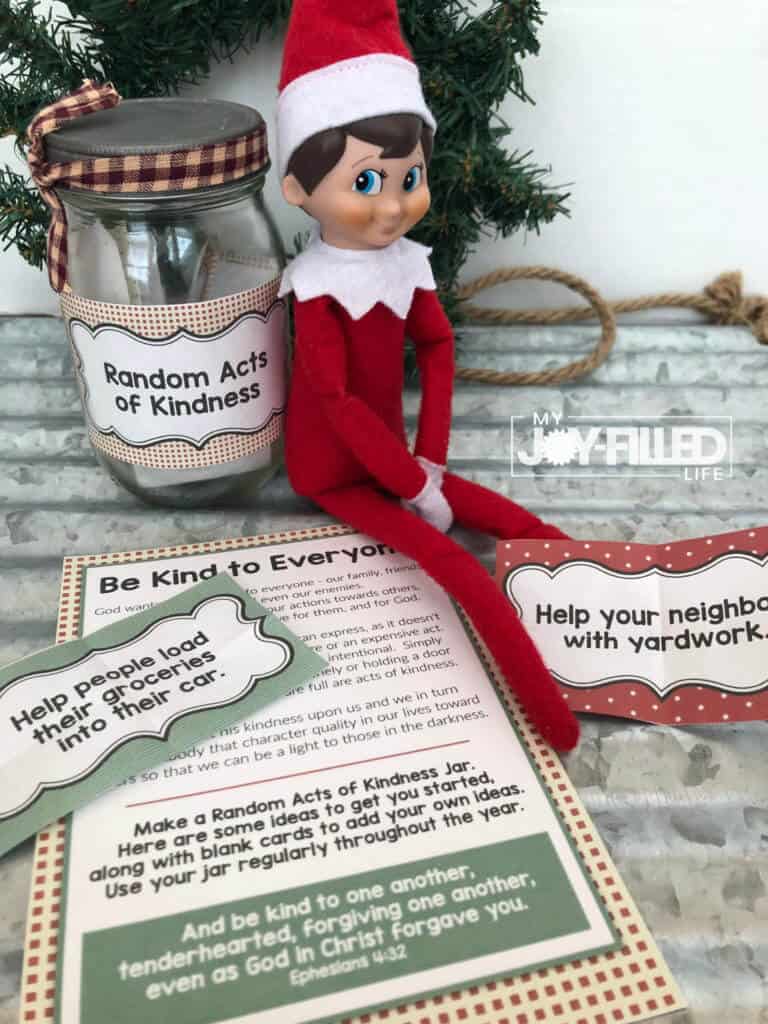 This fun idea uses Mr. Elf to help kids declutter and help by donating their toys to those who may not have a bright Christmas.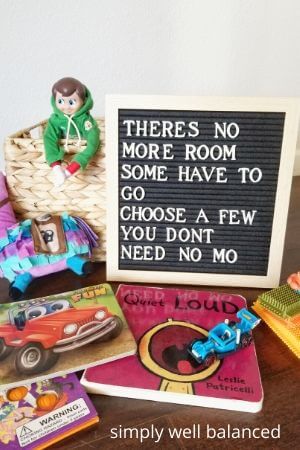 If you are looking for a super easy Elf on the Shelf idea, these cute and fun ideas are a great way to create some fun and easy scenarios.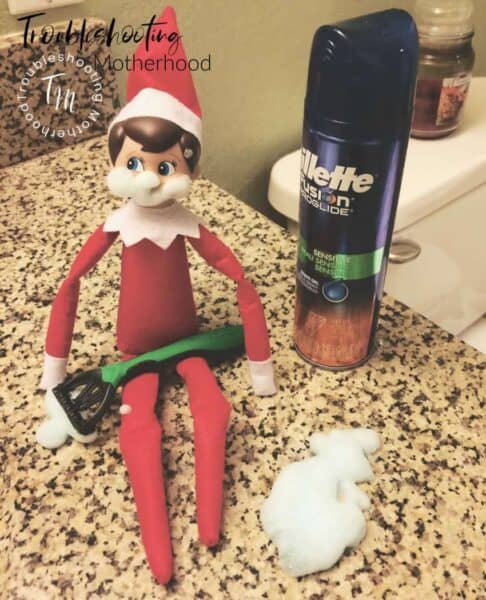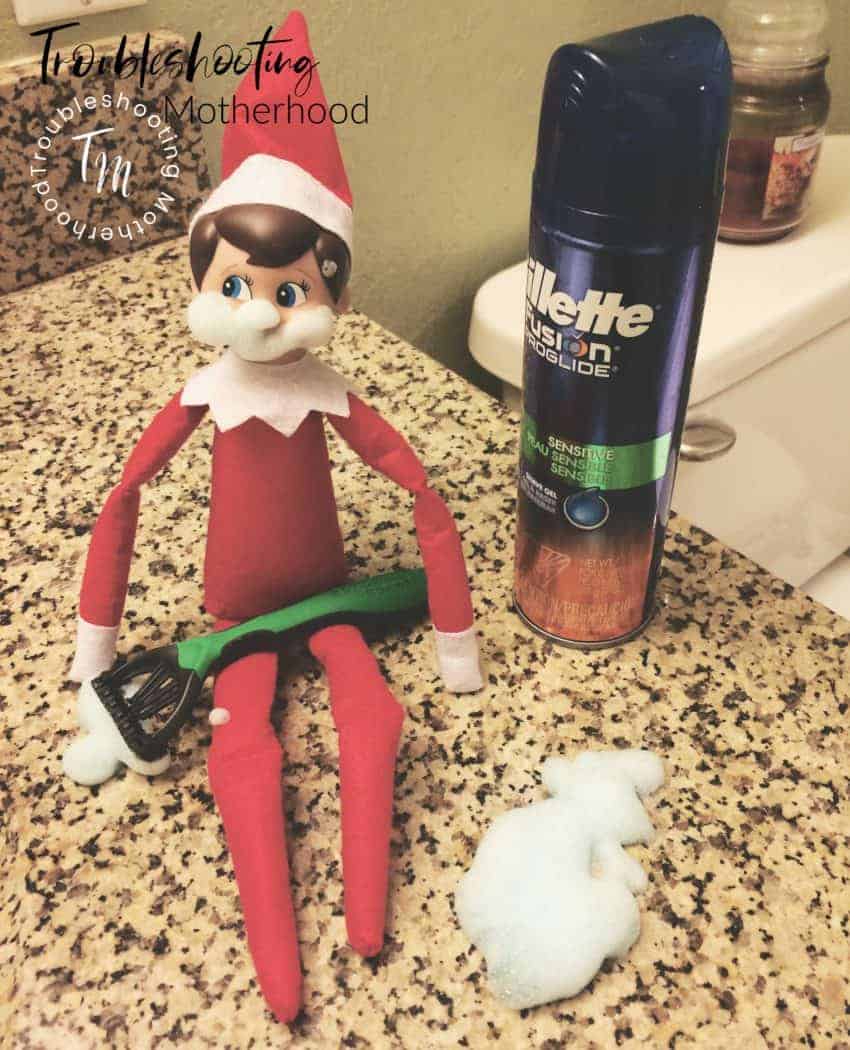 Pancake Breakfast Elf Arrival
Our Elf on the Shelf making his December 1st appearance. It's a simple Elf on the Shelf idea. You can do the same thing with an easy cookie mix or muffin mix.
We did pancakes and bacon for breakfast. Always a big hit and it is a breakfast we don't make that often.
In the past, we have done muffins, brownies, cookies. You get the idea. The arrival of our elf is usually food-related.
Keep it as simple as you want to.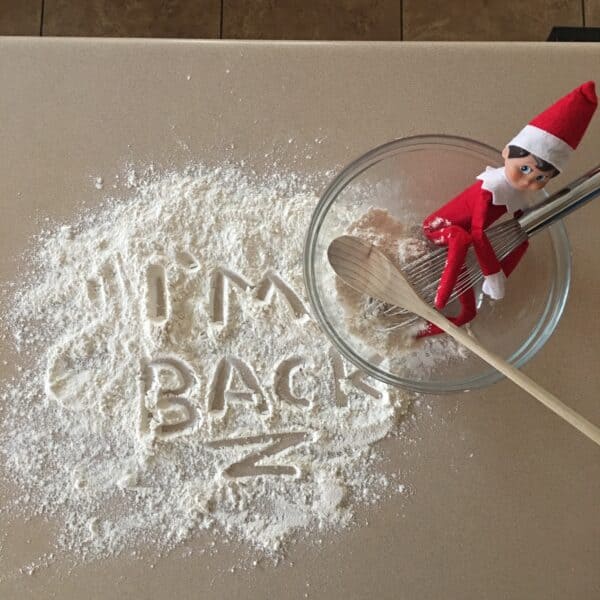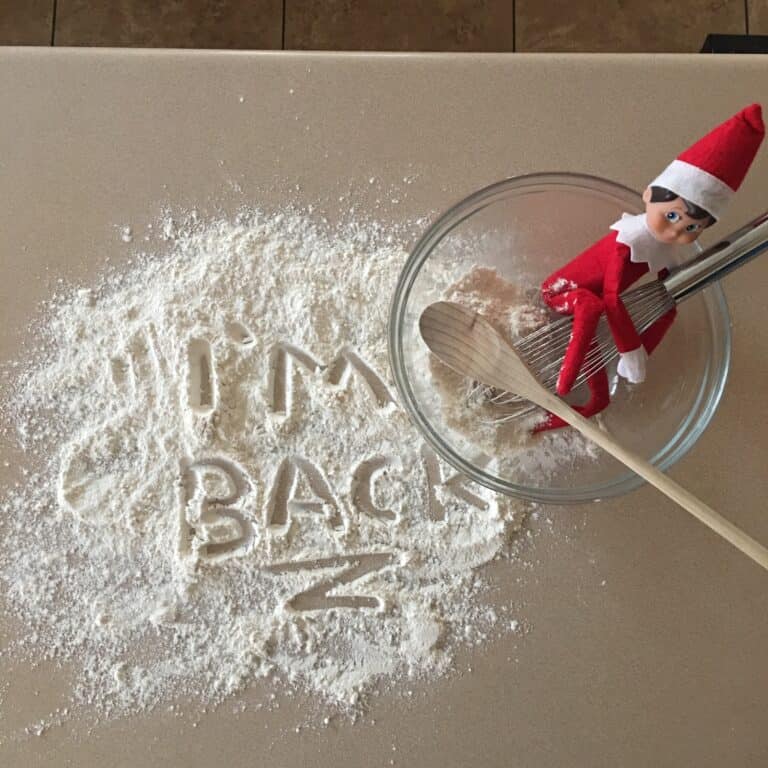 Photo: Maternity Comfort Solutions
Elf Christmas Yoga
Our elf kicking off his morning with a yoga session. This is a cute idea.
We don't always put our elf into mischievous or messy activities.
Very often it is something cute or funny with no-clean-up required.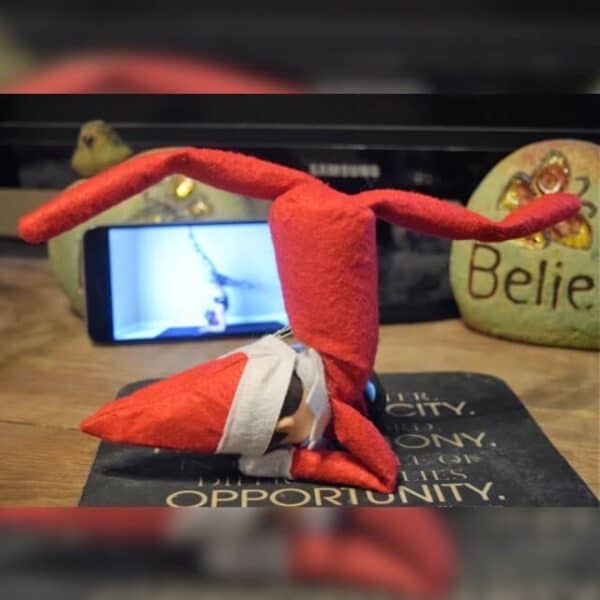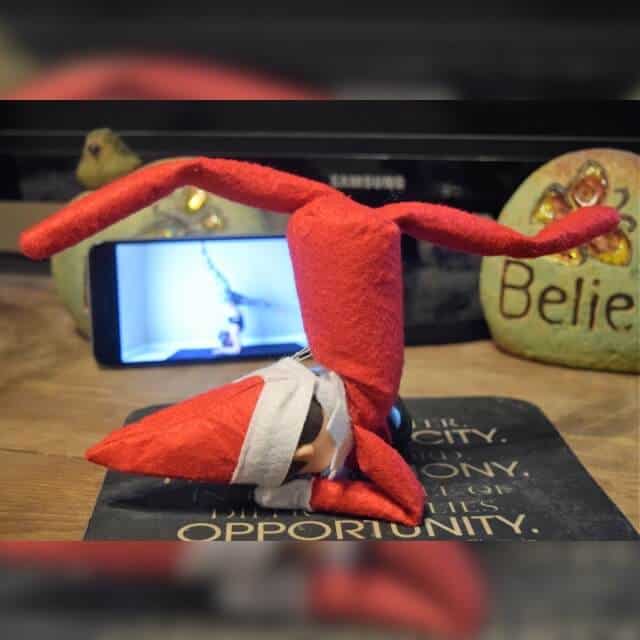 [wps_icon icon="check" background="#31b522″ color="#ffffff" size="19″ padding="6″ radius="0″]Even More Elf on the Shelf Ideas!
This is the perfect way for your Elf to say goodbye for 2021.
It comes with 12 adorable letterboard notes, a hand sanitizer booth, and a mask.
Digital download, no worries about having anything shipped.
An Etsy BESTSELLER for 2021!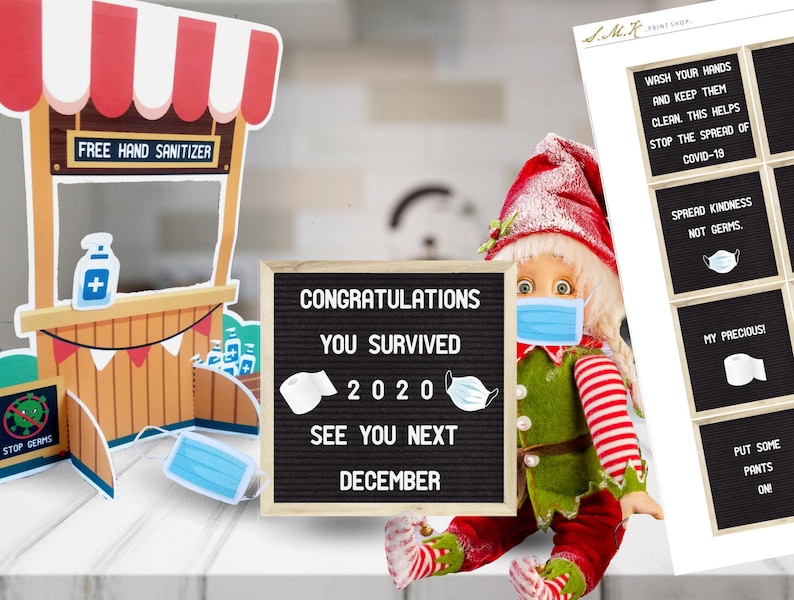 Letter Board Pandemic Elf Notes and Booth Props Elf Ideas 
Pre-historic Elf
Do you have a toddler that is obsessed with dinosaurs?
If you do then your little one will LOVE finding their Elf riding their favorite dinosaur!
Make it a special elf surprise and match it with this dinosaur book + dinosaur toy set:
Li'l-Gen Dinosaur Toys for Boys and Girls 3 Years Old & Up - Realistic Looking 7" Dinosaurs, Pack of 12 Animal Dinosaur Figures with Dinosaur Sound Book (Dinosaur Set with Sound Book)
 in stock
4 used from $17.75
Free shipping
as of May 31, 2022 6:59 pm
Features
KIDS DINOSAUR TOYS: Through this dinosaur toys for toddlers, your kids will experience the era of the dinosaurs! Let them play with these realistic dinosaur toys, discover sounds from dino toys like this set, and see the earth as it once was through their eyes! These dinosaur toys for boys ages 3 and up will surely spark their curiosity about the dinosaur world.
EDUCATIONAL AND FUN: Playtime provides a lot of learning, especially as your kids familiarize themselves with 12 of the enormous dinosaurs and their natural cries. Read the accompanying story in the dinosaur book or let them make one on their own. This dinosaur toy collection is the perfect set of dinosaur toys for 3-year old kids and even older. Learning sure is fun with this pack of dinosaurs toys!
INCLUDES BOOK WITH SOUNDS: Be fully immersed with this dinosaur set with sound book as you listen to sounds of dinosaurs. Each button in the book has an image of one type of dinosaur. Press it to hear the roar it made. Careful, they might be in your midst! This realistic dinosaur pack figures set is the perfect dinosaur toys for kids who love dinosaurs!
WHAT'S INCLUDED: (12) Life-Like Dinosaur Toy Figures, (1) Dinosaur Sound Book
THE LI'L-GEN PROMISE: We know that early childhood development and enjoyment go hand-in-hand. That's why we strive to make products that will stimulate the imagination, develop early childhood tools, and educate young minds, all while still being tons of fun! We promise to do everything we can to make sure that you or your loved ones are 100% satisfied with your purchase!
Why didn't our elf move last night?
Sometimes our elves don't move for a night or two. This is rarely a cause for concern.
We have found that when our elf didn't move, it was because:
There was a snowstorm and it was not safe to fly.
It was too cold out to fly back to the North Pole.
Our house was too warm last night and our elf lost some of his magic.
Dogs, cats, rabbits or other pets may have been moving around and our elf was afraid to move.
Someone touched our elf.
It was raining so hard that it was not safe to fly.
The North Pole was fogged in or snowed in and Santa ordered all the elves to not fly back until it cleared.
 Our elf caught our cold. (Invariably in December someone in our house is sick.)
 Our elf heard us get up in the middle of the night and was afraid to move.
Our elf was tired after making a magical breakfast or wrapping the whole Christmas tree in Christmas wrapping paper.
Our elf would always surprise us again and be just fine in a day or two. 
FREE PRINTABLES!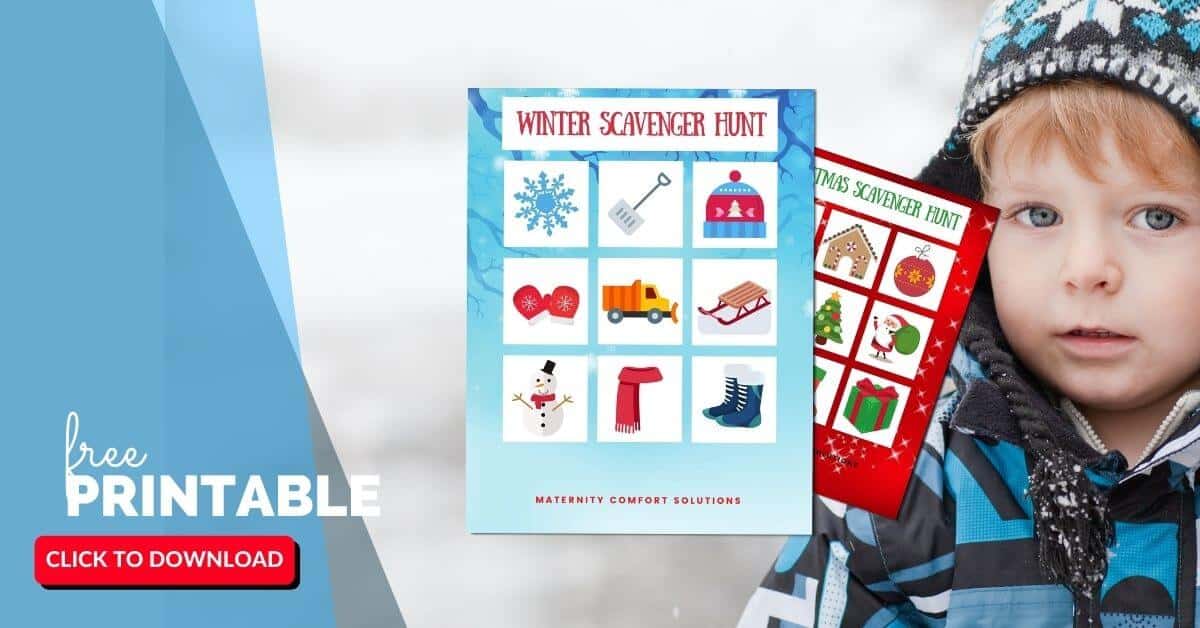 FREE PRINTABLES!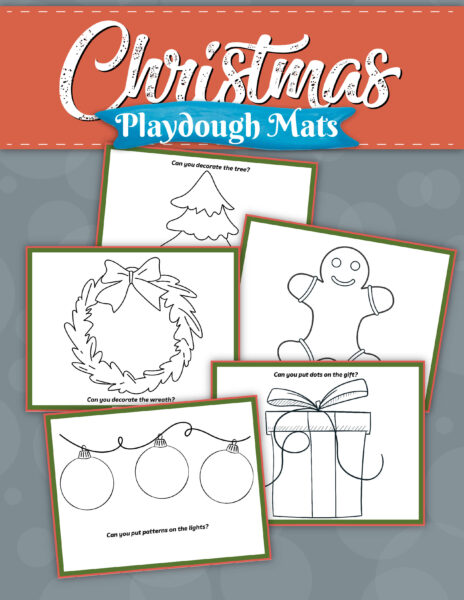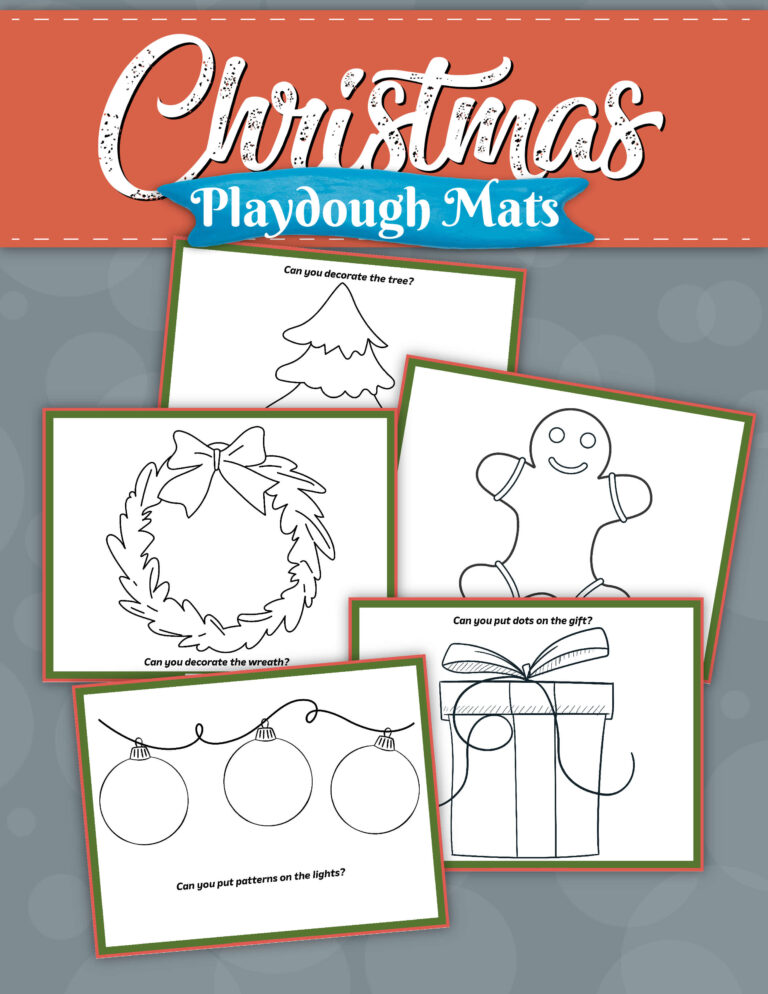 50 MORE ELF ON THE SHELF IDEAS!
Final Thoughts
If you are looking for some fun and creative Elf on the Shelf ideas for toddlers to start during the holidays this year, we hope these ideas have given you some inspiration.
Have fun. Remember: You can keep it super simple when they are toddlers.