Applebees is one of the most popular restaurants in the United States
If you have been wondering can I eat at Applebees while pregnant?
You are not alone!
Applebees is a top pick of ours when we go out to eat.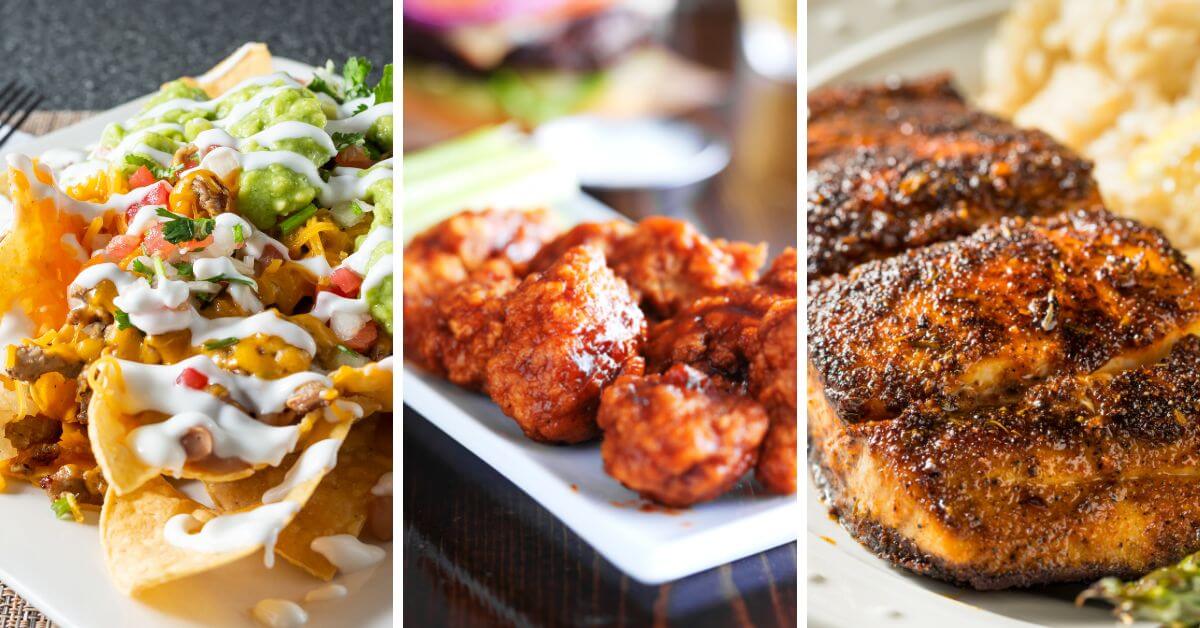 It is a great place for a weekend dinner out.
But eating there during pregnancy can be tricky.
So before you go let's talk about it.
Can I eat Applebees while pregnant?
Yes, you can eat at Applebees while pregnant.
Our OB/GYN Dr. Doug Penta, MD said that generally speaking it is safe to eat at Applebees while pregnant.
You'll need to follow a few simple tips when ordering and making smart choices is important.
When choosing your dinner pick items that are baked, broiled, or grilled.
Applebees has many pregnancy-friendly, lower-calorie menu options.
Choose dishes that have grilled chicken or grilled fish or grilled shrimp as the main entree, and order garlicky green beans or broccoli as your side.
Order the salad and soup combo
They have a good selection of salads that are not only delicious but are packed with nutrition that both you and your baby need.
House Salad: Diced tomato, sliced cucumber, shredded Cheddar cheese, and croutons on mixed greens with a choice of dressing.
Soup & Salad Combo: Tomato Basil Soup or Chicken Tortilla soup with a side house salad
Strawberry Balsamic Chicken Salad: Fresh greens, strawberries, grilled chicken, and balsamic dressing.
When ordering a salad at Applebees you should avoid blue cheese and caesar dressing.
They are not safe to consume during pregnancy.
Ask that salads be made with no blue cheese crumbles.
It is safe to eat ranch dressing at Applebees.
They use a commercially prepared dressing that is pasteurized.
If you choose a burger, fried fish, or fried chicken watch the portion size
You'll want to limit your consumption of dishes made with sauces that are loaded with sugar.
If you must have a burger or fried fish then limit it to once in a while.
Go for the grilled option as much as possible and watch the portion size.
So delicious! But it is loaded with fat and calories.
If you order an appetizer share it with the table and only eat a small portion.
We couldn't leave out the discussion of the Applebees appetizers.
It isn't unusual for us to go to Applebees and only have the appetizers.
But, most of their appetizers are high in calories and fat.
Your best option is going to be Chicken Won Ton Tacos or breadsticks with Alfredo sauce.
 

View this post on Instagram

 
You can indulge in the Beef Neighborhood nachos but only have a small portion
The cheese can be a little greasy and it doesn't take much greasy food to lead to nausea and vomiting during pregnancy.
What are some of the dishes that are pregnancy-safe at Applebees?
At Applebee's, some options that may be healthier choices include the following:
Grilled chicken or fish dishes: These are generally a good source of protein and can be a healthier choice than dishes that are fried or covered in heavy sauces. Blackened Salmon is an excellent option.
Salads: Applebee's offers a variety of salads. Just be sure to watch your portion sizes and choose a dressing that isn't too high in calories. The Strawberry Balsamic Chicken salad and the House Salad are the best options.
Soups: Some of Applebee's soups, such as the tomato basil soup or the chicken tortilla soup, can be a good choice as long as they're not loaded with cream or cheese.
 Here are a few of our favorite Applebees pregnancy-friendly favorites:
Blackened Cajun Salmon: A delicious, blackened salmon fillet served with mashed potatoes and steamed fresh broccoli.
Grilled Chicken Breast: A juicy and flavorful chicken breast served with a side of steamed vegetables.
Fiesta Lime Chicken: A flavorful combination of grilled chicken topped with cheddar cheese and zesty lime sauce served with Spanish rice.
Shrimp and Parmesan Sirloin: A tender sirloin steak topped with blackened shrimp and Parmesan lemon butter sauce, served with mashed potatoes and broccoli.
Chicken Won-Ton Tacos: Crispy won-ton tacos filled with Asian-chile grilled chicken, coleslaw, cilantro, and a zesty Asian sauce.
Soup and Salad: A combination of soup with a side house salad.
Southwest Chicken Bowl: A flavorful bowl of grilled chicken, black bean corn salsa, and served over cilantro-lime rice.
Strawberry Balsamic Chicken Salad: A delicious combination of grilled chicken, strawberries, and spinach topped with a balsamic vinaigrette.
What are some menu items that I should avoid while pregnant?
You should avoid the following menu items while pregnant:
Fried Foods – Boneless chicken wings, pretzels, beer cheese, and fried mozzarella.
Having said that sharing a deep-fried appetizer with other people and having a small portion is fine.
As long as eating fried foods does not make you feel sick.
Some women find that during pregnancy eating fried foods causes them to have heartburn or makes their morning sickness symptoms much worse.
Drinks made with alcohol – Alcohol should be avoided during pregnancy.
There is no known safe amount of alcohol that can be consumed during pregnancy.
Applebees does have a good selection of non-alcoholic drinks and a mocktail may be exactly what you need!
Neighborhood Nachos – We love the neighborhood nachos, but they are high in calories.
If you do order them, plan to share them with the table. The fiesta lime chicken nachos are lower n calories than the beef nachos so they are the better choice.
Or you may want to plan to eat a smaller portion and take the rest home for the next day and you may want to eat lower-calorie meals before you go out to eat.
I would do that during pregnancy when I knew I'd be eating a high-calorie dinner that I really wanted.
I would eat a lower-calorie breakfast and lunch and would bring home the leftovers for the next day.
Bourbon Street Chicken And Shrimp – Sauce is loaded with sugar and possibly alcohol.
Before ordering this item it is important to ask the server if the bourbon sauce is made with alcohol.
Some bourbon sauces do not contain alcohol.
If the Bourbon sauce has alcohol you should not eat it.
Applebees Nutritional information for pregnancy-friendly menu options:
Blackened Cajun Salmon:
380 calories,
20g fat,
37g protein
Grilled Chicken Breast:
230 calories,
4.5g fat,
43g protein
Fiesta Lime Chicken:
1170 calories,
60g fat,
60g protein
Shrimp and Parmesan Sirloin:
900 calories,
51g fat,
66g protein
Chicken Won-Ton Tacos:
580 calories,
26g fat,
32g protein
Southwest Chicken Bowl:
820 calories,
29g fat,
54g protein
Strawberry Balsamic Chicken Salad:
860 calories,
49g fat,
52g protein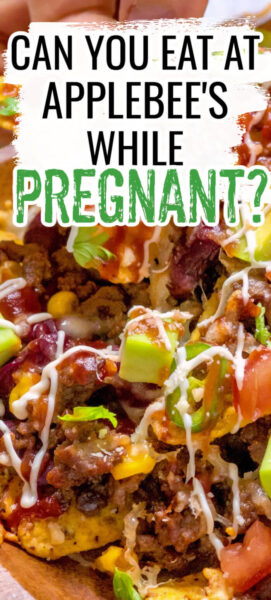 How can I make sure that I am eating safely at Applebees while pregnant?
Stick to non-alcoholic drinks
Have the soup and salad combo
Make sure your meal is completely cooked
Avoid any unpasteurized dairy products
Do not eat any raw or undercooked
Is it safe to eat Applebee's salad dressing while pregnant?
Yes, it is safe to eat Applebee's salad dressing while pregnant.
It isn't safe to eat blue cheese dressing or caesar dressing during pregnancy.
Their ranch dressing is safe to eat during pregnancy.
It is important to make sure the dressing is served cold.
Helpful hints for eating at Applebees during pregnancy:
1. Make a reservation
Applebees takes reservations at many locations.
Call your local restaurant and ask if they take reservations.
If they don't ask if you can get on the waitlist.
Getting on the waitlist prior to arrival will help to ensure that you get a table at a time that is convenient for you and you won't be standing and waiting for an hour or more!
2. Plan to start with soup and salad
Applebees offers a soup and salad combo.
Start with that.
We love their tomato-basil soup.
They also make a chicken tortilla soup that is a great starter.
This will allow you to eat a smaller portion of a high-calorie entree and have some to take home for lunch the next day.
3. Make smart meal choices
When ordering your meal, consider how you are feeling.
If you're feeling tired or nauseous, for example, you might want to avoid heavy meals or foods that are high in fat and grease.
Instead, opt for lighter fare such as soup, or grilled chicken breast
Also, be sure to drink plenty of water throughout your meal to stay hydrated.
4. Ask your server for any modifications to your meal
If you have any special requests or needs, don't hesitate to ask the waitstaff for assistance.
For example, if you want your chicken or fish or shrimp cooked a little longer don't hesitate to ask.
If you order the fiesta lime chicken ask for it without cheese to save on the calories!
5. Order a mocktail
Applebees offers an incredible selection of thirst-quenching drinks you can safely enjoy during pregnancy.
It can be fun to enjoy a mocktail during pregnancy!
Also, ask for a glass of water, restaurant foods can be high in sodium, so drink plenty of fluids with your meal.
6. Ask for a take-out box
If you are getting full ask for a take-out box
That way you can enjoy the rest of your meal the next day.
If you want a dessert get one to go and enjoy with your partner or friends later on at home.
7. Choose broccoli or garlicky green beans instead of french fries for your side dish.
It can be tempting to order french fries as a side with your meal, but you'll save fat and calories if you go with fresh vegetables instead.
If you want potatoes, you are better off getting a side of mashed potatoes.
Broccoli or garlicky green beans are both low in fat and calories and full of essential vitamins and minerals.
8. Enjoy your meal guilt-free.
Eating out during pregnancy can be a special time!
Applebees offers a variety of delicious and nutritious meals, so no need to feel guilty!
Foods that are not pasteurized– certain types of cheese like soft cheeses, Brie, Blue Cheese, etc.
Certain types of fish– shark, swordfish, anything high in mercury
Raw eggs including egg nog, hollandaise sauce, homemade mayonnaise, homemade eggnog, and runny eggs.
Undercooked meats– lunch meats. Deli meats.
Hot foods that are not "hot", avoid hot foods that have been sitting out without a warming source. Same for foods that should be eaten cold. If no ice or refrigeration source is keeping the food cold, take a pass.
Caffeine– soda, chocolate, and energy drinks. (Limit your caffeine to less than 200 mg a day)
Herbal Teas (There are so many ingredients in herbal teas so it is best to avoid them simply. Green tea is OK.)
Alcohol: There is no known safe amount of alcohol during pregnancy. Avoid sauces made with alcohol, desserts made with alcohol, and all alcoholic beverages.
Eating out during pregnancy's first trimester:
When eating out during the first trimester of pregnancy, there are several things to keep in mind to ensure that you and your baby are safe and healthy.
Here are some tips:
Do not eat raw or undercooked items, especially meats, poultry, seafood, and eggs,  you are at an increased risk of foodborne illness during pregnancy.
Be cautious with foods that are high in mercury, such as swordfish, shark, tilefish, and king mackerel, as these can be harmful to your developing baby and may cause birth defects.
Choose foods that are rich in folic acid, such as leafy greens to help support the healthy development of your baby's neural tube.
If you suffer from morning sickness or all-day sickness avoid foods that are fried or greasy.
Eating small meals can help you keep your energy up and morning sickness symptoms reduced.
Do not drink alcohol. There is no known safe amount of alcohol you can consume during pregnancy.
 Avoid all-you-can-eat buffets during the first trimester of pregnancy. You can never be sure of how fresh the food is, the preparation method, or the temperature it has been kept at.
 How to eat healthy during pregnancy:
Eating healthily during pregnancy is essential to the development of your baby.
Here are some tips to help make sure you are getting the nutrients you need:
Eat a variety of fruits, vegetables, whole grains, and lean protein. This will help ensure you get the vitamins, minerals, and fiber you need.
Limit processed foods, sugary drinks, and excessive amounts of caffeine. These can all lead to unhealthy weight gain and other problems during pregnancy.
Drink plenty of water. Staying hydrated is important for both your health and the baby's health.
Don't skip meals. Eating small, frequent meals will help to keep your energy up and prevent you from overeating later on.
Eating small frequent meals can help decrease morning sickness and heartburn.