New Year's is a few weeks away, and if you are expecting a baby, you probably can't wait to announce your pregnancy!
It is exciting when you share this news during the holidays.
After all, it's the only time you may have friends and family gathered in one place.
New year's pregnancy announcements give people something to look forward to in the coming year.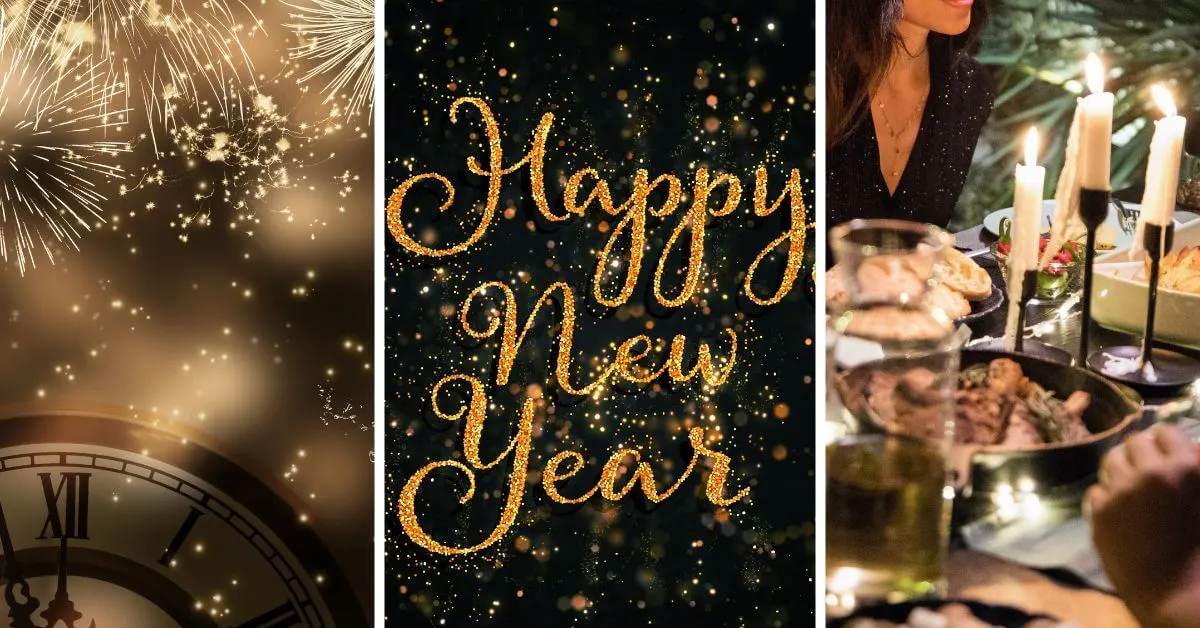 Today I will share 10 creative pregnancy announcement ideas for the New Year holidays that will surprise your friends and family!
I have ideas for both in-person and virtual pregnancy announcements.
10 Unique Ideas for New Year's Pregnancy Announcements
1. Play the New Year Resolution Game
This game is commonly played at most New Year's parties.
If you don't play it with friends and family, introduce it this time.
The New Year's resolution game is pretty simple.
You grab a set of cards and write your name and New Year's resolution.
The cards are placed in one basket, and one person reads out all the resolutions aloud.
As your family and friends write down crazy stuff such as buying houses or taking trips to other parts of the world, you should write 'have a baby' or 'be the best parents ever".
When your New Year's resolution card is read, you will enjoy how the room will turn silent and the look of confusion plastered on everyone's face.
It will be a memorable moment!
If your family loves games, maybe they will enjoy doing a mystery puzzle that will share your special news!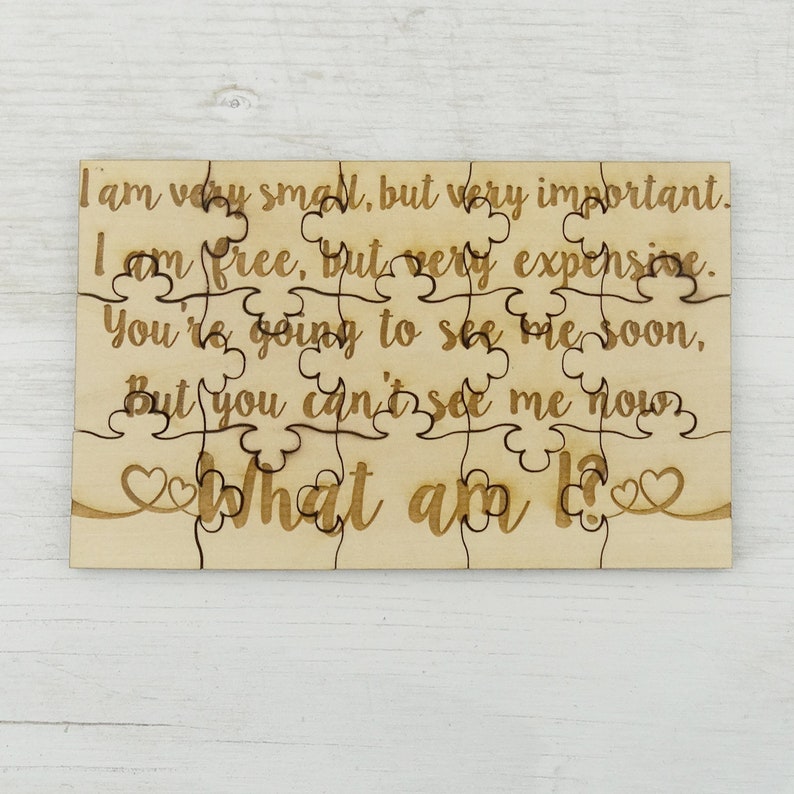 What Am I Baby Reveal Riddle Puzzle Basswood Jigsaw Puzzle
from: Etsy
2. Share with a New Year's Ece Scratch ticket
This is a brilliant idea if you want to add some mystery to your New Year's pregnancy announcement.
You can pass out these scratch-off pregnant announcement lottery tickets.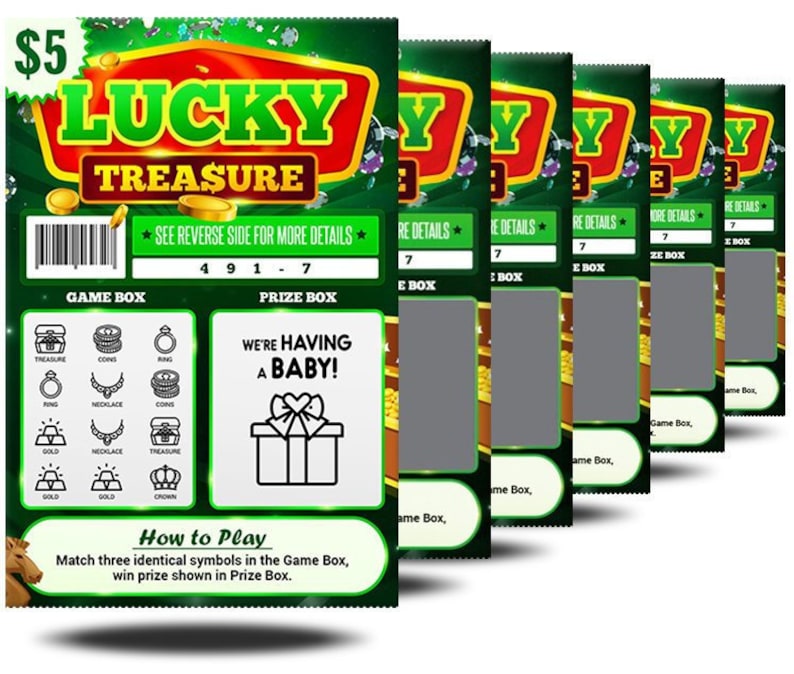 6 or 12 PACK Pregnancy Announcement Lottery Scratch-off
from: Etsy
The first guest who sees it gets to share the big news!
You could include the pregnancy announcement scratch tickets with a real scratch ticket.
That would add to the surprise of your family members!
3. Create a New Year's Video
It's tradition for friends and family to send each other videos of happy new year's wishes.
This time, instead of saying happy new year, you can say we are having a baby.
To create this video, find a suitable place in your home.
The living room is an excellent place.
Sit closely together and have the expectant mom in between.
She should be the center of attention.
Press record and send it to all your family members.
This is a fantastic New Year pregnancy announcement idea, especially if there won't be attending a get-together.
4. Surprise Everyone During the Countdown
Another popular activity during the end of New Year's Eve is the countdown to midnight.
As people eagerly countdown to the New Year, you can announce your pregnancy immediately after the clock hits 12:00.
Other than shouting happy new year, you and your spouse can shout we are having a baby.
You can expect a wide range of reactions when you say this.
Some will be shocked, and others will be excited.
It will be an exciting way to start the new year.
5. Wear New Year's pregnancy Announcement T-shirts
These are classic baby announcement ideas.
But it's super fun and engaging, and it's pretty affordable.
What I love most about this idea is that you can come up with a creative message in so many ways.
For instance, you can write, 'let the countdown begin to (baby's name) birthday. Or, 'mama in the making.
Wear this t-shirt to the new year's party, and the message will be passed to everyone you meet.
I love these ideas from Etsy.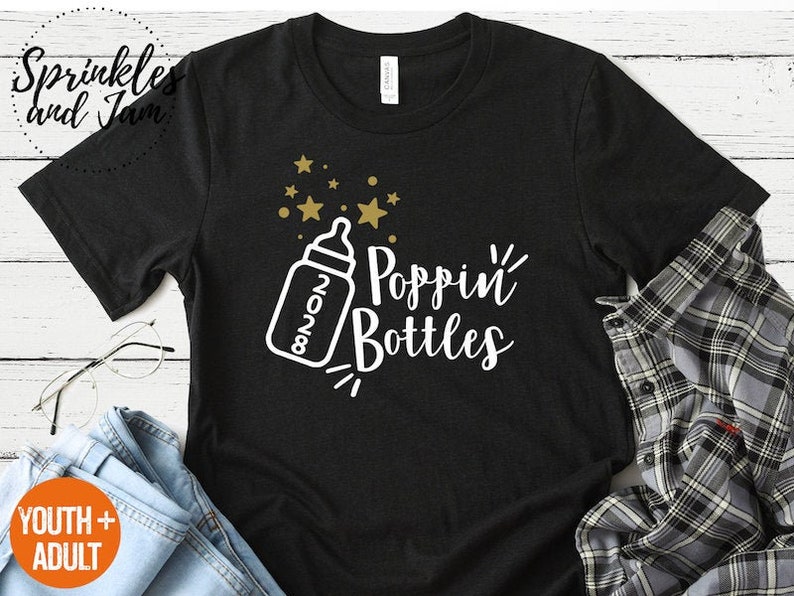 New Years Shirt Womens 2023 New Year Pregnancy Poppin
from: Etsy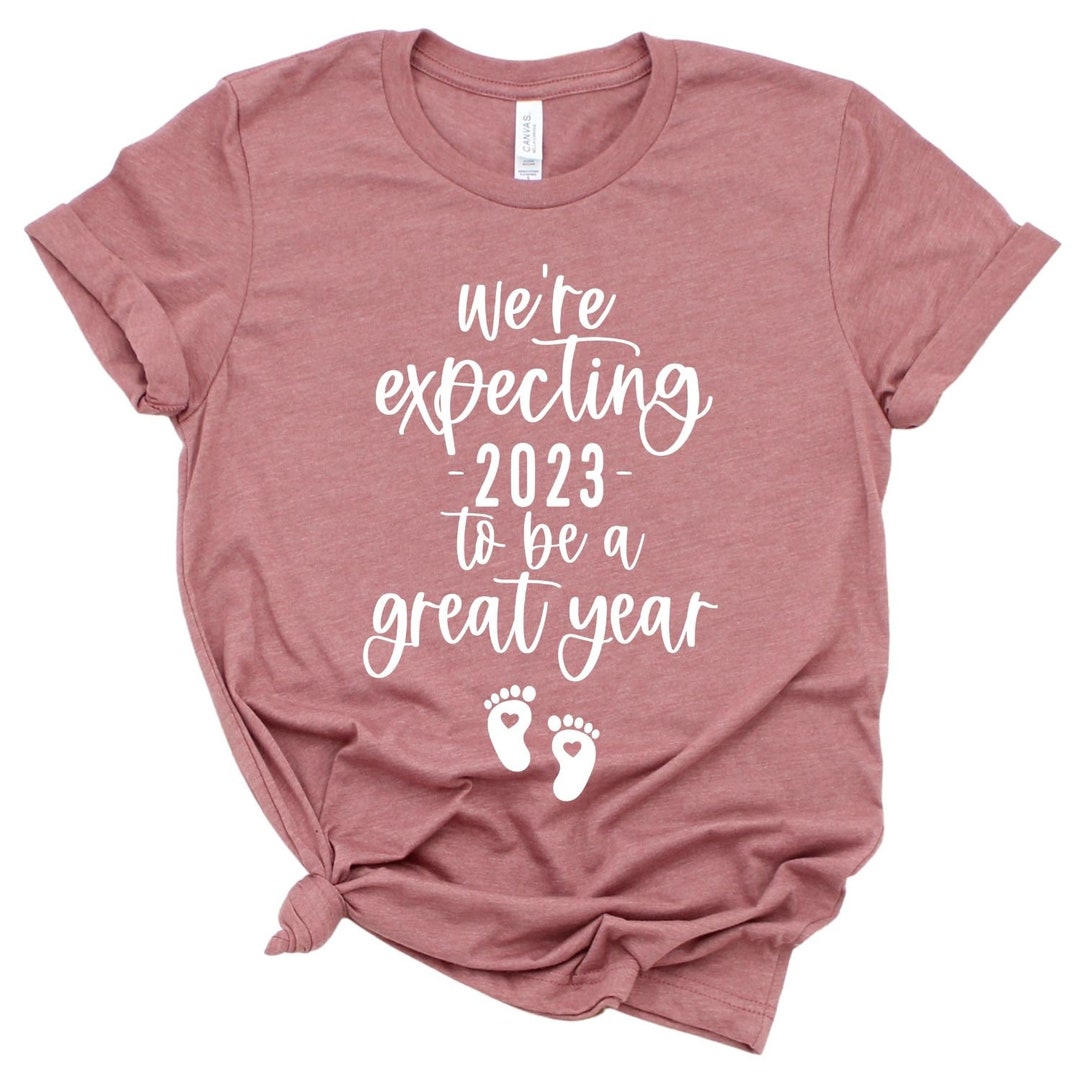 New Year Pregnancy Announcement Shirts Couples Pregnancy
from: Etsy
6. Print the Message on a Gift Mug with coffee for New Year's Day.
If you are announcing your pregnancy to a small group, you can gift them a mug and coffee printed with a special message.
You can write a message such as; 'we are expecting 2023 to be a lovely year".
"Expecting" should be in quotes.
If you are gifting the mug to your parents, you can write a message such as, 'you're about to be a grammy.
Or "You've been promoted to Auntie!"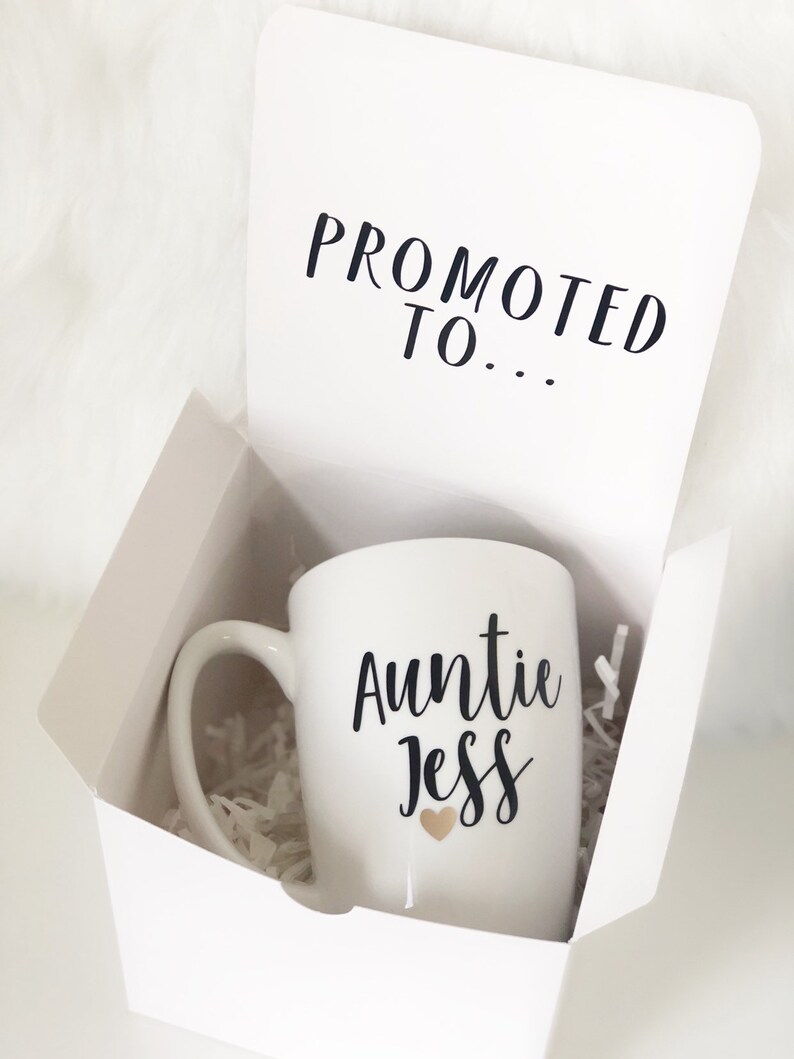 Baby Announcement Pregnancy Announcement Ideas Promoted to
from: Etsy
There are many cute ways to share a pregnancy announcement through New Year gifts.
You can include a small bag or pods of a seasonal coffee blend.
This is a perfect New Year's Day gift to announce your pregnancy.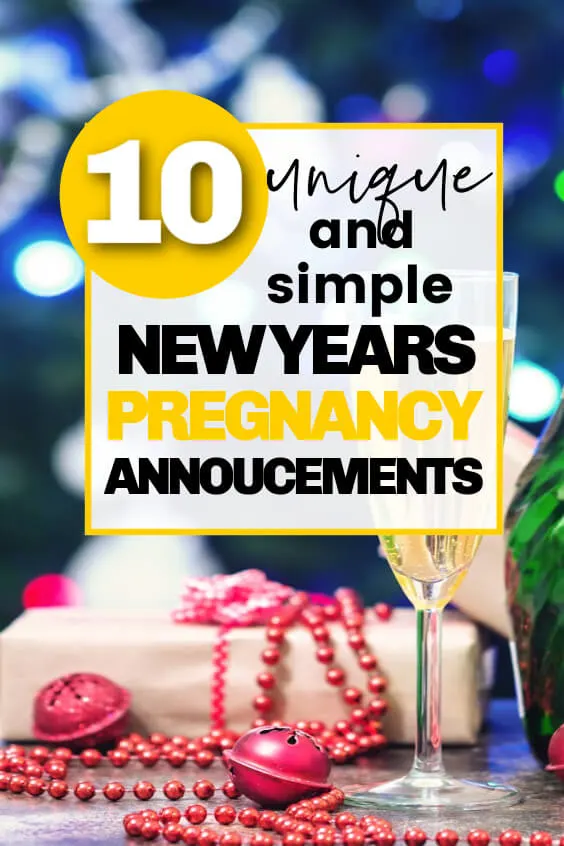 7. Include the Announcement on a New Year's Card
If you can't travel this holiday season, you can send family and friends a New Year's card with a pregnancy announcement.
Start by wishing them a New Year and share the news that you're expecting a baby boy or girl.
The cards are so adorable.
And you can save money by creating DIY New Year cards.
8. Have Chinese food on New Year's eve and announce your pregnancy in the fortune cookies.
Here's a fun and festive way to announce your pregnancy to family and friends on New Year's Eve – including a special fortune cookie in each person's goodie bag or as dessert after a delicious Chinese take-out dinner.
You can purchase pre-made cookies with the pregnant announcement fortune inside
Be sure to write something along the lines of "Baby Smith is due in September!" on each fortune.
That way, everyone will be able to share in your excitement when they open their cookies at the stroke of midnight.
And if you're feeling really creative, you can even decorate the cookies with pink or blue icing to really drive home the point!
Whatever you do, this is sure to be a pregnancy announcement that your loved ones will never forget.
9. Share Your Bump on New Year's Day
Has your baby bump already popped out?
A fun and festive way to announce your pregnancy is to do a New Year's-themed photo shoot.
You can dress up in sparkly dresses and hats, and use props such as noisemakers and party horns.
Be sure to include a sign that says "Baby on board!" or something similar.
You can go for a photo shoot ahead of time.
Keep those photos and resist the temptation to post them until New Year's.
You can post them on Instagram or Facebook alongside a New Year's message. Everyone will be in the comments section congratulating you.
You should expect lots of phone calls on that day.
Or if you and your family will all be together make your announcement at a New Year's Day brunch!
You can do an orange juice toast to the New Year and make your announcement at the same time.
Some ideas on what to say as you toast to a new year and a new baby on the way:
"Here's to a new year and a new beginning! We're so excited to announce that we're expecting a baby in 2023!
"Wishing you all a happy and healthy New Year! We're thrilled to announce that we're expecting a baby in 2023!
"May this new year bring you all the happiness and joy you deserve! We're also excited to announce that we're expecting a baby in 2023!"
Another cute announcement idea is to serve donuts or munchkins with a sign announcing your pregnancy.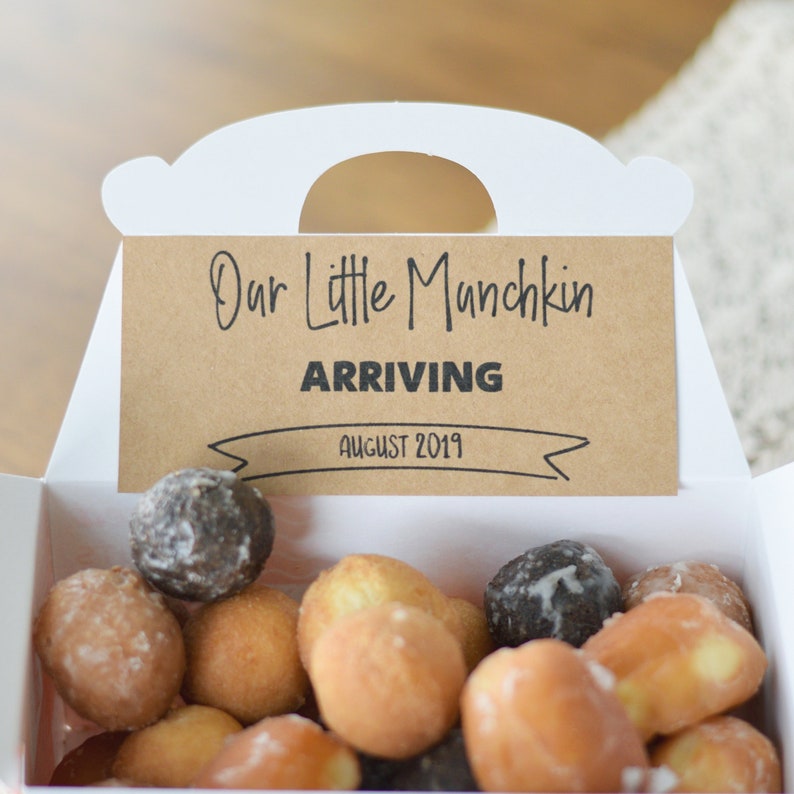 Donut Box Pregnancy Announcement Printable Sign Munchkin
from: Etsy
10. Include Your Announcement on Wine Bottles or sparkling wine bottles
During the New Year's party, you can serve wine bottles with a message such as – 'I can't drink tonight, but you can'.
Such a label will spark people's curiosity.
You can also use this opportunity to see who is the most observant family member.
To lower costs, you can print your own messages and glue them to the wine bottles.
You can also buy inexpensive labels on Etsy that you print at home and you can tie that around the bottle like a gift tag.

PRINTED Wine Bottle Label Baby Announcement Wine Labels
from: Etsy
When should I announce pregnancy publicly?
This is a common question that new expecting parents have!
Deciding when to announce a pregnancy is a personal decision, and you may want to wait until after the first trimester.
Many pregnant women choose to wait until the second trimester when the risk of miscarriage has decreased.
Others may decide to wait until the baby's gender is known, or until they feel financially secure in preparing for a new addition to the family.
It's important to consider your own comfort level and how much support you want from friends and family during pregnancy.
Some people wait until they start showing or have their first ultrasound, while others may choose to share the news earlier.
Ultimately, it's up to you and your partner when you feel ready to share this exciting news with others.
Trust your instincts and communicate with each other about what feels right for your individual circumstances.
I found that 14-16 weeks worked perfectly for me.
My morning sickness would be slowing down and my energy level would be returning right around the 14-week mark.
Give yourself time to get through the first trimester of pregnancy!
Morning sickness and pregnancy fatigue are no joke.
What should I put on my pregnancy announcement?
Deciding what to include in your announcement can feel overwhelming, but there are really just a few key elements to consider.
First, you'll want to make sure to include the baby's expected due date and whether you are expecting a boy or a girl (if you know).
You may also choose to add details about the pregnancy, such as if it's a surprise or if it's a rainbow baby.
Next, think about how you want to share the news – will you be sending out physical cards or sharing them digitally?
This will affect the design and layout of your announcement.
Both are acceptable, it comes down to personal preference.
Finally, don't forget to include a lovely photo, whether it's an ultrasound image or a fun maternity shoot with your partner.
Whatever details you choose to include, your announcement is sure to be memorable and exciting for friends and family.