In this article, we will answer the question "Is a real Christmas tree safe while pregnant?"
We will also discuss both real and artificial trees, and we will provide some safety tips for each one.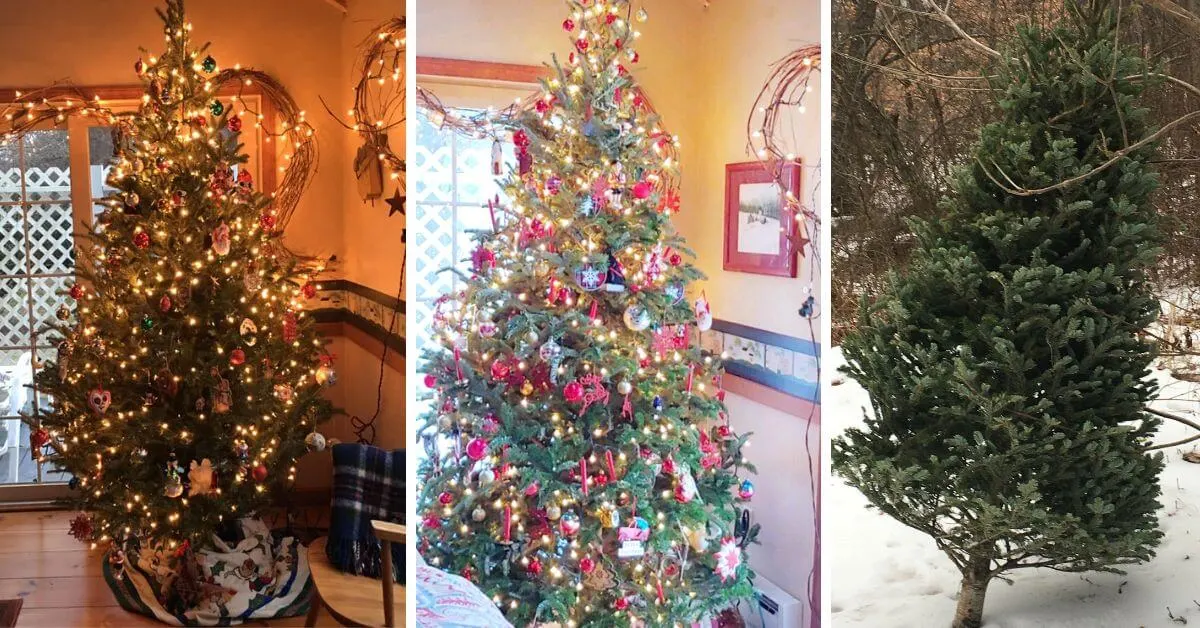 It's that time of year again when families across the country head to their local Christmas tree farm in search of the perfect holiday centerpiece.
But when you are pregnant even the festive and fun time spent picking out the perfect tree isn't a worry-free event.
Is a real Christmas tree safe while pregnant?
Yes, generally speaking, a real Christmas tree is safe to have while pregnant.
However, there are some general safety tips that pregnant women should keep in mind when it comes to Christmas trees.
When it comes to real Christmas trees and pregnancy, the biggest concern for many expectant parents is the pesticides that are used on the trees.
These pesticides can be harmful to both you and your unborn baby.
But by the time most fresh-cut Christmas trees arrive at Christmas tree lots the pesticides have almost completely dissipated
If you are pregnant and concerned and you want to have a real tree, try to buy one that is organic.
You can also ask the person selling the tree if it has been treated with pesticides.
There are about 21 popular Christmas trees that include
Aleutian cedar
Douglas fir
Virginia pin
Balsam fir
Fraser fir
White pine
Scotch pine
Western red cedar
Eastern white pine
Concolor fir
Leyland cypress
Arizona cypress
Deodar cedar
Grand fir
Norway spruce
All these trees belong to the conifer family and their leaves are in the form of needles.
These trees can be found in various colors like blue-green, silver-blue, and yellow-green.
Some types of trees, for example, are sprayed with more pesticides than others.
If you're looking for a tree that's more environmentally friendly, you might want to consider one of the following varieties:
Douglas fir: This type of tree is relatively pest-resistant, so it doesn't require as much pesticide treatment as other varieties.
Norway spruce: Norway spruces are also relatively pest-resistant, making them a good choice for those looking for an environmentally friendly tree.
White Pine: These trees are native to North America and, as such, they don't require any pesticide treatment at all. So if you're looking for a truly eco-friendly option, look no further than the white pine.
Another safety tip for pregnant women is to avoid putting the tree up by yourself.
If you can, ask someone else to help you.
This will help to avoid any accidents.
As far as artificial trees go, the biggest concern is that they can be a fire hazard.
If you are pregnant and you choose to have an artificial tree, make sure that it is made of fire-resistant materials.
You should also avoid putting it near any heat sources, such as fireplaces or candles.
This can be true with real Christmas trees also!
It is important to water your Christmas tree daily and check to make sure the needles are not getting dry and falling off.
The National Fire Protection Association (NFPA) has a Christmas tress safety tips sheet that you should read before you go pick out a Christmas tree.
According to NFPA between 2015 and 2019 US Fire Departments were called to 160 house fires that started with the Christmas tree!
What's better a real Christmas tree or an artificial Christmas tree?
There is no right or wrong answer to this question.
It really depends on the woman's individual situation.
From an environmental standpoint, a locally grown real Christmas tree is the best choice.
However, there are some general safety tips that all pregnant women should keep in mind when it comes to Christmas trees.
Christmas trees are a staple of the holiday season, but they can also pose a risk to pregnant women and their unborn children.
Here are a few safety tips to keep in mind when choosing and decorating a Christmas tree:
Avoid trees that have been treated with pesticides or herbicides. These chemicals can be harmful to both you and your baby.
If you opt for a real tree, make sure it is fresh. A dry tree is more likely to catch fire.
When decorating the tree, avoid using string lights that generate heat. LED lights are a safer option.
Always supervise young children around the tree. Glass ornaments can be broken and sharp.
Be careful when watering your tree. Bend at your knees and watch your balance so you don't injure your back.
Christmas lights and pregnancy safety tips:
Always turn off lights when you leave the room or go to bed.
Keep cords away from high-traffic areas where people could trip over them.
Inspect light strands and cords before using them. If you see any damage, do not use them.
Avoid using extension cords. If you must use one, make sure it is the proper size for the light strand and that it is not frayed or damaged in any way.
Never put lights on a metal tree. The metal could conduct electricity and cause a shock.
Do not overload outlets. plug only one light strand into each outlet.
Keep a fire extinguisher nearby in case of an emergency.
Never use lit candles to decorate your tree. Use battery-operated candles instead.
Tips For visiting a Christmas Tree Farm while pregnant:
1. Check the weather before you go – make sure it's not too windy or snowy
2. Dress appropriately – you'll be outside for a while, so dress warmly
3. Bring a wagon or sled to transport your tree home
4. If you have kids, bring them along! They'll love picking out their own tree and playing in the snow
5. Make a day of it – visit a nearby farmstand or go on a scenic drive after picking out your tree
6. Be prepared to pay – most farms charge by the foot of the tree
7. Many farms offer hot chocolate, cider, ornaments, and other festive goodies – take advantage of these!
8. Cash or check is accepted at most farms – make sure you have enough money with you.
9. Plan ahead – decide which tree farm you want to visit and map out the directions.
10. Bring a saw if you plan on cutting down your own tree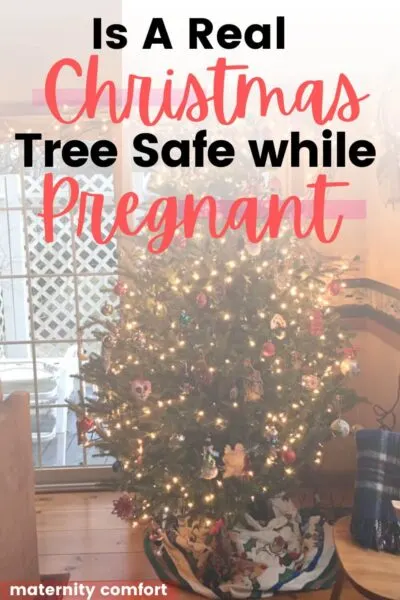 Tips for visiting a Christmas tree lot while pregnant:
1. Plan ahead – know the size of tree you need and what type of tree you want before you go
2. Bring a friend or family member for help – two people are better than one when it comes to carrying a tree home
3. Wear gloves to avoid getting sap on your hands
4. Check for freshness before you buy – make sure the needles are green and don't fall off when touched
5. Get a good price by bargaining with the lot owner – remember, they want to sell trees too!
6. Water your tree regularly so it stays healthy throughout the holiday season.
7. Wear comfortable non-slip shoes. Fallen tree needles and sap can make the ground in the Christmas Tree lot slippery.
Are real Christmas trees toxic?
While Christmas trees are typically thought of as being festive and safe, there is some evidence to suggest that they may pose a health hazard.
Real Christmas trees are often treated with chemicals such as pesticides and herbicides, which can be released into the air when the tree is heated.
In addition, mold and bacteria can grow on the tree, posing a risk of respiratory infections.
However, the risks posed by real Christmas trees are generally considered to be low, and the vast majority of people who celebrate Christmas do so without incident.
Nonetheless, those with allergies or asthma may want to take extra precautions, such as using an artificial tree or making sure the real tree is well-ventilated.
What should a pregnant woman avoid on Christmas?
Christmas is a time for celebration and spending time with loved ones.
However, if you are pregnant during the Christmas holidays, there are a few things you should avoid to make sure you and your baby have a happy and healthy holiday season.
First, try to limit your intake of sugar and caffeine.
Too much sugar can cause spikes in your blood sugar levels, while too much caffeine can lead to dehydration and restless nights.
Secondly, be careful with alcohol.
Although it's tempting to indulge in a festive glass of wine or beer, alcohol can cross the placenta and harm your developing baby.
Finally, make sure to stay away from any foods that could cause food poisonings, such as unpasteurized cheese or undercooked meat.
Is it safe to have a real Christmas tree with a baby?
Christmas trees are a tradition for many families, but if you have a baby, you may be wondering if it's safe to have a real tree in your home.
There are a few things to consider before making your decision.
First, make sure that the tree is well-secured so that it doesn't tip over.
Also, keep the tree away from any heat sources, such as fireplaces or radiators.
And be sure to keep the tree watered so that it doesn't become a fire hazard.
Final Thoughts
So, is it safe to have a real Christmas tree during pregnancy?
The answer is yes – as long as you take some precautions.
Follow these tips to keep your holiday season healthy and happy:
Make sure the tree is fresh – look for needles that are green and flexible, not brittle.
If you're going to use an artificial tree, choose one made from nontoxic materials.
Avoid putting the tree near any heat sources, like fireplaces or radiators.
Keep water in the stand at all times so the tree doesn't dry out.