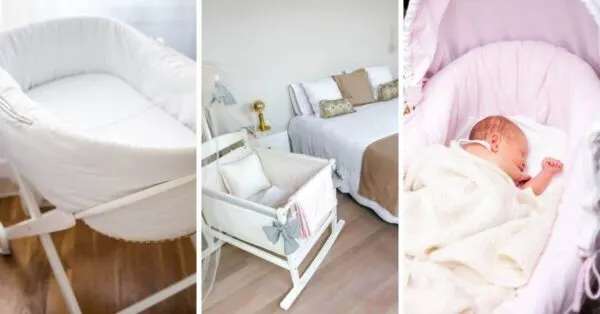 When it comes to a baby's first bed, many moms prefer the cozy comfort of a bassinet for the first several months of a baby's life. But there are so many choices in bassinets. It can be difficult to know which are the best baby bassinets for newborns?
Although your baby will need a crib eventually, it's likely that your baby won't use it for the first few months of his or her life.
Instead, he or she will sleep in a bassinet in your room — which the American Academy of Pediatrics recommends for at least six months — since many bedrooms can't accommodate an adult bed and a full-size crib.
A bassinet also allows for easy middle-of-the-night feedings, as well as for close monitoring during the newborn phase.
Plus, today's bassinets come complete with handy features you won't find in your average crib, from built-in white noise and vibration modes to the ability to rock, swivel, and even fold for unbeatable portability.
The market is rich in baby bassinets and you can be sure that getting one will not be an issue.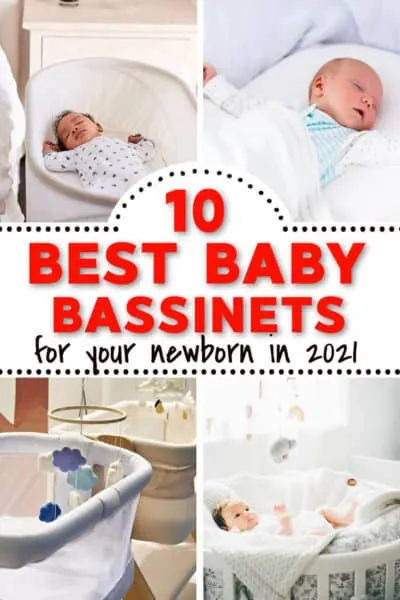 The hard time comes when you want nothing but the best.
Here, we've rounded up the best baby bassinets of 2021 to help make your selection easier.
Bassinets vs. Cribs
Both cribs and bassinets can be safe sleep choices for a newborn baby. However, they have several important differences.
1. Size
A crib takes up a lot more space than a bassinet, so a bassinet is to be preferred in a smaller house. Their smaller size also makes bassinets more portable. In addition, many bassinets have a hood or cover that you can pull over while the baby is sleeping.
Bassinets are also easier to use for many parents since their sides are lower, so you don't have to lean over the rail to place the baby inside.
2. Lifespan
Cribs can be used for much longer and some even convert to toddler beds and can last for years. Bassinets have weight limits and can usually only be used for the first few months of your baby's life.
3. Price
If you don't have a lot of money to invest right away, a bassinet usually costs less. But since the bassinet only will last for a few months, you'll still need to buy a crib later.
Cribs are typically more expensive than bassinets, but since they last longer, the total investment is lower if you go straight to a crib.
Keep In Mind!
Bassinets aren't a permanent replacement for cribs. As your child learns to sit up, the bassinet stops being safe and you should no longer use the bassinet.
Do I Need a Bassinet?
While many parents use a crib from the start, a bassinet has multiple benefits:
1. Great for Co-sleeping
Co-sleeping is the practice of sleeping in the same room as your child and the American Academy of Pediatrics now recommends this practice (source). Since bassinets are tiny and usually portable, they're a perfect option for co-sleeping.
2. Easier Mid-Night Feedings
A bassinet can make mid-night feedings easier for a few reasons. First, your baby will be in the same room as you so there's no need to wandering around the house in the middle of the night.
Second, bassinets are usually lower to the ground than cribs, so it's easy to reach over to pick up your baby without leaving your comfy bed.
Not only is it convenient, but it's also a major plus if you're a new mom still recovering from delivery or have stitches from a C-Section and have limited mobility.
If your bassinet is positioned next to your bed, you might also sleep easier, knowing that you can see or touch your newborn throughout the night to reassure them (or you!) that everything is fine.
3. They're Portable
If you're going to be staying away from home at a hotel or at a family member's house a lot, it's not very practical e to bring your crib along with you.
But bassinets are usually pretty easy to bring along with you since they're more compact and lightweight, and some are even meant to be portable.
If you tend to sleep away from home often, a bassinet might just be up your alley.
This post may contain affiliate links. We may be compensated if you make a purchase through our links. You can catch our full disclaimer at the bottom of this post. In the last month of pregnancy, it is important to spend time addressing the topics in this article.
Bassinet Safety
Bassinet safety is fairly simple since most of the rules are logical and can be figured out with a little bit of common sense.
However, it's important to observe these rules to avoid hazards for your baby.
Sudden Infant Death Syndrome, also known as SIDS, is what happens when a child passes away with no obvious cause before the age of 1. One of the things experts agree increases the chances of SIDS is unsafe sleeping practices.
Here are some important bassinet sleeping safety rules that are essential to the health of your baby:
1. Assemble Correctly
Even the safest bassinet is unsafe if it's not properly installed. Make sure to thoroughly read and follow the manufacturer's instructions when assembling the bassinet.
2. Lock the Wheels
Bassinets are portable, but just because they can move doesn't mean they always should.
Make sure to always check that the wheels are locked to prevent a runaway disaster.
3. Don't Move it With the Baby Inside
Never try to move the bassinet with your child in it. If you need to move it, take your child out first. and when you finish moving it, make sure you've locked the wheels in place again.
4. Never Leave Anything in the Bassinet
While you might think that pillows, stuffed animals, and extra bedding are comforting, they pose a definite hazard. Instead, consider putting your baby in a swaddle sack or other wearable blanket.
5. Invest in Mesh
If your baby manages to roll over into the side of their bassinet, a mesh wall can actually save your baby's life while a cloth wall can suffocate your baby.
Mesh walls on a bassinet offer more airflow, plus, they also offer improved visual monitoring, making it much easier to keep an eye on the baby.
Safety Tip!
Safekids.org has an email list you can sign up for to alert you whenever a baby product is recalled, ensuring your knowledge base is up-to-date at all times.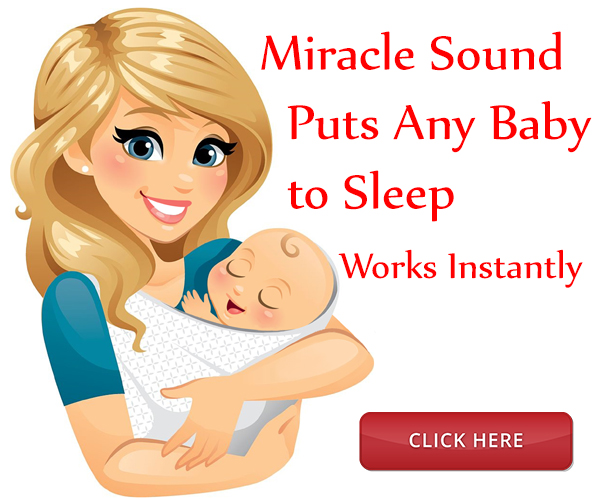 When Should I Start Using a Bassinet?
Bassinets are perfect for newborns so you can start using them as soon as you bring your baby home from the hospital.
But some babies never sleep in a bassinet, cradle, or basket. They simply go directly to a crib on their first night at home.
This post may contain affiliate links. We may be compensated if you make a purchase through our links. You can catch our full disclaimer at the bottom of this post. Bringing your new baby home is an exciting and often overwhelming time for new parents.
However, many parents prefer to use bassinets that can be kept in their room close to their beds since they can comfort or even feed their infant in the middle of the night without dragging themselves down the hall.
Some newborns also sleep better in a smaller, cozier space because it's more womblike.
Did You Know?
The American Academy of Pediatrics recommends that babies sleep in the same room, but not the same bed, as their parents for the first six months and ideally a year.
When it's time for your baby to move to a crib depends on several different factors:
Your baby's weight – Bassinets and co-sleepers are great for newborns, but they usually have weight limits. Check the instruction manual or the manufacturer's website to find the weight limit for your model.
Your baby's length – Does your baby look cramped in the bassinet? If her head or feet seem to be forever bumping into the sides of the bassinet or she's waking up very often or suddenly, it might be time to give her a little more space.
Your baby learns to sit – Once your baby can sit up, usually around 6 months, most bassinets, cradles, or baskets will be too shallow to keep her from pitching over the side. For her safety, your baby should definitely be sleeping in a crib before then.
If you decide to use a bassinet, you need to pay close attention to when your baby has outgrown it.
If our baby can crawl when they're on their bellies or prop themselves up on their arms, they're too big for a bassinet.
The Best Baby Bassinets of 2022
Newborn babies will sleep for an average of 16 hours per day and you'll have a great bassinet to make sure your baby is comfortable, nearby, and safe for all of those sleepy hours.
To help you find the best bassinet, we've gathered the top 10 bassinets we've found along with a review and their pros and cons.
[content-egg module=Amazon template=item disable_features=1 hide=price next=1]
One of the most popular bassinets on the market is the Halo Swivel Sleeper.
It really does it all: bassinet, co-sleeper, adjustable base and sidewall, a nightlight, lullabies, soothing vibrations, feeding timer, rotates and swivels to bring you closer to your baby, and has excellent build quality.
This stylish unit offers a lot of versatility for new parents.
The adjustable stand can rotate and swivel over 360 degrees to help parents to bring their babies as close or as far away from the bed as they want.
The sidewall can come down to allow easy access to nursing mothers and/or mothers recovering from a C-section. The base legs will fit right underneath your bed, allowing your baby to sleep even closer to you.
Other features include two levels of vibration, three soothing sounds, and three lullabies with volume control, as well as an automatic reminder to put the baby back in the HALO Bassinest after a feeding.
The bassinet is great for premature babies because it mimics the conditions of the womb.
However, parents with preemies are advised to buy the HALO Bassinest Newborn Insert to make small babies feel more secure.
Pros
Stylish
A built-in white noise machine
Sound sensors that will alert you when your baby starts to fuss
An app that tracks your baby's sleep
Cons
[content-egg module=Amazon template=item disable_features=1 hide=price next=1]
SNOO is a responsive bassinet that boosts sleep for babies—and parents! Created by Dr. Harvey Karp (author of the book Happiest Baby on the Block), SNOO improves sleep with the calming sensations of the womb.
Its companion mobile App lets you adjust the bassinet to be perfect for your unique baby.
The SNOO Smart Sleeper has a steep price point, but it's the only infant bed to meet all AAP Safe Sleep Guidelines.
It makes white noises that mimic the conditions of the womb, has vibrations settings that can be set to activate by your phone, or when the baby moves or cries, a patented SNOO Sack that clips to the bed, and prevents your baby from rolling onto his or her stomach, and a variety of settings that allow you to customize your baby's experience, including a Preemie sleep setting.
The bassinet is so effective at helping babies sleep that the creators claim it can teach babies how to self-soothe without sleep training.
It has a swaddle clothe which is easily attachable to the bassinet that mimics the pressure and lack of space felt in the womb.
Pros
Stylish
A built-in white noise machine
Sound sensors that will alert you when your baby starts to fuss
An app that tracks your baby's sleep
Cons
[content-egg module=Amazon template=item disable_features=1 hide=price next=1]
The Green Frog is a very lightweight bassinet that is extremely portable. It is easy to assemble or disassemble, has snap-on legs, and comes with a portable travel bag.
The custom-designed wheels make it far easier to move around the house than any other bassinet.
This bassinet is well constructed with a simple, modern design.
Highlights include sidewalls that are high enough to keep your baby safe and also, the side walls are made of mesh that keeps the airflow proper.
The mattress cover is machine washable, and the bassinet includes a premium quality mattress that provides proper comfort to your baby.
The bassinet is designed for use by newborns up until six months old and will offer you little one gentle rocking motion so that the baby can rest peacefully anytime, anywhere.
Pros
Lightweight
Easy to move
Rocking feet
Large mesh windows
Machine washable fabric
Unique design
Cons
Hard to find a replacement mattress
Expensive
[content-egg module=Amazon template=item disable_features=1 hide=price next=1]
The Graco Dream Suite Bassinet is one of the most affordable models you can buy.
It only costs a fraction of what other brands are charging so if you are looking for an affordable bassinet with basic and some extra features, the Graco Dream Suite could be what you need.
It's a classic bassinet with a couple of useful features you will love.
The caster wheels are perfect for moving a sleeping baby to their room, or simply out of the parental bedroom, without worrying about waking them.
One of the best things about this model is the possibility to use it as a changing station.
You not only get a cozy and entertaining bassinet but a changing table at the click of a button.
This is a great way to repurpose a piece of furniture that is only used for a short period of time, cutting back on unnecessary spending.
Taking care of this bassinet is easy because of the easy-to-wash fabrics.
It also has suiting vibration settings that help your baby go to sleep, a canopy, and some soft toys to entertain your baby.
The large storage basket underneath has plenty of room to hold all your necessities like diapers, wipes, burp cloths, and other necessities you might need handy.
Pros
Easy to move
Affordable
Transforms into a Changing station
Large storage basket
Vibration settings
Cons
Difficult to assemble
Bulky
[content-egg module=Amazon template=item disable_features=1 hide=price next=1]
This bassinet has a unique foldable frame collapses and features a handle for easy transport, so you can move the bassinet seamlessly from room to room.
The folding functionality is great for smaller rooms and homes where every inch counts, as the bassinet will slide under a bed or into a closet very readily.
The mattress is soft, and there are breathable mesh walls on the sides for ventilation, soft-touch fabrics, and padding over bars, and a cute style.
The rocking feature allows you to reach over from your bed and rock your baby gently to sleep.
For afternoon snoozes, the DreamComfort fabric diffuses light to create a dimmer sleeping environment.
This premium fabric is also made to promote airflow giving your baby a cooler and comfortable space to rest. When the baby is this calm, everyone can rest easy.
Pros
Solid construction
Rockable
Easy to fold up
Cons
[content-egg module=Amazon template=item disable_features=1 hide=price next=1]
The Delta Children Sweet Beginnings Bassinet comes at a genuinely affordable price.
It's an excellent choice for those who are searching for a baby bassinet with all the fundamental infant bassinet highlights.
The frame is made of tubular steel and the interior of the bassinette is machine-washable and very easy to keep clean. Due to the low weight of its frame, this smart bassinet is exceptionally portable and easy to move around.
This bassinet features a soft night light and an array of soothing sounds and lullabies which can be turned up or down. The shade serves as a cover for the light that may disrupt the baby's rest or sleep.
If you require a gorgeous bassinet that has all the basic features that your baby needs then this is your perfect choice.
Pros
Inexpensive
Easy to move from room to room
Lightweight
Night light
Comforting lullabies with volume control
Cons
Small wheels
Fabric limits breathability
[content-egg module=Amazon template=item disable_features=1 hide=price next=1]
The BabyBjorn Cradle is a stylish and modern bassinet made primarily of polyester mesh and wood.
While most of today's baby gear relies on batteries to soothe baby, BabyBjörn takes a creative, low-tech approach that operates free of fancy mechanisms and electricity.
The clean lines and the fashionable design really stand out and the gentle rocking motion of the model is of great help when putting a baby to sleep.
The value of such a model comes to light during those first months when your baby goes from sleep to wakefulness numerous times per day.
Assembling the model is as easy and its lightweight makes it ideal for use all around the house and it's small enough to keep by your bed.
The mattress is also worthy of praise as it is thicker than most others on the market, but still firm enough for safe sleep.
The Baby Bjorn cradle is designed to give you great supervision of your baby as well. With its price and properties, it certainly falls in the high-end category of bassinets, but it is guaranteed to give you peace of mind once you install it in your bedroom.
Pros
Lightweight
Mesh wall
Adjustable height
Gently rock with soft music
Machine washable
Cons
Expensive
Easy to compress the mattress
MDF Board
Lacks accessories
[content-egg module=Amazon template=item disable_features=1 hide=price next=1]
If you wish to sleep next to your newborn during their first few months, the arm's reach co-sleeper is well worth considering.
It is one of the most recommended bassinets out there, and it can easily be attached to your bed for your newborn's safety.
It can be moved between rooms quickly and easily thanks to its four sturdy and durable wheels. The size of the Cambria is ideal, and it allows you to effortlessly reach out to your little angel from your bed.
Or you can just lay back and enjoy the sight of your precious one sleeping soundly.
The Cambria is as comfortable and safe as a bassinet can be. Its mesh sides are transparent and breathable which neutralizes the danger of choking and allows you to always have your baby in sight.
The sides are adjustable which will make things much easier for mothers who had a C-section.
There is a storage basket under the bassinet that increases orderliness. It is big enough, so you'll be able to keep all of your baby necessities within reach.
The basket is separated in the middle so that you can divide your necessities according to their purpose and therefore keep the whole bedroom well-organized.
Pros
Attaches to bed easily
Very mobile
Wheels with brakes
Breathable
Transparent mesh
Adjustable sides
Cons
The storage basket is very shallow
[content-egg module=Amazon template=item disable_features=1 hide=price next=1]
Arm's Reach is an award-winning brand that is famed for the security and quality of their products.
The Mini Ezee 2 in 1 is a co-sleeper that offers you the opportunity to safely bond with your baby through nighttime sleep.
The bassinet is easy to assemble and is portable even though it lacks wheels.
It is so compact and light that you won't have any problems moving it between rooms. It will even fit in the trunk of bigger cars, making the bassinet great for travel.
The mesh sidewalls provide extra airflow and enhance breathability. They aren't quite 100% transparent, but you'll still be able to see your child from all sides and vice versa.
It comes with side pockets for the bare necessities and a storage compartment underneath providing an ideal place to hold blankets, extra diapers, burp cloths, and other supplies.
The bassinet is equipped with an attachment strap and a resistant plate that are there to ensure maximum safety. You can easily change it from a freestanding bed to a co-sleeper.
If you have a tight budget and are seeking a low-cost option, or when co-sleeping is a vital consideration in your purchase decision, you will not go wrong with this bassinet.
Pros
Comfortable mattress
Easy to assemble
Spacious storage underneath
Sidewalls go down
Compact
Lightweight
Cons
Storage not easy to access
Mattress not washable
Temporary usability
[content-egg module=Amazon template=item disable_features=1 hide=price next=1]
This portable rocking bassinet has two great features. You can fold it in just a couple of seconds making it one of the best options for storing and traveling.
The second great feature would be its rocking feature which is of great help in soothing the baby before nap time.
Of course, there's a lot more to this travel bassinet.
The mesh allows the parents to see their baby easily to make sure they're safe, but more importantly, allow for good breathability.
The bassinets rocking feature happens to be its two modes.
The stationary setting is for when your baby wants to sleep soundly, while the rocking setting is for soothing your baby to sleep.
The bassinet is very compact and lightweight, but the actual bed is very spacious.
Having a minimalistic design makes it possible to make the actual sleeping area quite large.
With this bassinet, you are sure to get a great product that can compete with some much more expensive travel bassinets on the market.
It has a waterproof, removable, and washable cover which is of great importance as babies sure do love making a great mess.
Pros
Light
Easy Setup
Spacious
Budget-friendly
Mesh sides
Stationary and rocking mode
Cons
No music or night light
No Storage
Can take up some space
Some Considerations Before You Buy
With so many styles and options available today, choosing the perfect crib for your baby can be a daunting task.
The highest priority should be how safe it will be for your child to use but there are many other features that you may be important to you as well.
Here are some of the features you'll want to look for:
1. Baby Crib Safety Standards
Any new crib (made after 2011) you purchase is supposed to meet minimum government requirements.
If you assemble your crib to the manufacturer's instructions and use it properly, even the least expensive crib should be safe for the baby.
Occasionally, an unsafe crib slips through, though, so keep an eye on current baby product recalls, just in case.
2. Mesh walls
Bassinets aren't as big as cribs and there isn't as much room for your baby to spread out or roll around.
If your baby does manage to roll on their side and you don't have mesh walls, breathing is going to be much trickier. Mesh walls are also great in the summer as they allow airflow to keep your baby cool.
3. Portability
Bassinets are generally more portable than cribs, but if the bassinet has wheels, it will be even easier to move around. Wheel locks are necessary so it won't roll away when you want it to stay put.
4. Weight Limit
Bassinets have weight limits and some only allow for 15 pounds. If you have a 10-pound baby at delivery, it won't be long before that baby exceeds the 15-pound weight limit.
5. Extra Features
There are bassinet models that play music, rock, vibrate to soothe your baby, or have an attached mobile to keep them amused.
Not every bassinet will have these extra features, so you'll have to decide if you're willing to pay more for them.
Taking care of a baby involves ensuring they have a safe and comfortable sleep every night.
Whether you plan to co-sleep or want one of the best bassinets for your living room for naps, always ensure their place of rest is safe.