We may earn money or products from the companies mentioned in this post. You can read full disclaimer below.
Updated June 7, 2021
Are you looking for simple ways to celebrate your baby's first St. Patrick's Day?
You are not alone.
When you have a baby there are so many amazing "firsts" to celebrate and your baby's first St. Patrick's Day as a family is no exception!
The 10 ideas we share below are simple to do.
You can keep things as low-key as you want.
The whole idea is to celebrate the holiday and begin to create memories your child will cherish for a lifetime.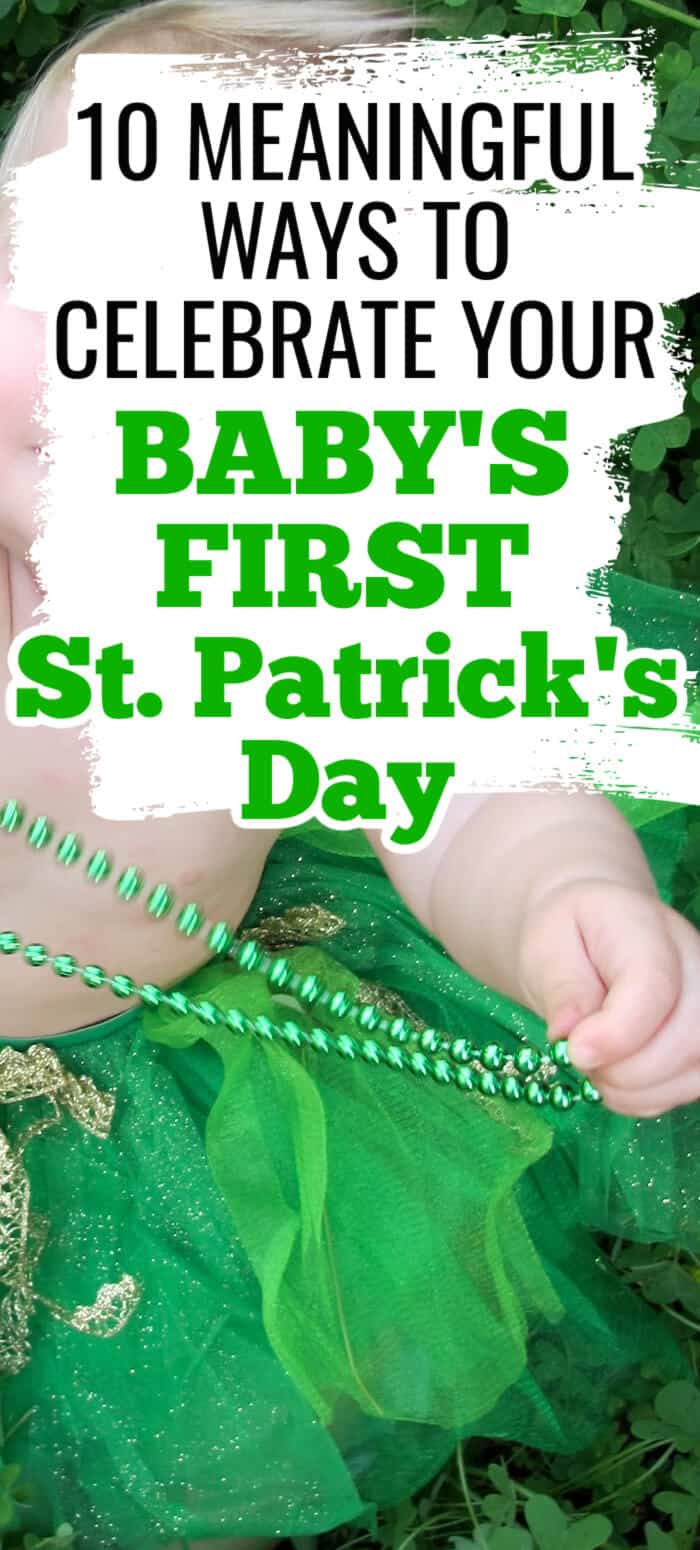 Photos, time spent together, and family traditions are never forgotten.
We have been grateful that we celebrated and photographed many holiday moments for our children.
Even during the years when they were little and we were exhausted. Even when we didn't do anything big, it was memorable to them.
We love helping you find simple and low-stress ways to make your baby's first holidays magical and memorable.
10 Tips For Baby's First St. Patrick's Day
1.  Baby's First St. Patrick's Day Outfit
Your baby's first St. Patrick's Day outfit is all about the wearing of the green! There are so many adorable options in rompers, bibs, onesies, sweaters, and hairbows. 
Don't forget cute warm pajamas and a hat too. St. Patrick's Day is cold and often snowy for most of us. 
We love these adorable St. Patty's Day Rompers: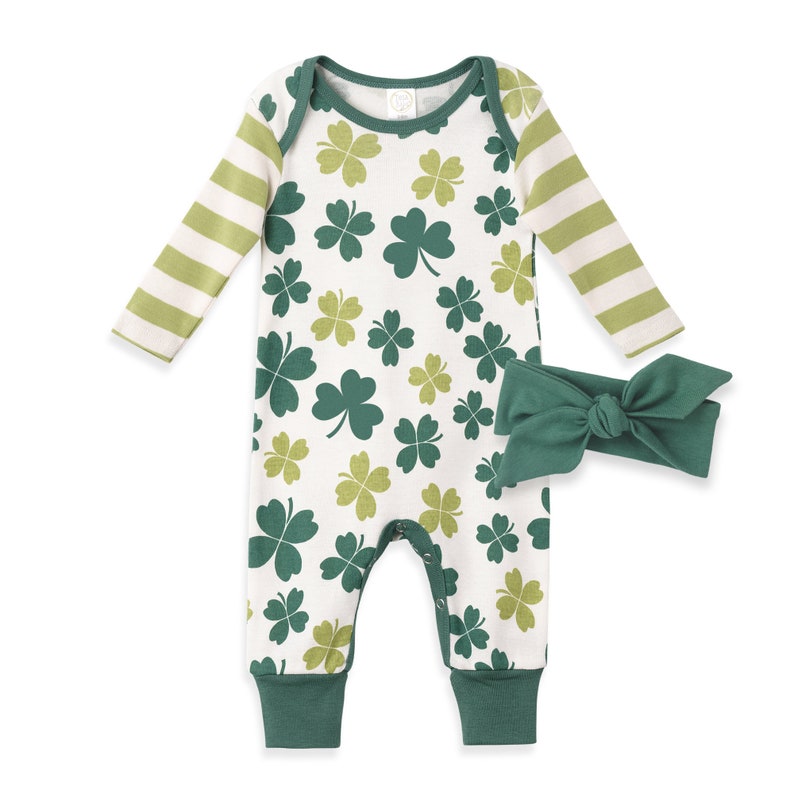 Baby Girl St. Patrick's Day Outfit Irish Baby Romper
from: Etsy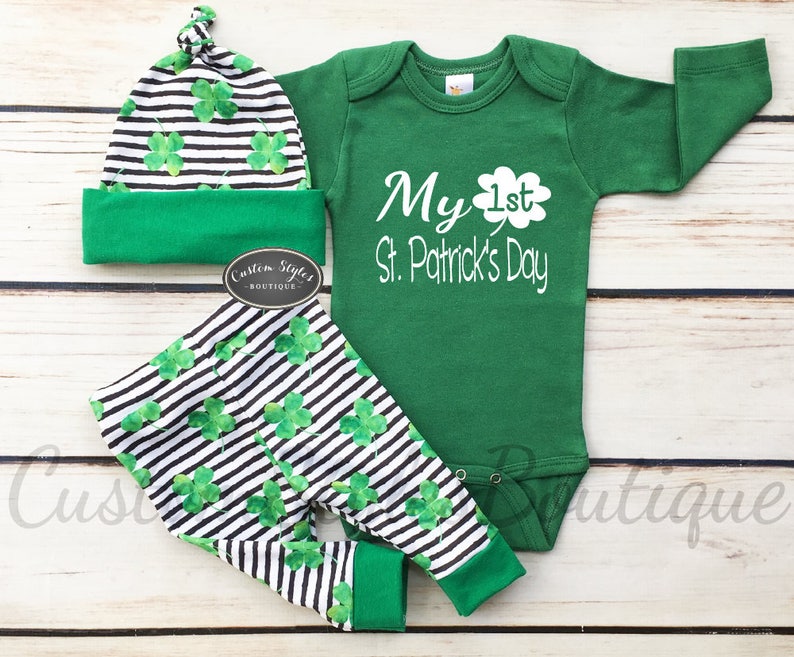 Baby Boys First St. Patrick's Day Outfit My 1st St
from: Etsy
These super cute onesies we found on Etsy are perfect for your little leprechaun!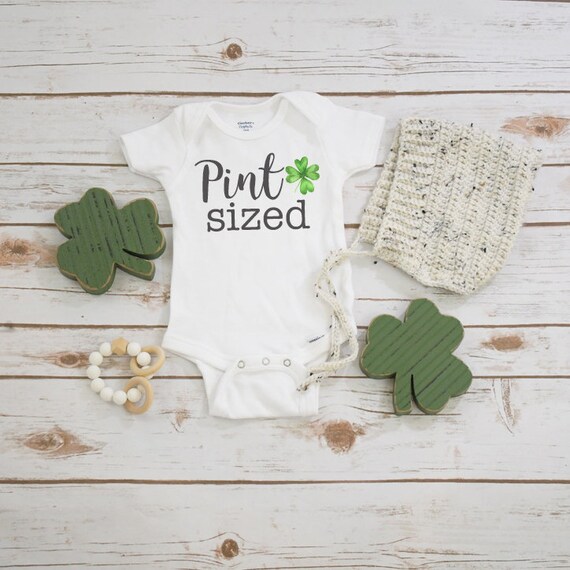 St. Patrick's Day Onesie® Pint Sized First St
from: Etsy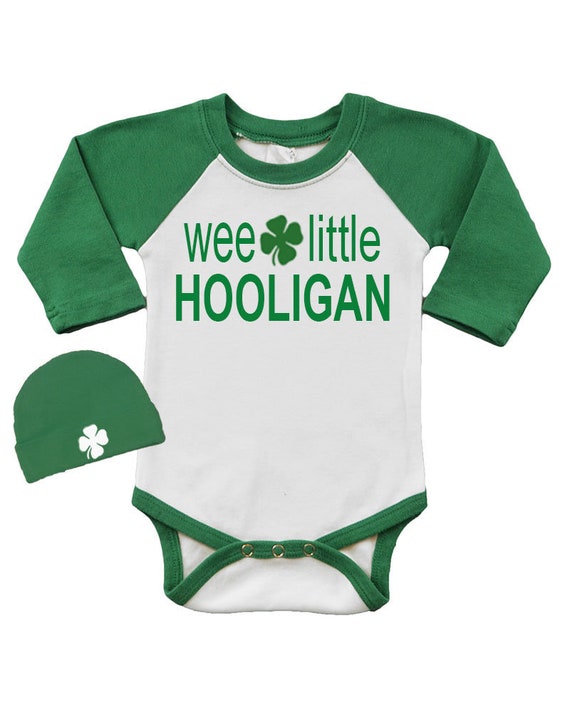 Baby Gift Set for St. Paddys Funny Baby Outfit St
from: Etsy
Show off your little one's Irish spirit with these cute hats and hairbows: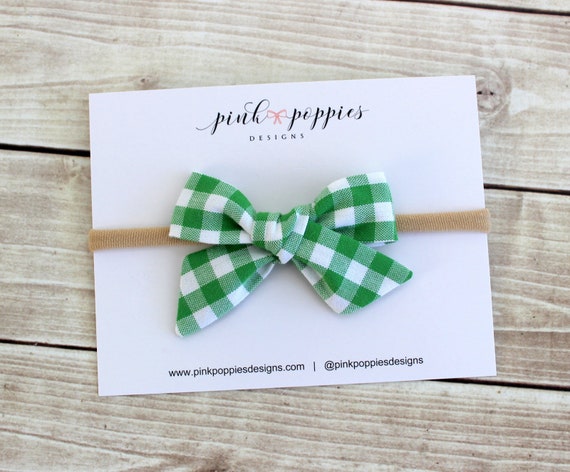 St Patricks Day Hair Bow Green Headband St Patricks
from: Etsy
Check out these adorable St. Patrick's Day bibs: 
2.  Take lots of photos for your baby's memory book and for the grandparents.
You may not want to do a formal photo shoot for your baby's first St. Patrick's day, but you should still plan to take lots of photos at home. 
They will be a great addition to your baby's memory book.
Grandparents, aunts, and uncles love seeing pictures on holidays.
Especially during the pandemic when we can't all gather together as easily.
If you are interested in a more formal photo shoot you can find some amazing inspiration and backdrops on Etsy!
These are a few that we really like: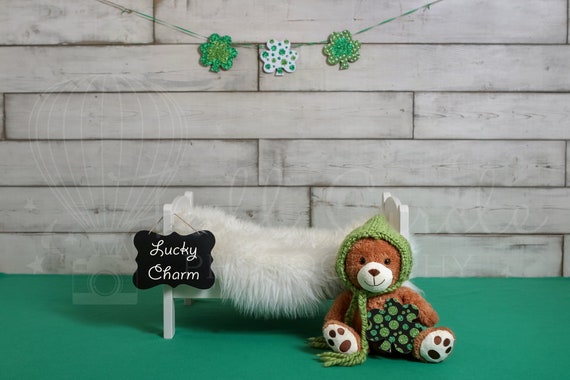 St. Patricks day Digital Backdrops Newborn Photography
from: Etsy
3. If your baby is eating solids, try some green foods.
There are many yummy green and orange foods to try for babies' first St. Patrick's Day which can make for some great pictures to add to your baby scrapbook.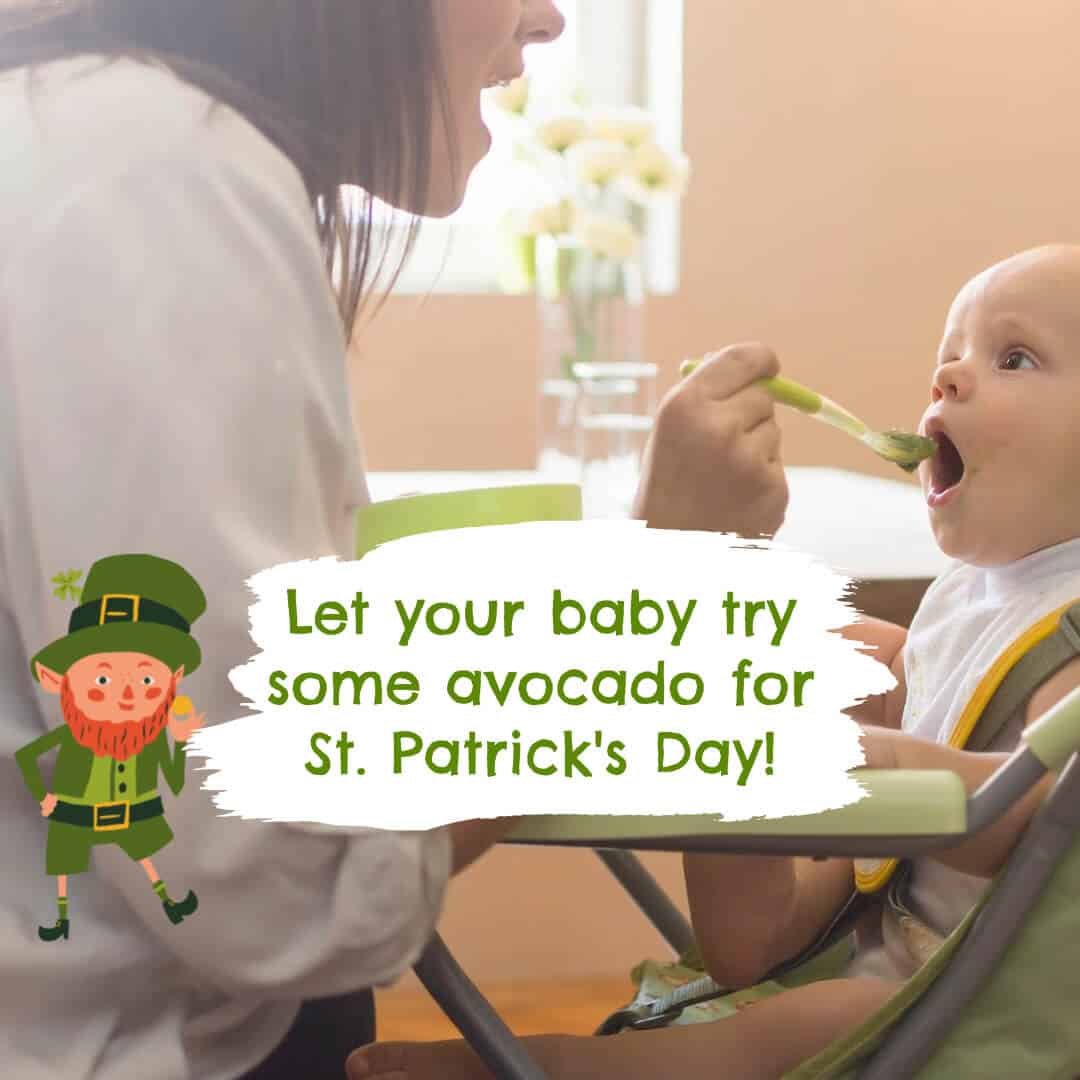 4. Add a shamrock, rainbow, or Irish blessing print on the wall in the nursery.
Wall decor is a festive thing to do for any holiday. It is well known that even newborns can recognize patterns. So why not add some shamrock color to the nursery.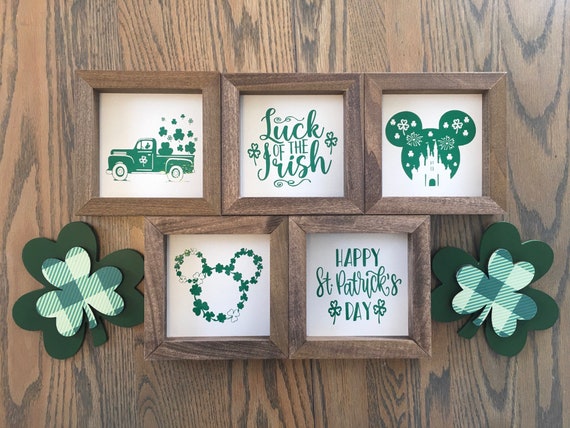 Disney St Patrick's Day signs Mickey St Patrick's Day
from: Etsy
One of the easiest ways to dress up the nursery (for 5.00) is to get some foam shamrocks or Leprechauns at your local arts and crafts store or dollar store.
Using two-sided tape, arrange them on the wall so your baby can see them and make sure to get a picture. Years from now, you will be very glad you took the photos.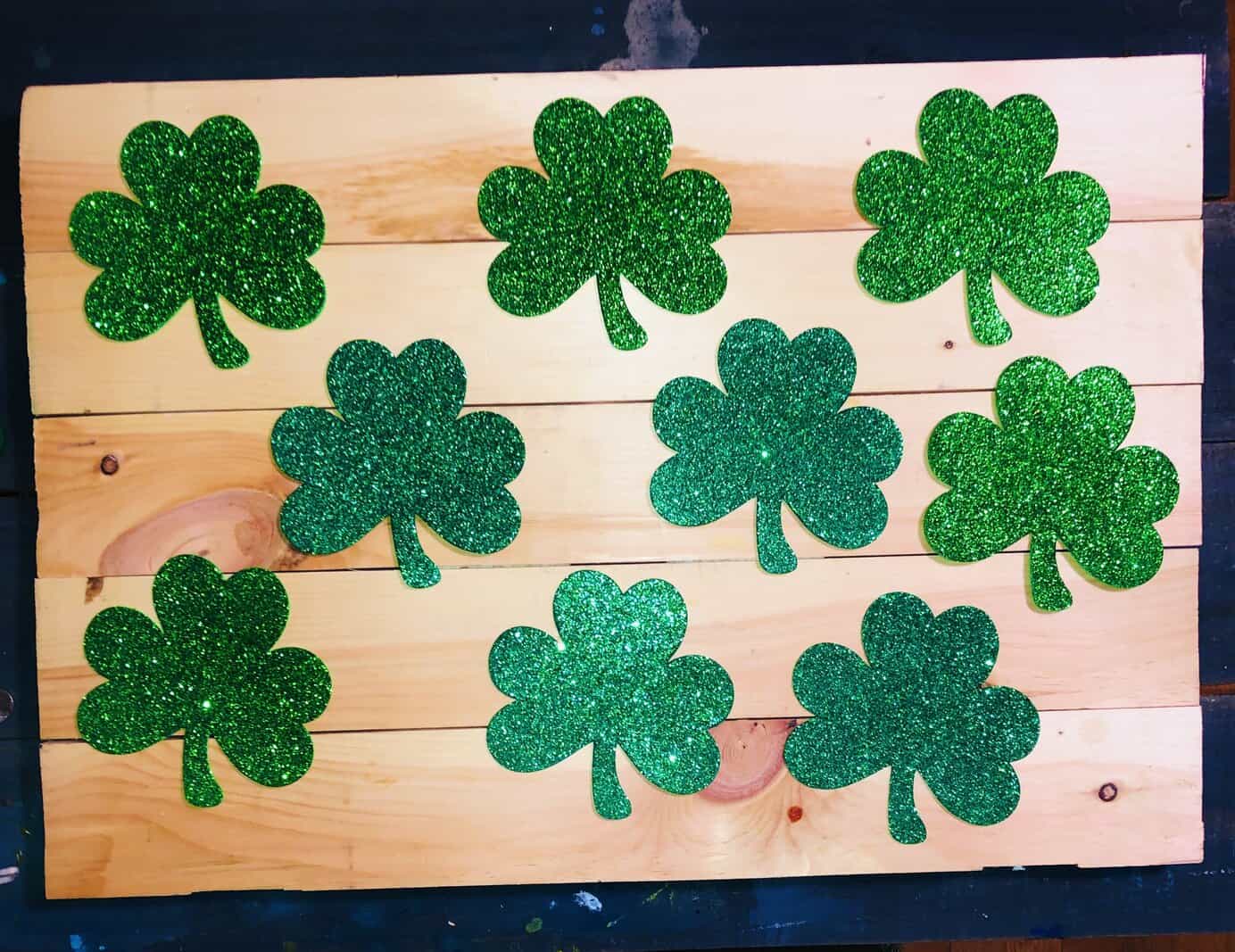 Maternity Comfort Solutions
5. Make a mess-free St. Patrick's Day sensory play activity for your baby.
You can dye some macaroni green or rainbow colors as I did below.
If your baby is older you can make an easy sensory bin with the colored macaroni and measuring cups
If your baby is younger you can put the colored pasta in a Ziploc bag that they can play with.
You can cook the pasta and color it after it is cooked. Keep it mess-free by letting your little one squish it around in a zip lock bag.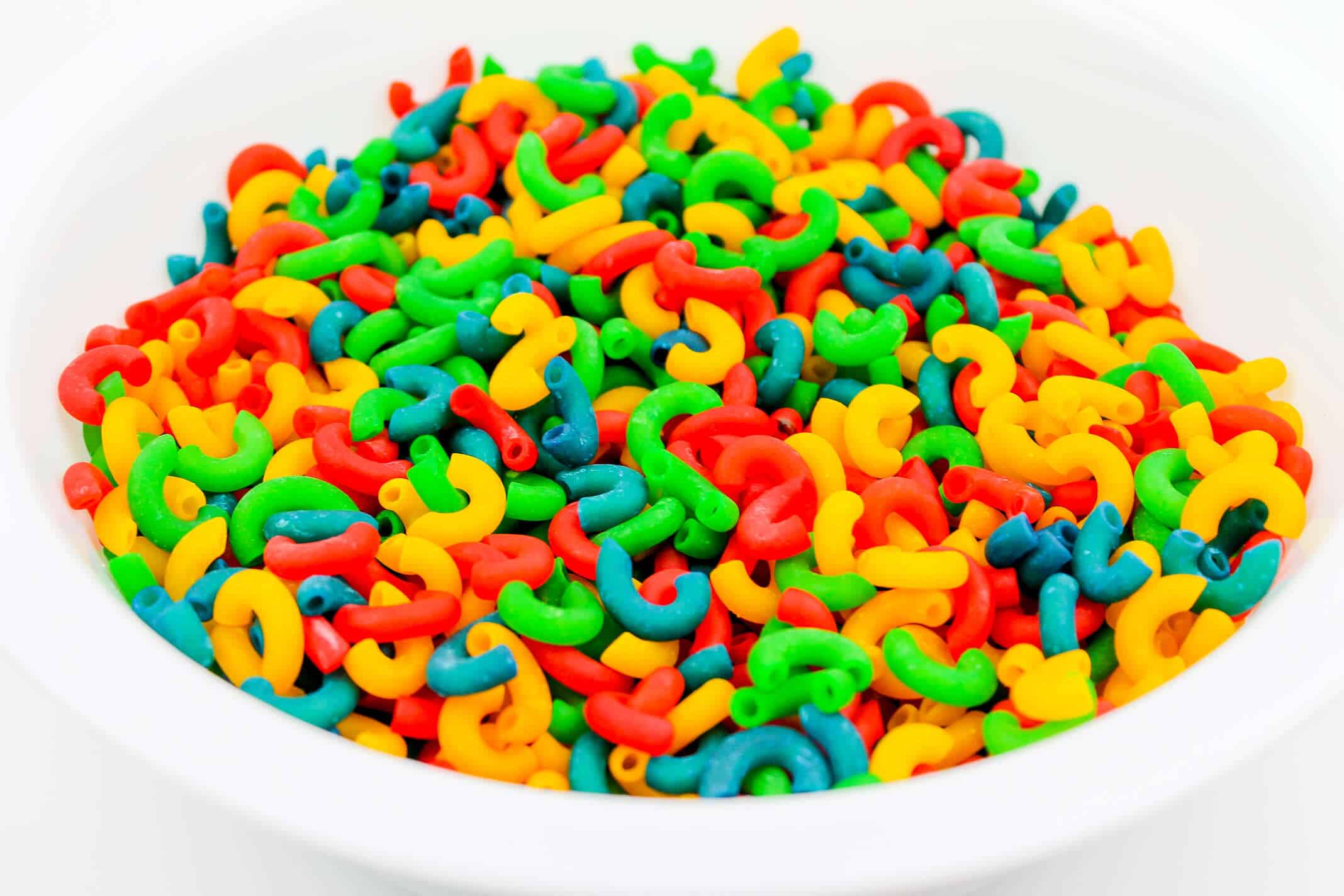 6.  Introduce your baby to Irish and Celtic music.
It is never too soon to introduce your baby to various types of music.
St.Patrick's day is the perfect time to play Irish/Celtic music for your baby during playtime, mealtime, or play an Irish lullaby at naptime.
You can find Irish music on Apple Music, Amazon Music, and I'm sharing one of my Spotify playlists below.
7.  Add some new St. Patrick's Day books to their holiday book collection
St. Patrick's Day leads us right into Easter and Spring. Your baby's first St. Patrick's Day is a great time to start a holiday book collection.
Fill the basket with seasonal books you can read to your baby.
We do this for every season and seasonal holidays.
It is never too early to start reading to your little one. 
Below are a couple of books our kids have loved over the years. Many children's holiday books never get old:
8.  Watch a virtual St. Patrick's Day parade.
With the pandemic, it's best to keep your little one at home away from crowds. That doesn't mean you can't watch the Parade virtually.
Yeah, it's not the same and let's hope the pandemic will be over this year. Though there will still be public health guidelines for large gatherings, at least by next year your baby will be a toddler should public events raise less concern.
Not to mention that your child will be the perfect age for such activities.
9. Start a new family St. Patrick's Day tradition.
Holidays are always a good time to start family traditions and make memories.
If you've already started traditions then add this holiday to your list.
Make a scrapbook for all the holidays or one for each holiday.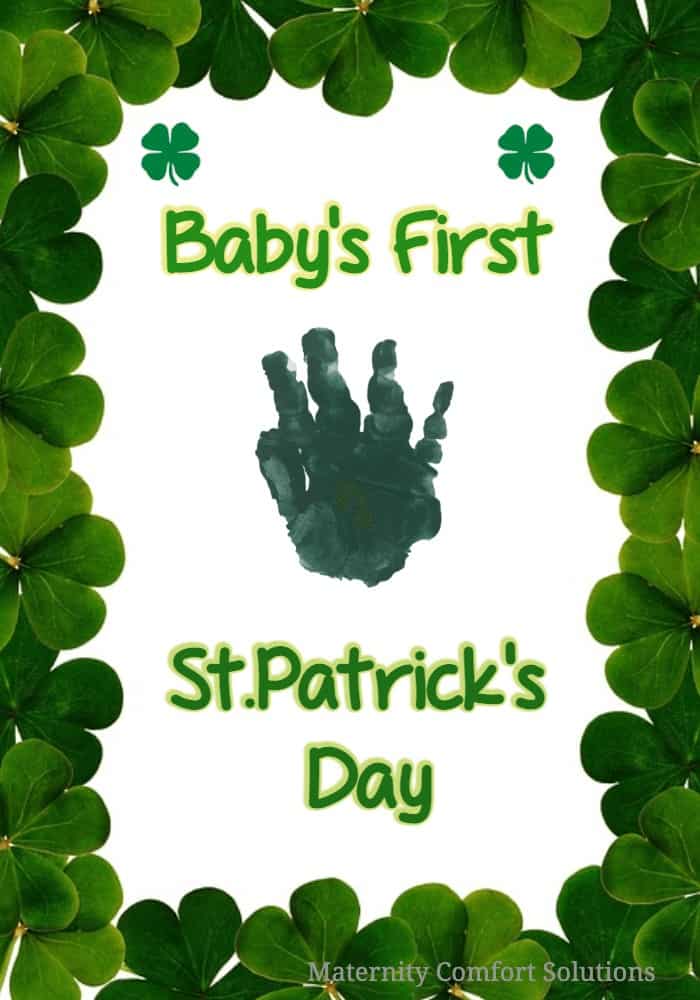 In years to come your kids will enjoy thumbing through the pages and seeing a particular event that will bring back memories that might otherwise be forgotten.
10. Stay home and have your St. Paddy's party with your partner and baby.
A new baby probably means no pub on St. Patrick's day, but that doesn't mean you and your partner can't enjoy a traditional Irish Dinner and green beer at home. 
Though your child might not recognize any changes, given the pandemic, why not put a few decorations in the kitchen and make your own tavern.
You can bake one of these easy St. Patrick Day treats for dessert and if your baby is on solid food, let them have a taste too!