Updated October 19, 2022
Moms are always on the lookout for ways to make their home safe when there are little ones around.
From baby gates to electric outlet covers, to cabinet locks, as a parent, we always want to do anything in our power to protect our children from harm.
But what about the type of flooring in our house? Are Laminate Floors Safe for Babies?
While flooring may not be the first thing we think about when it comes to our baby's safety, it is actually very important.
After reading further, I hope it will become apparent why the flooring in a home is actually one of the most important safety issues you can address to protect your baby from injury.
Are laminate floors safe for babies?
Do you have laminate floors, if so you may be wondering if laminate floors are safe for babies?
Yes, laminate floors are safe for babies.
It is understandable to have questions and concerns as some safety features related to laminate floors should be looked into before making a purchase.
First, let's look at the materials and construction of the best laminate flooring.
This might be of particular interest to you if you do not currently have or are in the process of installing flooring in your baby's nursery or if you are in the process of baby or toddler-proofing your home.
Once we have discussed laminate flooring and any safety concerns for your baby, we will briefly discuss other flooring options.
Laminate Flooring Is Made Of 4 Layers:
Wear or Topcoat Layer – Strong protective layer made of a

mixture of melamine and urethane aluminum oxide.

Design or Pattern Layer – High-level graphic design which can be stone, marble, woodgrain, etc.
Core or Substrate Layer – Durable and dense to protect from denting. Also helps protect against moisture. The most common composition of the core layer is a fiber-based, wood composite which is compressed and is very dense. The name for this type of laminate core: is High-Density Fiberboard (HDF).
Back Layer – protects from moisture and can be used for leveling.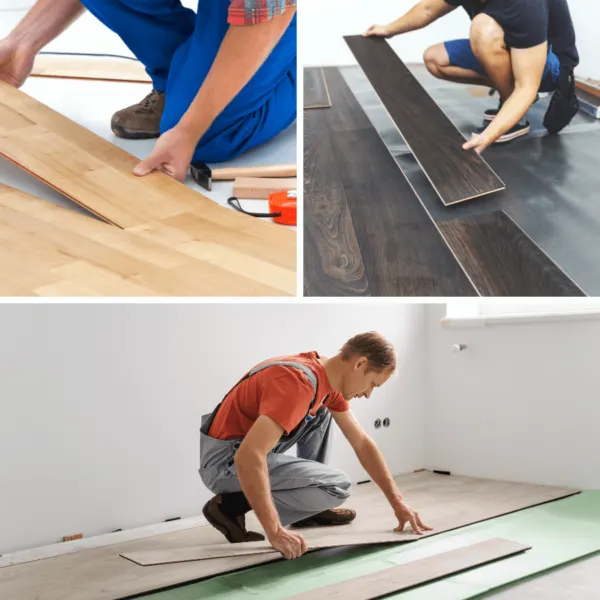 Laminate Flooring Installation
Some characteristics you will want to look into for the safety of your baby:
How slick and shiny is the surface? Laminate floors can be glossy or have a rough surface. Many farmhouse-style flooring surfaces are rough or textured and this would be preferable over shiny parquet flooring.
What plastics or urethanes are used to seal the flooring? Though these components have been highly publicized in terms of safety, most have been cleared of toxic components. Urethanes, are a volatile organic compound (VOC) and are a concern when applied as a liquid to seal flooring. The strong odor and toxicity of drying urethane are avoided by using laminate that has already been finished. The bottom line with laminate flooring
Laminate floors are made of layers of pressed wood and most often the planks lock together, though there are also laminates glued together.
The top layer is a clear plastic coating that gives the floor its shine.
This coating makes the floor more durable and resistant to scratches and is why laminate flooring is so famous for high-traffic areas.
But are laminate floors safe for them?
Laminate floors are actually a good choice for homes with young children because they're so easy to clean. spills and accidents are no match for a good mop or damp cloth, and you won't have to worry about stains or water damage.
If you're a new mom, you want nothing more than to create a safe and healthy environment for your baby.
And while you might be focused on choosing the right crib and stocking up on diapers, it's important not to forget about one other key element: your flooring.
Believe it or not, the type of flooring you have in your home can have a big impact on your baby's health—so it's important to choose wisely.
What is the safest flooring for babies?
Here's a look at some of the best flooring options for babies and why they're so important.
Hardwood Flooring
Hardwood is a good flooring option for your baby's nursery.
It is a hard surface that can cause an injury if your child falls.
To reduce the chances of your child slipping and falling, there are hardwood floors that are not slippery but instead have a coarse or textured finish.
Hardwood is strong and durable, so it can stand up to all the wear and tear

It's easy to clean—a must when you're dealing with spills and other messes.

Hardwood is not likely to induce any allergies which is important if your child has allergies or sensitivities.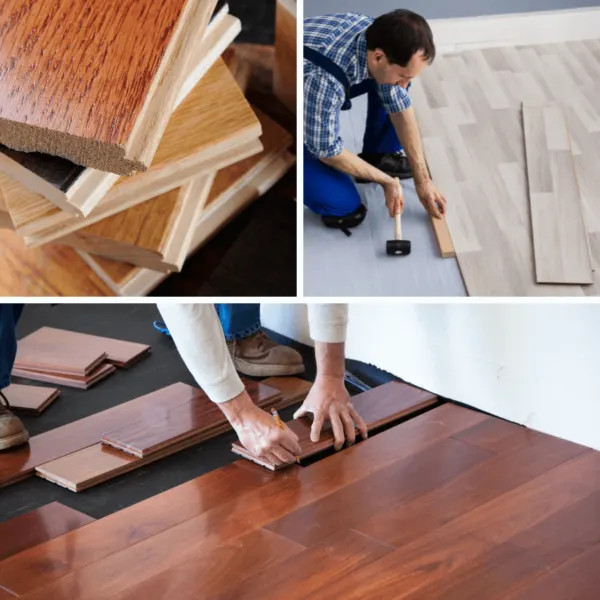 Prefinished Hardwood Flooring
Fortunately, hardwood flooring can now be installed using prefinished pieces.
This is far better, especially during pregnancy and for your newborn baby, as your home air quality will not contain the volatile fumes from polyurethane finishes and the heavy dust from sanding.
Carpet
Carpet flooring is a great flooring option for babies especially to prevent physical injuries.
Other than rubber flooring as will be discussed below, carpeting is the safest flooring to prevent traumatic injuries.
There are actually several benefits to choosing a carpet for your baby's nursery:
Carpets are soft, padded surfaces that your baby can crawl or play on while protecting their little knees.

Carpet is warmer than hard surfaces like wood or tile, making it ideal for bedrooms or playrooms where temperature control is an issue.

Carpet is available in a wide range of colors and styles to suit any space.
Tile Porcelain, Ceramic, Stone
It should be no surprise that floorings as hard as tile or ceramic are best avoided wherever your child will be spending time playing.
Though laminate flooring is hard compared to carpet, the core layer gives the flooring a cushion.
Should your child hit her head on a tile floor versus a laminate floor the risk of serious injury is far greater.
The best example is when you might have dropped a glass on a laminate floor and noticed that it didn't break.
If the floor is made of ceramic or stone the glass will shatter all over the floor.
Linoleum, Vinyl
For years many have asked: Is vinyl flooring safe for babies?
Linoleum or vinyl flooring has long been the flooring used in kitchens and bathrooms for over 50 years.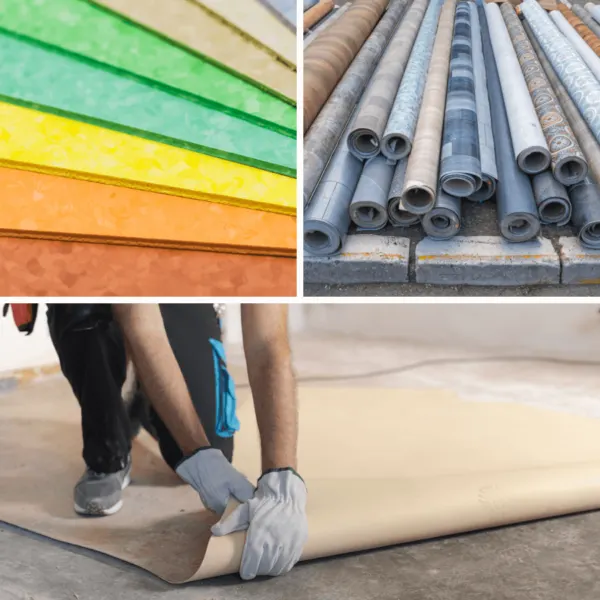 Linoleum Flooring
Though this type of flooring might not be the most popular these days, it is far more protective than laminate or hardwood flooring.
Bamboo
Bamboo flooring is a great option for flooring in a nursery.
It has many properties one would look for in a flooring material for a nursery.
Some of the reasons bamboo is a good selection are:
No toxic chemical emissions.
Antimicrobial
Resin Flooring (Epoxy Flooring)
Resin flooring, once it has cured is considered safe for babies in terms of chemical emissions.
Though it is extremely durable, it is not the safest surface for babies or toddlers.
Like tile flooring, it is a very hard surface and is more likely to result in a physical injury should your child fall.
If you are not needing a child-safe surface, resin flooring is very good for high-traffic areas.
What laminate flooring is not toxic?
Laminate flooring is not considered to be toxic.
The synthetic materials used to make laminate flooring are not known to give off any gases or consist of harmful chemicals.
It is still important to keep in mind that there can still be allergens that can cause allergic sensitivities to the chemicals used in the manufacturing process of laminate flooring and may experience respiratory irritation or skin irritation when exposed to them.
If you have concerns about the safety of laminate floors, there are a few things you can do to reduce your exposure to any potentially harmful chemicals.
First, make sure the room is well-ventilated during and after the installation of the floors. Second, choose a low-VOC or no-VOC laminate product if possible.
And lastly, avoid using harsh cleaning products on your floors as they can increase the number of chemicals you and your family are exposed to.
Cleaning Laminate Flooring
When it comes to how to shine laminate floors, the good thing about having laminate flooring is that they are extremely easy to clean.
Cleaning can be accomplished simply by using water for dusting and mild soap if necessary for spills or hard-to-remove stains.
Flooring For Children's Bedrooms
When it comes to selecting flooring for your baby's nursery or for older children, the best way to decide is to first do some online research for the best options available.
The ASTM (American Society for Testing and Materials) can be a helpful resource.
Rubber Playground Flooring Pads
For any flooring other than carpet, there is always an option of using rubber playground flooring pads, especially if you are not able to make renovations.
Over 110 studies have been done and have not found recycled rubber in floor mats to be toxic to babies.
If you are needing to cover a concrete floor or another very hard flooring surface, the safety of rubber flooring is a good option.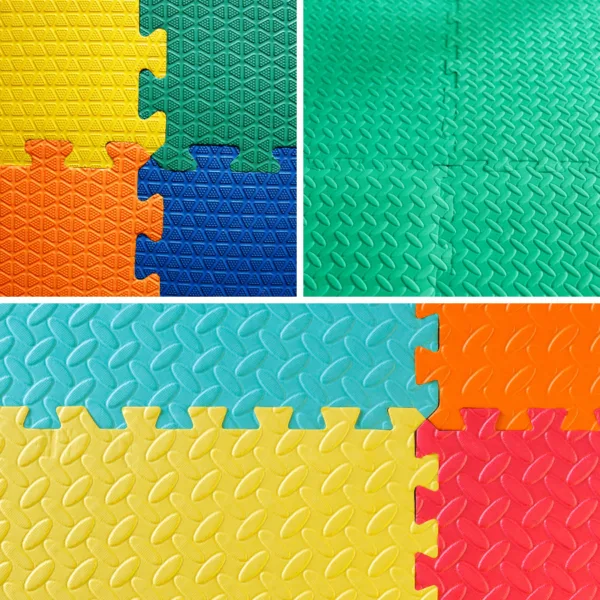 To be safe, it is important to look at the composition of the mats and if there are no concerns based on your research it is still best not to allow your baby to directly play on the mats.
The mats are a very simple solution, particularly if you are in a bind and need safe flooring.
Final Thoughts
So, there you have it–everything you need to know about whether or not laminate flooring is considered to be safe for babies.
As I have mentioned, the synthetic materials used to make laminate floors are not known to release gases or other harmful chemicals into the air.
However, if you have concerns about exposure to potentially harmful chemicals, there are a few things you can do to reduce your risk.
We hope this article has been helpful in answering your question!
Laminate is durable and easy to clean, making it ideal for high-traffic areas like kitchens and living rooms.
Laminate is also resistant to staining and fading, so you don't have to worry about spills or other accidents ruining your floors.
And because laminate comes in such a wide range of colors and styles, it's easy to find an option that fits your home's décor.
When choosing to floor your home, it's important to keep your baby's safety in mind.
Hardwood, carpet, and laminate are all great options that are both durable and easy to clean—two things that are crucial when you have a young child in the house.
So take some time to consider your options and choose the best flooring for your family.
So there you have it, moms! Laminate floors are safe for babies.
Not only are they slip-resistant, but they're also easy to clean—two things that are important when you've got little ones in the house. So if you're thinking about getting new floors, don't hesitate to go with laminate.
Your baby will thank you!
Ultimately, if you are constructing your child's nursery and have not chosen a flooring material, a good option is to ask a flooring store what the best kid-friendly flooring options are.
Make sure the distributor has all types of flooring and is not just suggesting the flooring they carry.
Of all that has been discussed, when it comes to what flooring is best for the nursery, carpeting is clearly a good choice, and avoiding any hard surfaces such as resin, tile, porcelain or stone is definitely the best decision.