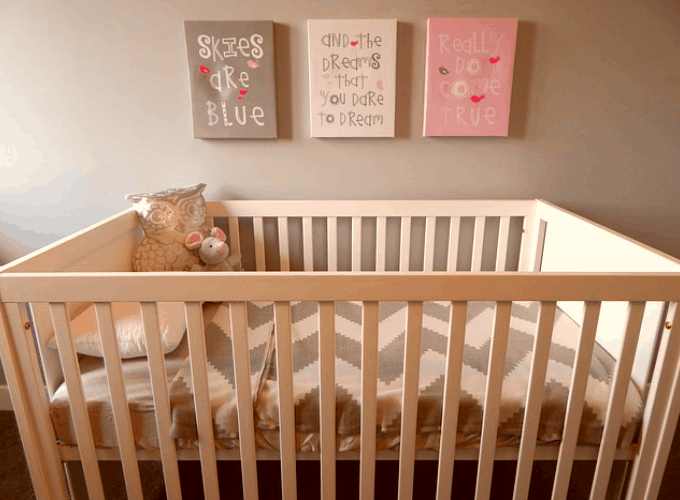 This post contains affiliate links, you can catch our full disclaimer at the bottom of this post.
It is important to read a number of best baby crib reviews before purchasing a crib. The most important information to look for is up-to-date guidelines about the crib's safety and quality of construction.
Quality and safety often go together because poor construction often leads to safety concerns.
When reading a review about baby cribs, be sure to look at the crib's retail history.
Does the crib have a good consumer track record since it was released?

Have any defects been reported?

Has the crib been recalled by the company because of a manufacturing defect or an injury to a baby reported by one or more consumers?
As you start shopping for a crib, keep in mind that parents are very selective consumers. Millennials, in particular, are very computer savvy shoppers. They know how to research a purchase online before ever setting foot into a store.
If a particular baby crib has been popular among parents for a long time, that is a good sign. However, it is still important to make sure the crib you select is compliant with the most recent safety guidelines.
Once you have completed your online research for the best baby crib reviews, you will likely find that parents ultimately do make the right decision. 
Read as many reviews as possible,  keeping in mind what crib features will best serve your needs. It is very easy to lose sight of what matters to you. Reviews can be very informative but may steer you towards features you don't need.
The last step before going to the store to evaluate the physical product is to cross-check the information you have learned with a few well-established, authoritative websites such as the CDC, CPSC, and  Consumer Reports.
Baby cribs are often recalled and for good reason. 
During your research, you will likely come across cribs that have been recalled. A recall might be because of a large number of negative reviews or as a result of accidents or injuries related to a manufacturing or design flaw.
While on the topic of safety, it is important to note that old cribs (family heirlooms, etc.) are not to be used for your newborn. This is based on what we have learned over many years about structural crib safety and toxic materials.
This post may contain affiliate links, you can catch our full disclaimer at the bottom of this post.
Safety Guidelines:
Safety guidelines are often updated as a result of unfortunate real-life events. Regulatory commissions try to anticipate crib-safety concerns. They would rather act on concerns once they have been identified.
Seatbelts and child car seats are excellent examples of safety devices that were once non-existent and are now legally required. With what we know now about the clear benefits of seatbelts, the thought of not having your child securely fastened in an infant car seat is hard to imagine. 
Unfortunately, though attractive, old cribs often have safety concerns based on information acquired since they were constructed. As we have mentioned, at the time it was created its construction was designed to comply with the safety standards in place at the time.
The certified websites listed below,  address the safety guidelines for cribs you will want to review before purchasing a crib for your baby.
The information is based on real-life statistics that have been accrued over many decades. Safety information is constantly changing because it is based on findings once a product has been put into use by many people.
Make sure the crib you select :
Meets the latest government safety standards

Has not been recalled

Is popular among new parents
Crib Safety Requirements:
Before reading the five best baby crib reviews it is very important to make the crib you select is certified and meets or exceeds all safety guidelines.

Why we chose this crib as the best baby crib of 2019:
For over 10 years this crib has been listed among the top cribs for safety, construction, and ease of assembly.

The crib is environmentally friendly, constructed of 100% New Zealand pine wood.

For those on a budget who do not want to compromise safety, the DaVinci Kalani 4 in 1 Convertible Crib is

competitively priced.
The 5 Best Baby Crib Reviews For 2019:
(In no particular order)

The Storkcraft Tuscany 4-in-1 Convertible Crib is attractive and made from top quality materials. This crib is the best-selling Storkcraft Crib.
It features a three-position adjustable height mattress and will easily convert to a toddler bed, daybed and full-size bed.
The sleigh bed design is very popular. This theme has a number of accessory furnishings including a changing table, chest, dresser, and a glider chair, and ottoman.
StorkCraft nursery furniture has many furnishings for your entire nursery using the same theme.
2. Evolur Signature Cape May 5-in-1 Full Panel Convertible Crib
The Evolur Signature Cape May 5-in-1 Full Panel Convertible Crib is a luxury crib made of kiln-dried hardwood. Its surface is made of a fine veneer.
The crib is designed to accommodate your baby as she grows. There are three mattress levels and fixed stationary side rails. It can be converted into a toddler bed and full-size bed with back panels and a bed frame (parts are sold separately).

The crib is designed and engineered to meet all the safety standards required (above) and is subjected to independent laboratory testing.

The Cape May crib is designed to complement a beach house decor. This crib is crafted with decorative molding to create the look you desire. It is important to mention that this crib is the priciest in this review because of the design detail and quality of materials.
The Evolur Signature Cape May 5-in-1 Full Panel Convertible Crib has matching furniture including a Cap May Chest.
The Delta Children Canton 4-in-1 Convertible Baby Crib in the Espresso Cherry finish offers the value of converting your child's crib to a toddler bed, daybed and ultimately a full-sized bed.
This bed will grow with your baby and has three mattress levels.
The crib's sturdy wood construction will remain structurally sound for many years and meets all the safety guidelines for cribs established by the JPMA, CPSC, and ASTM.
The company also performs tests to screen for toxic elements. Their testing exceeds the government standards set by ASTM.
The crib is very easy to assemble and free replacement parts are readily available. If the style of the crib fits in with your home decor, you will be pleased with the sleek sleigh bed design.
The StorkCraft Portofino 4-in-1 fixed side convertible crib, and changer is extremely versatile to make your life a little easier.
During infancy, the changing table adjacent to the StorkCraft Crib is very convenient.  As your child grows the crib converts into a toddler bed, daybed and even a full-size bed.

The StorkCraft company has been manufacturing quality baby furniture for 70 years. The company encourages parents to compare their product to other manufacturers.
Storkcraft Baby Furniture received the 2018 Women's Choice Award for being America's most recommended baby furniture.

Storkcraft furniture has matching dressers and glider rocking chairs. These furnishings will make designing your nursery even easier.
The crib has a large storage capacity, including three drawers and three open shelves. The changing table is designed to stand alone until your child is ready to sleep in a toddler bed.


The StorkCraft Portofino 4-in-1 fixed side convertible crib and changer meets all the safety requirements published by the JPMA, CPSC, and ASTM.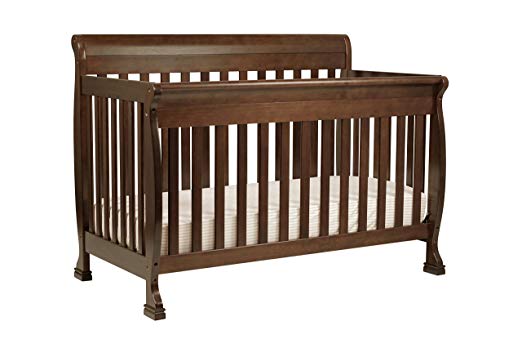 The DaVinci Kalani 4-in-1 Convertible Crib in the Espresso finish is beautifully crafted, extremely versatile, and competitively priced.
This crib is sturdy and can be converted from a crib to a toddler bed to a daybed to a full-size bed.
It is made of 100% New Zealand pinewood.

The DaVinci Collection company prides itself in building furniture that uses the best materials. For over the past 10 years DaVinci cribs have been among the highest-rated cribs when it comes to safety, sturdiness, and ease of assembly.

The DaVinci Kalani 4-in-1 Convertible Crib is reasonably priced and still includes the features offered with the higher-priced cribs. 
This is our top pick for "Best Baby Cribs Of 2019":
Summary of guidelines to look for when buying a baby crib.
(This information is based on what is known about crib-related injuries at the time of this publication and is not
 all-inclusive.)
In 2010 the Consumer Product Safety Commission (CPSC) banned the use of cribs with dropdown side rails. The video below (published in 2009), reported this concern. By 2010 there were approximately 32 infant deaths related to cribs with dropdown side rails which led to the banning of cribs with dropdown side rails.
Stop Using Recalled Simplicity Drop-Side Cribs
Courtesy of: US Consumer Product Safety Commission (CPSC)
The Consumer Products Safety Commission (CPSC) also states that you should never use second-hand cribs for two main reasons:
Older cribs will lack the most recent safety guidelines.

Many older cribs have been assembled and disassembled many times. This can make the cribs structurally unsafe.
2.  The slats on the side of a crib cannot be wider than 2 ⅜ inches apart. This has become a manufacturing guideline.
3.  If the crib has wheels, make sure they can be locked securely. If your nursery floor is tile or wood, you will definitely want to remove the wheels completely.
4. If you purchase a crib that has a lot of decorations, make sure the headboard and footboard are smooth and are not covered with ornate decorations.
5. Put your hand down the side of the crib mattress. Make sure the mattress feels snug against all sides and corners.
6. The height of the crib railing must be 26 inches above the mattress. As your infant grows you will need to adjust the side rail. Baby's are very resourceful and often find ways to climb over the side rail which can result in a significant injury. 
7.  Make sure to purchase a firm crib mattress for your newborn. This will prevent your baby's face from sinking into the bedding which can obstruct breathing.
8.  Don't put stuffed animals in your baby's crib. Years ago, it was not uncommon to put many items in a crib for play and comfort. This has changed based on research done on Sudden Infant Death Syndrome (SIDS). For information about SIDS visit: Safe Sleep Basics
9. Another reason to keep items out of the crib is to prevent your child from using these items to climb over the side rails.
10.  Years ago, most furniture was constructed at the factory. These days,  homes are often fully furnished with (DIY) assembled furniture. The reason for this is because transportation is easier and the furniture is less expensive. Many parents no longer purchase high-end, costly furniture due to budgetary concerns or simply because infants and toddlers grow out of their furniture so quickly.
*If you plan to assemble your baby's furniture, follow the instructions closely and make you test the crib when you are done to make sure it functions properly. Check for sturdiness and how stable the crib is when setting it on the floor.
11.  Parents also want to be sure to keep other furnishings (stools, rockers, large toys, benches) away from the crib. This will prevent your child from using furniture to climb into the crib.
12. Make sure there are no loose or missing parts to the crib whether you assembled it or bought it fully assembled. Many DIY furnishings for the home are now assembled by hired help. These individuals are not affiliated with the crib company and are paid to assemble cribs just as you would at home.
13. If the crib has raised posts at the corners, they should not be higher than 1/16", essentially flush to avoid catching on clothing.
14. Do not put pillows, comforters, blankets or sheepskins in your newborn's crib as there is no benefit for comfort that cannot be dealt with in other ways, such as adjusting room temperature. As for the safety concerns related to extra bedding in cribs, the data suggests it can be harmful (SIDS) based on current research.
15.  Wedges should never be used. They can cause changes in the sleep position of your baby. This change in position has been associated with increasing a newborn's risk of SIDS. Babies can also use wedges to climb over the side rail.
16.  Having your baby sleep in your room has been shown to reduce SIDS by up to 50%. The American Association of Pediatrics recommends newborns sleep in the parents' room for at least the first 6 months and preferably the first year.
If you do not want your newborn sleeping in a bassinet or cot (co-sleeper) for a year, you may want to consider selecting a crib that can easily be transported from room-to-room. This can also be helpful if your baby is sick and you want your newborn close by throughout the night.
*** Do not have your baby sleep in your bed. There are a number of reasons why this is not safe. (Source)  It is recommended to use an approved baby cot adjacent to your bed, a bassinet or your newborn's crib.
Sleeping in the same room also makes breastfeeding easier and has been associated with a decrease in SIDS. (Source)
What to read next: