Updated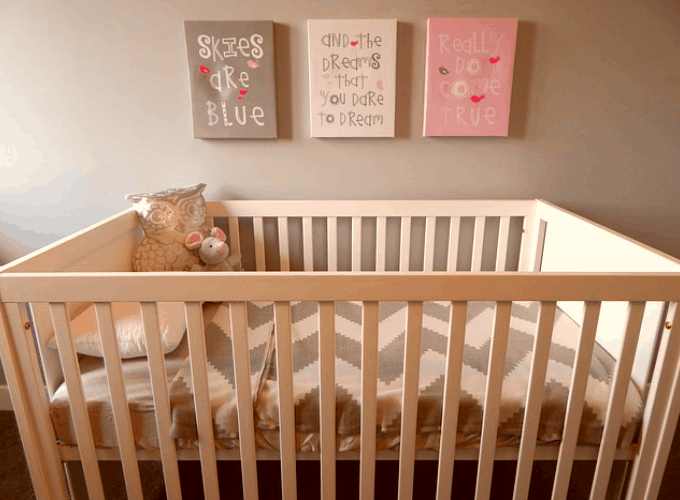 When purchasing a baby crib, the most important qualities to look for are safety and the quality of construction. Quality construction is important, as poor construction can lead to safety concerns.
In addition, the retail history of an item since it has been released into the market can be very informative. Parents tend to be careful shoppers, so if an item has been very popular with parents over the years that is a good sign
Baby items are often recalled and for a good reason. 
It may because of negative user experiences or accidents that were not anticipated when the item was cleared for retail.
As a parent, it is important to do research and be aware of what has been identified as a concern when buying baby furniture of any kind.
Fortunately, Google has made this process quite easy compared to years ago, when manufacturing information was not readily available.
This post may contain affiliate links, you can catch our full disclaimer at the bottom of this post.
When it comes to cribs and other baby furnishings, the days of using family heirlooms is over due to the potential hazards we are now aware of involving defects in construction and the use of toxic materials.
Safety Guidelines:
Safety guidelines are constantly evolving and regulatory commissions can only act on a concern once it has been identified.
Seatbelts are a perfect example of a safety measure that was non-existent. With what we know now about the benefits of seatbelts, wearing one has become the law.
Old cribs have many safety concerns, so as much as it is a great family tradition to use an old crib, the potential danger must not be ignored.
The certified websites listed below,  address safety issues that you can review before purchasing a crib for your baby.
The information is based on real-life statistics that have been accrued over decades. Safety information is constantly changing because it is based on findings once a product has been put into use by many people.
Whatever crib you select for your baby., make sure it fulfills the following criteria:
Meets the latest safety standards issued by the government

Does not have any history of recalls.

Is popular among new parents (A great place to look for this information is on Amazon. Look at the number of reviews and what the best and worst reviews have to say.)
Safety Requirements:
One final note before reviewing the 5 Best baby cribs.  It is very important that any crib that you select is certified and meets or exceeds the guidelines set by the:
*Our top pick: #5 DaVinci Kalani :
Over 10 years has been among the top cribs for safety, construction and ease of assembly.

Environmentally conscious, 100% New Zealand pine wood

Competitively priced
The 5 Best Baby Crib Reviews For 2019:
The Storkcraft Tuscany 4-in-1 Convertible Crib is attractive and made from top quality materials. This crib has long been a best-selling Storkcraft Crib. It features a three position adjustable height mattress and easily converts to a toddler bed, daybed and full-size bed.

The sleigh bed design is very popular. This theme has a number of accessory furnishings including a changing table, chest, dresser, Tuscany glider chair, and ottoman. With the StorkCraft nursery line offering so many options. you will be able to furnish your entire nursery using this design.
The Evolur Signature Cape May 5-in-1 Full Panel Convertible Crib is a luxury crib made of kiln-dried hardwood. Its surface is a fine veneer.
The crib is designed to accommodate your baby as she grows, with three mattress levels and fixed stationary side rails. It can be converted into a toddler bed and full-size bed with back panels and a bed frame (parts are sold separately).

The crib is designed and engineered to meet all the safety standards required (above). This crib is also subjected to independent laboratory testing.

The Cape May bed is designed to complement a beach house decor. This crib is crafted with decorative molding to create the look you desire. This crib is the priciest in this review because of the design detail and quality of materials.
The Delta Children Canton 4-in-1 Convertible Baby Crib in the Espresso Cherry finish offers the value of converting your child's crib to a toddler bed, daybed and ultimately a full-sized bed. This bed will grow with your baby and has three mattress levels.
The strong sturdy wood construction assures you that this bed will remain structurally sound for many years.

This crib meets all the safety certifications and guidelines established by the by the JPMA, CPSC and the ASTM (for more information about these organization see above).
Additional testing is performed to screen for any toxic elements. Exceeding the government standards set by ASTM.
This crib is very easy to assemble and is eligible for free replacement parts. If this crib fit in with your home decor, you are sure to be pleased with the sleek sleigh bed design.
StorkCraft Portofino 4-in-1 fixed side convertible crib and changer Is extremely versatile And offers one location to take care of all the child's needs.
During infancy, a changing table is extremely convenient. The bed will convert to a toddler bed, daybed and even a full bed

StorkCraft has been manufacturing quality furniture for 70 years. The Storkcraft Company encourages parents to compare their product to other companies selling cribs. Including Delta Children, Dream On Me, DaVinci, Babyletto, and Fisher-Price.

The Storkcraft theme has a matching dresser and glider rocking chair.

This is a crib also offer a small and large amount of storage three spaces stores in three open shelves. The changing table stands alone until your child is ready for a toddler bed. The table is then used to convert the crib to a toddler bed.

The StorkCraft Portofino 4-in-1 Convertible Crib and Changer is well constructed. It is certified by the Juvenile Product Manufacturing Association (JPMA) and has passed stringent testing to meet all the requirements of the Consumer Product Safety Commission. It also fulfills all the requirements of the American Society for Testing Materials (ASTM).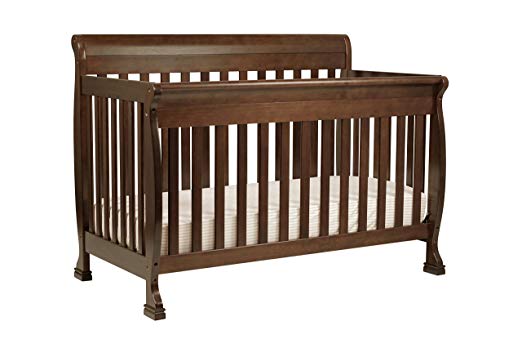 The DaVinci Kalani 4-in-1 Convertible Crib in the Espresso finish is a beautifully made crib that is extremely versatile and competitively priced.
The crib features very sturdy construction and can be converted from a crib to toddler bed to daybed to a full-size bed. This crib is made of 100% solid New Zealand pinewood.

The DaVinci collection prides itself in building non-toxic furniture using the best materials. For over the past 10 years DaVinci has been one of the highest rated cribs in terms of safety, sturdiness, and ease of assembly

The price of The DaVinci Kalani 4-in-1 Convertible Crib is a very good value without compromising any features offered with the higher-priced cribs.
What to read next:
Products from Amazon.com
‹
›