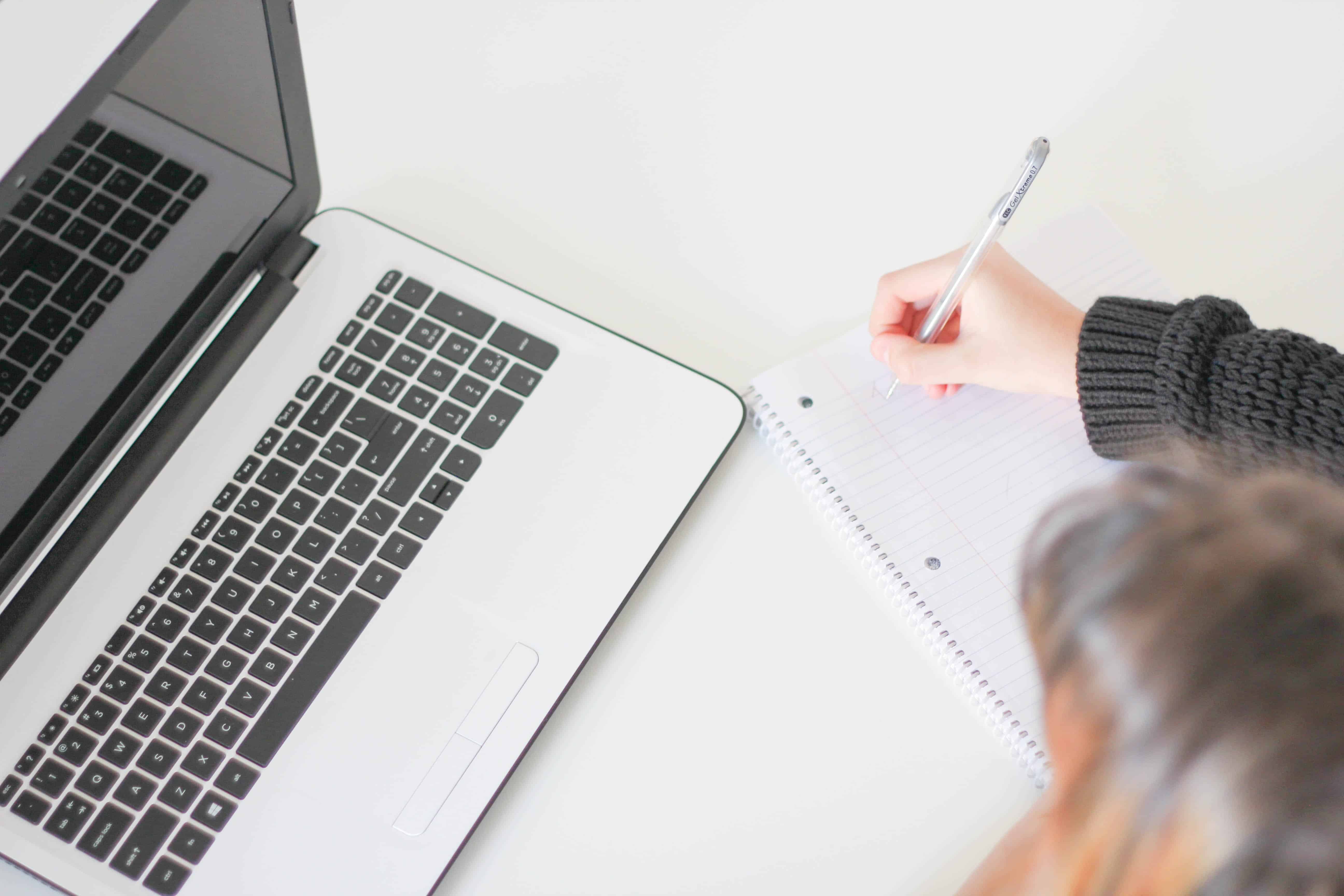 Sometimes you just need to make more money and side hustle ideas can be a great idea. There are many ways to do this when times become financially challenging. We are sharing 10 fast side hustle ideas to consider when you need to make money now.
Before we jump into the 10 fast side hustle ideas, it is important to remember that some side hustles can take a few days or weeks to get started or paid.
If you need money faster than that, here some great side hustle ideas:
Start selling your stuff. You'd be surprised at what you can quickly flip for cash on eBay or OfferUp (An App). Don't get hung up on sunk costs. It doesn't matter how much money or time you have into it, that money and time is gone. Look forward. The item is worth what someone is willing to pay you for it.
Look on Craigslist. You can usually find someone looking for help right away. Try looking under gigs or childcare.
Try the Gigwalk app. Gigwalk connects with small local jobs and once completed your paid directly into your PayPal.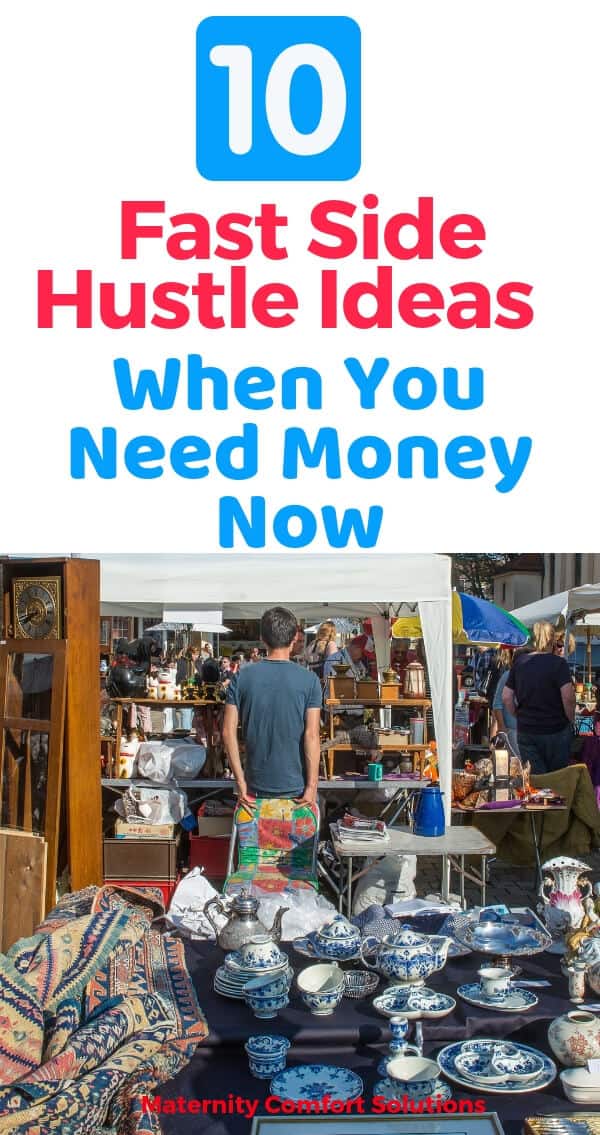 This post contains affiliate links. You can read our affiliate disclaimer at the bottom of this post.
In many instances, a side job may end up replacing your full-time job.
10 Side Hustle Ideas When You Need Money Now:
Related: Debt Free Living; 10 Daily Habits That Keep Us Debt Free
 1. Tutoring
Many individuals find tutoring to be a great way to make extra money. In fact, tutoring can become a full-time job. Parents always want to help their child do well in school or accel in an area that interests them.
Kids are now going directly from high school into highly skilled jobs, particularly jobs requiring a technical skill that can be self-taught such as coding. IT jobs are now abundant and many children who are good with computers are taking advantage of this opportunity.
Care is a great place to find local tutoring jobs!
This also avoids college loan debt. Parents to see the benefit of saving $150K dollars in college loans and not having to hand this debt onto their daughter or son as a young adult just starting out.
For the reasons mentioned, it is not surprising that tutoring can pay very well depending on your level of knowledge in a particular subject ($20 – $150/hr)
Think about a subject you did well in and enjoyed. Then do some online research on how to become a tutor in that field of study.
Use the various businesses that offer tutors to get started and once you have established yourself (if you enjoy it) you will likely get referrals and be busier than you can handle.
**** Learn more about side hustles with Amazon Audible:
If you like audiobooks and want to learn about a particular venture, consider trialing Amazon's Audible App so you can listen to your book on the go:

Here is an example of a book you can play on your phone with Audible.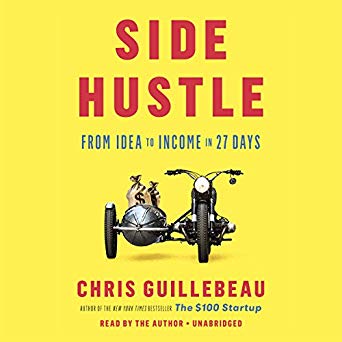 2. Rent out your closet or space in your garage.
No joke. You can rent out unused space in your house like closets, basements, garages and even your driveway for parking.
Further down in this post we discuss renting out a room in your home on Craigslist or Airbnb, this is the same idea, but you are only storing the person's belongings.
I love this idea if you have the extra space. People are always looking for places to store things if they are moving or traveling.
3. Music Lessons.
Make those piano lessons you forced to take as a kid pay off!
If you play an instrument, consider teaching music lessons. You practiced many hours to learn.
Depending on your skill level, it is very likely you also spent a good amount of time and money.
If this sounds like you, you can see why others who want to learn a musical instrument will pay for lessons.
When students look for a music instructor their parents are often involved in the decision.
The biggest hurdle music instructors face when trying to get new students is establishing their credibility as a qualified instructor. Having a portfolio and recommendations can help tremendously and this is typically not difficult to put together.
It is interesting to note, that an average guitar player and a professional guitarist can teach a seven-year-old the exact same lesson and yet the average guitar player will make $25 – $30 dollars per hour and the professional will make $150 dollars an hour.
I have seen this time and again. A seven-year-old just learning guitar is not going to benefit from the knowledge of a professional guitarist.
Why will parents pay so much more? Like so many purchasing decisions it comes down to perceived value.
4. Babysitting
It is now possible to make a substantial income babysitting. Years ago, job opportunities were limited to neighbors or word-of-mouth.
Job searching on the internet has now made babysitting opportunities unlimited.
5. Rental space opportunities
(Share or Rent an Extra  Room)
If you have an additional room, in-law suite or vacation home, consider what many people do to offset mortgage payments, car payments or simply do to get extra spending cash.
The process of sharing or renting space you own is very simple if there are no local restrictions.
Different towns and cities have different restrictions,  so you will certainly have to check with your local housing authority.
When you rent out living space, you want to make sure you are fully compliant with your housing authority. Things such as Smoke Detectors, Carbon monoxide monitors and stair railings. We have found the Kidde Detectors to be excellent.
Unless you are going to start an Airbnb (discussed below) one of the best places to advertise for room sharing is Craigslist.
The advertising on Craigslist is free and the response to ads that are created and placed on Craigslist is very good.
As with any online ventures,  you will have to be careful about screening out scams as they are everywhere and Craigslist is no exception. There are many alerts on Craigslist about how to avoid being scammed. 
*** It is definitely worth your time to read this. Almost everyone I know has experienced scams on Craigslist.
If you have never used Craigslist, you should talk to someone familiar with the platform before attempting to place an ad for a room share or apartment rental.
Here is the process of renting a room:
It can work out very well if you have a living situation that can accommodate another person and you carefully go through the process as described to avoid any town or tenant problems.
1.  Sign up for an account at Craigslist.org. You can only have one account and they monitor this very closely. (This is more of a problem for sellers on Craigslist who try to exceed the ad placement guidelines.)  Signing up is free and requires a password you will want to associate an email with your craigslist account.
2.  Then take a look at the main page as you might get some other ideas about how you may want to use Craigslist to make extra money.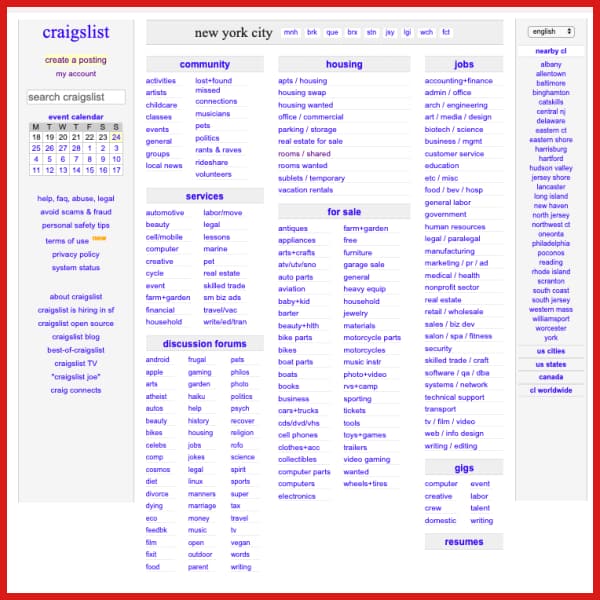 Main Page
3. When you are ready to post an ad, click the post link in the upper right corner and you will be brought to this page where you will select the town or district you want to target:
4. On the next page, you will select what kind of ad you want to place. Though we are setting up a room share ad, you could also place an ad for an apartment.  On this page select, the choice housing offered and go to the next page.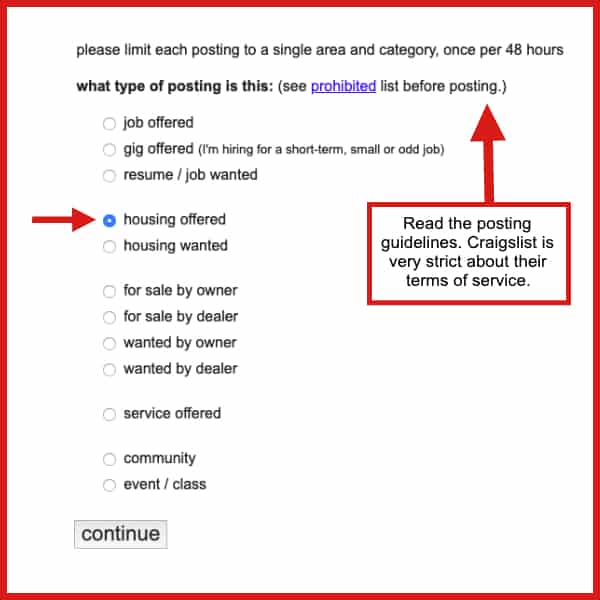 5.  In this section select rooms and shares.
6. Now you are ready to create your ad. If you haven't written an ad before it might take some practice but just keep it short and to the point.
There is a section to submit pictures. Let the pictures tell the story. Some ads don't need pictures.
But anyone looking for a place to live will very likely want to see pictures first.
Your ad will not be read if the pictures do not spark an interest. There are many ads, so you have a limited time to get someone's attention.
7. The ad template is very straightforward on Craigslist. You may want to start out by offering the least amount of personal information.
Fortunately, Craigslist does not require you to give your address. Better to wait until you have had time to talk to a prospective tenant.
You will also notice that you can put your phone number in for texts or calls. I used to do this until I learned that most of the texts you get are spam.
It is best to use the email you signed up with and keep it private. Craigslist will notify you through their coded email system. You can always decide at a later date if you want to share your personal email.
8. The next page you will see as you build your Craigslist ad is a map. There is nothing you need to do on this page.
9. The next page is where you will upload pictures. This is where your prospects will be focusing their attention. Take the best pictures you can and show what is positive about your place and what is not. There is nothing you can do if your place is not what someone is looking for and that's fine. If you misrepresent your place with staged pictures you will make many people unhappy.  This should be no surprise. Your prospective tenant may have taken time off work or traveled a distance to see your place.
You can still make a difference based on how you present your ad to those who are interested.
You are allowed 24 pictures on Craigslist. I would take full advantage of this. You want to present your place in the best way possible.
Choose a sunny day and pictures that are well lighted. If there is a glaring issue that may be a problem, mention it and show a picture.
Most of the time what you may feel is a problem will not seem like a problem to someone else.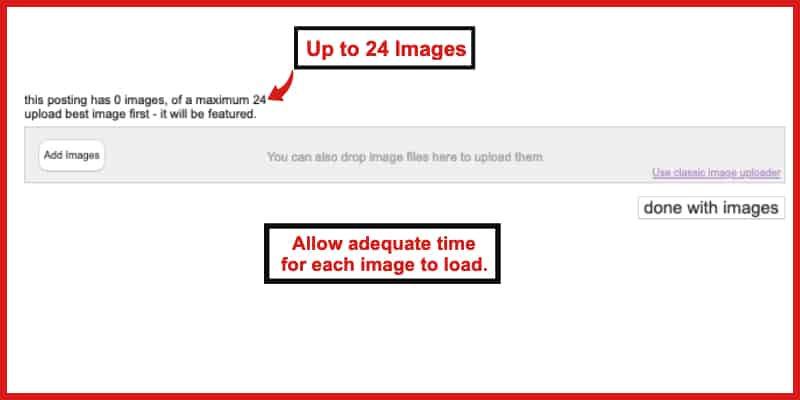 10. Finally, having written your ad and uploaded pictures you will be presented with the ad for your review.
If it looks good you just push publish. An email will  be sent to you and the ad will be  published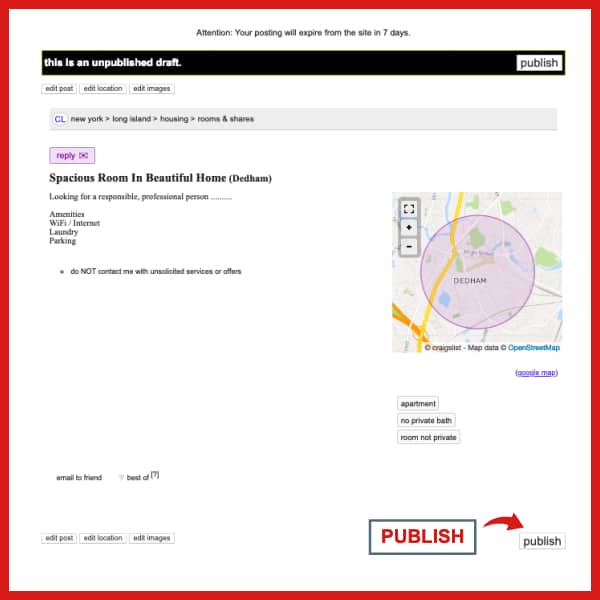 If you room share you don't want to create problems with your neighbors. Think about this issue and talk to your neighbors.
Your neighbors will eventually know what you are doing.
If you have a home or apartment to rent out short term and Craigslist is not for you, you might want to consider listing your place on Airbnb.
This is not for everyone and though it can be a part-time venture, you will want to manage your rental as a business.
If you truly want  to be successful using this application, you will have to supply good service and if possible become a super host for the following reasons:
More rentals because many people only search for super hosts.
You will have a steady stream of customers
You will get good reviews on the Airbnb.com website
You will get referrals by word-of-mouth advertising
6. Dog Walker/Pet Sitter
For those who do not have a pet or desire to own a pet, this may not be an attractive side hustle. It is actually a great way to
make extra money and get exercise in the process. Pet lovers treat their dog or cat as a member of the family.
If you are responsible and connect well with animals, a pet owner is more than happy to pay well to have you walk or care for
their pet.
When taking on side hustle ideas, remember that your services may be requested on an as-needed or a regular basis. There will
fluctuations in the demand for a particular service depending on what time of the year it is.
A great site where you can search for dog-walking jobs is Rover
7.   Uber or Lyft Driver
If you have a car and like driving enough to supplement your income, consider working for Uber or Lyft.
There are some basic requirements to work for these companies. It does take about a week to complete the background check, you need an active driver's license, insurance and you will need to check the vehicle requirements on their website. Requirements can vary depending on location.
Uber drivers often work on a part-time basis.  If they are looking for side hustle ideas that will not interfere with your job this arrangement may work well for you.  However,  if drivers are working full-time for Uber. It is important to remember that if you drive for Uber or Lyft you are working as an independent contractor and will need to consider many additional expenses.
Uber offers same day pay. Once you are onboard and driving for them you can request payment
This is one of the side hustle ideas that can work well for many people:
Before you consider this side hustle, there are a few factors or questions you will want to keep in mind:
Make sure you understand how insurance is covered when you have an Uber passenger in the car.
You will want to consider the wear and tear on your car and whether this expense will be offset enough by the pay you will be receiving.
Decide if this is a time you can take away from your family. If you have children at home or are a primary caretaker, you need to take that into consideration.
Safety must be considered and this is a decision you will have to make for yourself based on many factors.

     
8.  Sell  items on Craigslist or Ebay
Selling items on Craigslist and eBay can be one of the best side hustle ideas if you are computer savvy.  Selling items around your home is very straightforward. However,  buying and selling for profit can be challenging and if you plan to do this there is a learning curve.
Selling online requires long hours and will take time away from your family. There are many videos on YouTube that teach you how to use eBay and Craigslist to sell items successfully and efficiently. There are selling apps for your iPhone which are also very useful to get rid of items you no longer need. Here are a few apps that can be found on Itunes and Google Play if you are considering this side hustle idea:
9. House Sitting
Depending on your living situation, house sitting has been a way to make money. Granted, this is not for everyone and particularly not for a family with children.
Even so, given the right situation, it can save money on housing that might fill a need on a short term basis. The nice thing about a house sitting arrangement is that it can be a win-win situation.
Someone needs their home taken care of for an extended period of time and you have a place to stay rent-free. In some cases, you not only get used of the home but may also get paid to care for the property.
10. Clean homes
Depending on where you live, cleaning homes is another way to make extra money.
Side hustle ideas like this, give you the opportunity to start up at your own pace and build your service as you go. If you do good
work the word will get around.
 Bonus: Virtual assistant/Social Media Manager
If you have computer skills and are familiar with social media, there are companies that need help marketing through social
media. You can even apply for social media manager jobs if you enjoy digital marketing.
Companies are also looking for virtual assistants to perform various online tasks. Some are very straight forward and others
may require some training. Virtual assistants have become very popular. If you have little kids at home, I'd consider this one of
the better side hustle ideas. You can do this from home. A great way to find virtual assistants jobs is through Facebook groups
for online businesses, for example, bloggers, e-commerce or coaches/healers. The following section has been included to help
anyone take their side hustle job to the next level. The following is a very brief introduction to creating an online website. If you
can master this skill, you can reach unlimited people to market your side hustle ideas.
How to Make a Website to Market Your Side Hustle:
 (Tutoring, Music Lessons, Babysitting)
A powerful way to promote your side hustle ideas is to build a simple website. This is not nearly as difficult as you might think and can be done on your own using YouTube videos.
Many never try to build a website because it seems too difficult and expensive. In fact, there is no coding required and it is inexpensive. Best of all, you can reach far more people with your business opportunity.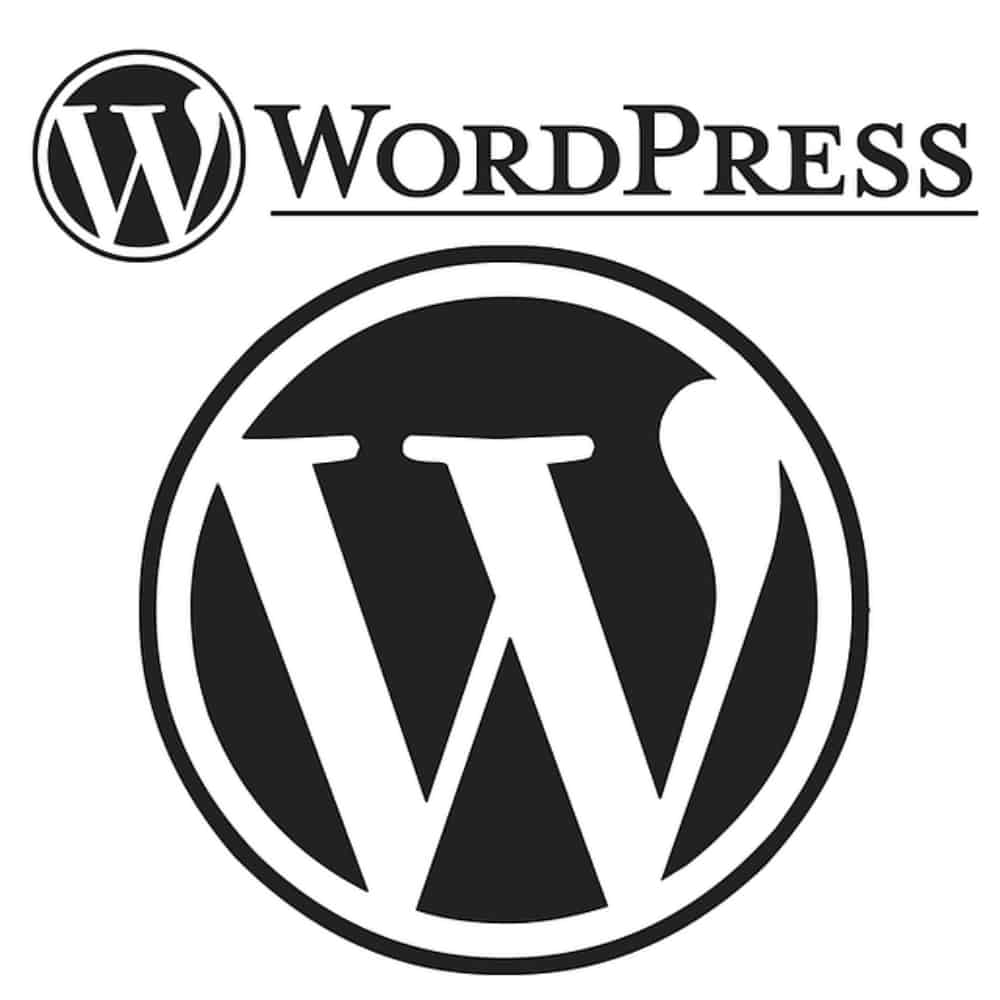 If you want to own your website, the  WORDPRESS  platform is the best choice. Side hustle ideas built on a WordPress platform are amazing.
The website will also present your job opportunity in a professional manner. You will be able to send prospects to your website using business cards and you can market yourself online.
There are 3 basic steps involved in setting up a WordPress website:
1. Select a Domain Name you like. It will be your online address.
There are many websites where you can purchase a domain name to represent your side hustle ideas online. Our favorite GoDaddy.com. Even though it is a big company, they handle their volume well. If you are buying your first domain with Godaddy there is almost always a coupon offering you your first .com Domain for $1.00.
You always want to get a .com domain name and ideally your name if possible.  (ie.JaneDoe.com)
2. Choose a hosting company.
Hosting companies share your website files online. Bluehost charges only $6.99 per month for a basic hosting plan. The plan can host more than one website.
3.  Choose a free WordPress theme to customize your website and you are ready to go!
There are literally thousands of excellent, free, WordPress themes to choose from.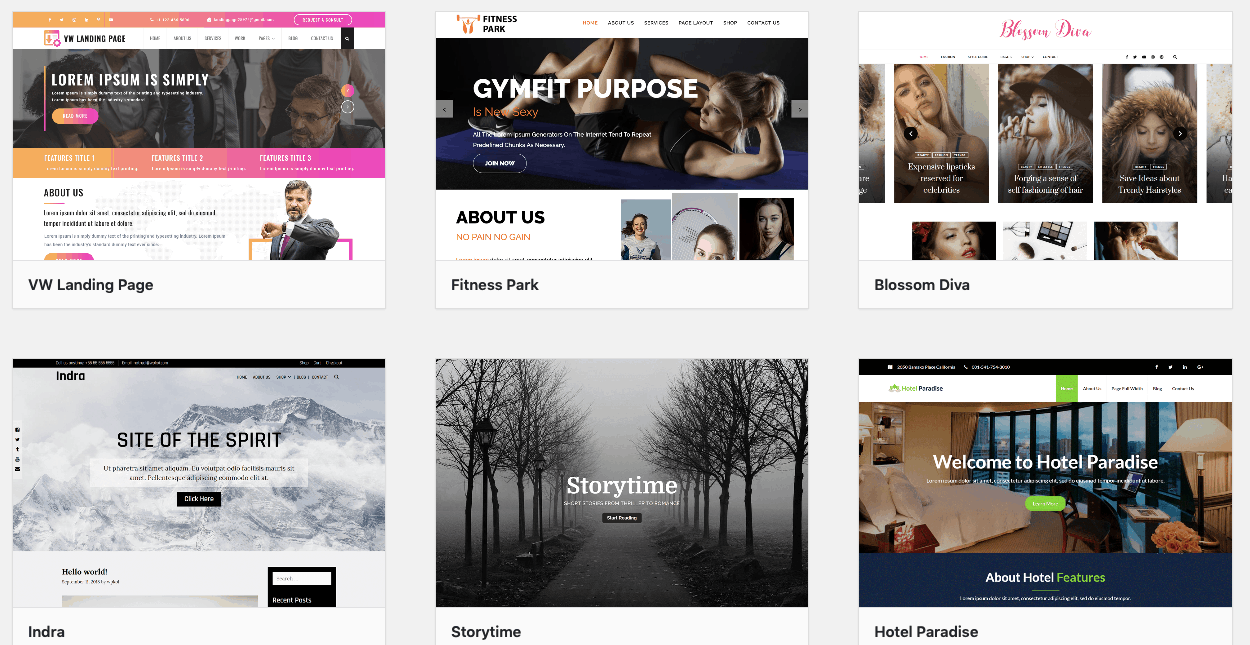 4.  WordPress Back Office
Once your WordPress website is hosted, you will be able to access the back office and learn how to customize your site. It may be overwhelming at first, but managing the back office will become an easy task after you have watched a few videos and have done it for a while.
The best thing about using the WordPress platform is that there is no coding required. The website has all the functionality you need. Soon you will be building a website to promote your business, start a blog, host an online store, offer online video tutorials or teach courses.
You can always purchase a theme at a very reasonable price if you want more functionality. WordPress is the top website platform online and is used by most of the top companies.
That's all there is to it and yet most people will never do this!
Many people will pay hundreds of dollars to have a developer build their website and will do nothing with it.
Running your website will require a low monthly hosting fee and a once-a-year fee to renew your domain.
Make sure you keep a record of when your domain will be up for renewal.  If you do not renew your domain and the grace period expires, your domain name will be auctioned. If you need to get it back it could literally cost thousands.
YouTube is a great way to learn how to set up your website. There are endless free videos about how to build a WordPress website.
Here is a great video on by Darrel Wilson. Darrel has many instructional videos on Youtube.
How To Make A WordPress Website 2019 – EASY And FAST!
If you want other videos you can simply search YouTube for "How to build a WordPress website". You will also want to consider searching YouTube for many other side hustle ideas.