Updated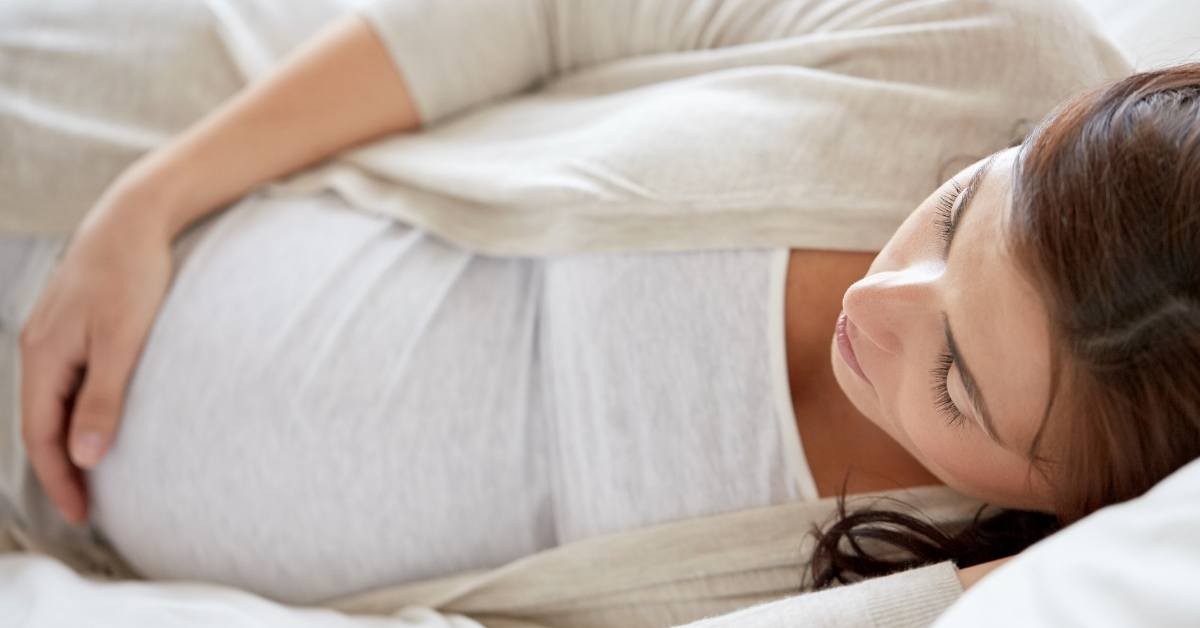 Are you tossing and turning while trying to sleep? Do you find yourself desperate to fall asleep? Today we are sharing our pregnancy pillow reviews of the two pillows our readers have purchased most often and rave about!
If you are exhausted and can't get comfortable no matter what you do. You are not alone. Many women feel this way during pregnancy.
However, some women have found a solution that makes sleep during pregnancy possible. The magical solution is a pregnancy pillow!
During pregnancy, most women will tell you that getting quality sleep is a luxury. As your pregnancy advances, the fatigue associated with pregnancy becomes more severe.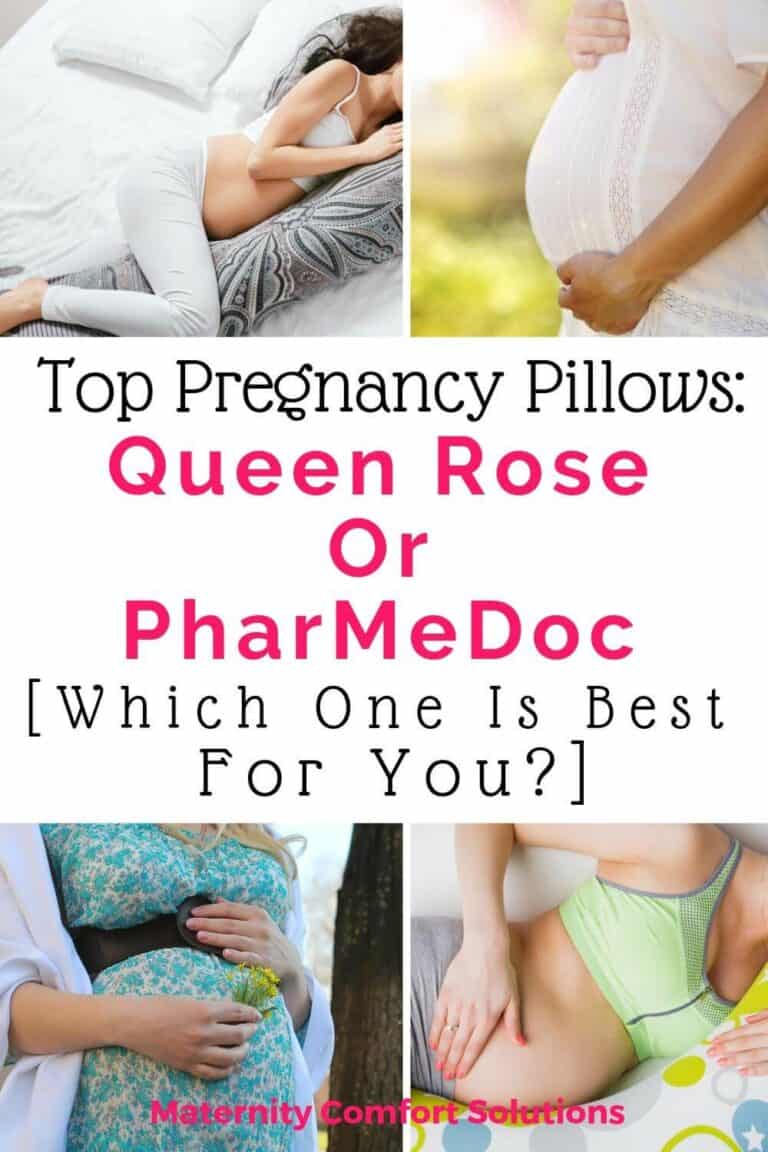 This post contains affiliate links. If you make a purchase, we may be paid. You can read our full affiliate disclosure at the bottom of this post. 
During pregnancy, it isn't unusual to experience frequent nighttime bathroom trips.  As your pregnant belly grows it can be nearly impossible to find a comfortable sleeping position. These issues can be the cause of pregnancy-related sleep problems. (Source)
We can thank pregnancy hormones for so many of our pregnancy woes!
Pregnancy-related issues that might make sleeping difficult:
Morning Sickness
Heartburn
Joint/ligament pain
A pregnancy pillow should not be considered a splurge or luxury item. Getting enough sleep is necessary to be sure both you and your growing baby remain healthy.
Lack of adequate sleep during pregnancy can often make first trimester morning sickness much worse.
One of the biggest challenges is finding a comfortable way to sleep. Especially during the third trimester, when it is practically impossible to get comfortable.
There is a solution. A pregnancy pillow can help you sleep peacefully through the night until your baby arrives.
In a Hurry?
Pregnancy Pillow Reviews: Queen Rose vs Pharmedoc
We reviewed both in-depth and believe that while you probably can't go wrong with either one, this one grabs the top spot for overall value, comfort
Pregnancy pillows are designed to offer comfort and support.
Pregnant Women who use pregnancy pillows often find that they can sleep without low back pain and pelvic discomfort.
They are able to enjoy leisure activities, like watching TV or reading a book.
These are two simple activities that can become more difficult as your pregnancy advances.
Before you jump in right away and buy a pregnancy pillow, it is important to keep in mind that not all pregnancy pillows are the same.
Pregnancy pillows have become very popular over the past 5 years. Now there are many manufacturers of pregnancy pillows and many different designs.
Each design claiming to be better for one ailment or another.
In fact, the comfort you experience using a pregnancy pillow will depend upon whether you select the one that is best for you.
Do your due diligence and research the various pillows to make sure you select the one that will serve you best.
The pillow you select should take into account your preferred sleeping position, your height, weight, whether you are having a single or twin pregnancy.
PharMeDoc versus the Queen Rose pregnancy pillow:
| | | |
| --- | --- | --- |
| Basis of Comparison | Queen Rose | PharMeDoc |
| Shape | U-Shaped | C-Shaped |
| Price | Check Price | Check Price |
| Warranty | 90-day refund or exchange guarantee | Life-time |
| Material | 100% Cotton | 100% Cotton |
| Hypoallergenic | Not Available | Available |
| Satisfaction | NA | 100% Guaranteed |
| Cover | Zippered | Double-stitched |
| Benefit | Support belly and helps in sleeping and nursing. | Excellent body contour support. |
Queen Rose U-Shaped Pregnancy Pillow:
QUEEN ROSE Full Body Pregnancy Pillow, U-Shaped Maternity Pillow
1 new from $38.14
4 used from $35.47
Free shipping
as of November 18, 2019 1:59 pm
Queen Rose is known for making quality pillows and their total body pillow is one such example.
It is a

U-shaped pillow

 that provides support to women who experience pain around their back and belly. This pillow also gives proper support to the joints in the lower back and pelvis and is beneficial even in the case of an injury to joints in these regions.
Like the letter U, this pillow is shaped in such a way so you can straddle alongside it. It supports your back and belly and keeps your pelvis and hips anatomically aligned with your back.  People who prefer sleeping on their back can use this pillow to help maintain a 

left-sided position as this is best for pregnancy circulation

.
Made of 100 percent cotton, the Queen Rose U-shaped full body pillow is versatile and can adjust to any sleeping style you prefer. In fact, it can also help you during lounging and nursing.
The pillow is available in three colors: pink, blue, and grey fleece. The pillow cradles your body and relaxes the pressure points where nerves get compressed in the pelvis and lower back.
The Bionic polyethylene filling is soft yet dense, so it doesn't flatten over time.
If you are not satisfied with this product, the company will give you a refund or exchange it within 90 days.
Some of our readers have expressed a few negatives about the Queen Rose Pillow:
The material retains heat and that can make you uncomfortable during the night, especially if you are due in the summertime. I can see how this would be great in a winter pregnancy for those of us who live in the north but could be an issue during summer a pregnancy.
The pillow cover is not as smooth as the Pharmedoc Pregnancy Pillow. This makes the pillow slightly less comfortable to the skin, though the comfort you will experience due to the support it offers is excellent.
The pillow is long and is better suited for tall women.
The cover is removable and machine washable. Which you'll appreciate if you choose to use while nursing your new baby.
Pros
The Queen Rose Pregnancy Pillow is made of 100% cotton with a removable cover.
The Pillow is filled with Bionic Polyethylene. This material is extra soft, very dense and is odorless. It retains its shape and remains fluffy for a long time.
The U shape helps in sleeping when pregnant.
The U shape aids in nursing.
The shape of the pillow provides support to the belly and lets you wrap your legs in various sleeping positions.
Cons
Rough pillow cover.
The legs of the pillow are not suitable for a tall person.
The filling is stiff though this is considered a con, it is what gives it so much support.
The head and the neck part of the pillow can cause you discomfort and pain.
Now that you know about the Queen rose U-shape maternity pillow, let's take a look at the PharMeDoc pregnancy pillow.
PharMeDoc C-Shaped Pregnancy Pillow
PharMeDoc Pregnancy Pillow with Jersey Cover, C Shaped Full Body Pillow
2 new from $32.95
4 used from $30.64
as of November 18, 2019 1:59 pm
PharMeDoc is a brand that manufactures orthopedic bed pillows, so it's no surprise that their maternity pillow is one of the most sought-after products in the market.
This

 C-shaped pregnancy pillow comes in a 62×30 inches size and is very versatile. You can use it for lounging, sleeping or nursing. In fact, it gives you excellent pressure point relief from your joints, hips and back so that you can sleep comfortably at night or take a quick nap whenever you want to.
Moreover, it's hypoallergenic, free from phthalates such as lead including BPA. It also offers a lifetime warranty and a 100% satisfaction guarantee.
Shaped like the letter C, this pillow is designed to be used in a riding position.
The bottom part of the pillow should be between your legs and the top for resting your head. The curve of the C-shaped pillow cradles your back, relieving any pent up pressure from your back.
The amazing C-shape of the PharMeDoc Pregnancy pillow is perfect for side sleeping support. In fact, side sleeping is the most healthy and best sleeping position for you and your baby during pregnancy.
The shorter side is designed to give your back and head support.
Moreover, the gap between the two legs gives you sufficient space for your belly to rest on easily and adjust as per your liking.
We are sharing pregnancy pillow reviews, but these pillows are AMAZING for your postpartum recovery at home too!
Not only you can use it at any stage of your pregnancy but also after having your baby. Postpartum can be difficult for your body, especially if you have a c-section but this pillow can help ease a lot of that pain.
The filling is of natural hypoallergenic polyester fiber for a medium plush. It is a soft pillow that evenly distributes and keeps your body weight supported.
Polyfill also makes a good filling choice as it provides breathability and support at the same time. It doesn't shift to one side of the pillow and maintains a regular shape.
PharMeDoc uses a soft, 100% cotton knit cover for better breathability. This fabric is specifically designed to be stretchable which helps it in absorbing body moisture and preventing heat retention.
This pillow is medium-firm, soft and comfortable. The pillow offers excellent body contour support for pregnant women.
The only downside is that the cotton cover can occasionally rip when you are adjusting the pillow.
If you are looking to reduce lower back and hip pain or just want a value-for-money pregnancy pillow, the PharMeDoc pillow is perfect for you.
The support of the pillow is not only great for sleep but is very useful when you are lounging or nursing.
Getting a good night's rest is extremely important for pregnant women and this pillow might just give you the sound sleep you've been looking for.
Pros 
It helps to relieve low back pain associated with pregnancy.
The C-shaped design helps improve blood circulation.
The pillow is hypoallergenic and has no harmful elements such as latex or lead. It is also BPA free.
It comes with a lifetime manufacturer's warranty. (Do read this carefully.)
It has a 100% satisfaction guarantee.
It supports you during nursing, lounging, pregnancy or during back injury.
The cover is removable and machine washable.
People have described it like sleeping on a cloud. Did you ever think pregnancy sleep would be compared to sleeping on a cloud? Me either! You can read the reviews and check the price on Amazon.
Cons 
A bit difficult to zip and unzip the removable cover.
The cover might rip apart while adjusting the pillow as per your liking. The pillow gets amazing reviews overall, but this was a complaint made by some people. I feel like the many pros of this pillow, far outweigh any of the negatives.
More posts on pregnancy pillows you may find helpful:
The Benefits Of A Full Body Pregnancy Pillow [Explained]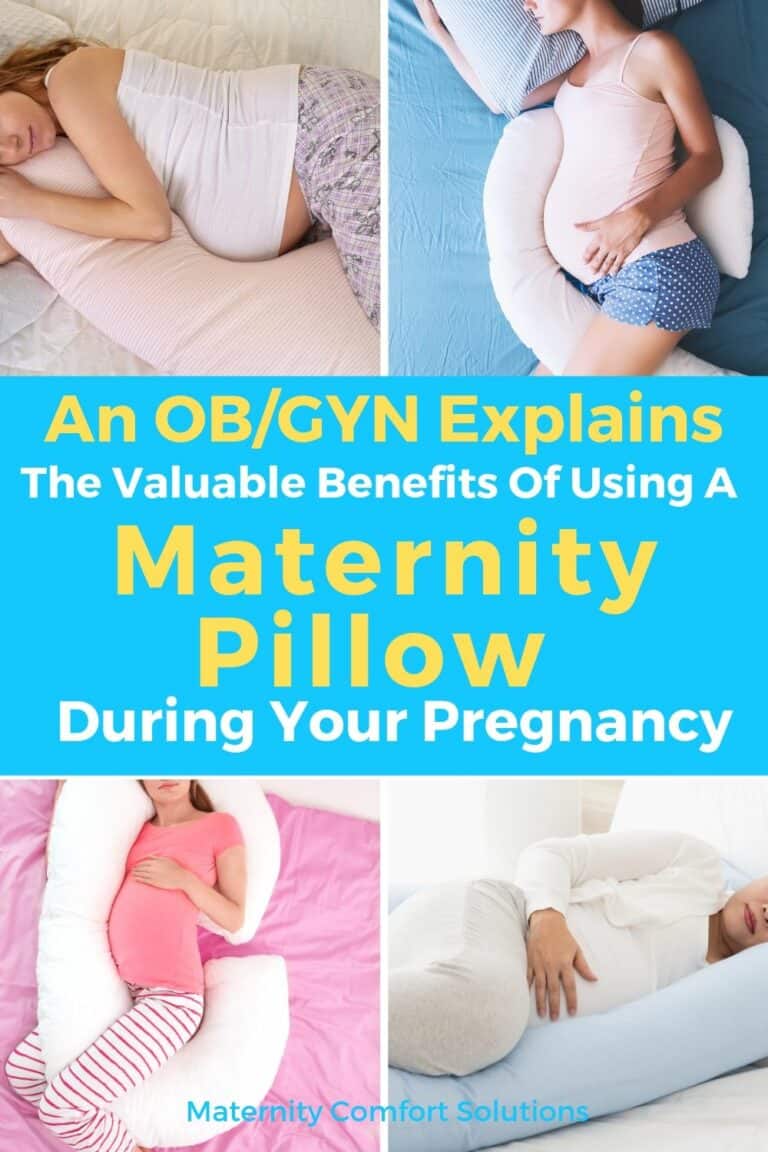 Check out The 5 Best Maternity Pillows That'll Help You Sleep Like A Baby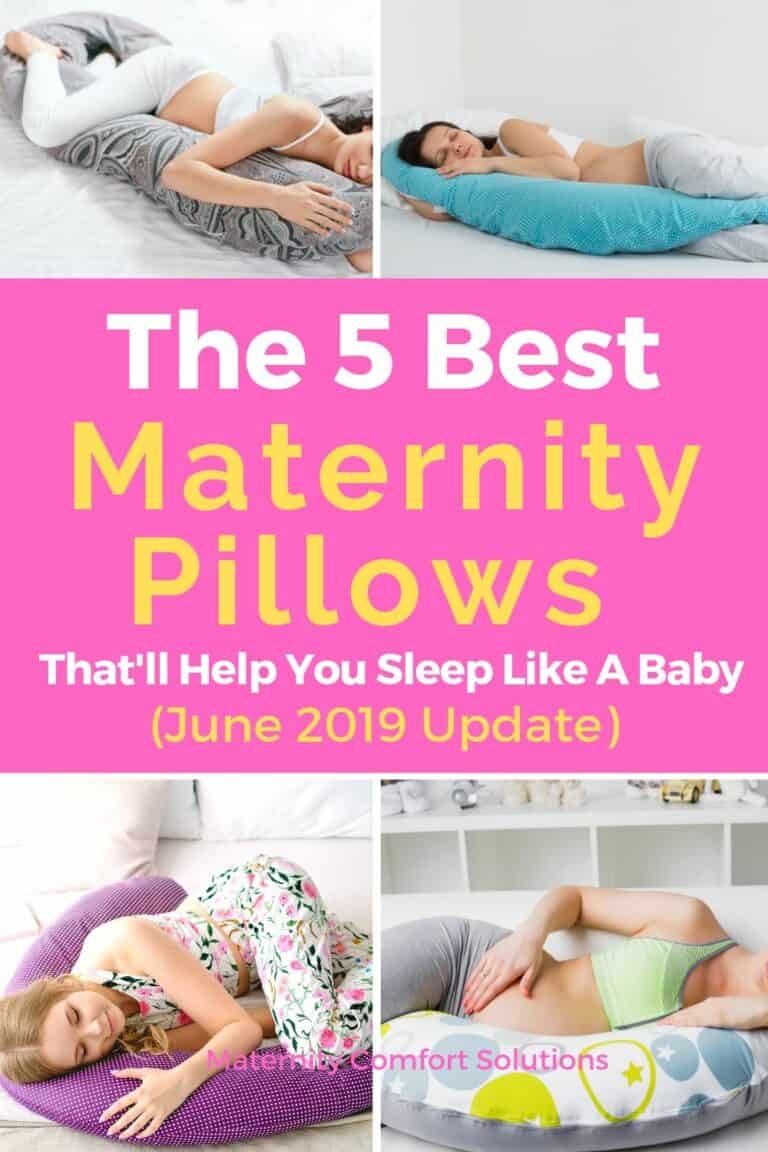 Conclusion
It can be difficult to choose the perfect pregnancy pillow. We hope our pregnancy pillow reviews are helpful!
Our pick between Queen Rose or the PharMeDoc pregnancy pillow is the PharMeDoc for overall comfort, support, and value.
You really can't go wrong with either pillow.
A pregnancy pillow can make all the difference when it comes to your comfort and getting more sleep during pregnancy.
You can research both of the pregnancy pillows in this review below:
in stock
1 new from $38.14
4 used from $35.47
Amazon.com
Free shipping
in stock
2 new from $32.95
4 used from $30.64
Last updated on November 18, 2019 1:59 pm
Though a pregnancy pillow is not essential, every pregnant woman should experience the comfort of sleeping with a pregnancy
pillow. Read as many pregnancy pillow reviews as necessary to best understand how the comfort of a pregnancy
pillow can improve your overall pregnancy experience. You might find yourself writing pregnancy pillow reviews on Amazon
once you become another believer in how much a properly designed pillow can impact the overall health and well-being of you
and your baby.