This post may contain affiliate links. We may be compensated if you make a purchase through our links. You can catch our full disclaimer at the bottom of this post.
Updated November 13, 2021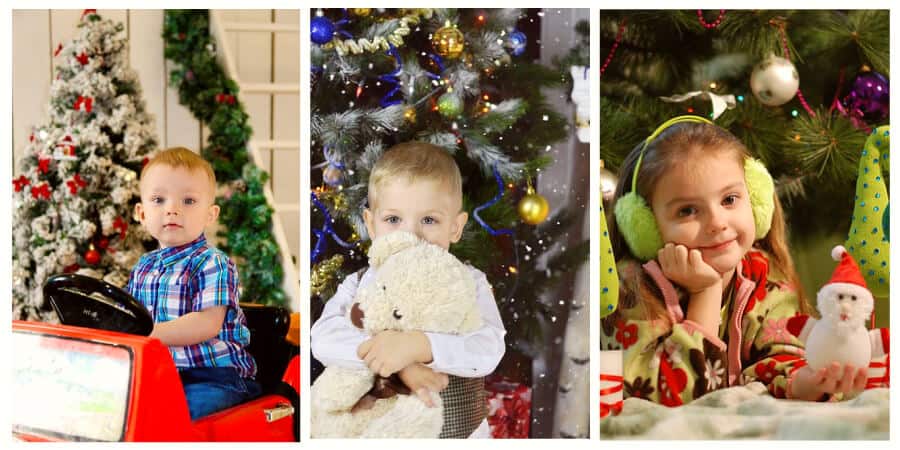 Christmas shopping for interactive toddler toys can be a challenge.
The online world is now teaching our kids what toys are popular before they even hit the shelves.
As it is, it can be hard to shop for toddlers.
Parents find themselves trying to find a gift that is fun, and yet still offers some educational value.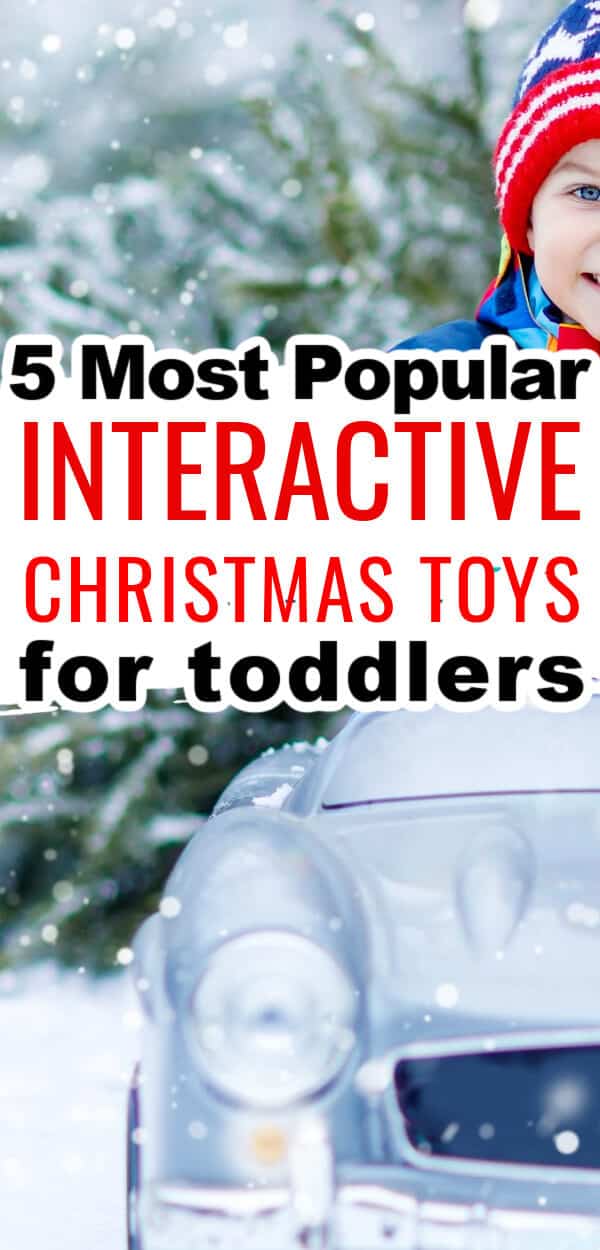 Two-year-olds can learn a tremendous amount from interactive toddler toys.
Their brains are like sponges with a level of interest and determination that is insatiable.
We hope our list of interactive toddler toys will spark some gift ideas for your child!
5 Top Interactive Toddler Toys
Interactive toddler toys are always at the top of the list. Toddlers love copying their parents and taking selfies is no exception.
Now there is a solution that will keep your smartphone from getting damaged while entertaining your child for hours.
Why not get your toddler their own phone … problem solved!
The Seckton Toddler Selfie Camera is the perfect solution and is surely going to be on every parent's wish list.
Granted, it is the kind of toy you are not sure you are buying for yourself or your child. With this toddler selfie camera, your child can not only take selfies but also capture true childhood memories!
The Seckton toddler selfie camera is very easy to use and produces quality photos. No longer will your child be searching through your purse or climbing on the counter to get at your smartphone.
Years ago, most cameras for toddlers and young children didn't even take pictures,  and when they did the quality was very poor.
The Seckton toddler camera will now have your toddler taking photos like a professional photographer.
There was a time when 4 megapixels was considered good for a standard digital camera.
Your toddler's Seckton camera will do far better than that producing quality 8-megapixel photos!
As the name suggests, in addition to the main front camera lens, the camera also takes selfie pictures with friends and family.
So now toddler cameras have gone from non-functional cameras, made most famous by the Fisher-Price Company to digital cameras. But it doesn't stop there!
This camera also takes high-definition 1080p videos! This is the same definition as most computer monitors and television screens.
When it comes to storing photos there is no comparison to the functional children's cameras we parents had years ago.
Photographic film was required and it had to be replaced and processed.
With this camera, the 32 GB micro SD card, will allow your child to take and store thousands of pictures.
When it is time to save or transfer the pictures, a USB cord can be easily plugged into your computer to download the pictures so they are ready to upload to friends and family or save for future memories.
Though this camera does use advanced technology, it is built to last.
It has a shockproof outer shell that can withstand the drops and falls that toys have must endure in the hands of a toddler. A strap is also included to reduce the chances of dropping the camera.
When it comes to recharging the camera, we should keep in mind that even adults can become impatient, let alone a young child.
Fortunately, this camera can recharge in only 2 hours.
The Seckton Toddler Camera is the perfect gift for this holiday season.
Your child will be able to further their understanding of technology without damaging more costly household items!
Any child who enjoys sports would love the VTech Smart Shots Sports Center.
It is the perfect gift for young children and will provide hours of entertainment.
The sports center console is focused on soccer and basketball.
However, there are other interactive lights and gadgets to keep your child's attention.
When your child scores a goal, the scoreboard is animated and sends out encouraging comments.
The perimeter has a number of interactive items including various shapes, gears, buttons, levers, and sounds. The number of activities in this sports center can entertain your child for hours on end.
Parents will be happy to know that this entire console does not take up a lot of space and there are no wires since it runs on 3 AAA batteries.
It is also nice to know that the volume setting has three levels so parents can tone things down when necessary.
As with many other types of sensory play, this toy will help the development of your child's motor skills.
Shooting a basketball and kicking a soccer ball helps to develop both regular and fine motor skills.
The main color of the Vtech Sports Center comes in red or yellow and packing can be either standard or what is called frustration-free packaging.
Frustration-free packaging makes it easier for your child to access and play with their gift on Christmas morning.
If you are looking for the perfect gift for your child, that combines athletics and electronics you can't go wrong with the VTech Smart Shots Sports Center.
It is sure to be a big hit this holiday season!
Related: 17 Christmas Advent Calendars For Toddlers
Frozen and Frozen 2 toys are super hot again this Christmas!
As with most Disney movies, there is usually one character who is the most popular.
In the Frozen movies, many kids find that Anna, Elsa's sister, is among their favorites.
It is no wonder that the Anna Plush doll from Franco has become the most sought after and will surely be flying off the shelves this holiday season.


One reason this doll is one of the more popular interactive toddler toys is that it is larger than the other dolls, measuring 2 feet tall.
The Frozen Anna 2 Plush Doll is made of quality materials and the microfiber ensures it will hold up well under just about any conditions.
The embroidery is done carefully in the Disney style and the hair has volume.
Best of all, the doll is easy to clean.
You can just spot clean with warm water and a little soap.
Microfiber holds up well for many years.
Don't be surprised if your child wants to take this doll everywhere.
They will want to play with it and sleep with it as it is even marketed as a cuddle pillow.
They will want to take it on long car rides and bring it to sleepovers especially when they plan to watch Frozen again!
If your child's favorite Frozen character is not Anna, not a problem.
There are Elsa and Olaf dolls as well. They are made of the same material.
There is little doubt there will be a big demand for Frozen 2 toys this year.
The Anna doll is sure to be tops on many lists.
What toddler doesn't like to drive around pretending to be like their parents?
Though child-sized electric cars are a lot of fun for your child,  they can only be used outdoors since they require a lot of room.
The Kidzone Bumper Car has solved this problem. It combines the fun of driving and is like a real bumper car, a compact vehicle your child will love.
These cars can be used inside or outside, and are built to withstand bumping into each other.
A quality safety belt will keep your child protected.
These bumper cars use a 6V battery and charge quickly.
Best of all, the charge lasts a long time.
Bumper Car Vehicle Remote Control 360 Spin
This vehicle has two control knobs your child can use to drive. It also has a unique safety feature that parents will love.
It is a remote control option to take over control and steer the vehicle if necessary.
This ensures your child will not steer the vehicle to places they shouldn't be going.
This is clearly an interactive toddler toy that will require parental supervision, especially if it is used in places that are accessible to stairs, streets, or uneven terrain.
The bumper car has an outer edge of flexible PVC.
The maximum speed of the bumper car is .75 MPH this is fast enough for your child and yet slow enough to prevent your child from getting injured.
The slow speed and bumper also make the car very unlikely to cause any damage to surrounding objects.
Around the edge of the car is an LED light ring so the bumper car can be seen at night.
The light is a nice touch your child will enjoy.
The car comes in a variety of colors and racing numbers.
Unlike toddler electric cars that can get stuck in narrow spaces, this bumper car can spin 360 degrees to get out of tight corners.
Spinning the car around can be done by your child using the joysticks.
If necessary, the car can be spun around using the remote control option.
There is no doubt this Kidzone Bumper Car is going to be one of the more popular interactive toddler toys this holiday season!
When it comes to riding electric toys, the John Deere Ground Force Tractor with Trailer is the ultimate toddler riding machine.
The tractor is all but the real thing with a two-speed transmission and reverse. 
The speed can be set for beginners at 2 1/4  MPH and increases to a maximum speed of 4 1/2 MPH.
The accelerator pedal has an automatic brake. 
The tractor tires offer great traction on grass, gravel, dirt, or pavement to easily pull the full-size detachable trailer which can carry a large payload.
The seat is adjustable with a moveable armrest and your child is sure to like the working FM radio.
You can never go wrong with a John Deere Tractor.
A classic brand we can all relate to.
The ways your child will be able to use this special gift are endless when it comes to helping with chores around the yard.
No doubt it will entertain your toddler for hours!
Best of all, your child will develop significant sensory and motor skills playing with this tractor.
When it comes to interactive toddler toys, this toy is a winner!