Updated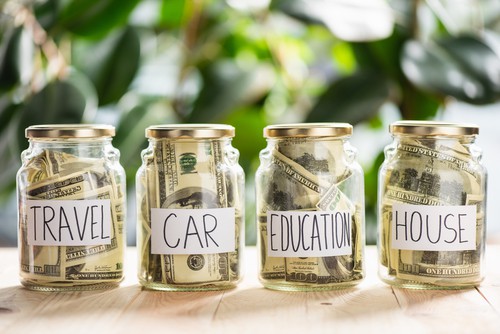 Debt free Living is a dream for many families! Being debt-free may mean more time to travel, more time to spend playing with your little ones or maybe it would mean owning your home outright.
The one thing it means for certain and that is less pressure and less stress.
We've learned many valuable lessons on our journey to debt free living. The hardest lesson is that we must spend less than we earn.
We have all heard it, but what does that mean in daily practice. What are the habits of debt-free families? How can you develop those same habits and enjoy the debt-free life?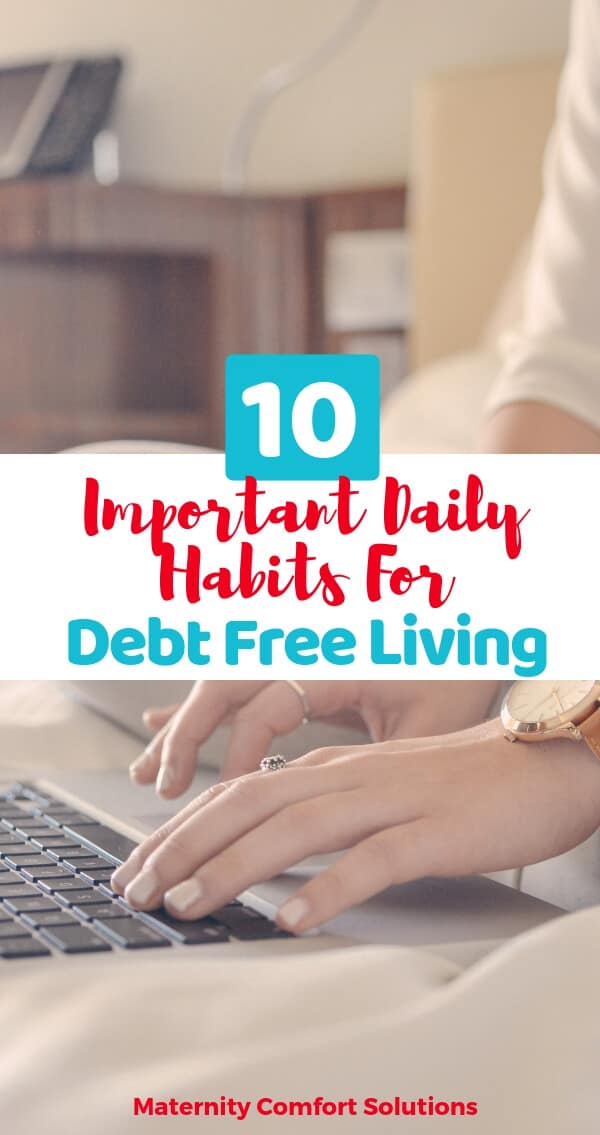 This post contains affiliate links. You can read our affiliate disclaimer at the bottom of this post.
In our house, we always say "You do you". Take what is helpful, modify it to fit your goals and lifestyle.
While there is no one "right" way to become debt-free that will apply to every family, there is one commandment: Stick with it. Do not give up. Focus. Be happy and grateful for what you have. 
Debt Free Living: 10 Important Lessons We Learned:
1. Use cash or a debit card. (Only use a debit card if you feel confident you can accurately track your spending).
If you don't have the cash, you can't afford it. The #1 secret to families that enjoy debt-free living is that they do not accumulate debt and if they have any, they work relentlessly to get rid of it.
They use cash so they can see where each dollar is going. It is far too easy to lose track of spending when using a debit or credit card. Out of sight is out of mind.
You want to know where your money is and where it is going.
The best way to do that is to pay cash for things. You can set up a budget and use an envelope system to pay for everyday items.
Using cash helps you avoid going over budget and splurging.
If you are deep in credit card debt, you need to stop using your cards. Get a plan in place to pay them off. Many people use a debt snowball method.
Some people never want to have credit cards again after paying off their debts.
That is a personal choice, but I think there is a good reason to keep a couple of credit cards even after you paid them off.
2. Fix things or make things with YouTube videos
Have you ever wondered why you are offered a service contract with every product that may require repairs?
There is huge money in the service contract industry and often service repair contracts do make sense for peace of mind and major repairs.
There are many repair projects you may be able to do yourself.
Servicing of products such as cars, electronics, and appliances may require trained professionals for the following reasons:
Certified technical training
Safety
The need for special tools (ie. computerized testing equipment)
But if you are someone who enjoys doing home repairs or wants to save thousands of dollars in service expenses a year…..yes, you heard that right…we hope the information we are about to share will help you achieve this goal.
So how can YouTube and a Do-It-Yourself mentality save you money?
Here is a personal example of how an online video demonstration saved us $240!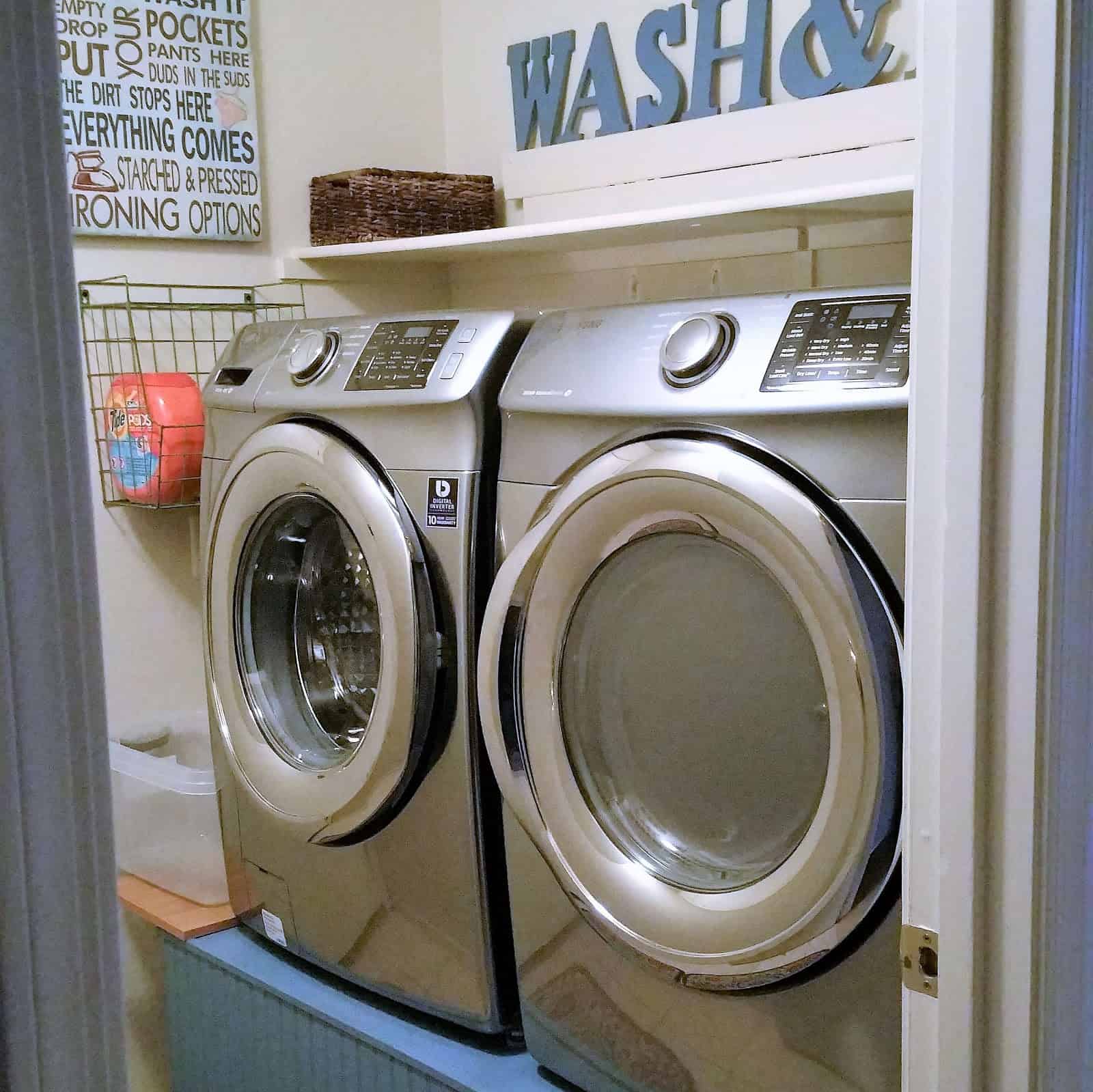 Samsung Washer and Dryer (Image: Maternity Comfort Solutions)
When our dryer broke (stopped heating up) a service professional determined that the part that had to be replaced and a follow-up servicing visit was going to be $250!
A search on YouTube for the replacement of the part and our dryer model returned a 6-minute video detailing the installation of the thermostat.
Needless to say, there was no need for a follow-up service visit.
An instructional YouTube video and a $5.99 part on Amazon fixed the problem.
Don't attempt to repair any product if you have safety concerns. But if not, what you will find if you search for video demonstrations will astound you!
Use Instagram for Home Decor Ideas!
I fell in love with large chalkboards after seeing them on several home decor Instagram accounts.
They were quite expensive! So I decided to search Pinterest and I found this AMAZING tutorial on making a large chalkboard!
So off to Home Depot I went and picked up the supplies. It was so easy!
You can see my chalkboard project coming together below.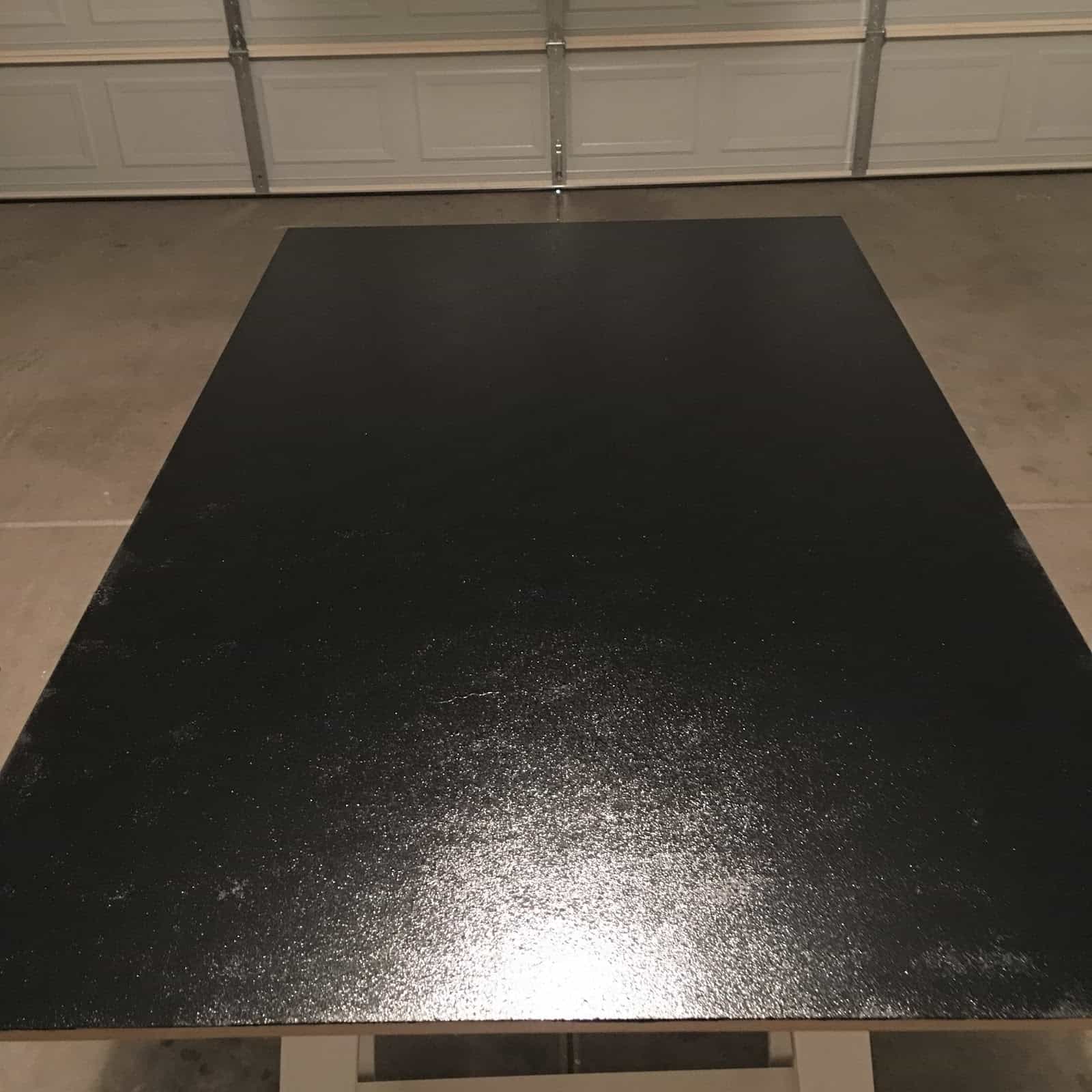 (Image: Maternity Comfort solutions)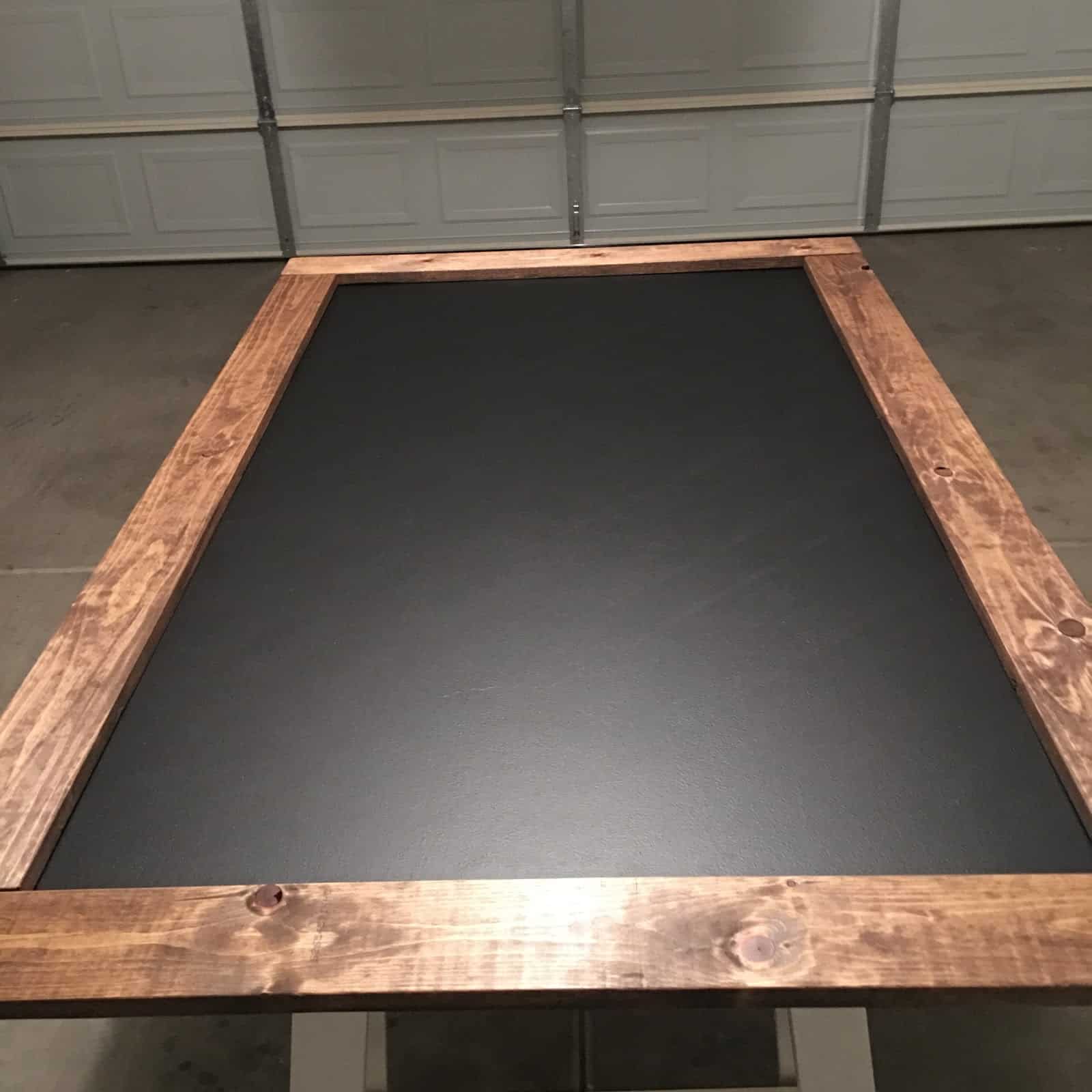 (Image: Maternity Comfort Solutions)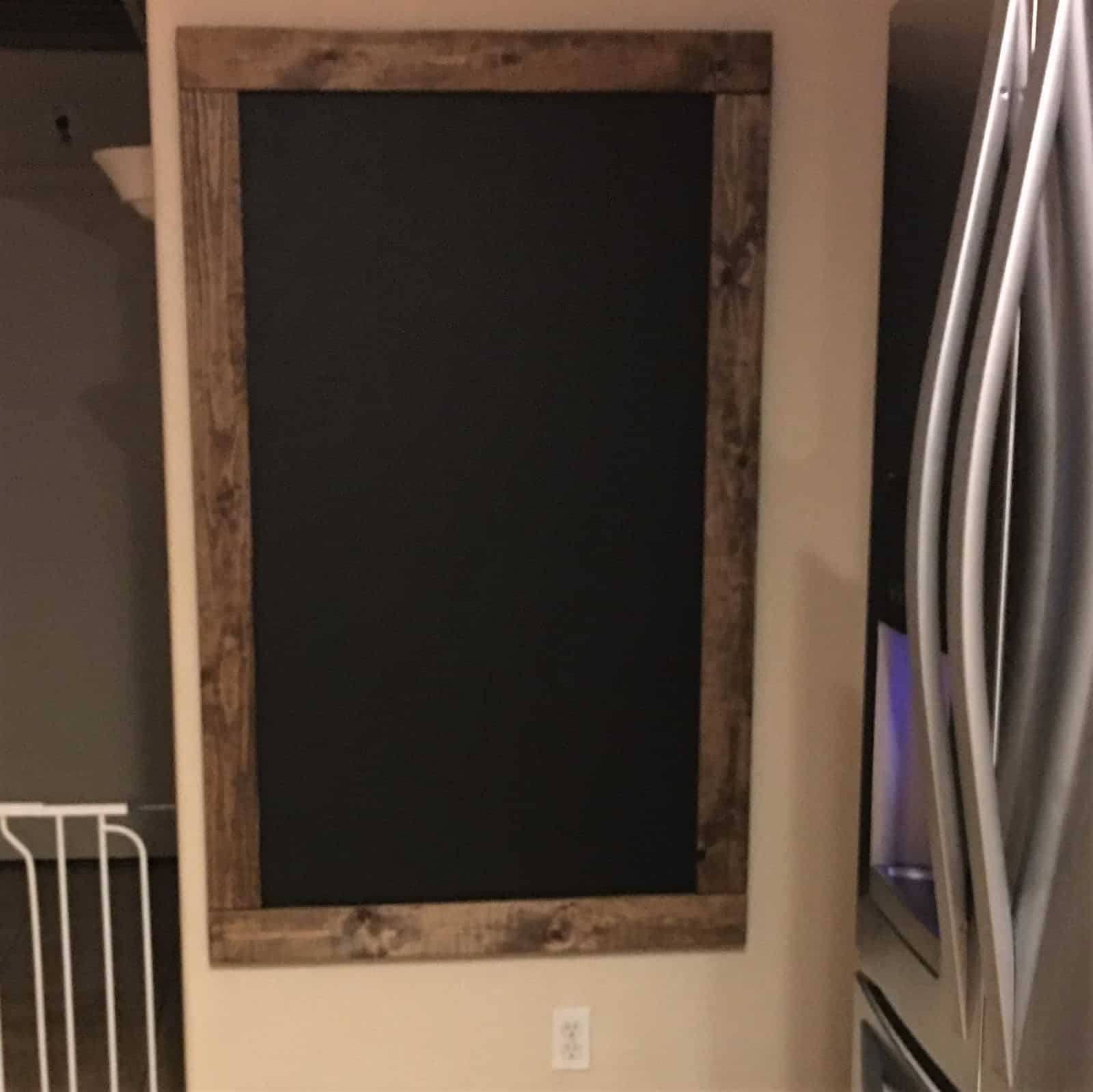 (Image: Maternity Comfort Solutions)
3. Vacation during the off-peak season
This tip is for new parents. Parents with older kids have already learned this the hard way. It should be no surprise that any event or service that is in demand and has limited availability  (flights and hotels) will translate into a lot more money.
The travel industry is well aware of this and knows parents never want to disappoint their children.
The cost of family vacation during peak season can be extremely expensive.
A Disney vacation during February is the best example of how far a company will go to maximize their profit.
Book a flight or hotel in Orlando in the first week of February and compare the price to a vacation week later in the month.
Tickets can literally triple during vacation week and lodging is not far behind!
This pricing strategy has been the same for decades, so it is up to the consumer beware.
Book as far in advance as possible to lock in the best rate. Many have found that you can get lucky and find a good rate even days before you need to book a flight. This will not be the case for booking a family vacation during a peak travel time.
There are many websites to search for the lowest fares. CheapOair has been one of the best in our experience when it comes to flight deals.
Don't let the name put you off (it did for me at first, I'll admit it), they really do offer some of the best flight deals we have ever found.
We travel frequently between Boston/Phoenix and Boston/San Diego, they are our first go to choice.
Not going during peak rates has its advantages and many families have figured this out.
Aside from the vacation being less than half as expensive, the vacation can be far more enjoyable.
Fewer crowds to deal with means more time for your children to enjoy the theme parks.
You might wonder how you can convince your children to not go to a popular vacation destination when everyone else is going.
This can actually be less difficult than you might think. Plan a less costly vacation during peak travel times.
Arrange a road trip or go camping. In the end, your children will be going on two vacations for the price of one.
 4. Eat meals at home
Meal plan and cook from scratch:
One of the best ways to save on money is to meal plan for a week or two at a time. Meals do not need to be elaborate.
Check the sale ads and plan your meals around loss leaders and staples you have on hand.
Eat lots of fruits and vegetables, but make seasonal choices. They are often much less expensive.
Do the best you can. If you live in a very high cost of living area, it is going to be harder.
Cook as many meals as you can from scratch.
The one investment you should make if you are trying to become debt free is to get a slow cooker.
A slow cooker does the work for you. I work from home and still rely heavily on my slow cooker several times a week.
Crock-Pot 6-Quart Cook & Carry Manual Portable Slow Cooker
Another option to consider is getting an instant pot. I don't use mine as much as my slow cooker and it is a bit pricey, but if you tend to forget about dinner, it is great option to feed your family fast without ordering out. We eat a lot of chicken and have made quite a few meals with the instant pot.
You can find 10 amazing Instant pot chicken recipes here.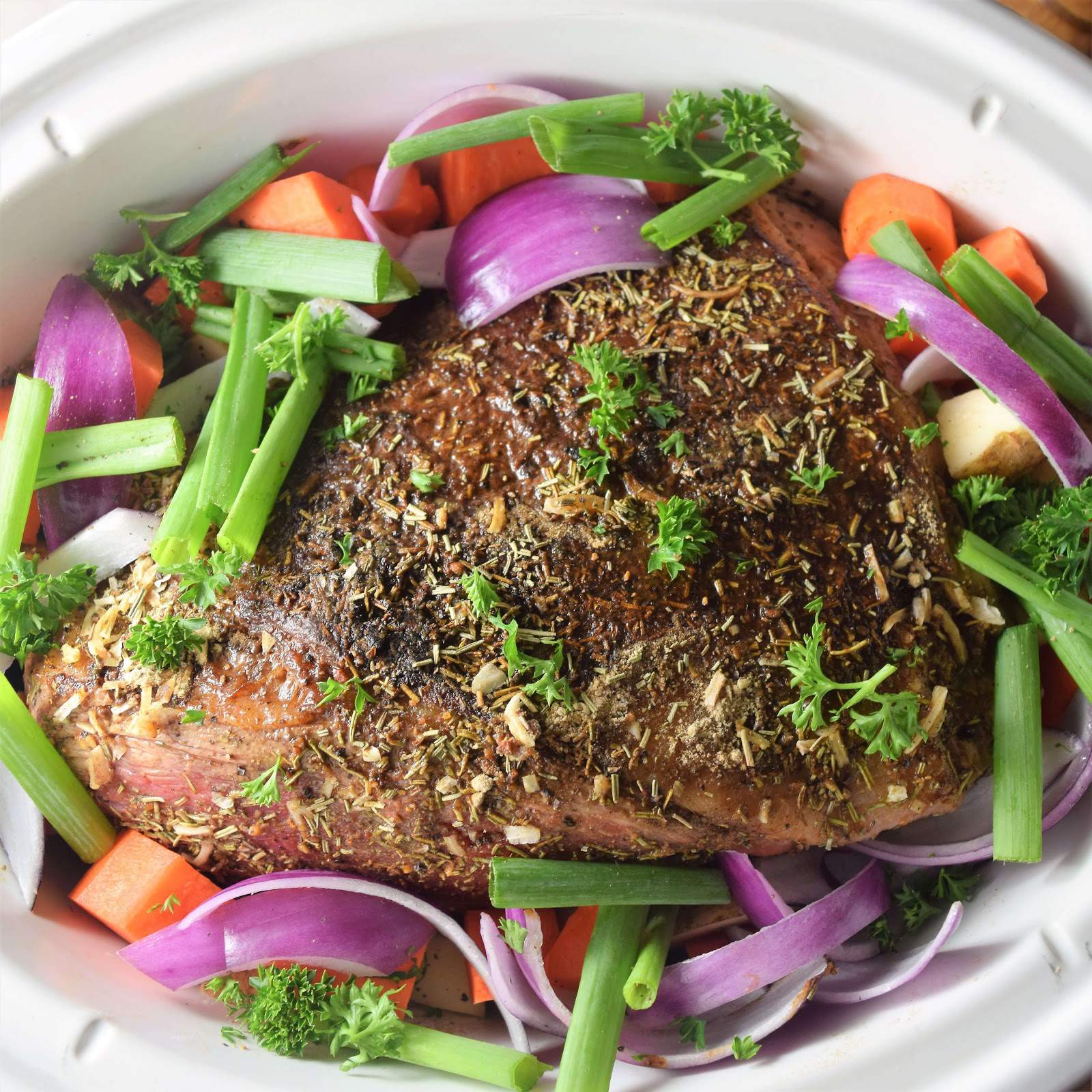 Slow Cooker Roast – Weeknight Meal (image credit: Maternity Comfort Solutions)
Eat more soup. Homemade soup is easy to make, you can pack it with your favorite vegetables and it is cheap to make!
One of my favorite things to do is to cook a whole chicken in the slow cooker all day and then after dinner that night, turn the carcass into a homemade soup.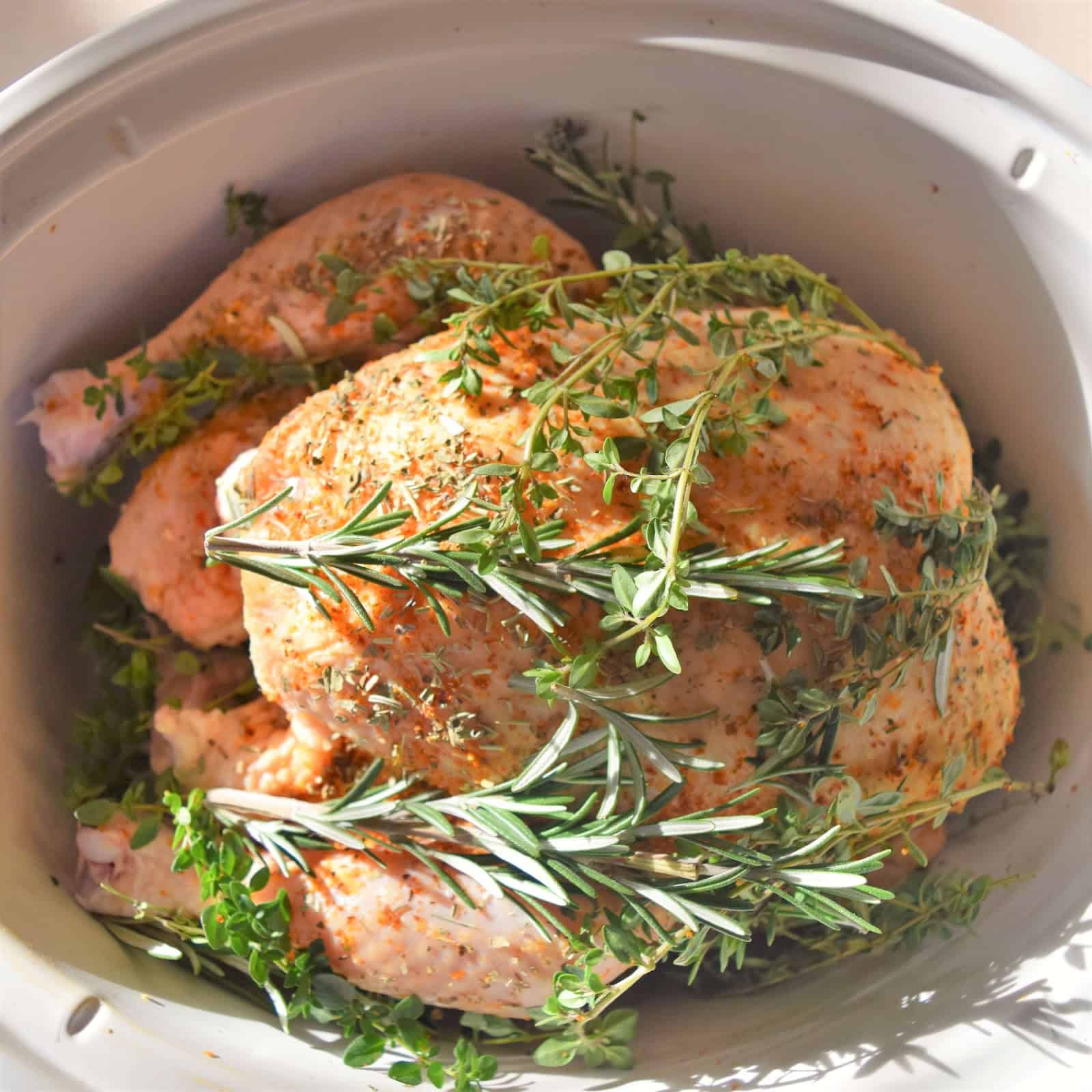 Slow Cooker Whole Chicken (Image: Maternity Comfort Solutions)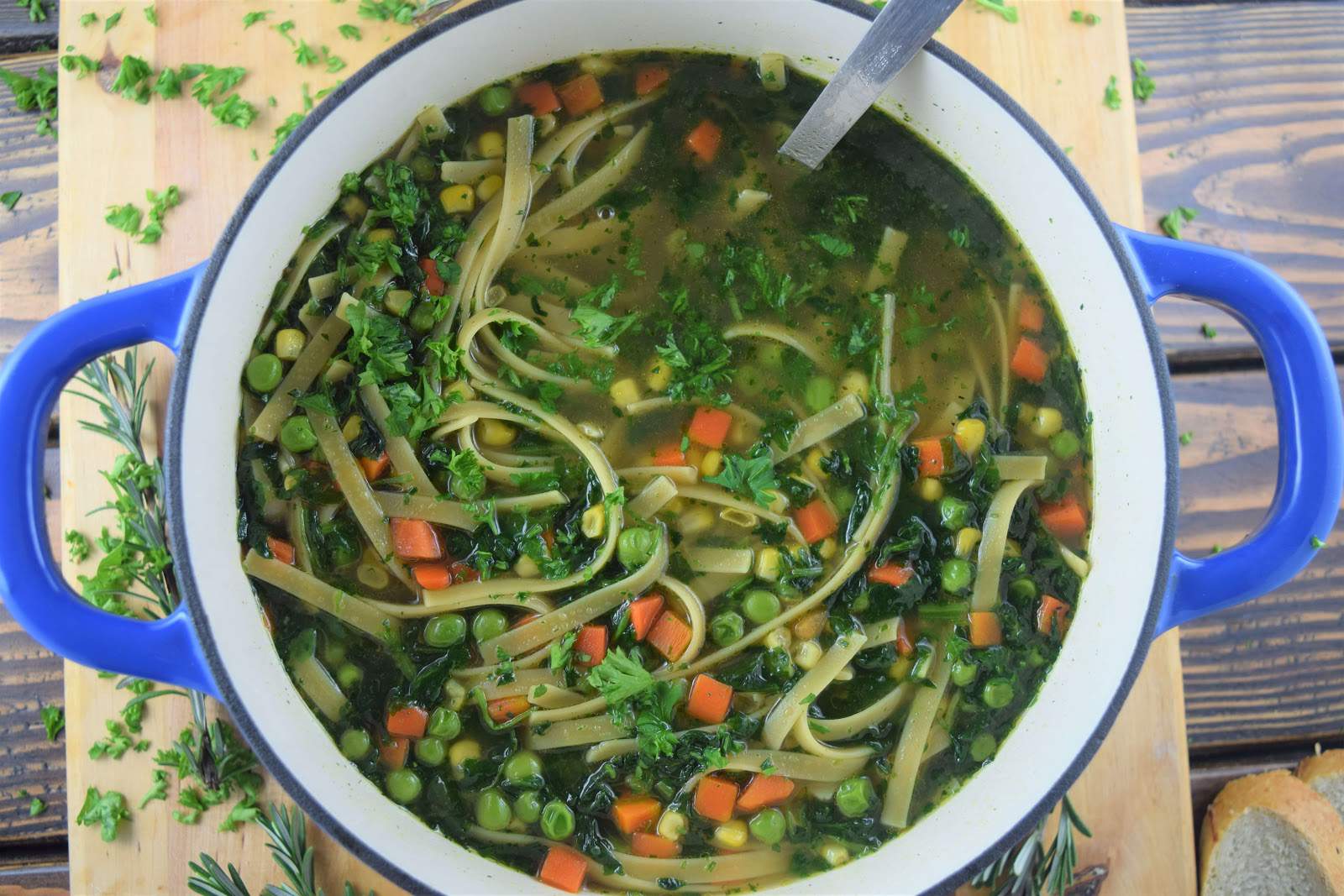 Slow Cooker Chicken Noodle Soup (Image: Maternity Comfort Solutions)
Slow Cooker Chicken Noodle Soup (Image: Maternity Comfort Solutions)
I used to be a huge couponer. What I have found though is the generic version of most products is cheaper and just as good, if not better than the name brand item.
You may not find this to be true with everything. You may have name-brand items you swear by. I do.
For example, I only buy dawn dishwashing soap. I have found it to be so much better than the generic versions that it saves me money to buy it over the generic.
Freezer meals for busy nights
Freezer meals are one of the best ways to be prepared for busy school nights, emergencies, and illness.
It is often very tempting to order take-out at the end of a long and stress-filled day.
An easy way to prep freezer meals is triple a recipe you plan to make and freeze the leftovers.
If you do this for a week, you'll have 21 dinners frozen and ready to go.
You can also do batch cooking on a weekend which is my preferred method.
I'd rather take a day and make several different recipes so we have more variety throughout the month.
As an example, I will make a large batch homemade meatballs, sausage, and sauce. That night we will have the meatballs and
sausage with spaghetti and homemade bread. I'll freeze those leftovers into several meals. I'll use some of the sauce
to make several pans of lasagna. I love spinach lasagna and my favorite recipe is Skinnytaste Spinach Lasagna Rolls. It is very
easy to triple or quadruple the recipe.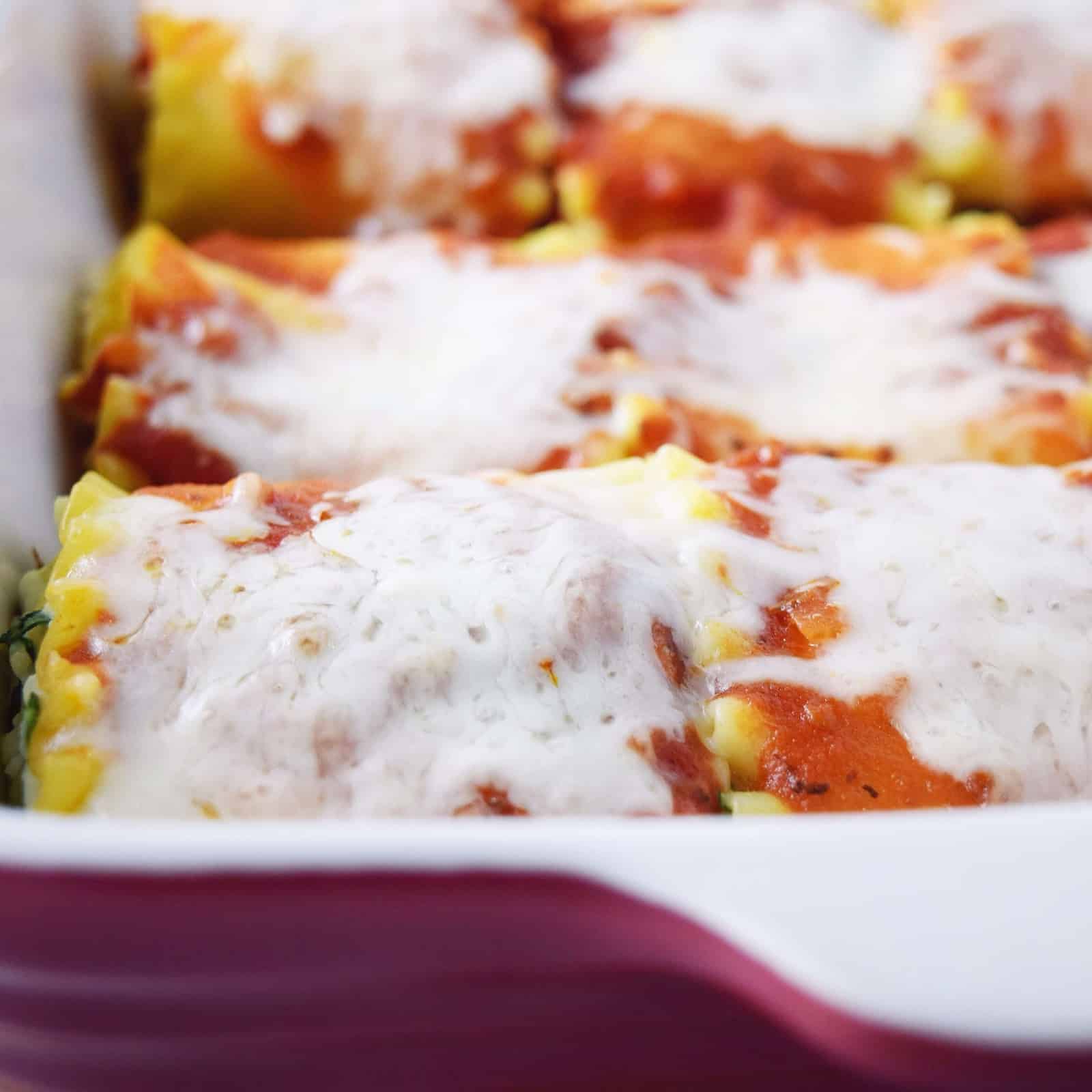 Spinach Lasagna Rolls (Image: Maternity Comfort Solutions)
If I'm pressed for time I'll just make several pans of regular lasagna and freeze them. This is how I like to do freezer meals. It is easy for me to batch meals together.


Lasagna (Image: Maternity Comfort Solutions)
Stick to your grocery list and never shop hungry
Stick to your grocery list. If you have looked at the sales and identified the best deals and loss leaders only buy those.
Self-discipline is very important to learn if you want to become debt-free and more importantly, stay debt-free.
Make sure you eat a balanced meal before you go to the store. Try to have protein, fat, and carbohydrates so you will stay full
and not be tempted to give into cravings.
Know what day your local stores switch to a new week. That is how you will know will when sales start and end.
If you can shop early in the morning, take time to get to know the produce and meat workers in your favorite store.
They will often let you know if they have meats or produce that will be marked down.
5. Stockpile and buy in bulk:
Stockpiling and buying in bulk can be a great option for even small sized families.
We are going to talk about Sam's Club and Costco as sources of bulk items, but your local grocery store may also be a great option for stocking up on items when they have deep discounts and sales.
All of this is very location dependent. We are from Boston, MA. We spend quite a bit of time in Phoenix, AZ and San Diego, CA. There is no way I could ever find the deals in Boston that I find in Phoenix or even Southern CA.
Groceries are very expensive in Boston. So if you live in a high cost of living area, it is going to be harder and you'll have to look into other options
Sometimes I have found that ethnic grocery stores have really good deal in the Boston area.
There are now many stores where you can buy in bulk. These stores focus on non-perishable items you can buy in large lots. Stores like Costco and Sam's Club.
If you have an empty storage closet or small basement room where you could store amount non-perishable items,  this can be an easy way to save both time and money.
Most non-perishable items will keep for many months.
In this way, you save by buying in bulk and make fewer trips to the grocery store saving you both time and money.
In time you will become even more efficient and will have a good idea of how much of any one item you need to buy each time you go shopping to restock every few months.
Some items you can purchase in this manner are all your paper goods (paper towels, bathroom paper), pasta, canned goods, and many grains.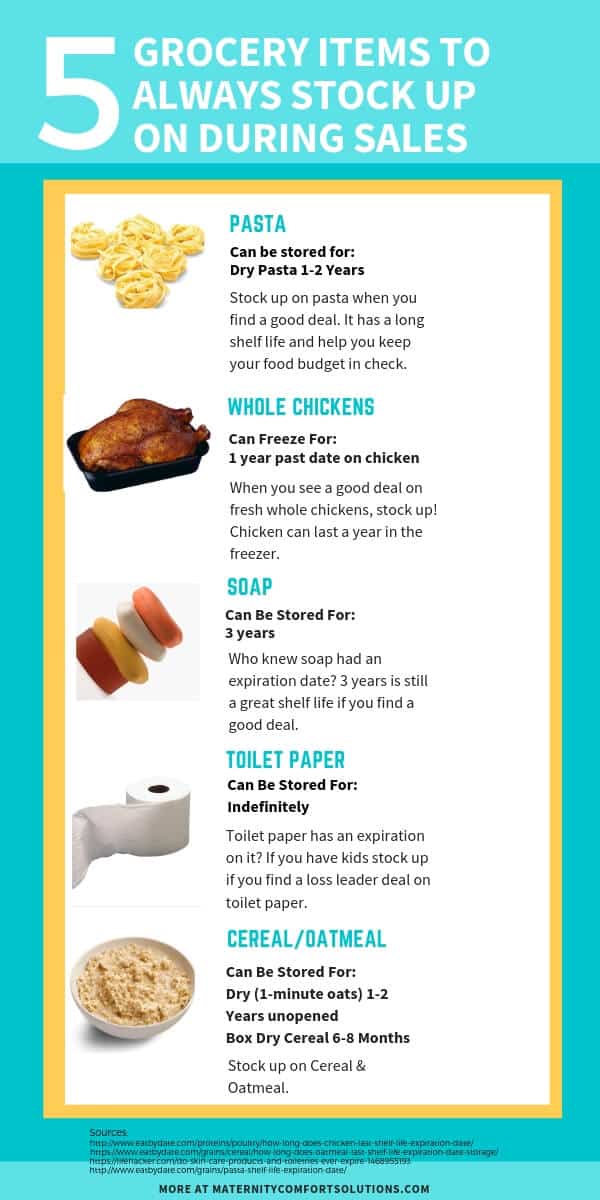 If you have a storage freezer you can also buy many long-lasting frozen items.
Most people think that this bulk-buying method is for large families. However, this approach can be scaled down to serve any size family.
This is especially true if you have a designated storage room or closet.
If you had been a member of Costco or another large-volume store years ago, consider revisiting this idea.
Though these stores are still geared towards buying in volume, they are now far more accommodating to small families.
It is likely because these stores have become so busy such that the low membership fee and total sales volume can benefit any family buying on a budget.
If you still prefer to buy a few items at a time, then this is not for you. Here are links if you are interested in getting a membership to Costco, Sam's Club or BJ's:
6.  Use Free or low-cost entertainment options
Starting at a young age, children find things entertaining based on how they were brought up. This applies to all forms of
entertainment, both physical activities (games, sports, hikes) and more sedentary educational activities (movies, video games,
museums). Children engage in activities that are enjoined by older family members, be it a sibling or a
parent. If you think about it, your interests were likely influenced by early childhood experiences.
Amazon Prime is one of the services we think is a bargain and a net positive over a years time. As an Amazon Prime member you also get access to:
Amazon Prime Music
Amazon Video
7.  Side hustle
Sometimes you just need to make more money. There are many ways to do this when you are faced with financial difficulties.
In many instances, a side-hustle may eventually replace your full-time job.
Here are 10 side-hustles to consider:
 1. Tutoring
There are many tutoring opportunities available on and offline. The hourly rates may surprise you. Scanning the popular tutoring sites you will see hourly rates ranging from $20 to $150 dollars an hour.
The two most important things to consider when deciding what to charge for your services are your level of knowledge about the subject matter and whether you have formal training in education.
If you are proficient in a subject you can tutor. Just keep in mind that it might take time to become comfortable tutoring and for your name to get around.
As with many service jobs of this nature, ultimately how busy you will be and how much money you can make will depend on word-of-mouth.
2. Baking for parties, weddings or restaurants.
Those who can cook well, take for granted that this is a skill that took years to develop.
Not everyone can cook nor do many people want to cook. If you can establish yourself as a good cook you could be in high demand.
3. Music Lessons.
For those who play an instrument, it is easy to forget how many hours you spent and how many lessons you took to develop this skill. You invested a lot of time and money. Not only can you enjoy playing an instrument, you can also make very good money instructing others.
Much like tutoring, this is also a service that depends on how skilled you are at playing a particular instrument. and any accomplishments you have had in the music industry.
4. Babysitting
It is now possible to make a substantial income babysitting. Years ago, job opportunities were limited to neighborhood jobs and word-of-mouth.
As a result of online search and companies that cater to babysitting, there are now a tremendous number of opportunities to babysit.
5. Rent out a room in your house
With the cost of living constantly rising, it is becoming popular to try and offset mortgages expenses by renting out a room or
suite in your home. This requires a lot of research to determine if it is even an option where you live.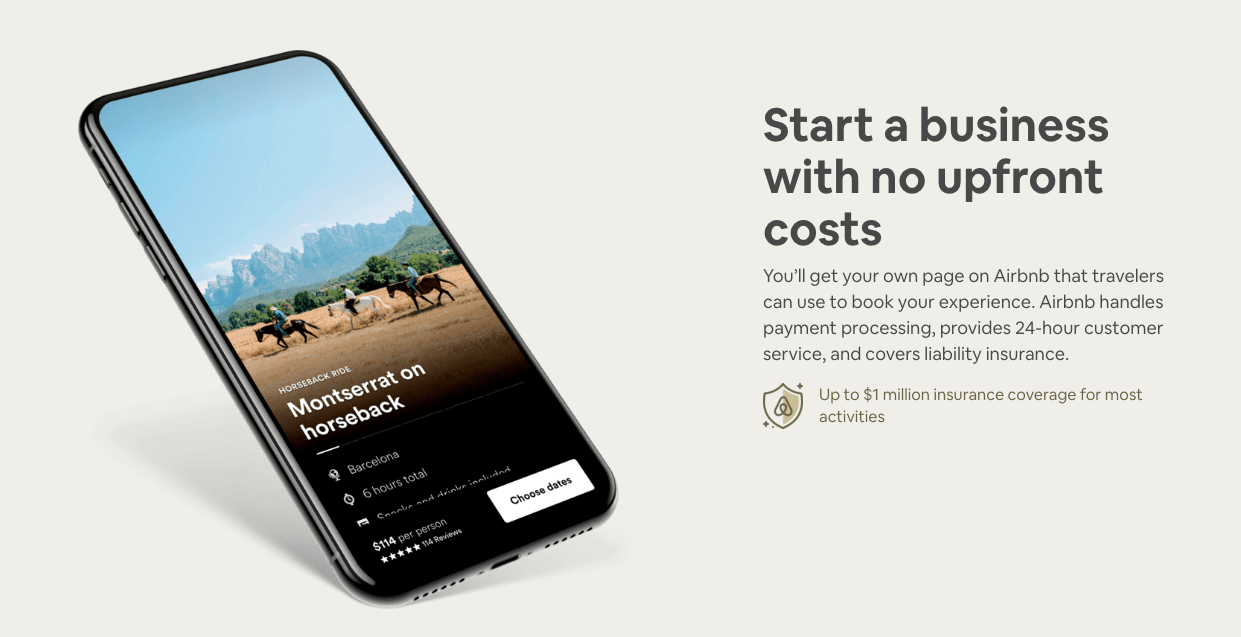 Start An Airbnb Business! Rent out a room in your home on Airbnb!
You can advertise room sharing on craigslist. See our article on 10 Side Hustles for detailed instructions on how to advertise a room on Craiglist. It is like so many things. Once you learn the process it is not hard at all. This can definitely be a huge step towards debt-free living.
6. Dog Walking
Dog walking and pet sitting have become very popular. Animal lovers will do anything for their pets to keep them happy and
healthy. If you enjoy the outside and exercising, dog walking can be a great source of extra income
For those who do not have a pet or desire to own a pet, this may not be an attractive side hustle. It is actually a great way to make extra money and get exercise in the process.
There are many online sites to find dog walking jobs.
7.   Uber or Lyft Driver
If you have a car and like driving, you might want to work for Uber or Lyft.  There are rules and requirements but most will not prevent you from being able to work for them. It takes time to process your application and get accepted, so don't worry about that.
You do want to make sure that you can afford the time away from your family.  Also, you want to consider the wear it will put on your car.
8.  Sell  items on Craigslist or Ebay
Not only can you sell services online, but you can also sell items. Virtually anything you can think of if the price is right. Items around the house are all profit.
If you choose to sell items online there are two things you must do:
Learn all you can about selling online. To do this, watch YouTube videos.
Manage your online selling like a business and not a hobby. This means offering excellent customer service.
If you sell online, you will be evaluated by your buyers. Almost every company tracks your customer service. This is how businesses are evaluated and it has been this way for some time. If you are not offering good customer service, someone else will.
OfferUp
9. House Sitting
Depending on your living situation, house sitting has always been a great way to make money. Granted, this is not for everyone
and especially for a family with children. Given the right situation, it can save you money on housing. The nice thing about a
house sitting arrangement is that it can be a win-win situation. Someone needs their home taken care of for an extended period
of time and you have a place to stay rent-free. In some cases, you not only get to live in the home but may also get paid to care
for the property.
10. Clean homes
If you like cleaning and you are an efficient worker, you can make good money house cleaning. If you are business minded, you
can even start your own business.  Depending on where you live,  your service will grow through word-of-mouth and you will
have more work than you can handle. There is nothing better than debt-free living. You will feel financially free and a
tremendous sense of accomplishment, especially if you start a business in the process.
11. Virtual assistant/Social Media Manager
Do you have computer skills?  Are you good with social media? Why not become a virtual assistant.
Many small business owners hire virtual assistants to manage their social media accounts. Businesses love the opportunity to
hire a virtual assistant. Virtual assistants are not employees so businesses do not have to pay benefits.  Company's who work
with virtual assistants quickly realize the value they bring to the company because of their knowledge about digital media. It is
not uncommon for virtual assistants to be well compensated. Business owners quickly see how virtual assistants can
substantially impact their bottom line.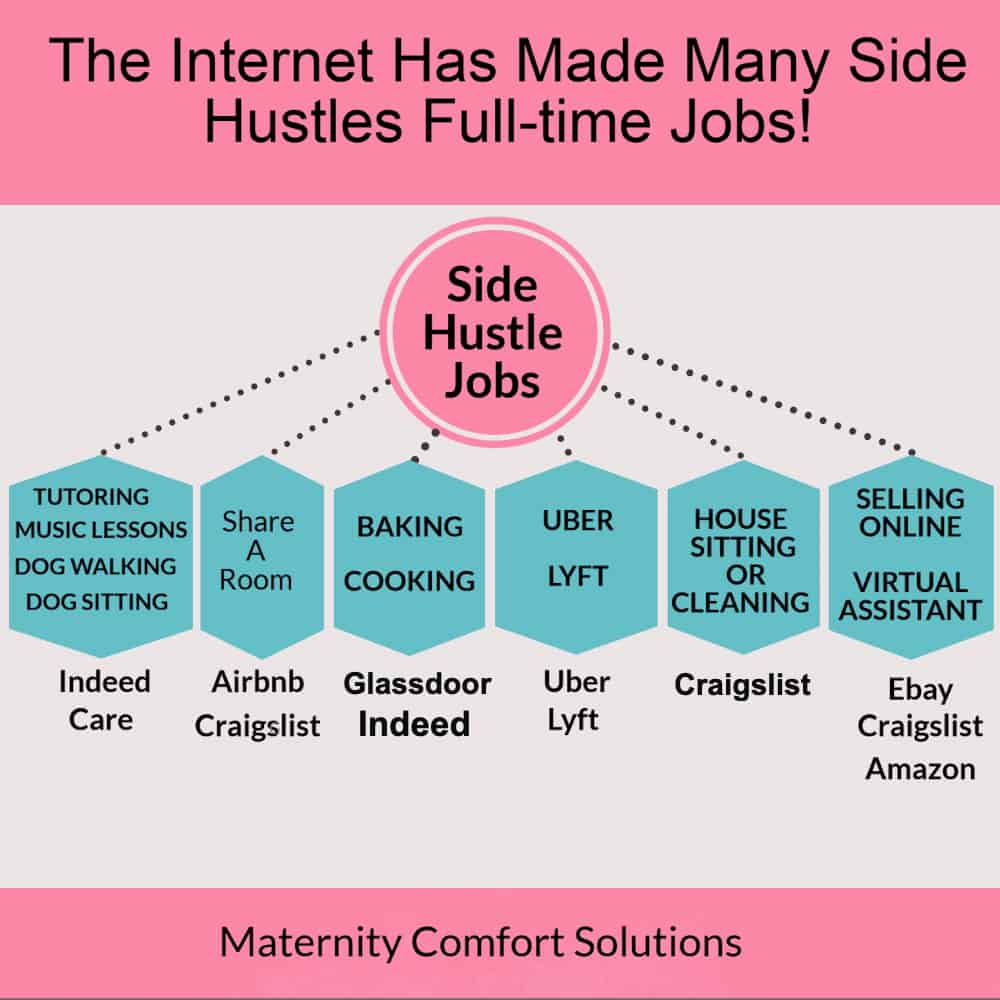 8. Set a family budget and stick to it. Put the rest of the money into paying off debts and an emergency fund.
Establish a budget and stick to it. Give yourself room for a few things that were not planned. It happens. Set up an emergency
fund and put the rest of the money into paying off your debts.
9. Spend on the things that really matter to you.
This is a very important tip and it is the secret behind many debt-free living and debt free families. They spend money on things that matter to
them. If it is a good value, they find a way to work it into their budget without going into debt. I'll share an example of an item I
will not give up. It is paper plates for certain meals. I will work them into my budget and will do whatever it takes.
10. We save money by doing lots of little things that add up to big savings.
Decrease the thermostat temp in your house as much as you can in winter
Raise the thermostat temp as high as you can tolerate in summer.
Skip Starbucks and Dutch Bros, make coffee at home.
Never keep a balance on credit cards, work to pay them off.
Keep your tires properly inflated and don't speed.
Recycle and upcycle
Let go of status seeking. This may have the biggest impact on debt-free living!
Color your own hair at home
Eat foods that are in season
Take care of your health: Exercise, eat healthily, get preventative care
Get rid of cable
Ditch expensive hobbies if they keep you in or put you into debt.
Track spending habits and cut useless spending
Packing lunch for work
Bathe and groom your own pets
Get a mortgage or rent a place you can easily afford.
Related: 10 Fast Side Hustle Ideas When You Need Money Now
We wrote this article to offer a few suggestions that we have found helpful. The two most important ways to achieve debt free living are the following: 
Sometimes you simply have to make more money. You can achieve financial freedom by decreasing expenses, but that may not be enough.
Don't live paycheck to paycheck. If you do you will end up living on credit. Too many people use credit beyond their means. It is good to establish credit, but pay it off every month and do not carry a balance. You will end up paying far more for everything you buy. If you have time, figure out what you paid for an item once you have factored in the credit card interest.