Updated
This post may contain affiliate links, you can catch our full disclaimer at the bottom of this post.
Amazon Prime offers families many ways to save money this Christmas. Today we are sharing 8 ways you can use Amazon Prime perks to save money during the Holiday season.
Amazon is always coming up with a new way to help their Prime members save money this Christmas. 
If you have been on the fence about getting an Amazon Prime account, these Amazon Prime hacks might just make that decision a little easier.
Amazon Prime is not for everyone; however, for families who use Amazon frequently, the savings can easily justify the cost of a Prime Membership!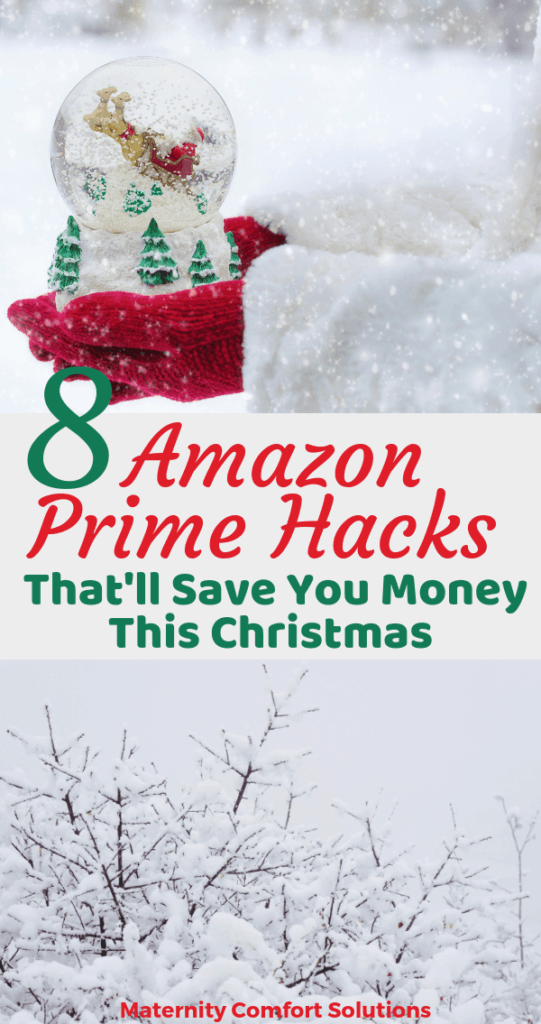 This post may contain affiliate links, you can catch our full disclaimer at the bottom of this post.
8 Amazon Prime Hacks To Save Money This Christmas:
1. Sample Products
Amazon offers boxes filled with sample products. They are available in a variety of product categories. There is an initial price of between $5 and $20, but Amazon credits your account for a future purchase. 
The items in the sample boxes make great stocking stuffers or items for a gift basket. We have used the items in the dog food and treats sample box as stocking stuffers for our pets.
Y
2. Amazon Prime Video
Amazon Prime Video offers thousands of free streaming movies. The perfect way to watch Holiday classics! Amazon has hundreds of free Christmas movies that are included with your prime membership.
It is a great way to have a Christmas family movie night with your kiddos. Make some fun snacks, hot chocolate, and stay up late. It is a tradition your kids will love and always remember.
Many of the movies can be downloaded and watched without WiFi too.
We use this free perk all the time during the holidays. Amazon Prime video does offer streaming videos for rent too. The rental prices are reasonable and there is a great selection of Christmas movies available.
Some of the FREE Christmas movie options include:
Miracle on 34th Street

Dogs of Christmas

Jack Frost

Prancer

I Want a Dog for Christmas, Charlie Brown

It's A Wonderful Life
You can watch Amazon Prime videos and TV shows on a variety of devices. We watch Amazon Prime video on our computers, tablets, gaming consoles and phones.
You can find out how to link to your devices here.
y
3. Amazon Prime Music:
Amazon Prime members get free access to Amazon Music with their membership. Amazon Music has a great variety of Holiday music! There is a great selection of Christmas music for kids too.
Amazon Prime music is curated for you and is ad-free. The sound quality is fantastic, better than some of the music services we have paid for in the past.
I was really surprised by the variety of Christmas music offered. You can choose by artist, song, station, and playlist.
We really like the Christmas stations they offer and love to play them through our Amazon Echo in the kitchen while baking Christmas cookies or making gingerbread houses. 
One of the ways we try to save money at the holidays is doing free things at home with our kids that over time become beloved traditions. If you think back on your Christmases growing up, it is the family traditions and experiences you remember best, not the gifts.
Some of the Amazon Prime Christmas stations that are included free with your Amazon Prime membership are:
Pop Christmas

Relaxing Christmas

Classical Christmas country

Christmas

Jazz Christmas

Holiday 

Holiday classic
many more!!
4. Same Day Delivery
Amazon Prime is probably most famous for free 2-day shipping. Amazon Prime members also get same-day delivery on millions of items. If you shop at Whole Foods you can get delivery within 2 hours in many cities across the US.
If you have a new baby or a toddler this can be a great option to get your holiday shopping done and delivered to you without having to leave the house.
It is cold and flu season, stores are jam-packed with people and germs. So if you can keep your little ones healthy and save some money (use less gas) it is a win-win!
5. Early access to Lightning Deals
As an Amazon Prime member, you get access to lightning deals 30 minutes before non-members! Lightning Deals are sales on products that are deeply discounted, but only while supplies last. If you have the time to watch for these deals this is a great way to save money this Christmas!
Lightning deals are first come, first served and when they are gone they are gone. The 30-minute advantage could be the difference between getting the item you want at a deeply discounted price or not.
I'd try Amazon Prime for the lightning deals this holiday season if for no other reason!
6. Make some money for Christmas – Trade in your stuff!
Trading in items you are no longer using for Amazon gift cards is a great way to make some money for the holidays! Amazon's Trade-in program will let you trade in electronics, books, textbooks, video games, DVDs, tablets, and even cell phones!
Shipping your items for trade-in is free and you can check the potential trade-in value of an item on the site. Amazon makes the whole process easy and painless.
7. Free subscription to Twitch Prime plus video game discounts.
Have a video game lover in your family? Then you'll love Twitch Prime.
You get a free Twitch account as a prime member and Twitch members get exclusive discounts on video games sold on Amazon. This is a major Holiday buying perk!
Twitch and Prime members also get access to free video games and Twitch channels, which are other great ways to save money this Christmas. 
8. Amazon Prime Free 30 Day Trial
Amazon Prime offers a free 30-day trial. Prime has so many free benefits that can save you money during the holidays. This can make it well worth trying out for 30 days.
After 30 days it is $119 a year and they do have a monthly payment option, the monthly payment option makes it more affordable.
We love the 2-day free shipping, but it is the other free perks that make the price worth it for our family. We use Amazon Prime video, music, and Twitch in place of cable TV and pricey music services. 
Bonus Tip:
If you are an Amazon Prime Member you can get Amazon FreeTime Unlimited at a deeply discounted monthly rate.
Freetime Unlimited offers your kid's access to over 10,000 books, shows, movies, and apps. Parents get access to parental controls where you can choose to limit the amount of time your child spends on specific activities.
Freetime Unlimited is ALL the best kid's shows, movies, and apps! Including Disney, PBS, Nickjr. and many more!
If Peppa Pig, Daniel Tiger's Neighborhood, and Paw Patrol sound all too familiar to you, you'll love having on-demand access to them!
Holiday shopping with a toddler in tow can leave even the most patient mom frazzled…save your sanity and try Freetime unlimited for FREE for 30 days! 
I consider it a gift to myself, after your 30-day free trial, plans start at $2.99 a month for one child and $6.99 a month for a family.
The holiday season is right around the corner.  We hope these Amazon Prime tips will help you save money this Christmas.
Money worries are common during the holidays and often people don't talk about it. If you found this article helpful please share it to Pinterest or Facebook. Sharing will help other families who may be looking for ways to save money this Christmas find it too!
What to read next: