This post may contain affiliate links. We may be compensated if you make a purchase through our links. You can catch our full disclaimer at the bottom of this post.
Updated August 10, 2021
Are you looking for popular toddler toys for under $20.00? You are not alone!
Trying to find popular toddler Christmas gifts for under $20 can be challenging! We have put together a list of some of the most popular toddler toys that are $20 or less.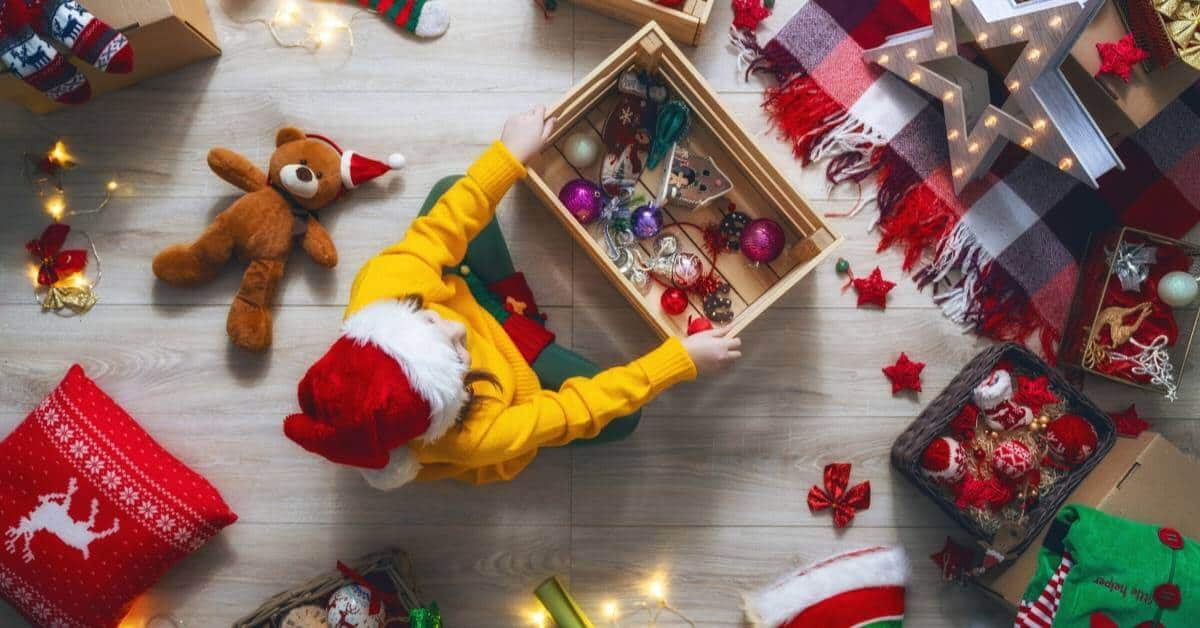 You can find the perfect gift and stay within any budget!
When shopping for toddler toys, finding something fun and durable is one of our top priorities. We want toys our kids will love and that will last.
Who doesn't want to get a toddler the toy he or she can't put down? 
Toddlers can become easily frustrated if a toy is too hard to play with. Tantrums and tears can soon follow.
When choosing a Christmas gift for a toddler keep in mind their level of development and the difficulty level of the toy.
Today we are sharing our list of the 37 top Christmas toys made for toddlers for under $20 bucks!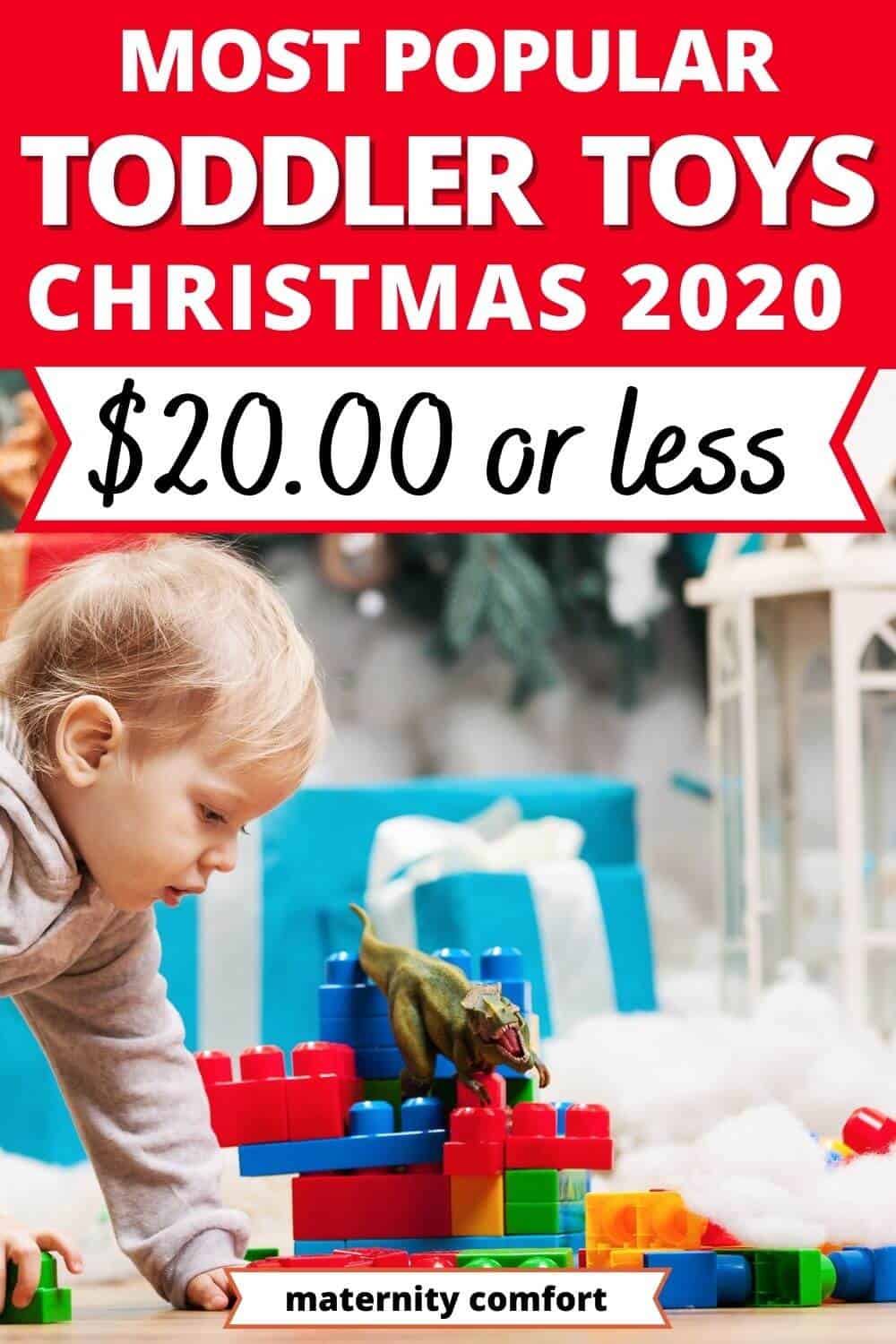 Playing is such an important part of toddler development.
Age-appropriate toys are a great way to ensure your little one is having fun while learning.
Toddlers interpret their world through the ongoing development of the basic senses.
It is important to allow your toddler to discover, create, and explore.
Benefits of selecting the right toy for your toddler:
Develops sensory skills:
seeing

hearing

touch

smell

taste
Develops motor skills:
fine motor function

gross motor function
The integration of sensory and motor skills leads to the development of advanced skills. Essentially any skill is comprised of a combination of the primary sensory and motor skills.
creativity

coordination

language

balance

cause-and-effect.
Social skills then develop when sharing toys with others.  Skills such as:
collaborative play

learning to compromise

social interaction.
37 Toddler Christmas Gifts For Under $20:

As your child builds structures or simply piles these classic Mega Bloks, she is performing rewarding tasks. This helps to build self-confidence.
Your toddler will have hours of fun using this huge bag of Mega Blocks.
The 80 large blocks are made in eye-catching primary colors and are made for little hands.
Mega Bloks encourage toddlers to use their imagination.
The blocks are easy to store in an environmental-friendly bag. Ideal for ages one and up.
80 Blocks

Develops Creativity and Imagination

Combine With Other Mega Bloks Sets
Related: 10 Tips For Road Trips With Toddlers
The Duplo Lego town dump truck and excavator are a top choice of ours for toddler Christmas gifts under $20!
Toddlers will love these toy construction vehicles from LEGO DUPLO!

They can dig into their imaginations as they use the toy dump truck and excavator to build a LEGO town of their dreams

This Lego Duplo construction toy has an excavator and a dump truck, 2 construction workers, a roadwork sign, and a shovel

500+ reviews, over 90% of buyers give it 5 stars!
The LEGO DUPLO number train is a great way for your child to learn about numbers and colors.
The Lego Duplo pieces are made in bright colors and are perfect for little hands.
Toddlers love creating different structures that help develop mechanical skills.
Locomotive and three wagons

Numbered 0-9
Safe Construction
Kinetic sand is one of our favorite fillers for sensory bins! 
10 colors included

Mix, mold, squish, cut & more!

Offers endless sensory play opportunities for your toddler

Non-toxic, gluten & casein free.
Looking for an Advent Calendar for your toddler? We found 17 of the best non-candy Christmas countdown calendars for 2-year-olds:
Today we are sharing 17 Christmas Advent calendars for toddlers! Start a holiday tradition your young family will love and treasure for a lifetime. The Advent Calendars we have chosen are some of the most popular Christmas calendars for toddlers. They capture the joy and anticipation children experience as the Christmas holiday gets a little closer with each passing day.
The Melissa & Doug Slice and Bake Wooden Cookie Play Foot Set include:
12 sliceable cookies,

12 toppings, knife, spatula, cookie sheet, and kitchen mitt.

Cookies store in a durable dough tube.

The s

lice and bake pretend food inspires children ages 3 and up pretend to bake, decorate, and serve cookies, all while practicing fine motor skills, learning number concepts, and more.
This toddler workbench is painted in vivid colors. The pegs are non-removable and up and down.
There are faces on the pegs playing peekaboo.
Your child will enjoy using motor skills to hammer the pegs and in the process will learn about the relationship between cause and effect.
The toy also helps your toddler develop hand-eye coordination. The product is very durable.
Melissa and Doug's toys are top quality and last generations.
Looking for more popular Melissa and Doug Toys for under $20.00?
We found even MORE amazing DUPLO toddler toys for $20.00!
Even more toddler toys for less than $20.00!
Here is the complete list of the best toddler toys under $20!
Conclusion
We hope you found these 37 Toddler Christmas Gifts for $20 helpful!
If you did could you please share this post on either Pinterest or Facebook, sharing may help another mom or dad find it and save some money this Christmas?
The holidays are a common time for money struggles and many people don't ever talk about it. Thank you!
What to read next: