Updated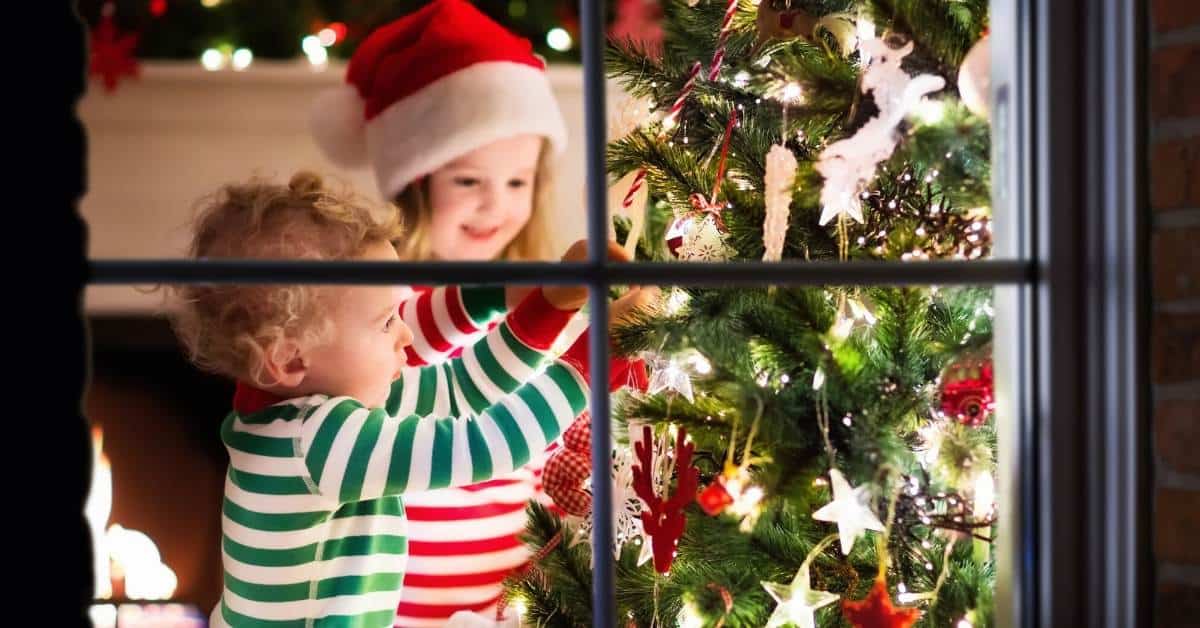 Today we are sharing 7 Christmas Advent calendars for toddlers! Start a holiday tradition your young family will love and treasure for a lifetime.
The Advent Calendars we have chosen are some of the most popular Christmas calendars for toddlers. They capture the joy and anticipation children experience as the Christmas holiday gets a little closer with each passing day.
This is a simple holiday activity you can do with your toddler that encourages their creativity, fine motor skills, and pro-social development. 
The most important thing to remember when purchasing a countdown calendar is to purchase one early. The calendars are very popular and often sell out quickly.
It is best to buy one as soon as they become available. The Christmas countdown calendars start on December 1st, so you will want to purchase one early in November if they are available.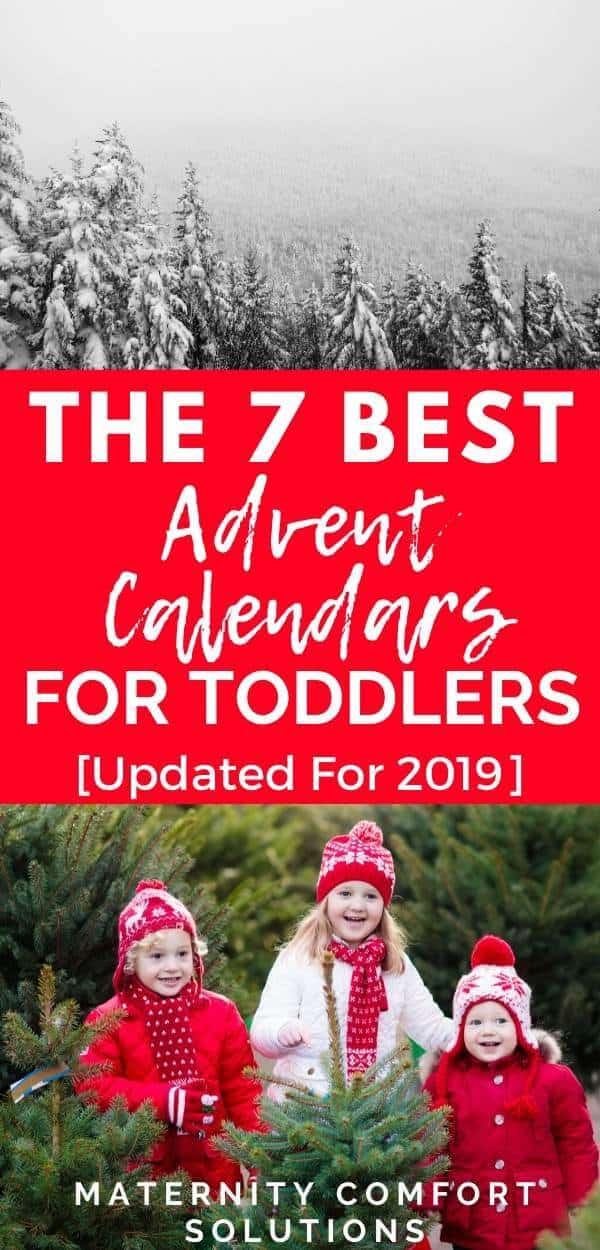 This post may contain affiliate links, you can catch our full disclaimer at the bottom of this post.
7 Christmas Advent Calendars for Toddlers:
New 2019 Edition
Minifigures
Small Building Toys
Christmas Countdown Calendar for Kids
234 Pieces
Best-seller
Building the LEGO City Advent Calendar is a tradition we have loved as a family for over a decade. The LEGO City Advent Calendar for 2019 will have your toddler anticipating what awaits them behind the next door as Christmas gets one day closer. Yes, the calendar does include a door to be opened each day!
The LEGO City Advent Calendar 60235  (234 piece set) offers 24 buildable presents that will delight your toddler each day of the holiday season.
It provides you an opportunity to introduce your child to the season of advent and countdown the days until Christmas with an activity that is engaging, educational, and fun!
This Christmas advent calendar also comes with 7 LEGO mini-figures and a Husky dog figure. Santa clause is an included mini-figure is this set. Vehicles in the 2019 edition are a snowplow, a sleigh, and a snowmobile! The calendar has a fold-down winter scene for displaying and playing with the mini-figures.
If your child loves Legos, then the 2019 LEGO city advent calendar will be a sure winner!
Last updated on July 7, 2020 12:56 am
24 Gifts to discover each day
Collectible Holiday toys
Your toddler will love opening the doors and finding their favorite pups dressed for the holidays!
The calendar includes a sleigh, Christmas tree and more!
Paw Patrol has a NEW Advent Calendar out for 2019!
Let the Paw Patrol gang help your toddler countdown to Christmas! This action-packed Christmas 2019 advent calendar gives your child a new holiday Paw Patrol gift each day.
There are 24 new gifts in total which will surely keep your child busy and in anticipation of the next day's activities.
Each new day and a new gift will expand your child's creativity and imagination as they build a snow day in the world of Adventure Bay. The Paw Patrol gang is waiting for your child to take them on an exciting holiday-themed mission.
If your toddler is a Paw Patrol fan this advent calendar is for them!
Even if you have not heard about Paw Patrol, it is a very popular Toddler program on Nick Jr. Your child will fast become a fan and love this calendar.
The Paw Patrol calendar pairs together perfectly with the PAW Patrol: The Night Before Christmas Board book. This is a cute countdown until Christmas book. Your child will help Ryder and all the Paw Patrol gang get ready for Christmas. Together they make a sweet early Christmas gift for your toddler.
Last updated on July 7, 2020 12:56 am
Related: 7 Toddler Christmas Gifts For Under $20
Santa's Workshop
Help Santa load his sleigh and deliver Christmas presents
24 Surprise toys. One for each day!
Your Toddler will love the PLAYMOBIL advent calendar-Santa's workshop! Let your child's imagination run free in the North Pole this Christmas season.
They will help the elves get ready for Christmas with 24 gifts each day! Items including sleigh, workbench, slide, bike. 4 mini-figures, reindeer and an electric lantern!
Get your family in the holiday spirit and ready for Santa's arrival on Christmas Eve!
A cute Christmas addition to this advent calendar is the PLAYMOBIL Nativity Stable with Manger.
Horse farm
 24 Gifts for each day leading up to Christmas
Spend time caring for horses on the farm
Do you have a budding horse and farm loving toddler? This is the Christmas advent calendar for them! Your toddler will have so much fun with the Playmobil Advent Calendar-Horse Farm.  
The calendar has foals, a horse, a cat and ponies for your child to care for on the farm.
 Magnetic Tree
 25 Magnets
 Holiday poem on the back
Melissa and Doug's toys are known for their quality and durability. This advent calendar is no exception. This wooden calendar makes an attractive house ornament and can be used year after year. Over time it will likely become a family heirloom associated with many family memories.
Each day, as Christmas approaches, you can add another accent piece to the Mantel.
The pieces within the Christmas advent calendar are also constructed to help your child learn about numbers and colors. What better way to help your children learn to count than to have them countdown (or up) the days remaining until Christmas.
In the same way, let your child separate the presents into piles of red and green. Why not take advantage of the numbers and colors associated with the Christmas holiday. Incorporating activities into everyday life is a great way to foster early childhood development.
Another game is to collect the ornaments that have been opened and ask your child to tell you which one is missing. It is never to early to use games like this to expand memory and recall skills.
This Christmas advent calendar goes together great with the Melissa & Doug Santa's Sleigh Wooden Chunky Puzzle (9 pcs), which is perfect for toddlers! Help put together Santa's Christmas Eve ride. A perfect companion to the Melissa & Doug Advent calendar.
Another fun option to pair with the calendar is the Melissa & Doug Decorate-Your-Own Christmas Ornaments set. This comes with two ornaments to paint and the paint and brushes are included.
It says for ages 8+, but many of the reviews were from parents of toddlers who said their toddlers loved painting the ornaments. It looks like a fun activity to do together as a family.
2018 Amazon Exclusive
Flip down front playmat
Smartpoint Christmas sleigh
Ages 1-5 years
Toddlers will love this interactive VTech Go! Go! Smart Wheels Advent Calendar. VTech is known for its well-made tech toys and this calendar is no exception. It is an Amazon exclusive and for good a reason as it is very popular.
The calendar features 24 doors that contain a gift for each day. The front of the box can be used to create a snowy day scene playmat. The light-up button on the sleigh can be pressed to play sounds and songs.
The Smartpoint Christmas sleigh can be placed on the SmartPoint location and it will play different phrases for your child. This Christmas advent calendar is a great choice if you have other Vtech Go! Go! Playsets.
Open a door every day to find something new for holiday play!
Start on December 1st and end on December 24th
Advent Calendar includes 24 Fisher-Price Little People friends & holiday-themed accessories
Check out the many other

Fisher-Price Little People

 Products.
This Christmas advent calendar allows your toddler to create a complete Christmas playset one item at a time. This contributes to creative and imaginative skills and helps develop fine motor skills.
Let your child simply configure the daily surprise however she wants. Giving your children the freedom to play with toys with no specific goal in mind can tell a lot about what most interests them.
In addition, parents can learn what level of understanding and compassion a child has toward people, and animals and can learn from imaginative stories that will develop.
This calendar will also help your toddler develop fine motor skills and introduce your child to numbers and colors,
The anticipation and possibly having to share with other siblings will also offer opportunities to observe social skills which can lead to teaching young children how to play collaboratively and respect other's needs.
The calendar goes well with the Fisher-Price Little People A Christmas Story set! This set comes with a complete nativity scene and helps teach the story to toddlers on a level they can understand.
Toddlers will love acting out the story and it really is a way to bring the meaning and spirit of Christmas into your home.
Pair it with the Fisher-Price Little People: Christmastime Is Here! board book. This is a Fisher Pricelist the flap book full of Christmas surprises and activities your toddler will love.
Even More Toddler Advent Calendar Ideas!! 
Includes 24 MINIS engines each with its own special design
Includes 6 Special Edition MINIS trains in Christmas-themed designs
Advent Calendar-style packaging with doors that open to reveal "gifts"
Thomas & Friends Christmas Advent calendar is a great choice for the toddler who loves trains! The Thomas & Friends Calendar comes with 24 MINI gifts each day. Celebrate Christmas on the Island of Sodor.
This calendar goes great with the Fisher-Price Thomas & Friends Wooden Railway, Santa's Workshop. Bring the North Pole to Sodur and hours of fun for your child!
Trains are very popular among toddlers. Looking ahead your child might even take a liking to trains as a hobby for years to come. Trains played a very significant role in American history from the industrial revolution to the modern-day.
There is another perk for parents if your child starts a hobby at an early age. You will never be at a loss of what to buy for your child's birthday and holidays.
This can lead to themed parties and can strengthen your child's self-esteem as she becomes an "authority" on the topic. This can further lead to easier times when deciding on school projects and science fairs.
There is no question, some children, at a very early age, show an interest in a particular toy or activity. Fostering these interests can help your child focus on what interests her the most.
This is not a new concept. Many times those who achieve success in a career will often state that their interests developed at a very early age. At an age when the interest was intrinsic and not forced upon them.
Kick-off the season by watching Thomas & Friends: Santa's Little Engine. In this cute classic Christmas tale, Thomas saves the day and helps guide Santa and his sleigh into Sodor for the Christmas celebration!
Each numbered door on the Christmas Advent calendar reveals a Crayola product.
24 Holiday crafts for your children.
Your toddler will be able to create Christmas presents and decorations throughout the month of December.
Is your toddler a dinosaur lover? This is Advent calendar is perfect boys and girls who LOVE dinosaurs!

DIY Fill Your Own Toddler Advent Calendars
One of our favorite places to shop for unique gifts and toys is Etsy! Here are three Advent calendars that are not toys, but are family keepsakes!
We found this adorable farmhouse style toddler Christmas countdown calendar! You can fill each day with anything you'd like! It also makes a beautiful garland for above your fireplace!
Here is the perfect hands-on toddler Christmas calendar!
We found a beautiful and personalized Christmas countdown calendar your toddler will enjoy for years to come!
Conclusion
Today we have shared 7 + Christmas Advent calendars for your toddler. The toddler years are the perfect time to start holiday traditions your family will grow up loving and anticipating every year. 
We included calendars that can be kept and re-used year after year to the delight of your whole family!
Here are several other toddler posts you may find helpful!
17 Wooden Toys For Toddlers [2020 Update]
10 DIY Christmas Sensory Activities For Toddlers [2019]
11 Fun Winter Activities For Toddlers