We may earn money or products from the companies mentioned in this post. You can read full disclaimer below.
Updated June 14, 2021
Why are we writing about the best baby swing reviews for newborns?  Because if you ask us what baby item we couldn't live without, a baby swing would be our number one pick!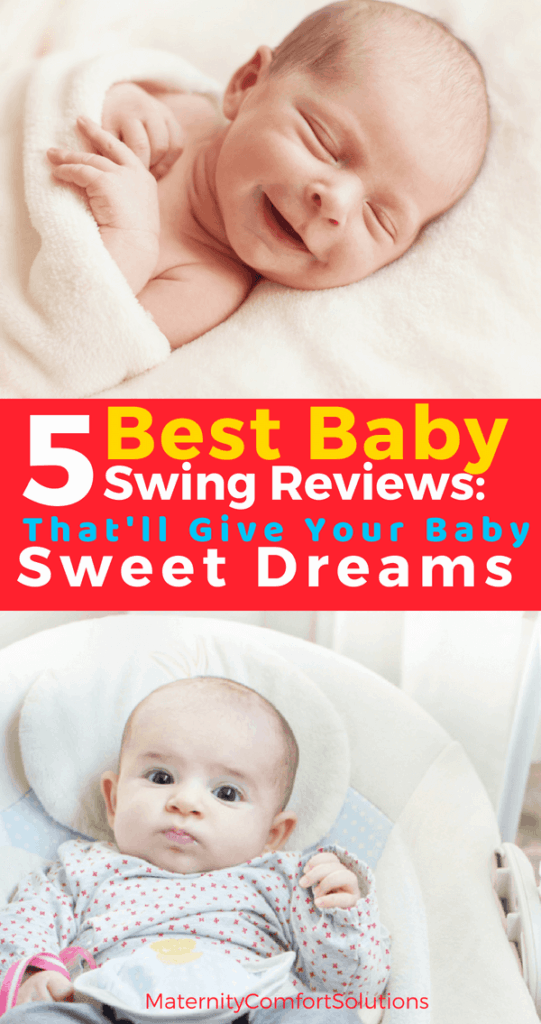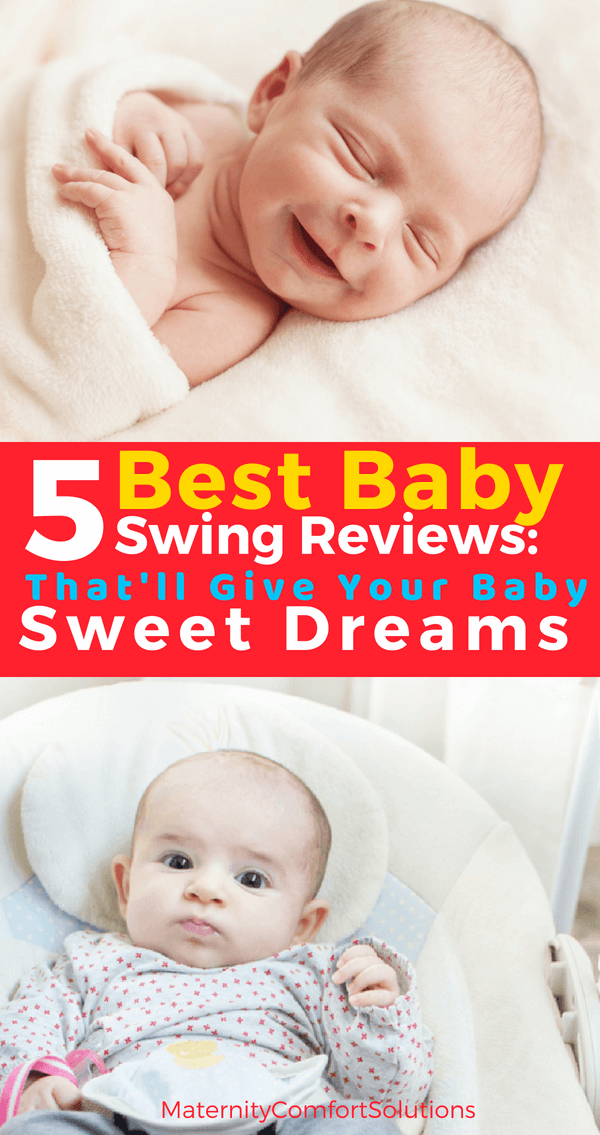 This post contains affiliate links. You can read our affiliate disclaimer at the bottom of this post.
"Piece-of-mind", "godsend", "lifesaver", are just some of the words used to describe the benefits of a baby swing (when used properly):
Helps your baby fall asleep

Calms a colicky baby

Keeps your baby occupied (while in view)
What parent hasn't taken their crying baby for a car ride or rocked him/her to sleep for hours? If you haven't you are one of the lucky ones, for everyone else a baby swing might be just what you need! 
The swing's rhythmic motion simulates the activity your infant was used to throughout your pregnancy.
As we prepared the best baby swing reviews for newborns, we selected 5 baby swings based on safety, durability, and value:
Safety

 was our most important criteria.

Durability

was next in line, considering the amount of time it will be used.

Value

is always important and was simply determined based on the cost of the swing and quality of construction.
Aside from the safety guidelines noted at the end of this article, there are still some very important details to keep in mind when selecting the best swing for your infant:
Infant weight

Infant age

*Location for the intended use

Portability
* You never want to put the swing on an elevated surface or near a stairway.
 5 Best Baby Swings In 2018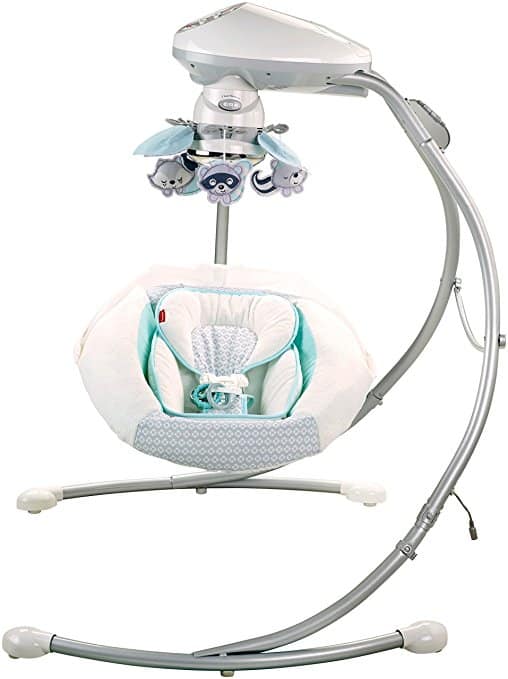 TheFisher-Price Moonlight Meadow Cradle'n Swing is reasonably priced compared to some of the more techie models. It comes with a number of features to keep your baby amused. The sensory play items are soothing for your infant. There are 16 songs, nature sounds and an overhead mirrored mobile. The plush seat pad is cozy and washable. Motions are forward and sideways, fewer options than other swings, though also less chance of mechanical problems. Long Battery life..50 hours!
Pros:  
Slides forward and sideways

6 Speeds

16 Songs and nature sounds

3 Seat Positions

Battery Life 50 Hrs.

Infants up to 25 lbs.

Easy Assembly
Cons:
Many Similar Models (check model numbers)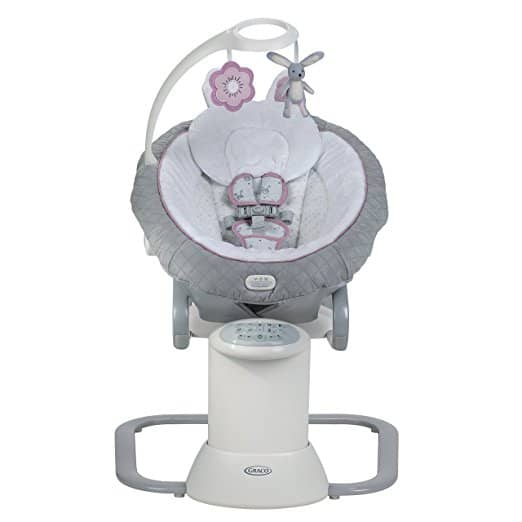 If you are looking for a baby swing with more options (movements, speeds, sounds, sensory activities…..) then this swing is for you. For some parents, this swing might be considered over-the-top. However, for parents who need multiple calming activities, this may be for you. Easy transport with removable rocker. Very comfortable seat, easy to wash. Low profile without compromising functionality. As with many swings, there are multiple settings for those who want a variety to soothe a fussy or colicky baby.
Pro:
Removable rocker makes it easy to remove baby once asleep

Multiple speeds and directions

Different motions: Arch, Swing, Circle, Wave, Zig-Zag, Bounce, Figure-8, Sway

15 songs

2-speed vibration

AC Adapter

3 position recline

Multiple options for those who like technology

For a colicky or fussy baby, it might be just what you need to keep your baby occupied.

Removable rocking seat….this can be convenient if your baby has fallen asleep and you want to transport your baby to crib etc.. (You definitely want a swing that makes it easy to transfer your baby, once he/she is asleep.)
Cons:
Pricey compared to other swings with similar features included in this best swing reviews for newborns.

AC adapter is advised as the batteries get expensive

As with other high tech items, more things can go wrong

If you like simplicity (ON-OFF) this is not for you.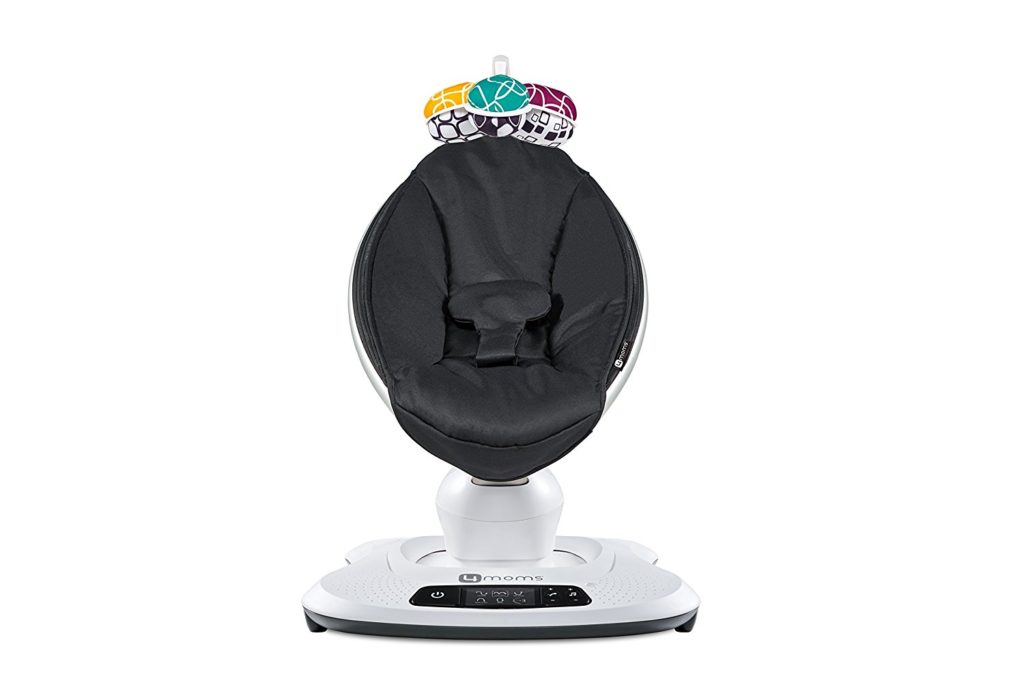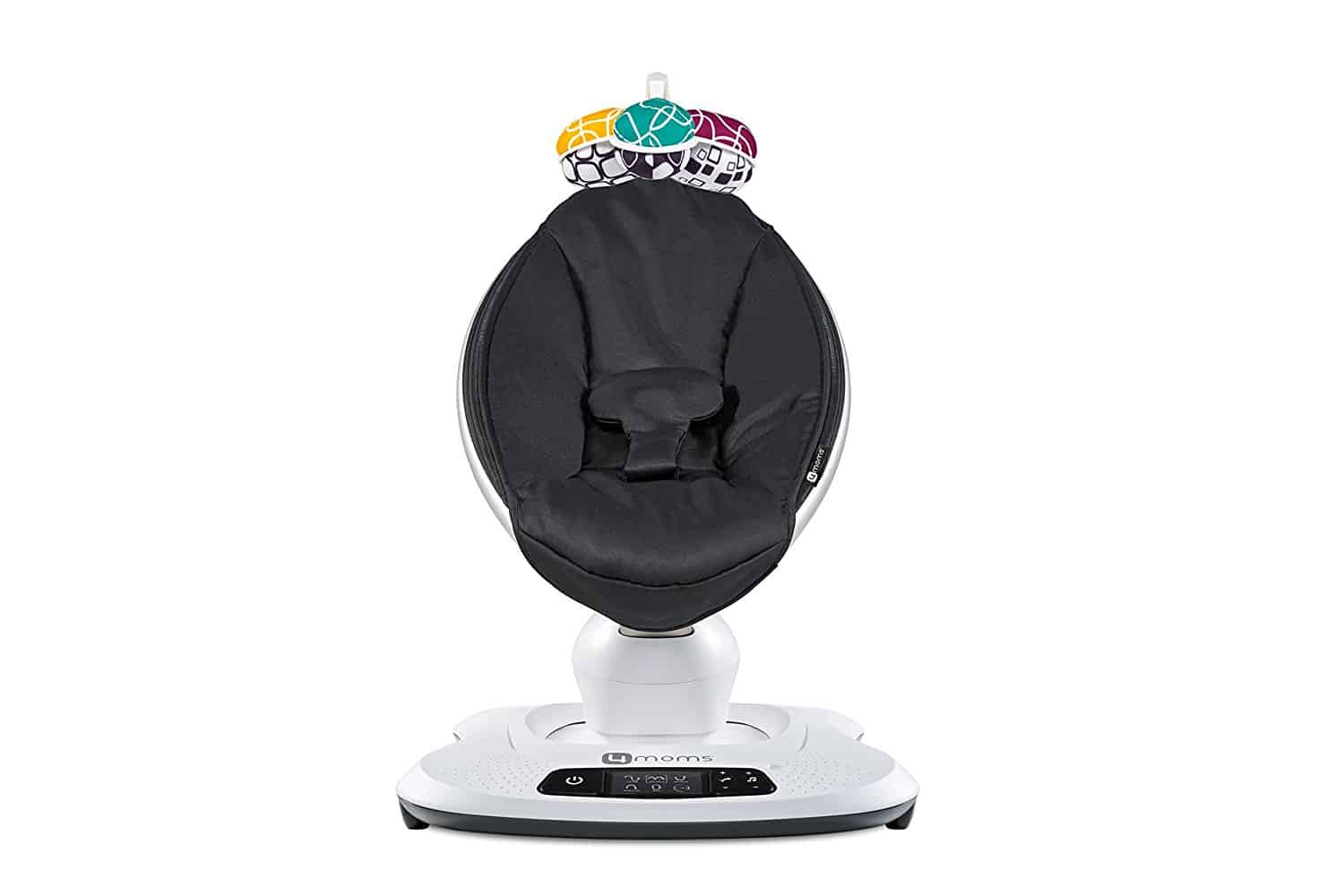 When discussing the best baby swing reviews for newborns, one must mention the momaRoo high tech baby swing with pretty much every perk. MP3/Bluetooth.
Pros:  
5 different motions & speeds

Bluetooth Enabled Devices

MP3 Plugin and 4 Sounds

Fabric Easily Washable

AC Adaptor (no batteries required)

Reclining Seat

Infants Up To 25 lbs.
Cons:
Highest tech swing on the market. Potential mechanical problems and repairs.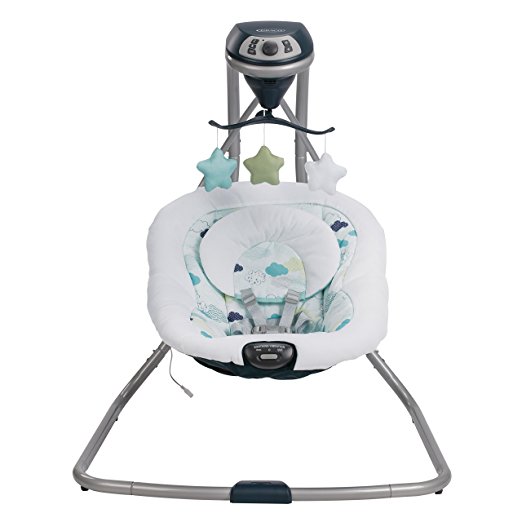 Graco's Simple Sway Baby Swing, in Stratus is easy to operate with sway, vibration and 2-speed control. Compact compared to other models.
Pros:
Reasonably priced. The lowest price of all the best baby swing reviews for newborns.

This baby swings small frame design fits in any room of your home so you can easily keep baby close wherever you are

The plug-in option allows you to save money on batteries

Gentle, side-to-side swaying motion soothes and comforts baby

2-speed vibration to help keep your baby calm and relaxed

The deep, plush seat with removable head support keeps your little one cozy and comfortable while in the baby swing
Cons:
Minimal options (though for many this is a plus) f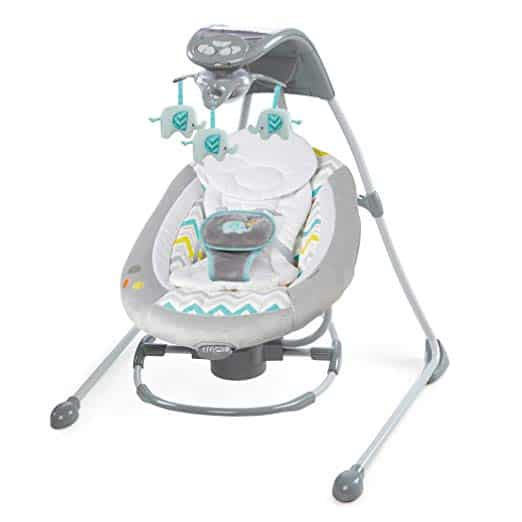 This item can be used as a swing with 3 seat directions, or you can remove the seat and use it on the floor as a vibrating rocker seat. Has a 5 point harness for safety. Connects a smart device to entertain your baby. Lights, mirror, plush elephant toys. Slimfold design with battery and AC adapter.
Pro:
Oversized, removable seat

3 Swing directions

Mp3 Connectivity

Runs on batteries and AC adapter

Many sensory options
Cons:
 Only 19.8 lb. weight capacity
Safe Use Of Your Baby Swing (Take the time to learn what to do and not to do!)
Never leave your infant unattended

Always use the safety straps

Only use the swing on the floor and never on an elevated pl

atform (table, chair, etc.)

Don't let older children "push" your baby in the swing.
Sources
Juvenile Products Manufacturers
Association CPSC Approves New Federal Safety Standard for Infant Swings
Other articles you may find helpful: