We may earn money or products from the companies mentioned in this post. You can read full disclaimer below.
Updated July 27, 2021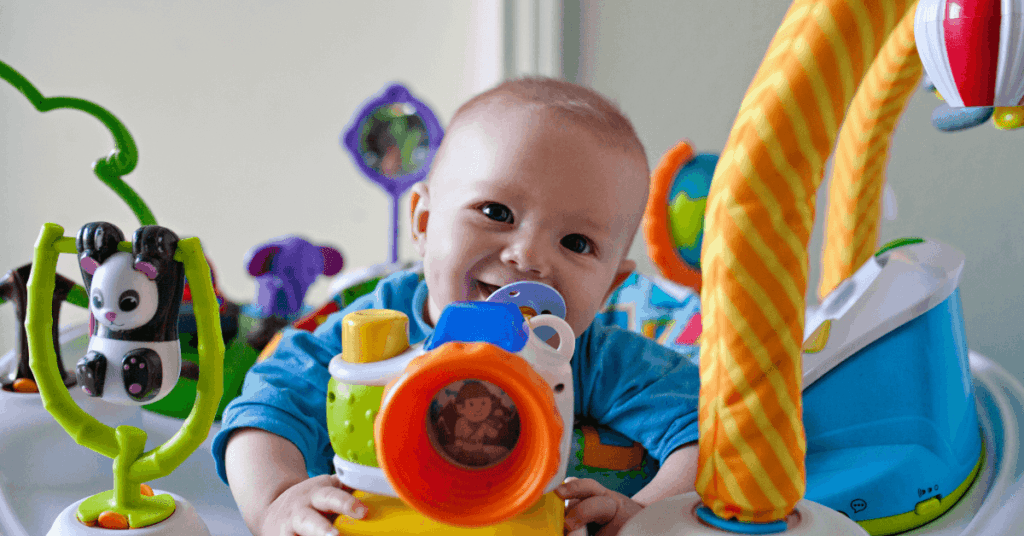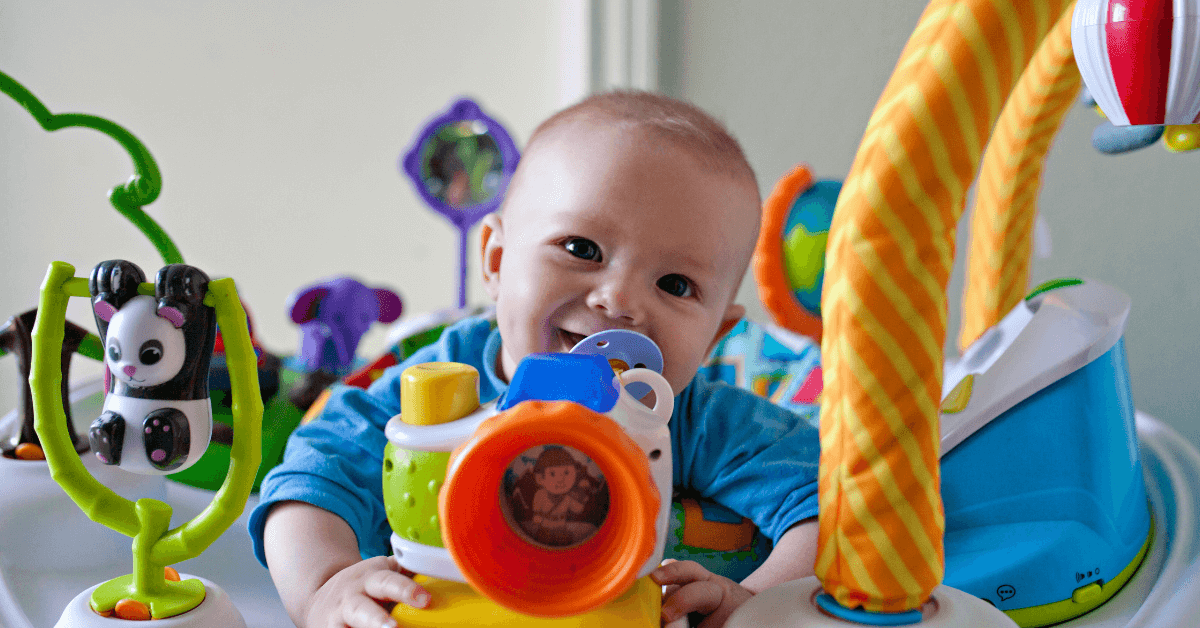 Baby bouncers offer you a safe place to put your little one while you grab a quick shower, fold laundry, or make dinner.
Baby bouncers are sturdy and lightweight and allow your baby a safe place to play and explore.
If using a reclining bouncer your baby will also be able to nap wherever you may be in the house.
There are several different types of baby bouncers.
The bouncers we will be reviewing are referred to as upright bouncers.
These are the classic type where your baby can sit and push up and down with her feet on the floor.
We have always used upright bouncers once our babies developed the strength to hold their heads upright without support.
Today we will be sharing with you our reviews of the 5 best upright baby bouncers.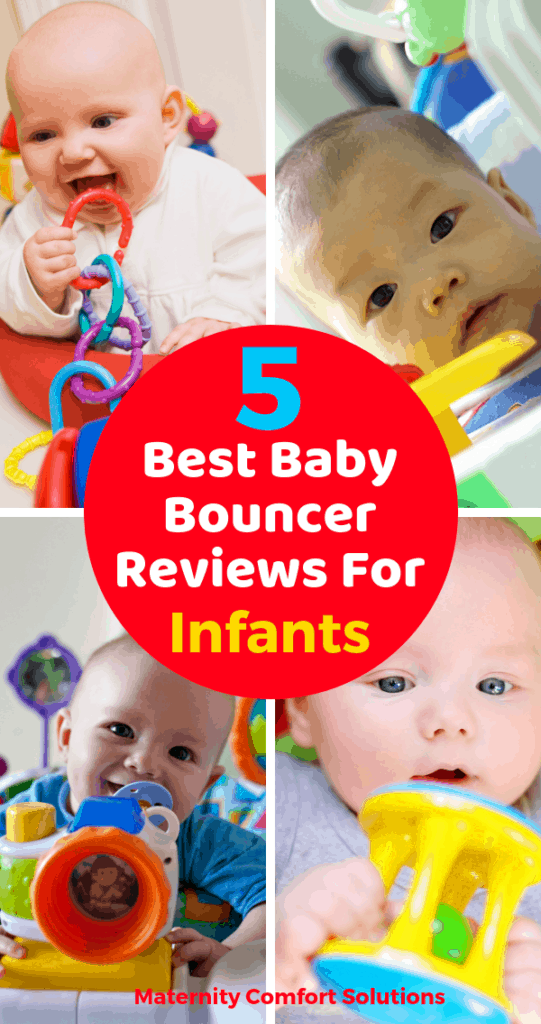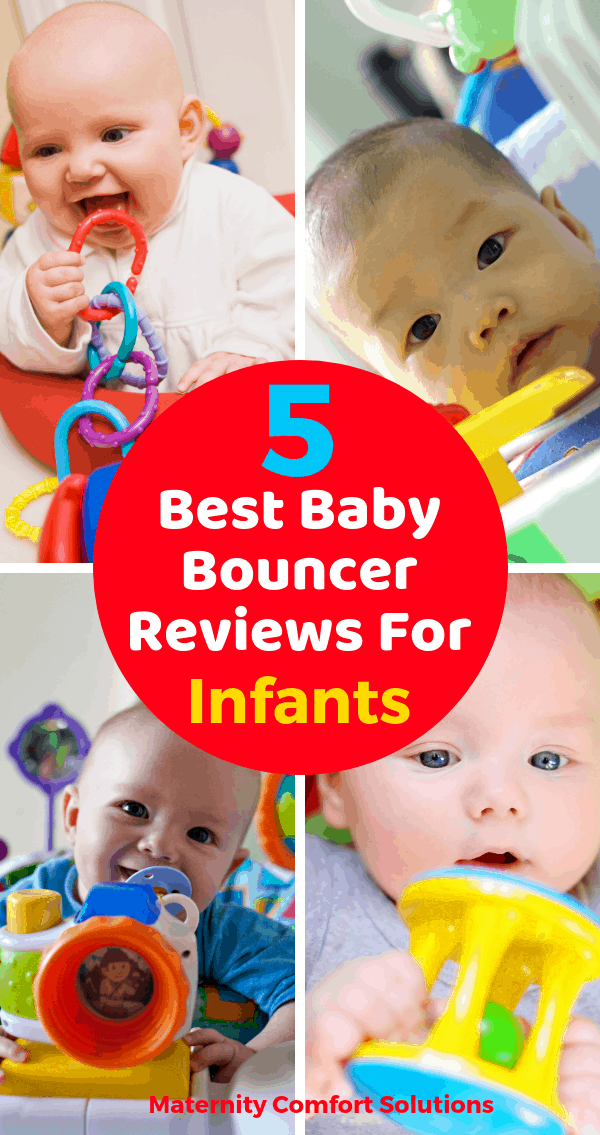 How do I use my upright bouncer safely?
Baby bouncers are not without controversy.
Some parents and child development experts believe they offer many benefits including assistance with gross motor development and mental stimulation.
Some parents and experts believe they are potentially harmful, particularly when babies are not properly monitored.
As parents and health care providers, we encourage you to do your research and decide if a baby bouncer is right for your baby and family.
You want to be sure to use the upright bouncer safely.
Follow all of the manufacturer's instructions and recommendations.
The upright bouncers are made for babies who are generally 4 months and up.
The biggest requirement for the safe use of a baby bouncer is that babies have enough neck muscle strength to hold their head upright without support.
Do not leave your baby unattended in a bouncer and always keep an eye on your baby's activity level. Use the bouncer for a maximum of 30 minutes at a time.
Check for manufacturer's recalls and only use bouncers that have up-to-date safety requirements and are in good condition with no broken or missing pieces.
Bouncers are to be used only on sturdy,  flat surfaces. Never place a baby bouncer on a table or countertop.
What should I look for in an upright bouncer?
You want a bouncer that has a wide and sturdy base. Make sure the bouncer does not have any sharp edges that could injure your baby.
A bouncer seat should be removable and machine washable. Look for bouncers with easy-to-clean plastic toys that are removable.
If you will be traveling or live in tight quarters, you might want an upright bouncer that folds flat for easy storage.
Some bouncers require batteries or AC power to operate some of the activities on the bouncer. Buying and changing batteries all the time can be a real pain
Bouncers come in a variety of price points. Most have a maximum weight limit of 25 pounds so consider how long and how frequently you'll be using the bouncer when considering how much you plan to spend.
5 best baby Bouncer Reviews:
Y
The Fisher-Price sit me up baby bouncer is a great choice for parents with smaller babies.
The bouncer has a wide sturdy base for safety and a soft upright seat that allows your baby to sit up and see the world around them.
The bouncer seat is removable and washable. So baby drool and baby spit-up can be easily cleaned off the seat pad.  
The maximum weight recommendation for this product is 25 pounds.
The bouncer is compact for storage and travel.
Pros:
Upright seat for sitting

Soft fabric seat

Supportive wide base

Toys included

Compact folding for portability and storage

Removable and machine-washable seat pad.
Cons:
This bouncer is best for smaller babies
The Evenflo Exersaucer Bounce & Learn, Zoo Friends is a safe alternative to walkers because it comes with a variety of age-appropriate toys to help your child reach their milestones.
This baby bouncer rocks, spins, and bounces.
It has a small lightweight frame that's easy to move around.
The bouncer offers a three-position height adjustment.
The seat pad is removable and machine washable.
Pros:
Made in the USA

Helps baby develop gross and fine motor skills and self-awareness

Strengthens babies neck, back and leg muscles

Grows with your child to provide maximum value

Offers three-position height adjustment

No batteries are required
Cons:
The saucer makes Ocean Sounds to keep your baby captivated and content.
Much like white noise, this can reduce distractions so your baby will remain focused.
It comes with dozens of toys and activities, including a spinning Orca whale, an electric piano, and tropical fish.
The seat is removable and machine washable
The bouncer is for babies who can sit up unassisted, are less than 30 inches tall, and weigh less than 25 pounds.
Pros:
Made in the USA

The seat rotates 360 degrees

The seat pad is machine washable

Adjustable height allows for extended use
Cons:
Requires three AA batteries

Item does not lie flat for storage or travel
The Evenflo ExerSaucer Triple Fun Saucer in Life in the Amazon offers parents a safe alternative to walkers and includes a variety of age-appropriate toys that help your baby reach her milestones.
The bouncer rock, springs, and bounces.
This baby bouncer offers a lot of value for parents. It can be used for three stages:
It's a play mat for 0 – 4 months

An activity center for 4 months, until your toddler, is walking

Then it can become an activity table to stand at and walk around
Pros:
Comes with an exercise playmat and activity table

Has 11 age-appropriate toys

Is portable and folds up for travel and storage

Three-position height adjustment for your baby

Machine-washable seat pad

Fits newborns to 24 months

Made in the USA
Cons:
Requires nine AAA batteries

Seat padding is not thick enough.
The Fisher-Price Rainforest Jumperoo is the bouncer that we love the most.
It offers the most value for parents offering your baby many entertaining activities to keep him occupied when mom and dad need a timeout.
The bouncer has a 3-position height adjustment for a custom fit.
The sights and sounds accentuated by lights and rainforest music will surely engage your baby's senses.
Spinning a drum activates the music and lights with various animal themes surrounding your child, including an elephant, monkey, and lizard.
The duration of continuous play can be controlled for up to 4 minutes.
Pros:
Sturdy, free-standing, steel frame

The seat spins 360 degrees

Height is adjustable

Many sensory-stimulating toys and activities

Electronic toys that light up, make sounds, and move
Cons:
Requires 3 AA batteries

Does not fold flat for storage or travel
Bouncers offer your baby many forms of sensory stimulation and help strengthen the muscle in the neck and legs.
The stability of bouncers makes them a much safer alternative to walkers.
This is particularly true for homes with stairs or split-level family rooms. Walkers may give your child more mobility.
However, this allows more opportunity for a child to get into dangerous situations even in the presence of the most attentive parent.
What to read next: